Vegan Pesto Pasta
This post may contain affiliate links. Please read my disclosure policy.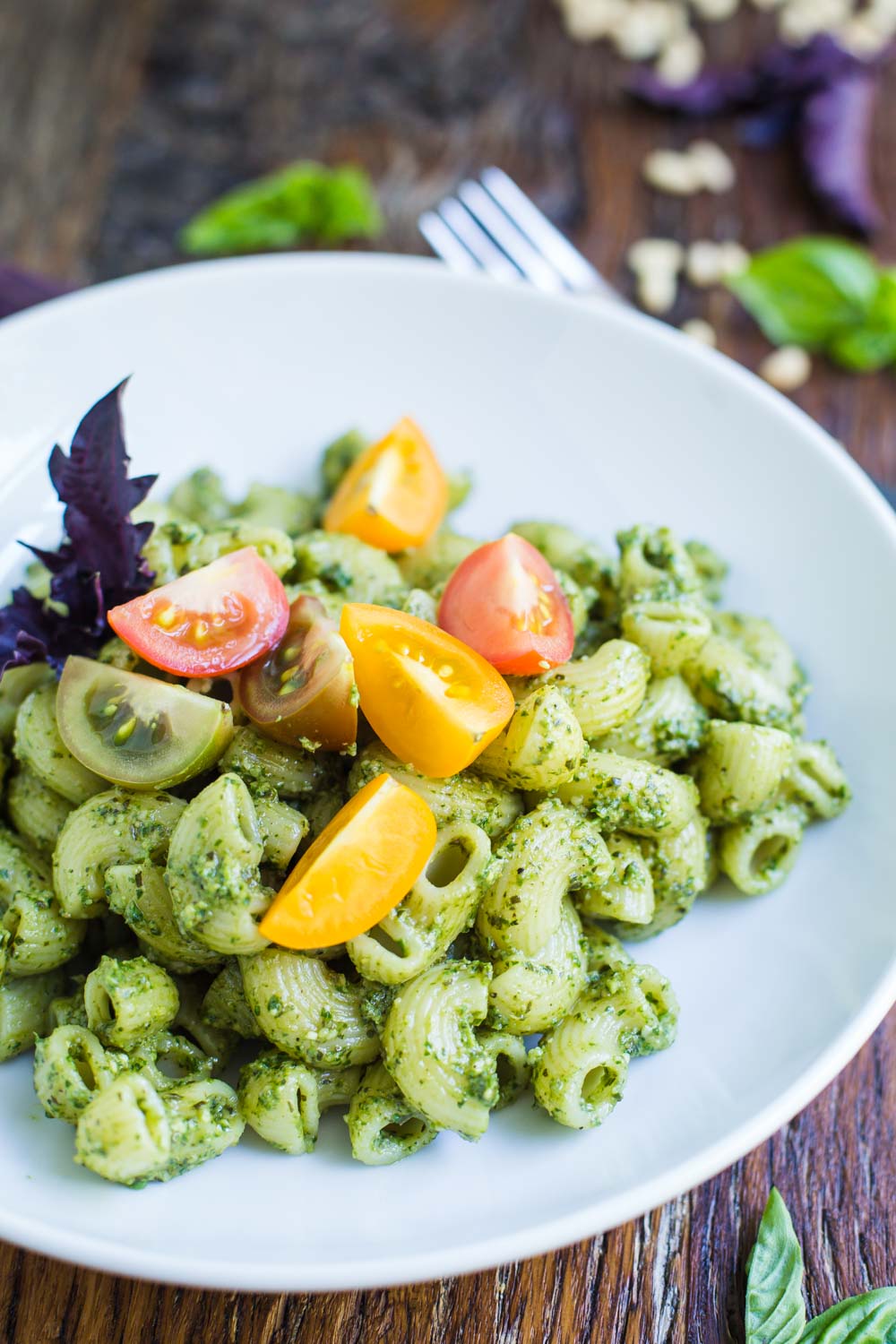 Guys. Last night I went to my first Crossfit class in SIX years. I've done very little exercising since I retired from roller derby in November of last year and it is simply time that I get off my butt and get back in shape. But yea….I'm maybe a little sore today (<<<<understatement of the year). I was really into Crossfit back before I fell in love with derby and realized that it was physically impossible to be both a dedicated Crossfitter and a competitive skater.
I locked myself into a 3 month commitment and plan to go 3 times a week while doing yoga at home 1-2 times a week. Wish me luck! I anticipate many a sore days in my near future.
Oh and don't worry. I have no intention of adopting a paleo diet anytime soon. I love pasta ENITRELY too much :) Also, I don't eat meat. so. yea.
Today we have a super simply recipe that's hardly even a recipe at all since it involves combining pasta + a recipe from a few weeks ago + cherry tomatoes. But hey, it's Wednesday. And on Wednesdays, we eat simple yummy pasta dishes.
Remember when I shared the Beet Greens Pesto recipe a few weeks ago??? Well, we're just going to throw that into a big bowl of pasta and call it a day. Oh, except instead of beet greens, we're just going to use basil to create ourselves a super simple and super yummy vegan pesto sauce. This is really just an excuse to use up all the basil I have growing. I HATE wasting it but if you don't pluck it off the plant in time then the plant gets mad at you. It's a thing.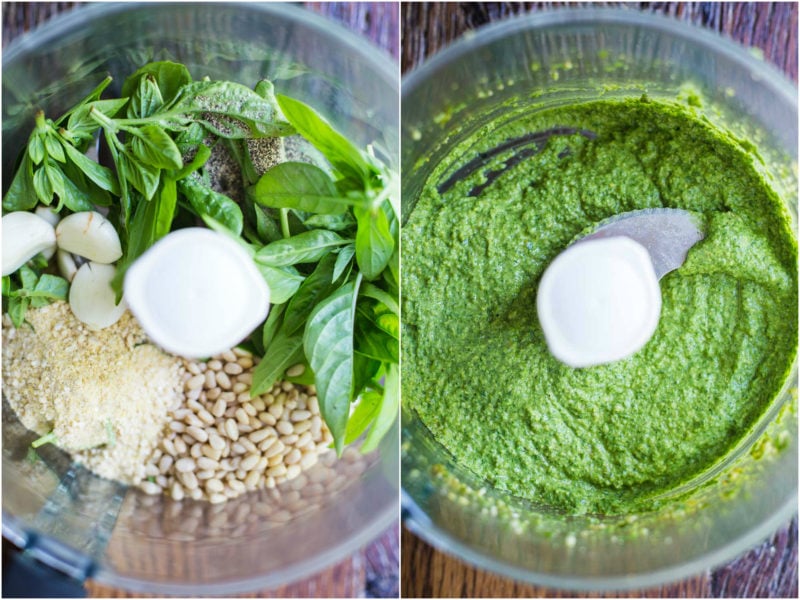 The dish is nice and simple. While the pasta boils, the sauce can be made by simply throwing everything into a food processor and blending until you get a nice creamy consistency.
And once the pasta is done, simply stir in the pesto and top with a few tomatoes. DONE.
This recipe is inspired by a recent visit that I made to a new vegan restaurant here in Nashville called Graze. If you're coming through Nashville and need a good vegan spot for bfast, lunch, or dinner, I highly recommend that you pay them a visit. SO good! I've been several times now and love everything I have there.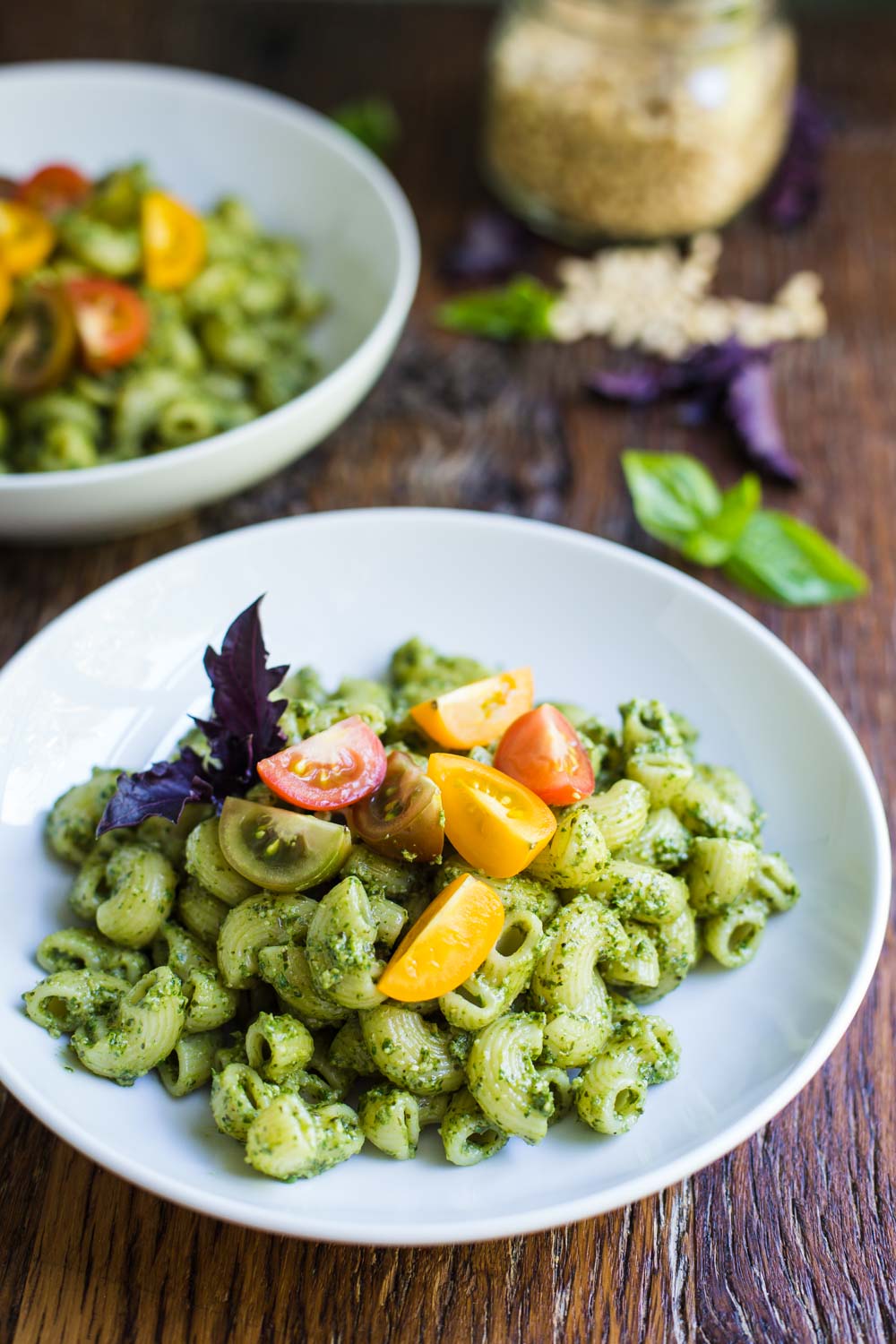 You know what would also be yummy?? Mixing in all kinds of other summer veggies like cucumber or squash or zucchini or peppers or……the list goes on and on. I LOVE summer produce. Have I mentioned that??
Alrighty. That's all for today. I'm gonna go catch some Pokémon….if I can walk….and if the heat doesn't kill me. Wish me luck.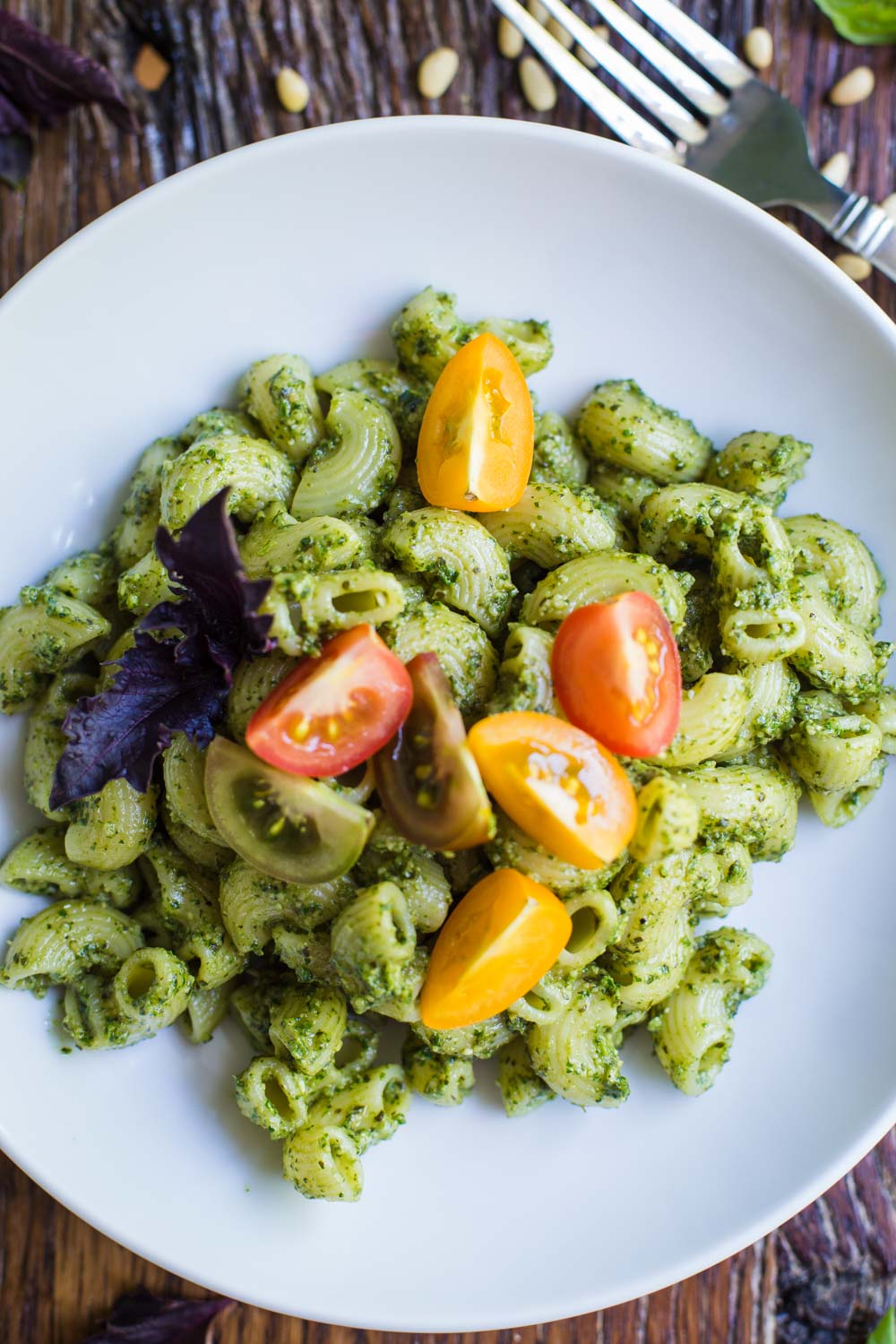 Print
Vegan Pesto Pasta
---
Author:

Total Time:

15 minutes

Yield:

6

servings

1

x
1

pound of macaroni pasta

1

serving of basil pesto, about 1- 1 1/2 cups (HERE is my recipe for vegan pesto …I simply swapped out the beet greens for basil in a 1:

1

swap). If using store bought or another recipe, you'll want ~1-1 1/2 cups of pesto
for topping: sliced cherry tomatoes
---
Instructions
Cook the pasta according to directions. Drain and set aside to let cool slightly.
Make your basil pesto.
Combine the pesto and the pasta and stir to combine fully.
Top with the tomatoes and ENJOY!!
Prep Time:

5 minutes

Cook Time:

10 minutes
This post may contain affiliate links. Please read my disclosure policy.