1 Bowl Butternut Squash Bread
This post may contain affiliate links. Please read my disclosure policy.
This is one of those recipes that I've had in my mind for several years but haven't actually brought it to fruition until just recently. I really wasn't sure how well this would actually work out but the fact that I'm here, sharing it with you, means that it was AMAZING!
In case you haven't already heard me mention it 100 times, I grew butternut squash for the first this summer and honestly, I had NO idea how many squashes I would end up with from 2 butternut squash plants. I would say those 2 plants produced roughly 40 butternut squash (but maybe more??) and I've had to find new ways to eat it besides just roasting it (not that that's not DELICIOSO!).
As you'll see from the photos, I made the executive decision to NOT overly puree the butternut squash. The bread ended up with small little bites of squash in them and I LOVE IT! This is optional of course. If you want a more traditional squash bread bread, simply puree the butternut squash until it is creamy and SMOOTH.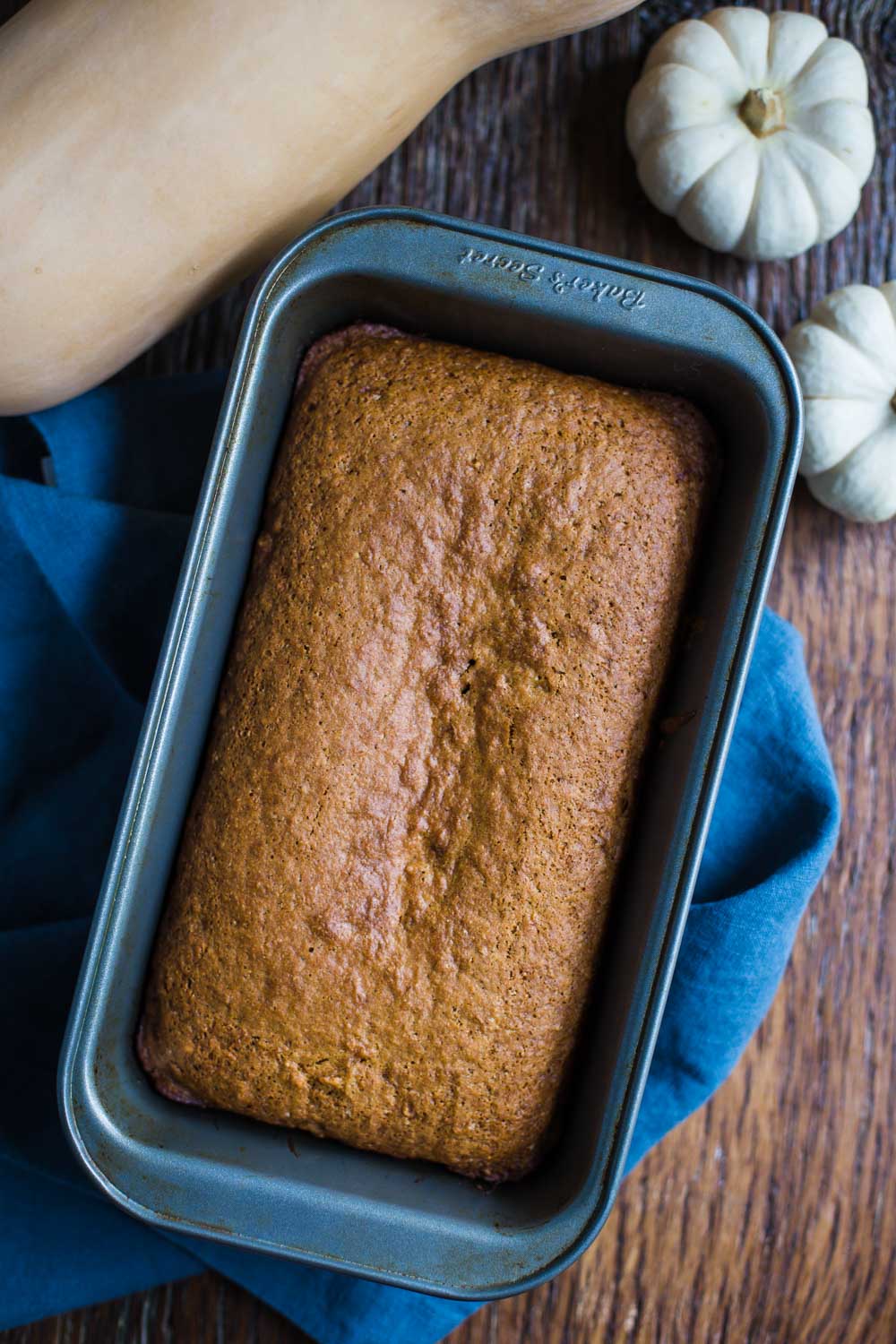 The other great thing about this bread (aside from it being SUPER TASTY!) is that it's ridiculously easy to make. The whole thing can be thrown together in one big ole' bowl.
The dry ingredients get whisked together first and then the wet ingredients are mixed into the middle.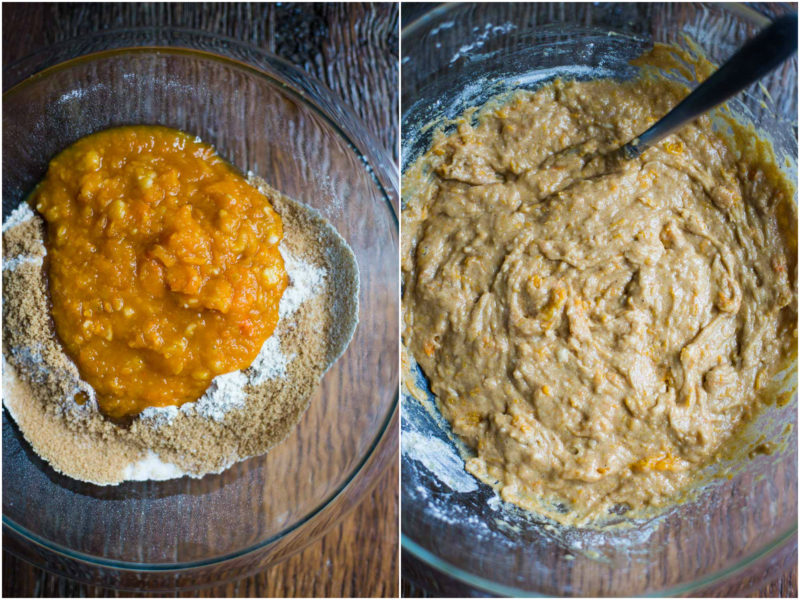 Then it's poured into a bread pan and baked. That's it. Mix+pour+bake=delicous Autumnal Butternut Squash Bread! Do IT!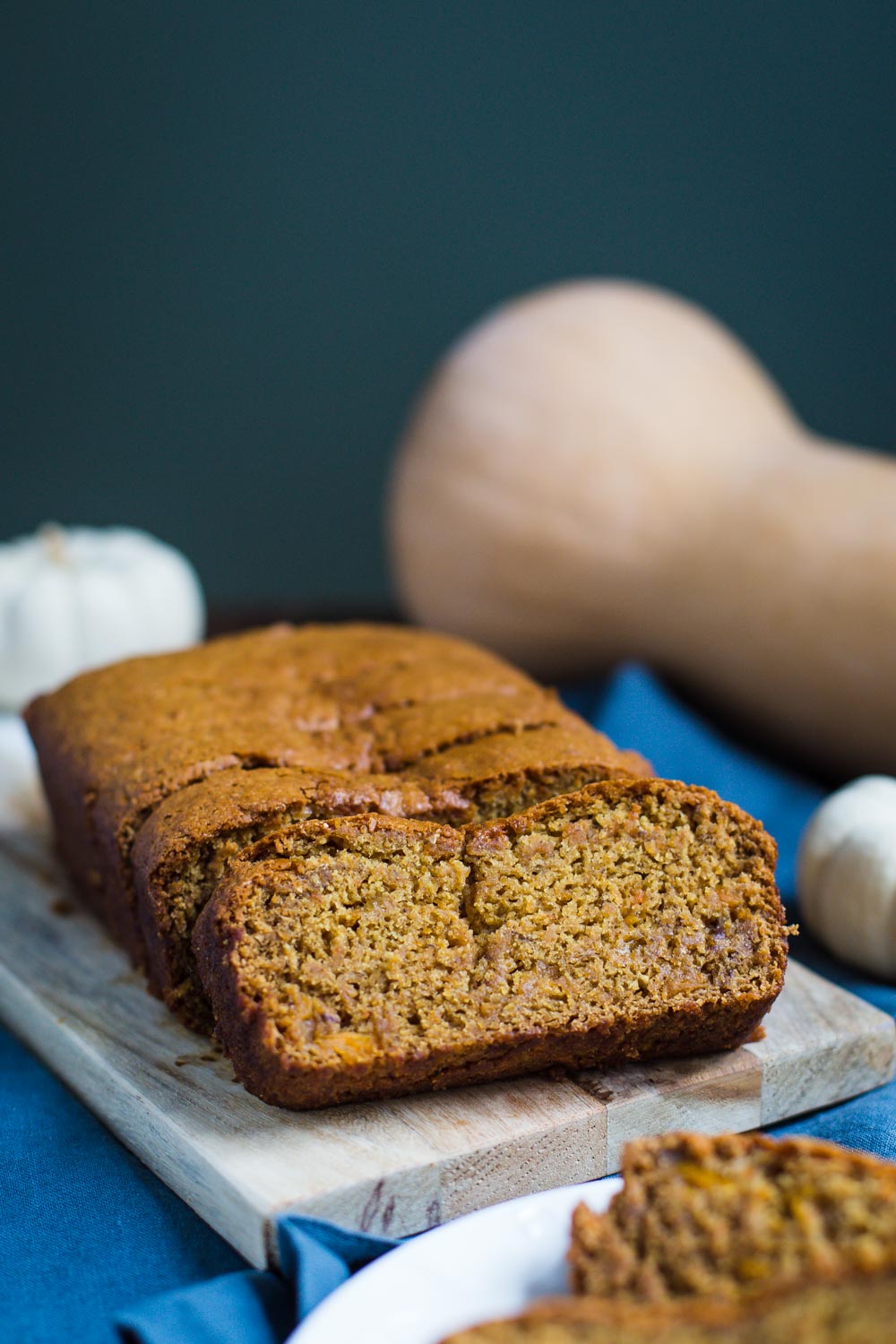 Now that Autumn is in full swing, I hope you're prepared for a ridiculous amount of pumpkin, squash, and SOUPS! I also have lots of recipe ideas for using up the 20 something butternut squash that are currently chilling on a table in our backyard. If you lived closer, rest assured that I would be pawning off a few squash on you :)
Happy hump day, friends!
Print
Butternut Squash Bread
---
Author:

Total Time:

50 minutes

Yield:

1

loaf of bread

1

x
1 cup

of all purpose flour

¾ cup

of whole wheat pastry flour (could also do just

1 3/4 cup

of all purpose)

1/2 cup

of brown sugar, packed

1/2 cup

of white sugar

1 teaspoon

of baking soda

½ teaspoon

of baking powder
pinch of salt

½ teaspoon

of nutmeg

1 teaspoon

of cinnamon

1/4 teaspoon

of cardamom

1

banana, thoroughly mashed/ pureed

1/4 cup

of maple syrup

3 tablespoons

of water

1 cup

butternut squash purée*
---
Instructions
Pre-heat oven to 350 degrees. Lightly grease an average sized loaf pan.
In a large mixing bowl, whisk together the flours, sugars, baking soda & powder, salt, nutmeg, cinnamon, and cardamon.
Making a well in the center of the dry ingredients, add in the remaining ingredients and stir until just combined. Try not to over mix.
Pour the batter in the loaf pan and bake for 45-50 minutes.
Let cool slightly and enjoy warm! YUM!
Notes
To make your own butternut squash puree, cut the squash in half and simply roast it in the oven at 400 degrees for 40-50 minutes or until a fork can be easily pierced into the skin. Let cool slightly and then blend up the flesh in a food processor until fully creamy and smooth. I left some small chunks in mine but this is optional.
Prep Time:

5 minutes

Cook Time:

45 minutes
This post may contain affiliate links. Please read my disclosure policy.