Watermelon White Wine Slushie
This post may contain affiliate links. Please read my disclosure policy.
Watermelon White Wine Slushies JUST in time for hot summer days and lots of relaxing!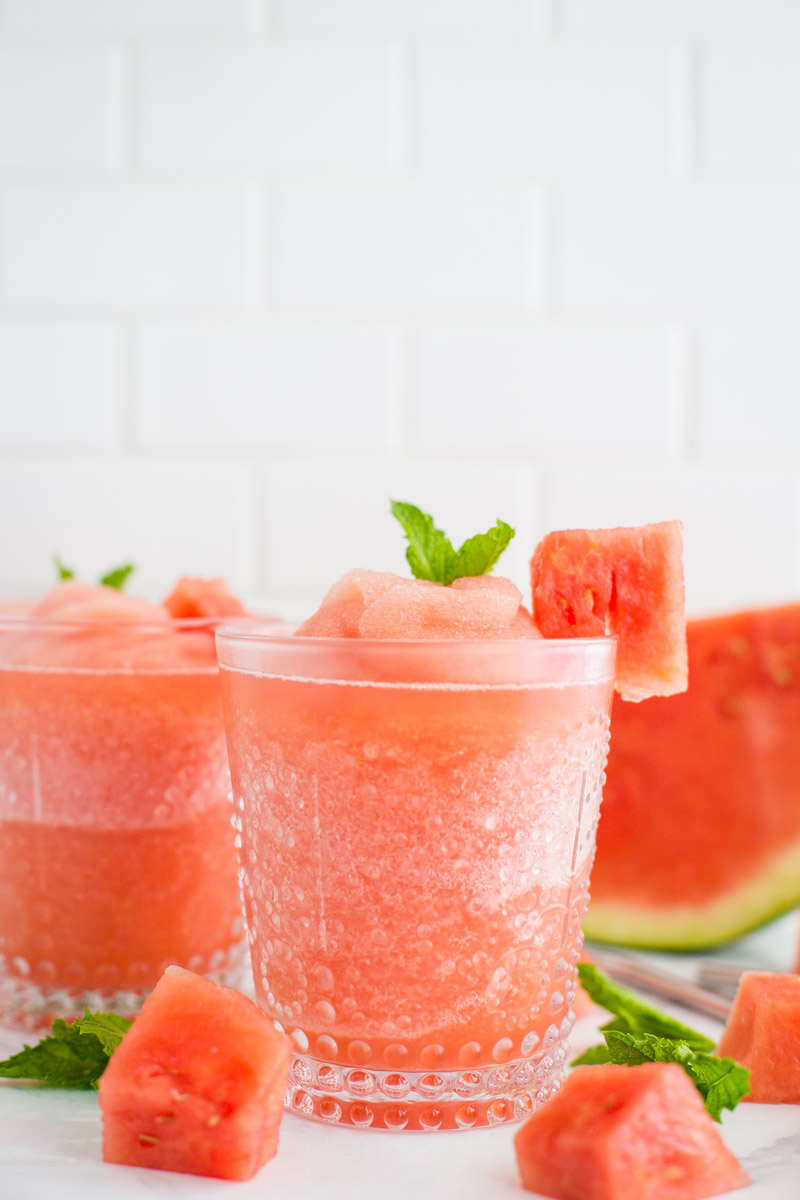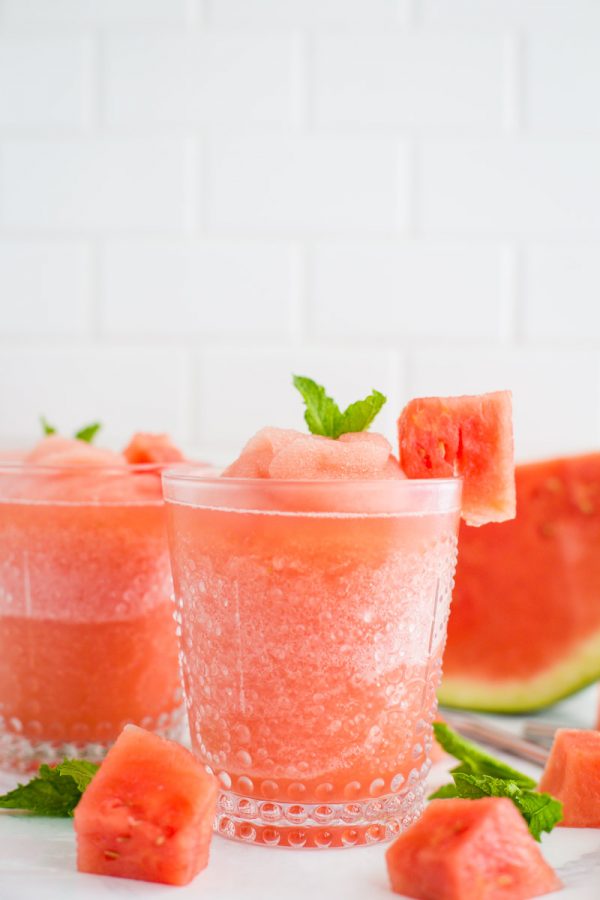 Last week I got an email newsletter from a blogging forum that I belong to. Every month in the email, they spell out the food trends to be on the lookout for as well as the upcoming holidays to be thinking of when drafting new content. According to said newsletter, White Wine Slushies are the Frosés of 2018. Naturally, having a deep love for white wine, I bought a bottle the very next day and began working on MY white wine recipe.
TA DA! I didn't want to waste ANY time being on top of this food trend. Also, I just really wanted some wine. Frozen wine. Frozen wine blended with watermelon. We can just all go ahead and start the weekend now because we have adult slushies in hand.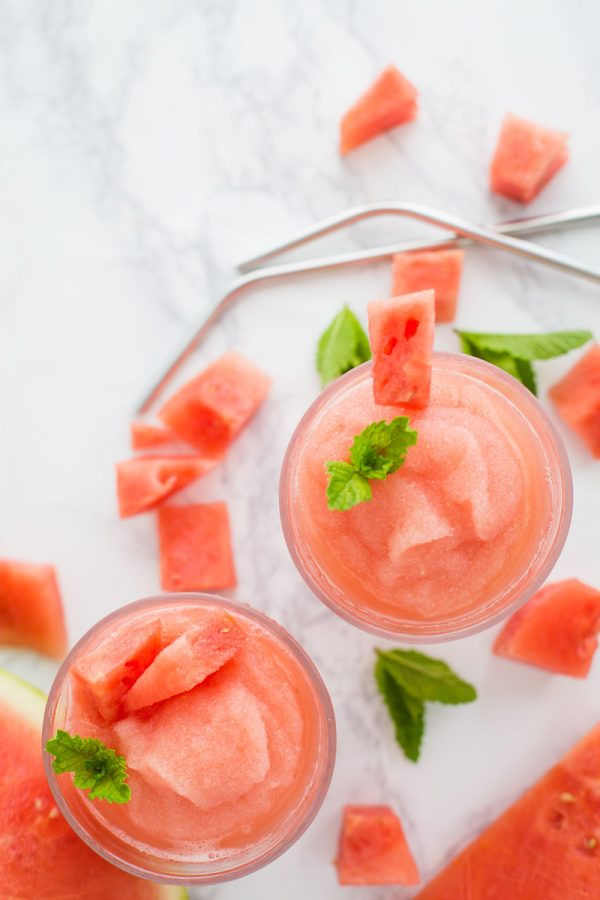 But I'm not stopping here. I'm so obsessed with this white wine slushie idea that I have PLANS. Plans for quite a few more flavors that I hope to be sharing with you in the coming weeks. Also, Jemma is teething and not really into sleep these days so mama needs some wine (debated erasing that last sentence but it's so painstakingly true in life right now).
How to make Watermelon White Wine Slushies
Throw everything in the blender, blend, kick back and enjoy your adult slushie.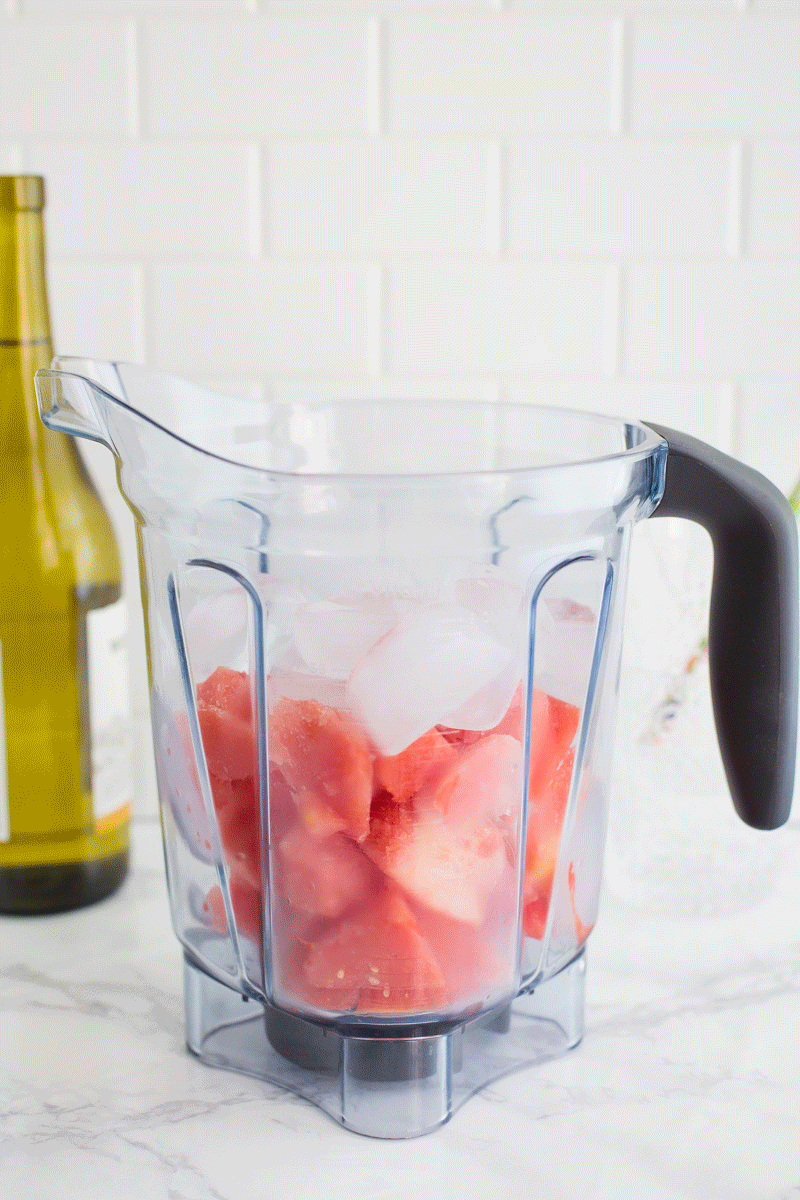 But if we're going to get technical. Here are some tips for making the Watermelon White Wine Slushies:
Freeze your watermelon ahead of time. This creates a creamier texture and means you can put in less ice (which just waters everything down more, amiright?). While I haven't actually tried it, I'm pretty confident that you could get away with just throwing the watermelon in, unfrozen, and just add in a bit of extra ice.
Blend everything together without any extra sweetener. Give it a taste and then add in some agave, maple syrup, or honey if you think it needs to be a bit sweeter. I ended up adding in 2 tablespoons of agave to mine.
Freeze leftovers. If you have any leftovers (WHAT'S WRONG WITH YOU!?), freeze it in an ice tray for later enjoyment. When ready to drink again, throw the cubes in a blender with a little bit of water (or more alcohol perhaps?).
Buy the cheap stuff. I'm not really the best person to be giving advice on wine, but here we are. If you're one of those people that turns your nose up to boxed wine, please know that you're okay reaching for the cheap stuff in this situation. You can use the extra money to buy some of THESE.
Pro level wine slushies: freeze half of the wine before making the slushies and replace the ice cubes with wine cubes (genius, I know).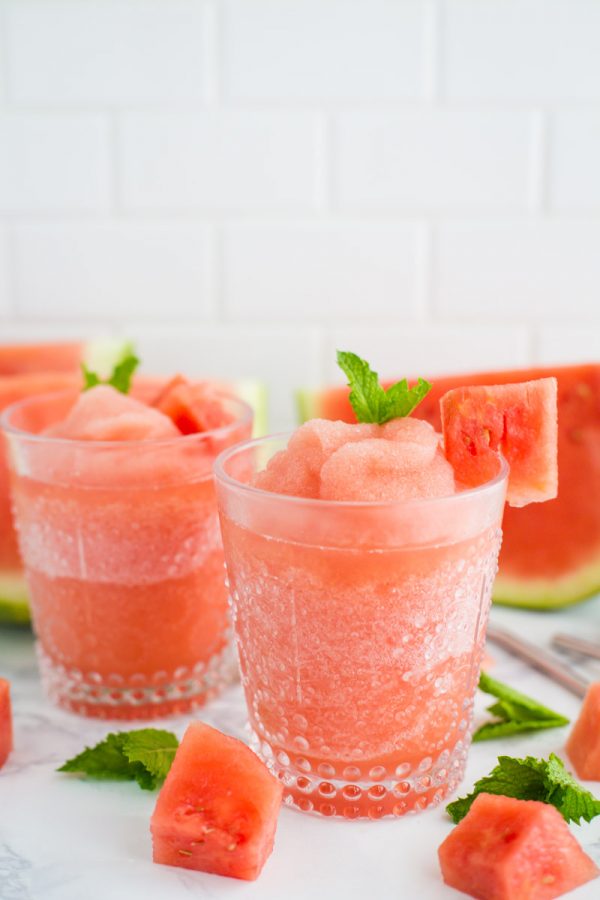 More white wine slushie flavors I'm considering: Lemonade, orange creamsicle, mojito, key lime, grapefruit, peach. Basically, just all of the fruit flavors. Omg….MIMOSA SLUSHIE! Done.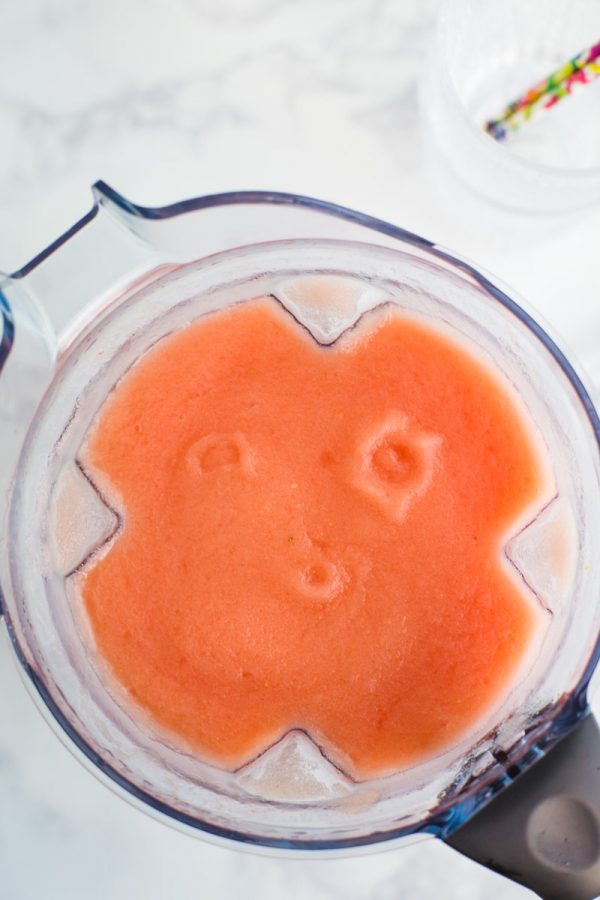 Print
Watermelon White Wine Slushie
---
Scale
Ingredients
1

bottle of wine (750ml), any kind will work!

6 cups

of cubed Watermelon, frozen (add extra ice if watermelon is not frozen)

2

–

3

cups of Ice, start with 2 and add in more if you want it thicker

2 tablespoons

of Agave nectar, plus more if you want it sweeter (maple syrup or honey also work)
---
Instructions
Add the wine, watermelon, and ice to a high speed blender and blend until smooth. Add in additional ice if you want the slushie thicker.
Taste and add in the sweetener as you see fit. I ended up adding 2 tablespoons of the agave but add in more or less depending on your preference.
Enjoy the heck out of it!
Leftovers? Freeze the leftovers in an ice cube tray to re-blend (with a bit of water or additional wine) at a later time.
Category:

cocktail

Cuisine:

American
Keywords: cocktail, white wine, slushie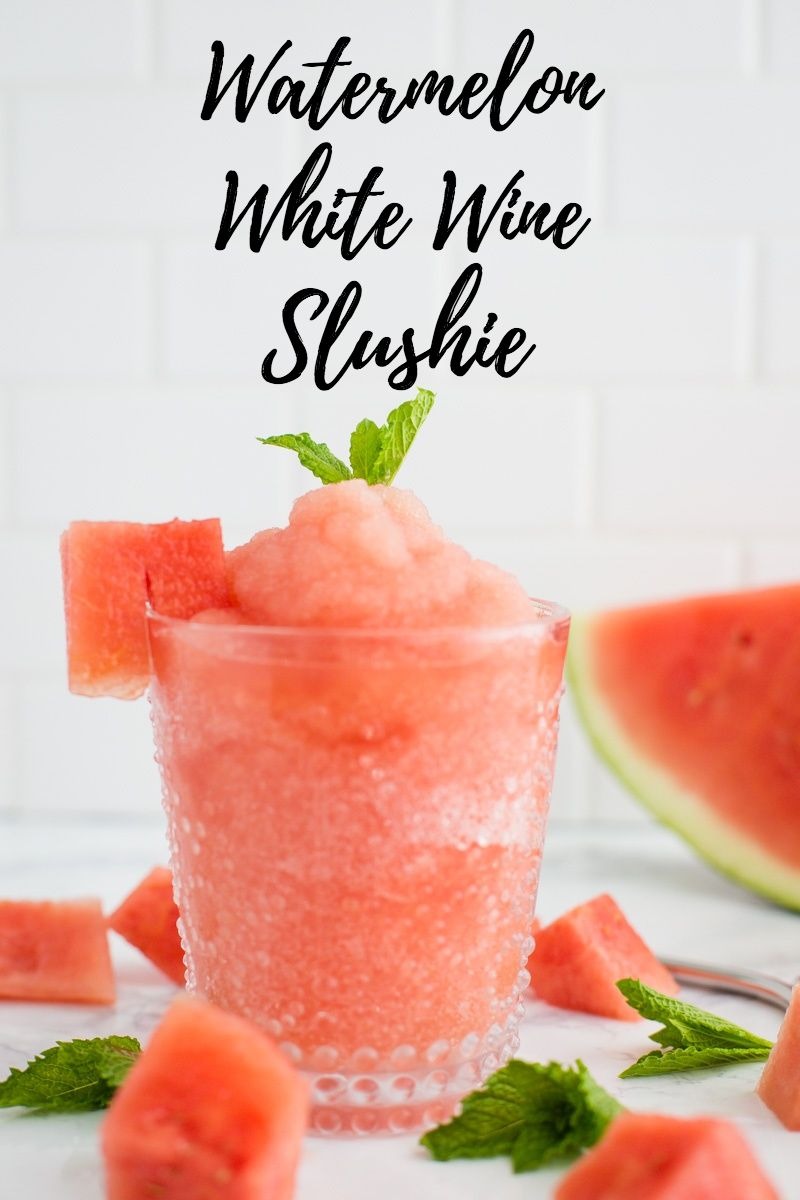 This post may contain affiliate links. Please read my disclosure policy.