Zucchini Chicken Bites
This post may contain affiliate links. Please read my disclosure policy.
This is actually my first year growing zucchini. I've always heard people rant about how it grows like crazy and by the end of the summer you never want to see zucchini again. So far, I'm not having that experience. Maybe something is wrong with my plant (which really wouldn't surprise me at all) but so far it's producing a respectable and steady stream of about 2-4 large zucchinis a week which is just perfect in my opinion.
And the honest truth is that I could just eat them all raw and be perfectly content. But, that's not what we're doing today. Today we're throwing a little meat on in to the mix. I, personally, really wanted to try this with ground turkey but no. No, I always manage to go to the market at the precise time that the rest of Nashville is ALSO there cleaning them out of all the good stuff. So, no turkey today. Good thing I didn't also have to fight them for the vastly inferior zucchini.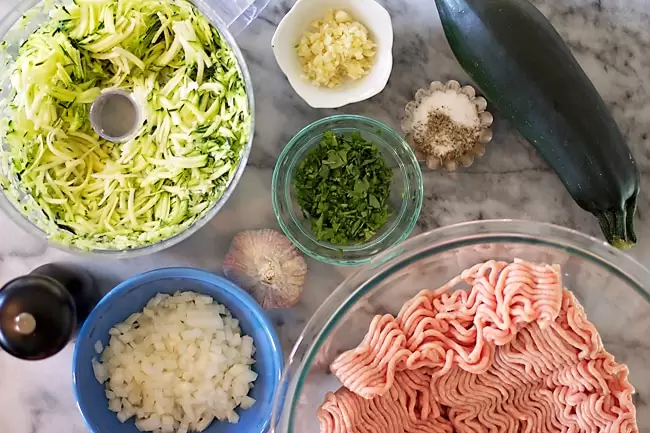 Alright, I'll stop rambling for paragraphs about zucchini. Look, all of our ingredients are measured and ready so I guess we can get to this. If you've been around these parts for the past month then you know the zucchini drill. Shred that baby in a food processor. But unlike previous weeks, we're not going to drain the zucc of it's watery goodness. These are lazy chicken bites.
With your meat in a large bowl, add in the onion and zucchini and mix it all together.
Like this, see? Don't be afraid to get those fingers dirty.
Now add in the garlic, cilantro, and salt & peppa. I almost added paprika here. But didn't. If I didn't have fresh cilantro that needed used up, I probably would have used basil instead of cilantro in these. Moral of the story: add whatever sounds good to you. We're all about following your taste buds around here.
Make sure it's mixed nicely.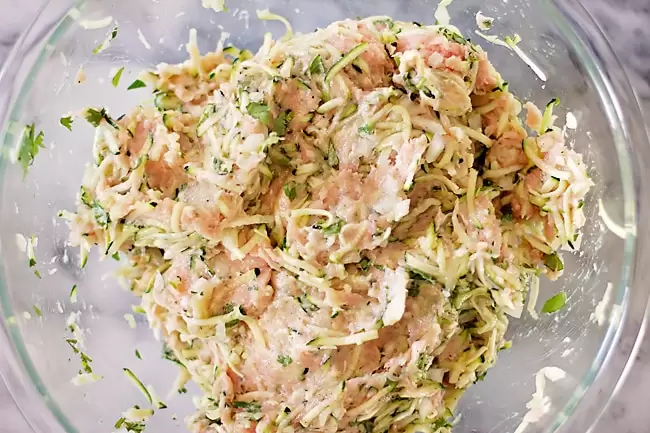 In a generously greased pan, spoon the zucchini chicken mixture into the pan in about 1 tablespoon size balls. I pressed mine down flat a bit so they were more like chicken fingers and less like meatballs.
Cook for about 5 minutes on each side and then they're DONE. Rather minimal effort huh?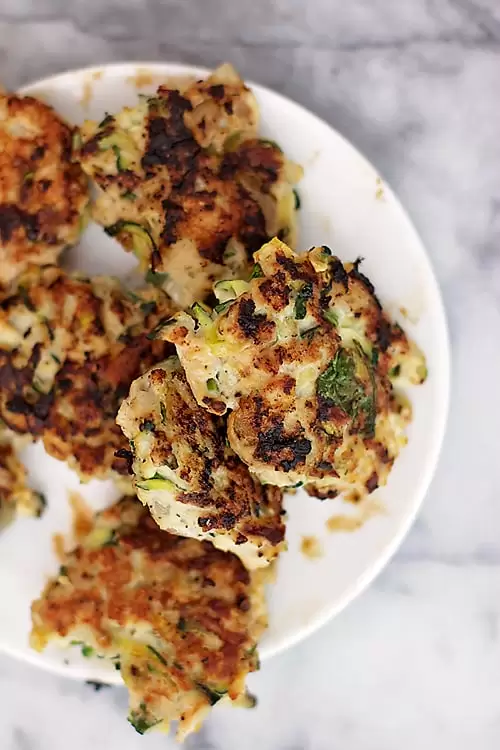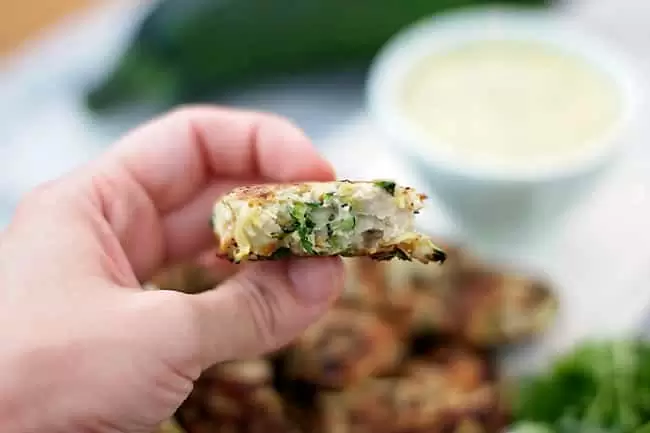 I made a BIG ole' batch of these so that I could eat on them for a few days' worth of lunches. I'd cut my recipe in half if you only want one meal.
Print
Zucchini Chicken Bites
---
Total Time:

30 minutes

Yield:

3

0

1

x
Description
Zucchini Chicken Bites (makes ~30 bites)
---
4 cups

of zucchini, shredded (about

2

medium zucchinis)

2

pounds of ground chicken (or turkey, or other meat)

1/2 cup

sweet onion, diced

2

large cloves of garlic
~1/4 cup fresh cilantro, chopped (can use more or less depending on your preference)

2 teaspoons

of salt
~1 teaspoon freshly ground black pepper
oil for cooking
---
Instructions
Thoroughly combine zucchini, onion, and ground chicken in a large bowl.
Add in the remaining ingredients (minus oil obviously) and mix together well.
Spoon balls about 1 tablespoon large into pan and lightly press down with fingers.
Cook each bite for 5 minutes on EACH side.
Prep Time:

10 minutes

Cook Time:

20 minutes
I served mine with a little garlic aioli and ate more of them in one sitting than I'll admit.
Don't forget: I made this recipe with the purpose of having leftovers for the week. Cut it in half if you only want dinner for one night.
Some more Zucchini-ness for you: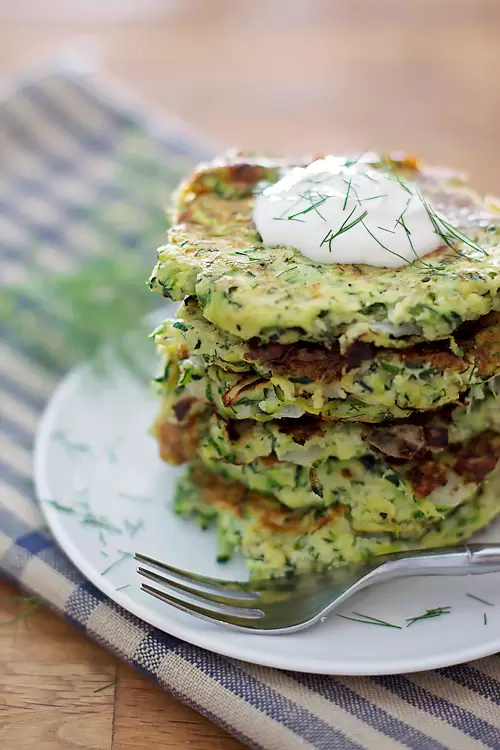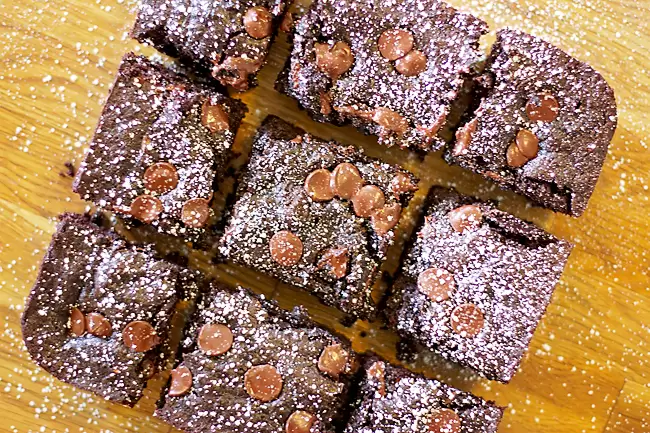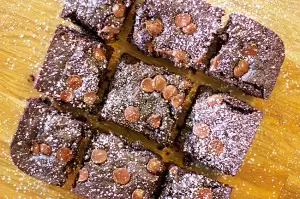 This post may contain affiliate links. Please read my disclosure policy.