Zucchini Lasagna Rolls
This post may contain affiliate links. Please read my disclosure policy.
Summer is coming and you know what that means!? Zucchini will soon be growing out of our ears! These Zucchini Lasagna Rolls are perfect for all of that delicious and nutritious zucchini!!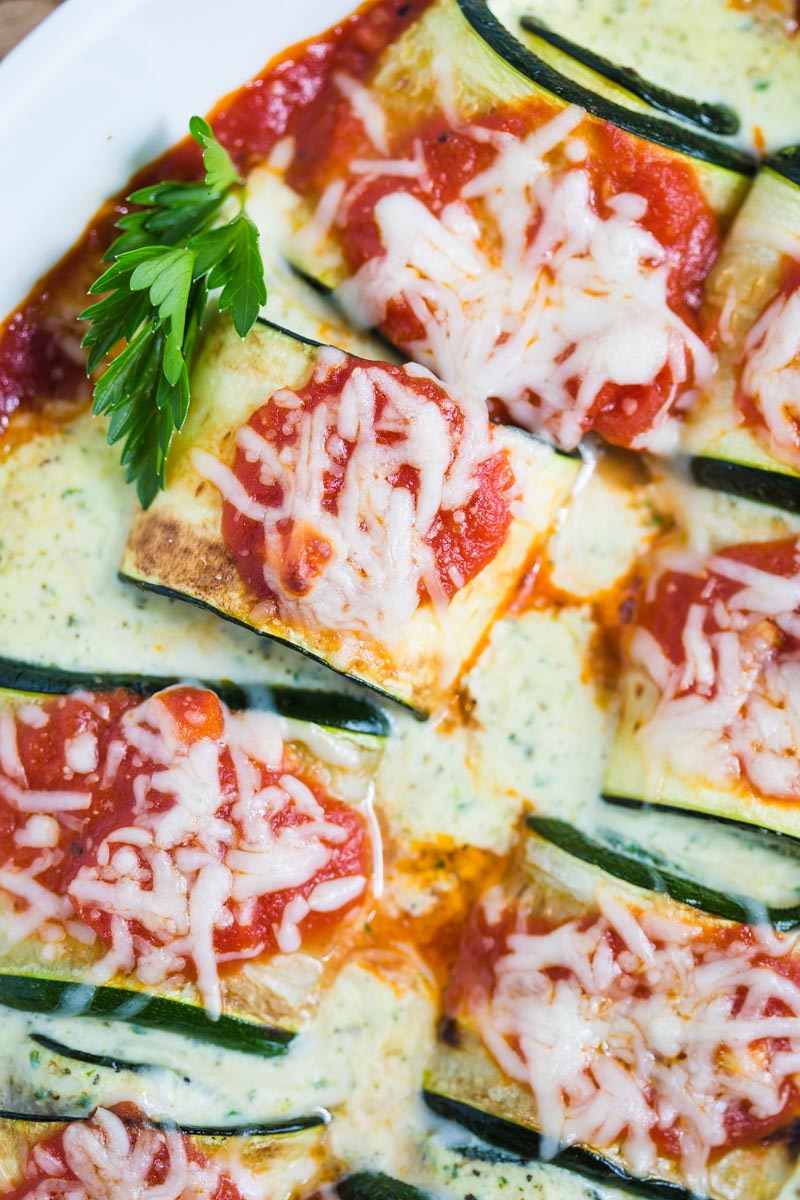 Hi! Hello. It's me. I feel kind of rusty at this. Someone asked me recently if I've been posting on my blog less because of the pregnancy. Actually, it's kind of the opposite. I've been working overtime the past couple months in preparation for the baby to come in August AND for the fact that I'll be taking ~2 months off for maternity leave. Working for yourself means that you have to provide your own maternity leave. It's exhausting and yet I wouldn't trade any of it for the world!
So yea, I've been busy busy busy making video after video. I'm completely loving it but it has left little time for this here blog that I love. But I'm back! I'm reworking my schedule a bit, including hiring a shoot assistant for a few days a week, so that I can make more time to get back to creating recipes and sharing them with you! Yay!
Also- did you hear my interview last week on the Food Blogger Pro Podcast??? I feel completely honored to have been included on such a wonderful podcast. We talk ALL about my video business, my journey to working for myself, and quite a bit about my process in creating recipe videos. Check it out HERE.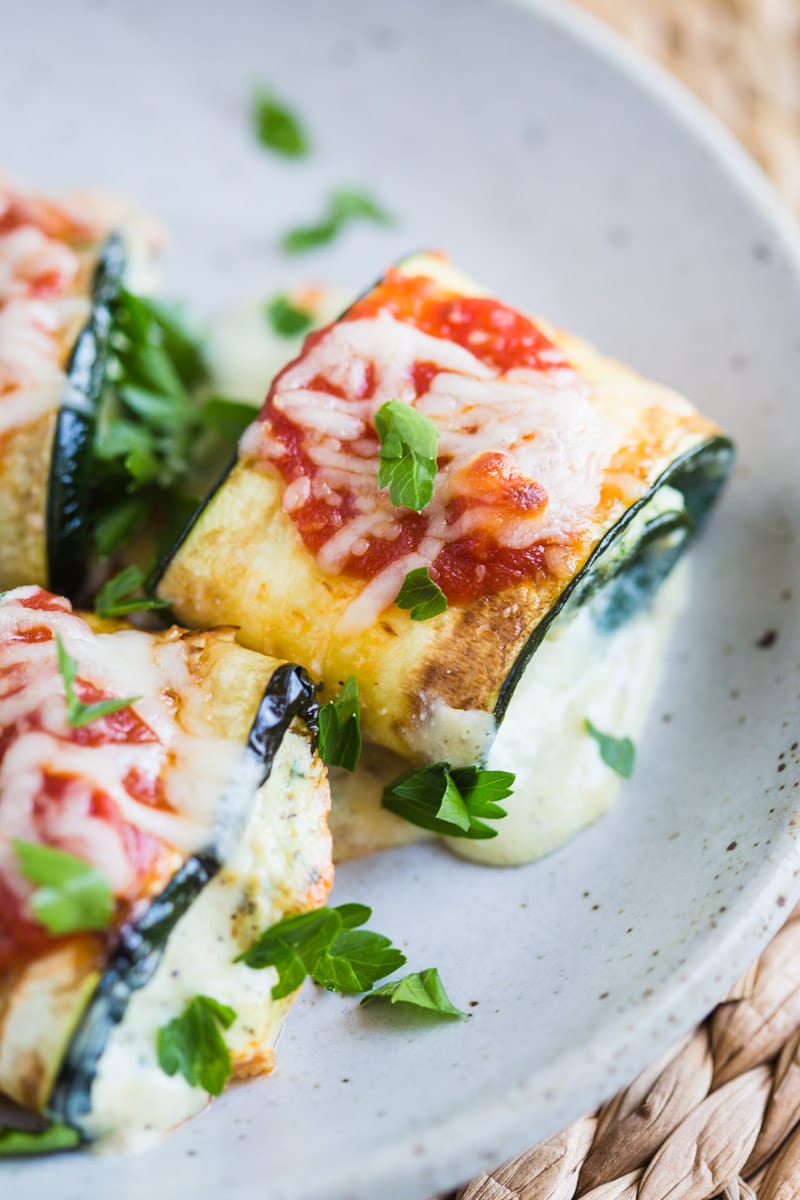 This is a recipe that I tested quite a few times last summer but never quite got it the way I wanted it. I originally tried making it vegan BUT simple found the more traditional lasagna filling FAR more satisfying :) I also originally tried baking the zucchini but found that a quick trip under the broiler worked MUCH better for releasing some of the liquid and making them pliable enough to roll up.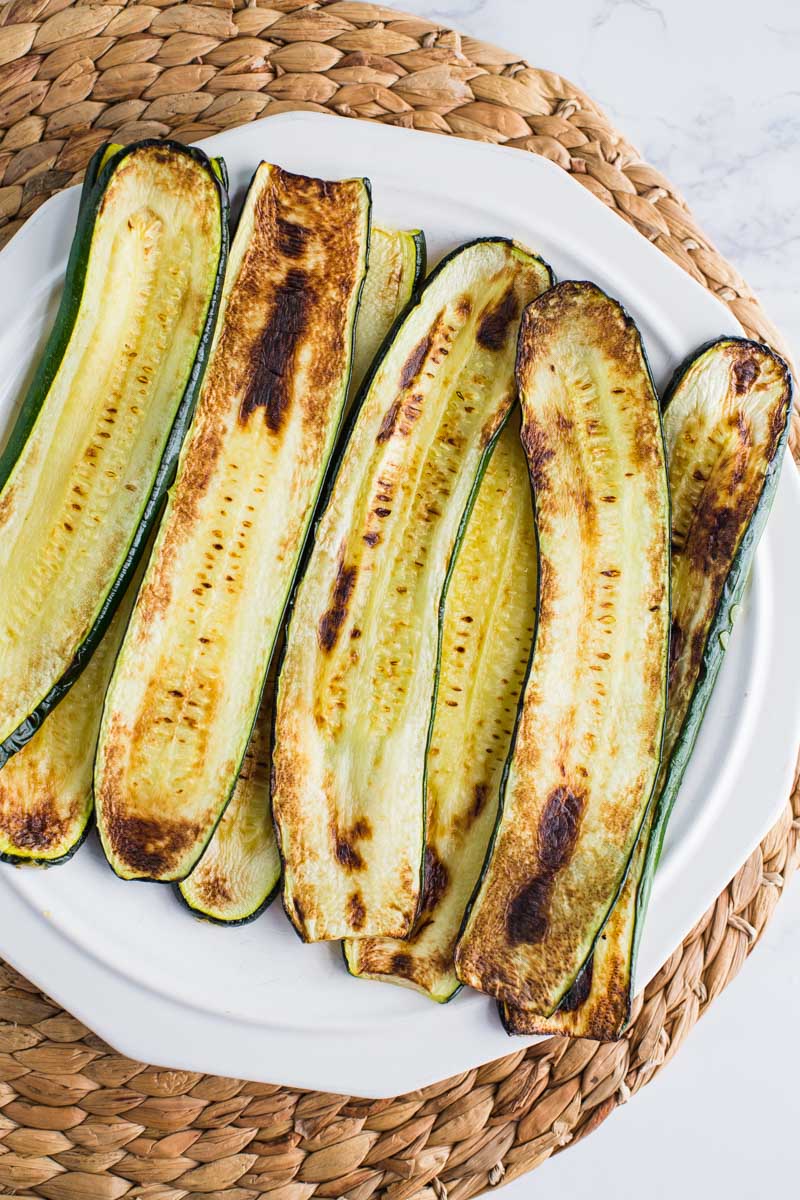 The filling is a somewhat traditional, slightly lightened up, lasagna ricotta filling and I'm kind of in love with its simplicity!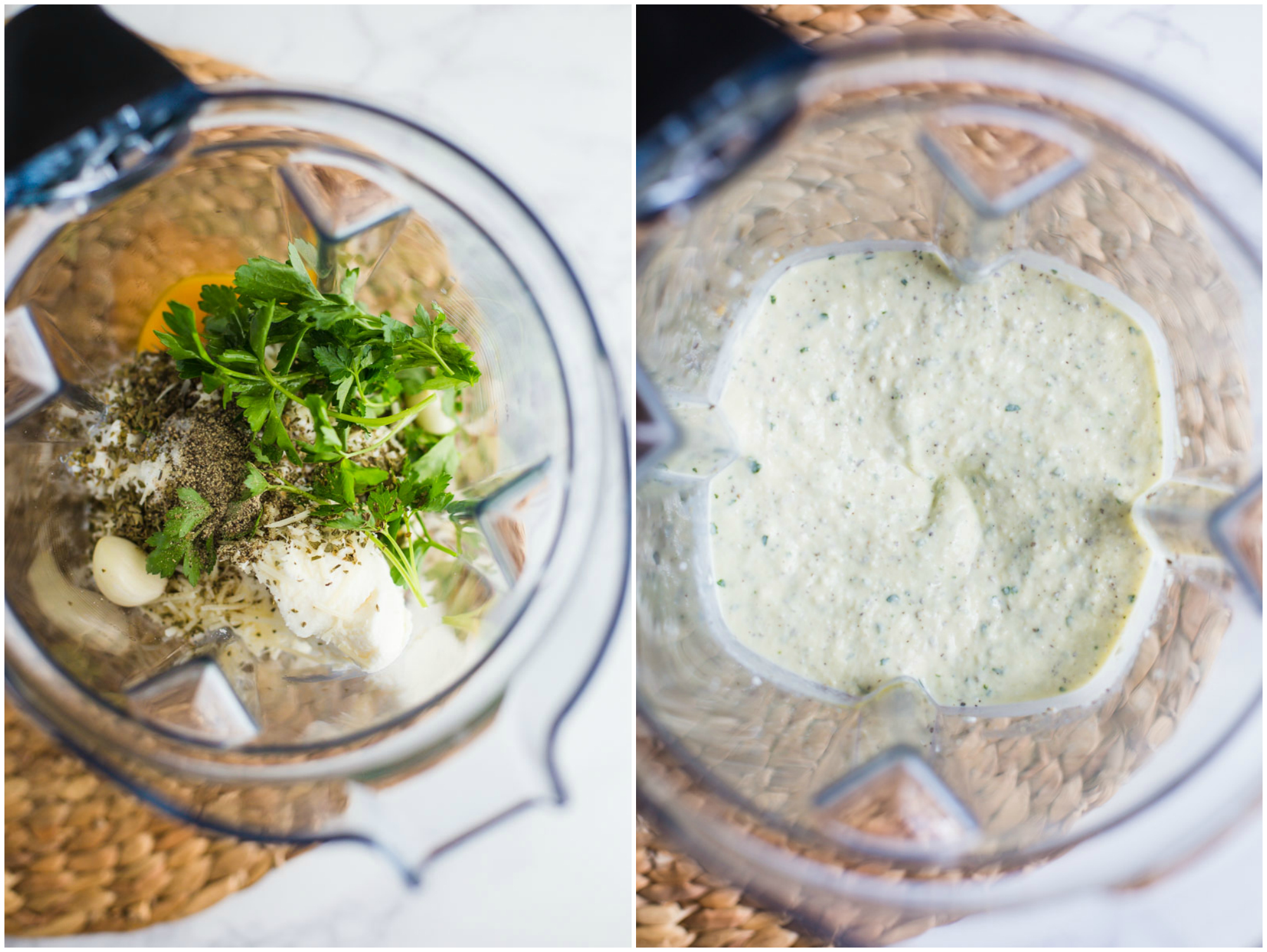 I CAN'T wait for summer this year largely because of all the zucchini and other veggies I plan on growing! I debated whether or not I should grow my usual summer garden this year since baby Britnell is due early August. BUT, I can't imagine NOT having cucumbers, and green beans, and zucchini piling up in our kitchen. So, it's happening. As we speak, I'm killing off a huge section of grass where I plan to plant extra zucchini plants and a couple watermelon varieties and other things that need plenty of space to spread out. Dear summer: hurry up and get here!!!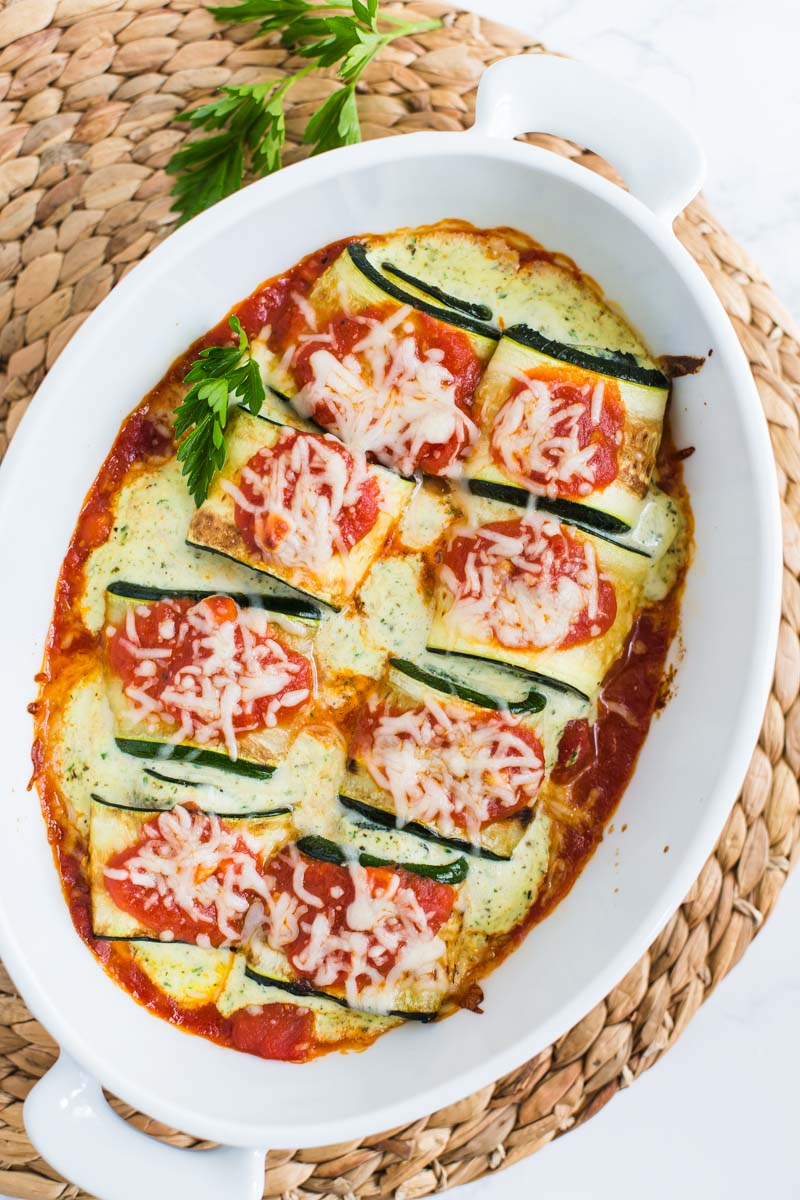 Alrighty friends! That's all I have for you today. I hope you love these Zucchini Lasagna Rolls and have a very lovely Wednesday! ;D
Print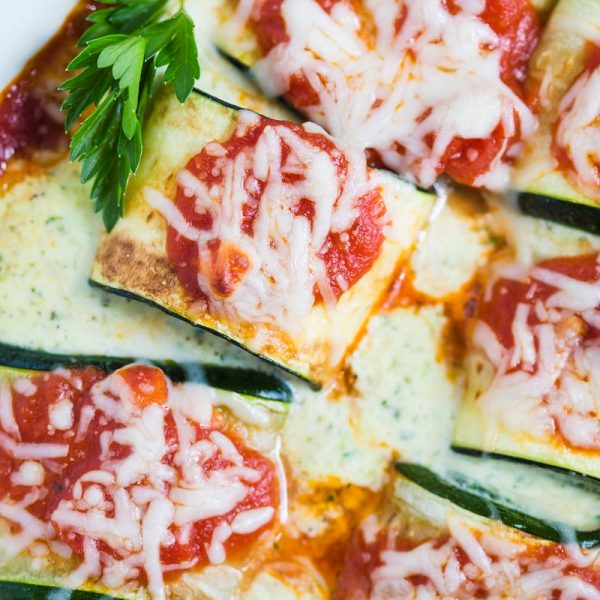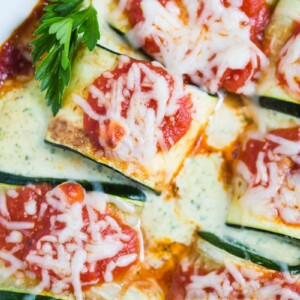 Zucchini Lasagna Rolls
---
Author:

Total Time:

45 minutes

Yield:

2

servings

1

x
Ricotta Filling:
4 oz

of ricotta cheese

2 oz

of cottage cheese (can also substitute this for more ricotta)

3 tablespoons

of parmesan cheese, shredded

1/8 cup

of fresh parsley

1/4 tablespoon

of dried oregano

1/4 teaspoon

of salt

2

cloves of garlic

1/4 teaspoon

of black pepper

1

fresh egg
Zucchini Rolls:
2

medium-large zucchinis
salt for sprinkling (optional)

1/2 cups

of your favorite pasta sauce (depending on how saucy you want it!)

1/2 cup

of mozzarella cheese, shredded or in small chunks
---
Instructions
Pre-heat your oven to 375 degrees F.
To make the ricotta filling: add all of the ingredients into a food processor or blender and blend until creamy and smooth. Place in the refrigerator until ready to use.
Using a madolin or sharp knife, cut your zucchini into long strips that are about 1/4 inch thick each. See photo above. You should end up with around 4-5 strips per zucchini. Place the strips on a lightly greased baking sheet and spray the tops with cooking spray. Lightly sprinkle with salt.
Turn your oven on to broil and broil the zucchini until they start to brown on the top. Flip and broil the other side until they're also brown. Mine take about 4 minutes on each side but all broilers are different so watch yours so they don't burn! You can also grill the strips. Once done, let cool enough that you can handle them.
In a large baking dish, spread half of the pasta sauce on the bottom.
Taking one zucchini strip at a time, spread out about 1 heaping tablespoon of the ricotta mixture and spread it out evenly across the zucchini. Starting at one end, roll the zucchini up and place it seem side down in the baking dish. Repeat until all of the zucchini is gone Top each zucchini roll with the remaining pasta sauce and then top evenly with the mozzarella cheese.
Bake in the oven for 20-25 minutes or until the cheese on the top is just beginning to brown. Let cool slightly and enjoy!
Prep Time:

20 minutes

Cook Time:

25 minutes
This post may contain affiliate links. Please read my disclosure policy.