Moroccan Chickpea Soup
This Moroccan Chickpea Soup is healthy, heart, and very filling! It's easy to throw together and is great for vegetarian meal prep!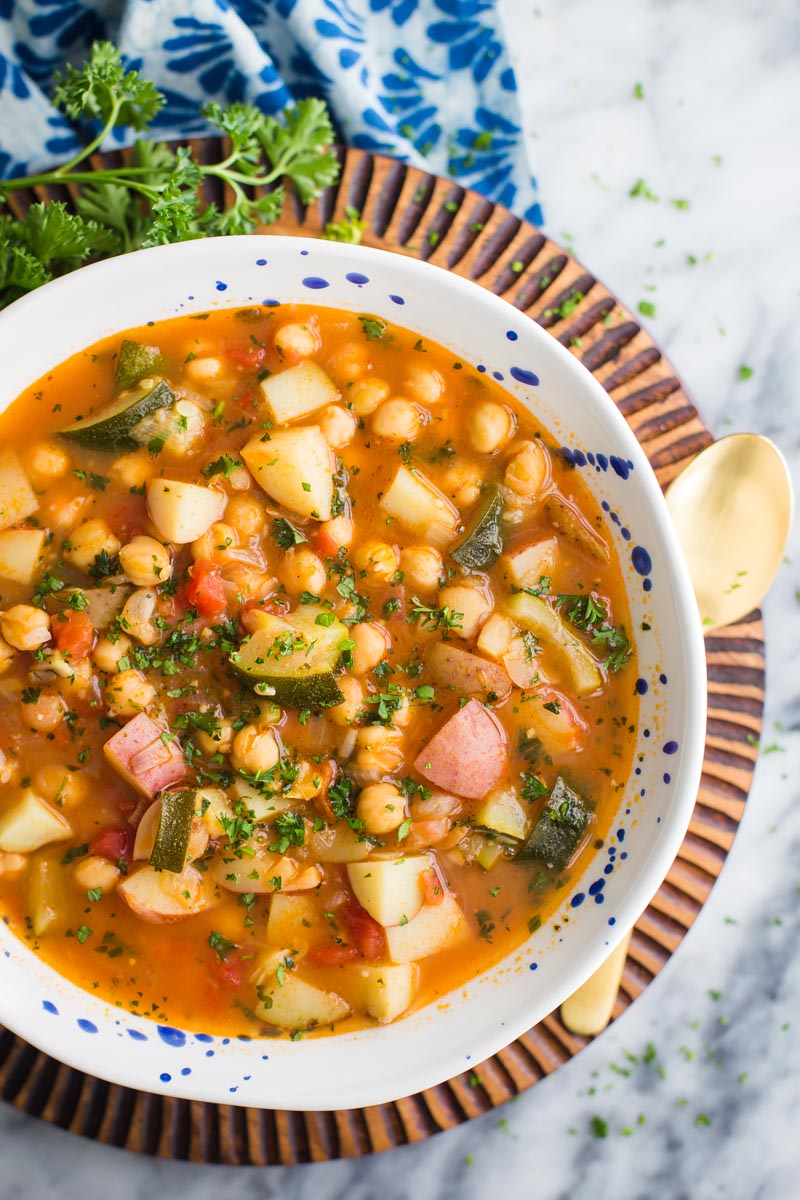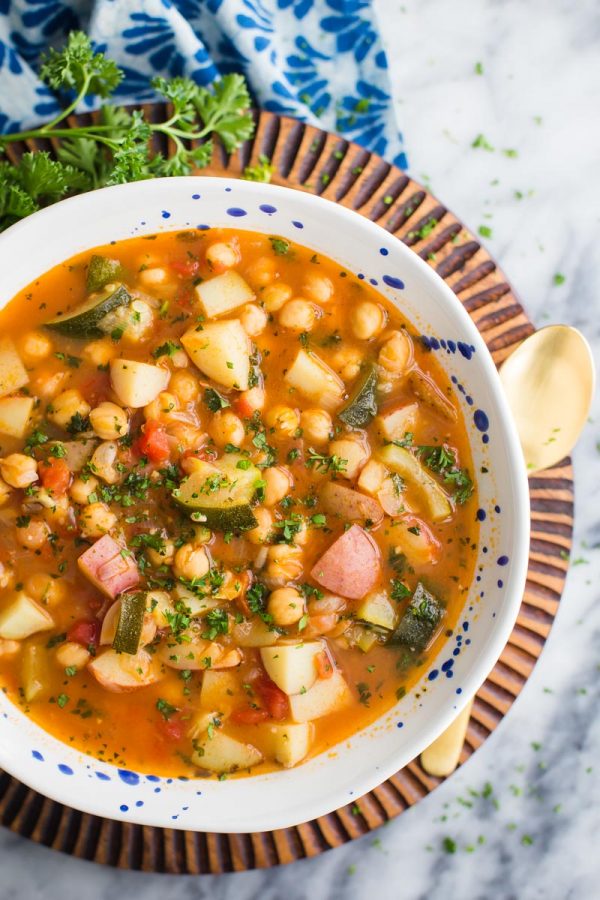 I made a Moroccan dish for a client not too long ago and since then I've been VERY MUCH into Moroccan and other Mediterranean flavors. Conveniently for me, I was gifted a magazine a few months ago that is full of healthy Mediterranean recipes and I want to try ALL of them!
This Moroccan Chickpea Soup is my adaption of one of those recipes and I'm super excited to be sharing it with you because it's SO GOOD!
I'm one of those people that can (and WILL) eat soup ALL year no matter how hot it is outside. I fall into that category of people who, more often than not, want my meal to be warm and cozy. If it's really hot out, I'll just pair my bowl of soup with a nice big glass of chilled wine :) 🍷 🍲
All of that is irrelevant today though because it snowed here in Nashville this morning. I'm rambling. POINT IS- soup= yum ALL YEAR! You can't tell me otherwise.
This particular Moroccan Chickpea Soup is a new favorite of mine. It's kind of light (as soups typically go) BUT it's still super filling and doesn't result in a grumbling belly just 2 hours after you've eaten.
I can tell you from some experience that this soup is also GREAT for leftovers and meal prep (are you a meal prepper!??? It's the hot thing right now but I'm not sure how I feel about it).
Added bonus: everything cooks in one big pot SO minimal clean-up for those lazy night, throw dinner together, kind of evenings (ie, about every other night for us).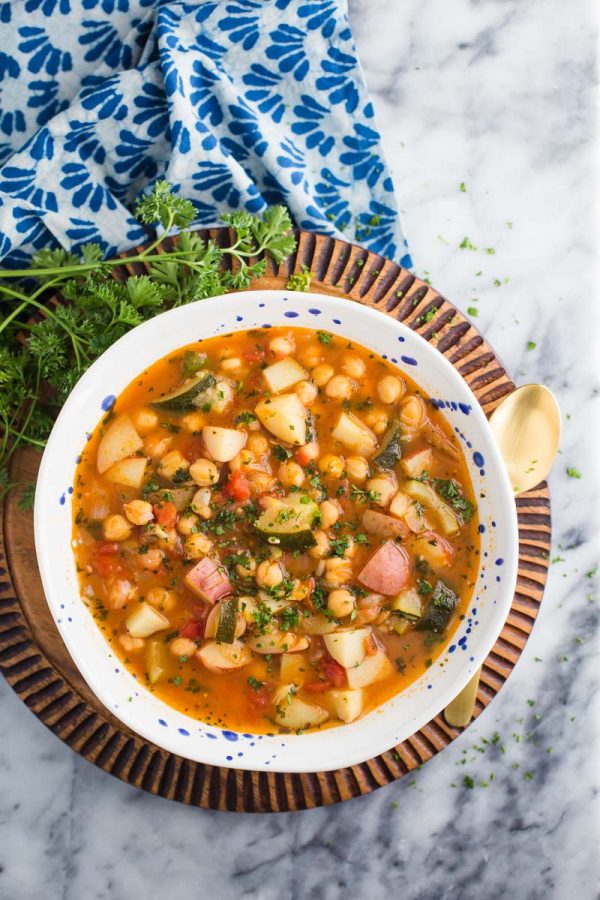 I used this olive oil with lemon juice in the soup. It's from Trader Joes and after letting it sit on my shelf for a very long time, I've rediscovered it and am newly obsessed with it! I used some of it to saute the onion in and then drizzled a tiny bit more on my soup at the end. DO IT! So good!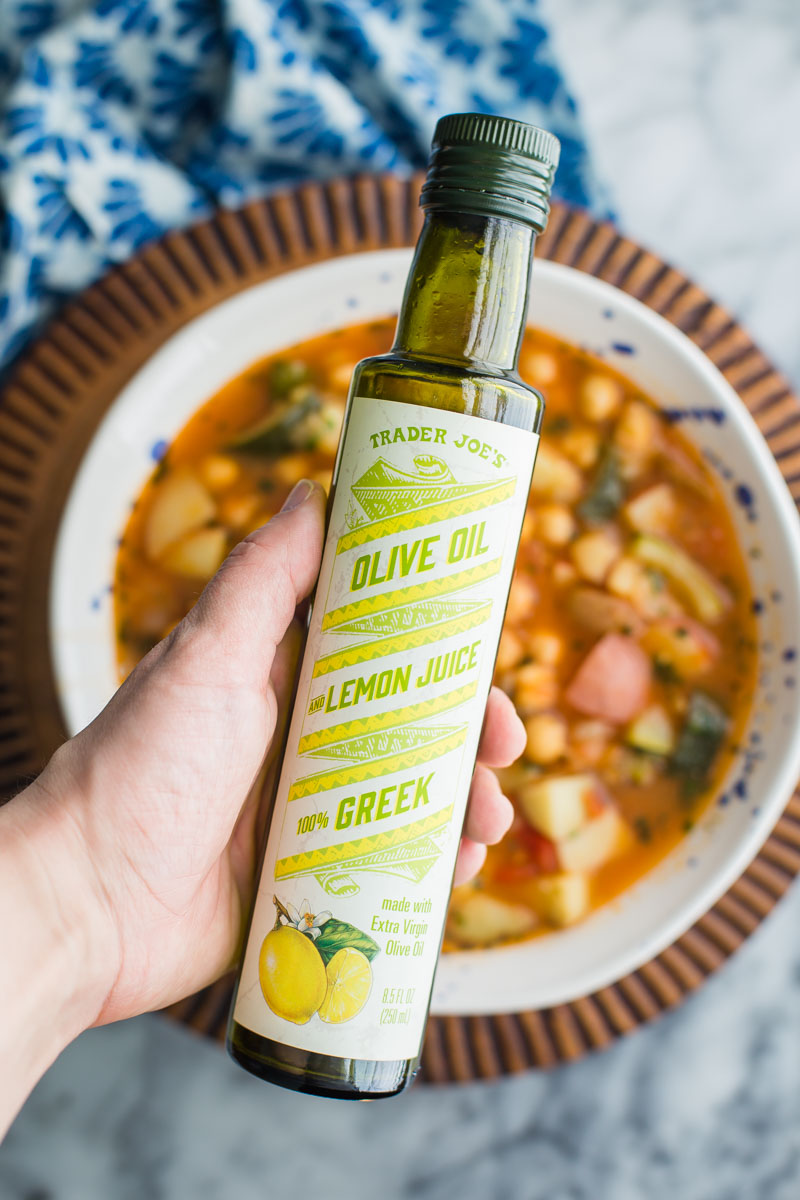 Tell- are you a soup throughout the year kind person?? If the answer is no- I'll work to convert you :)
Print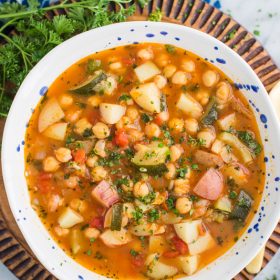 Moroccan Chickpea Soup
---
Author:
Prep Time: 10 minutes
Cook Time: 15 minutes
Total Time: 25 minutes
Description
Moroccan Chickpea Soup- this vegetarian soup is healthy, heart, and very filling! It's easy to throw together and is great for meal prep!
---
Scale
Ingredients
1 1/2 tablespoons of olive oil
1 small white onion, finely chopped
2 teaspoons of maple syrup
4 cloves of garlic, minced
1/2 teaspoon of cumin
1/2 teaspoon of ground ginger
1/2 teaspoon of paprika
2 15-ounce cans of chickpeas, drained and rinsed
4 cups of vegetable broth
1 pound of baby red potatoes, cut into bite sized pieces
1 15-ounce can of diced tomatoes
1 medium zucchini, cut into bite sized pieces
1/4 cup of freshly chopped herbs (I used a mixture of parsley and mint)
---
Instructions
Heat the olive oil in a large pot over medium heat. Add in the onion, maple syrup, and 1/2 teaspoon of salt. Cook for about 5 minutes or until the onion becomes translucent.
Stir in the garlic and spices and cook for an additional minute.
Stir in the chickpeas, zucchini, potatoes, tomatoes (including their juices), and broth. Bring to a simmer and cook, stirring a few times, for 20 minutes or until the potatoes begin to soften.
To make the soup a bit creamier, mash some of the potatoes pieces against the side of the pan and stir in.
Before serving, mix in the herbs and season to taste with salt and pepper. ENJOY!
---