Chickpea Tuna Patties
This post may contain affiliate links. Please read my disclosure policy.
Oh, you're trying to get more protein in your diet? Here ya go: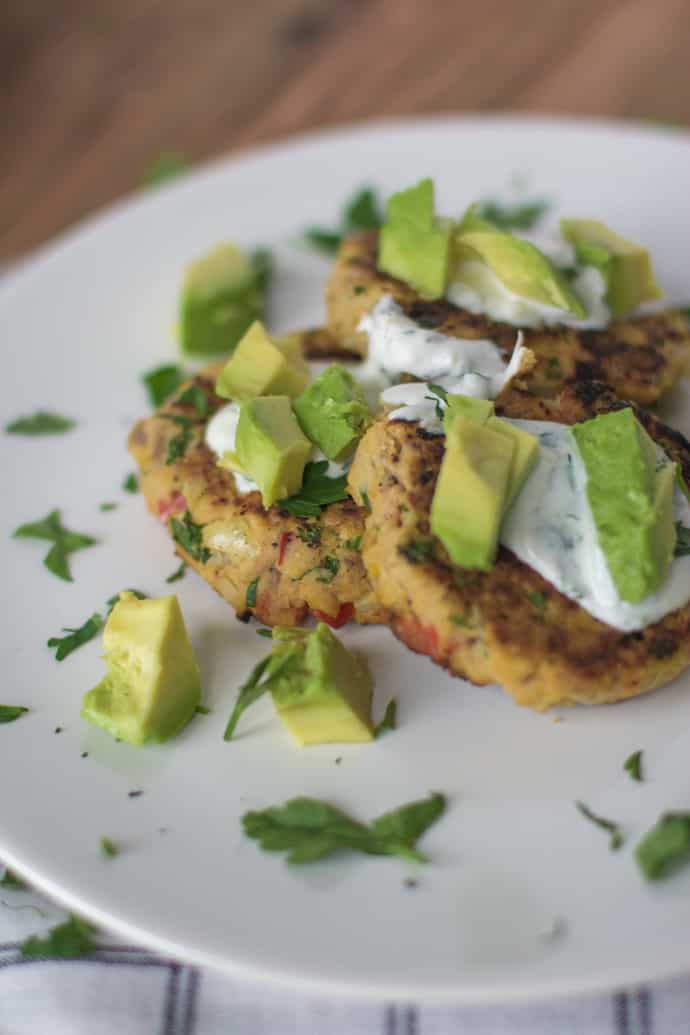 I'm a really big fan of patties. Case in point: Quinoa & Kale Patties and Quinoa, Turkey, & Veggies Patties.
I think eating them kinda makes me feel like I'm eating a cheeseburger. A healthy cheeseburger. With no bread. And no cheese.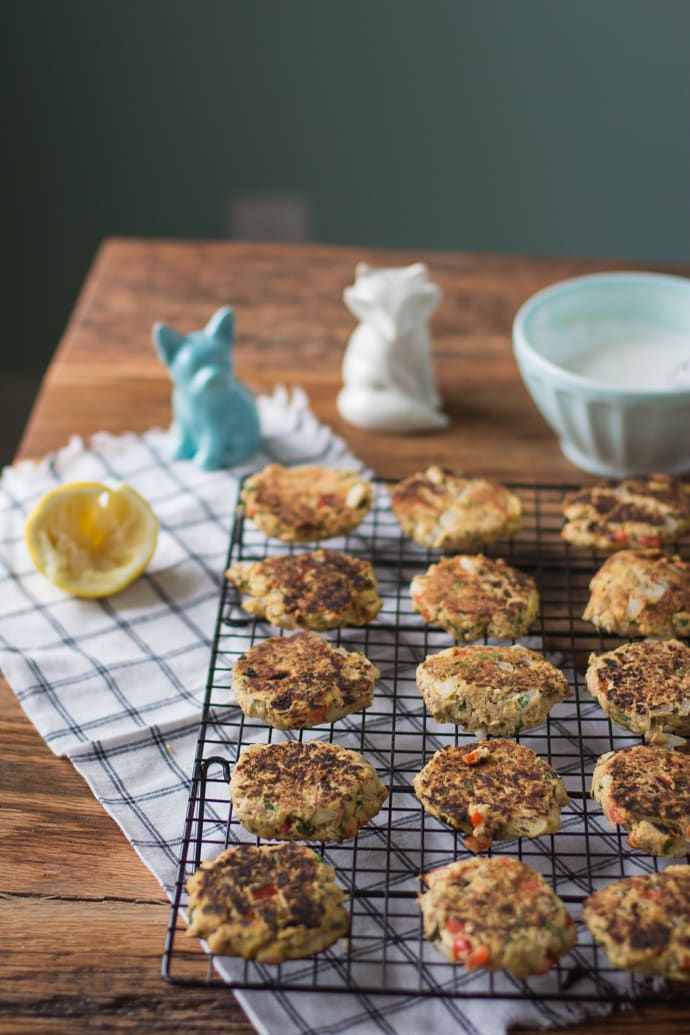 I've thrown ALL kinds of things into patties to hold them together. These were an even different beast since tuna holds together even less than ground turkey. These started out with breadcrumbs until I had the bright idea to replace them with mashed up chickpeas. GENIUS! And, more protein.
These patties have 3 great sources of protein in them: tuna, chickpeas, and eggs. So, the real title of this post should be: Protein Packed Tuna Patties. But, I went with Chickpea Tuna Patties instead.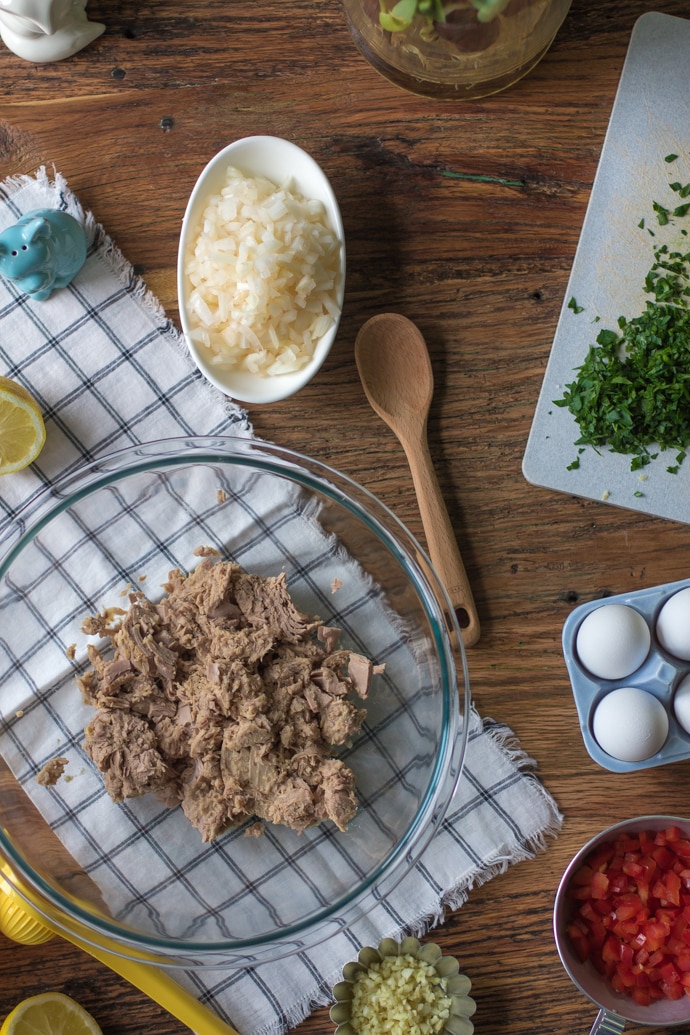 Like many of my recipes, this is an easy one that pretty much involves just throwing it all in there.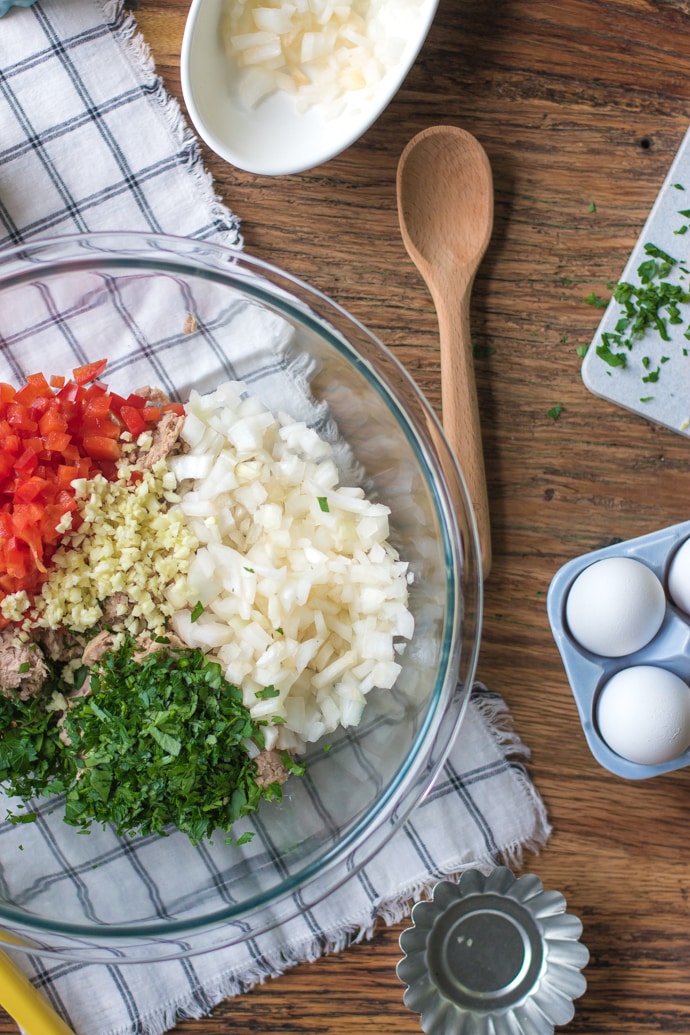 Loads of red pepper, onion, garlic, and parsley are mixed in with the tuna.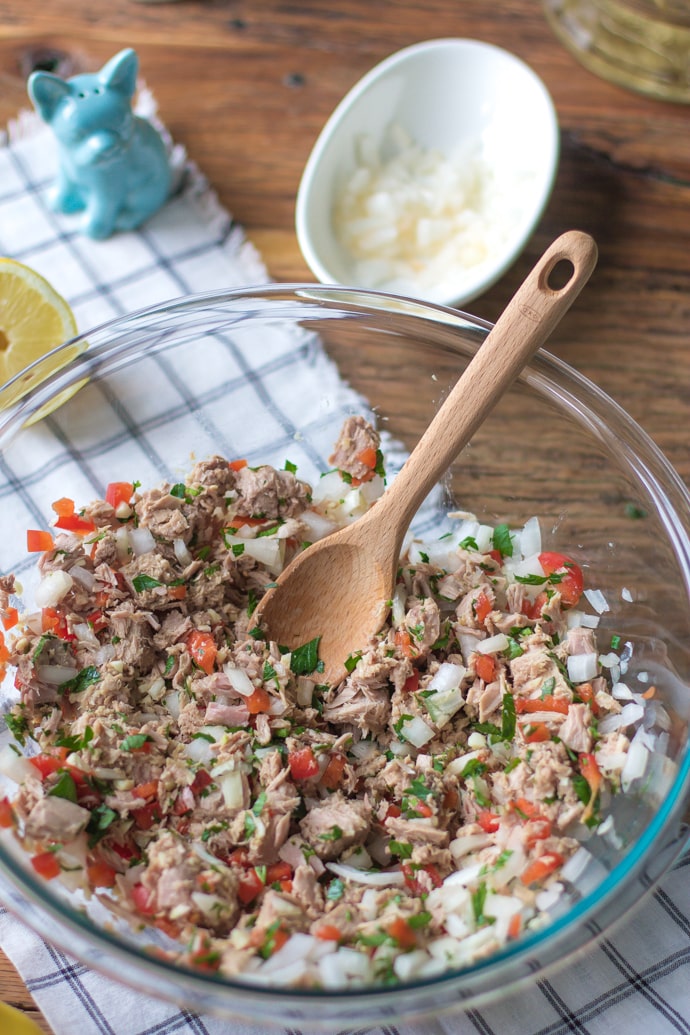 You could actually stop there, add some seasoning, and eat this on bread as a tuna sandwich. But, we're not stopping.
2 eggs are added and mixed in.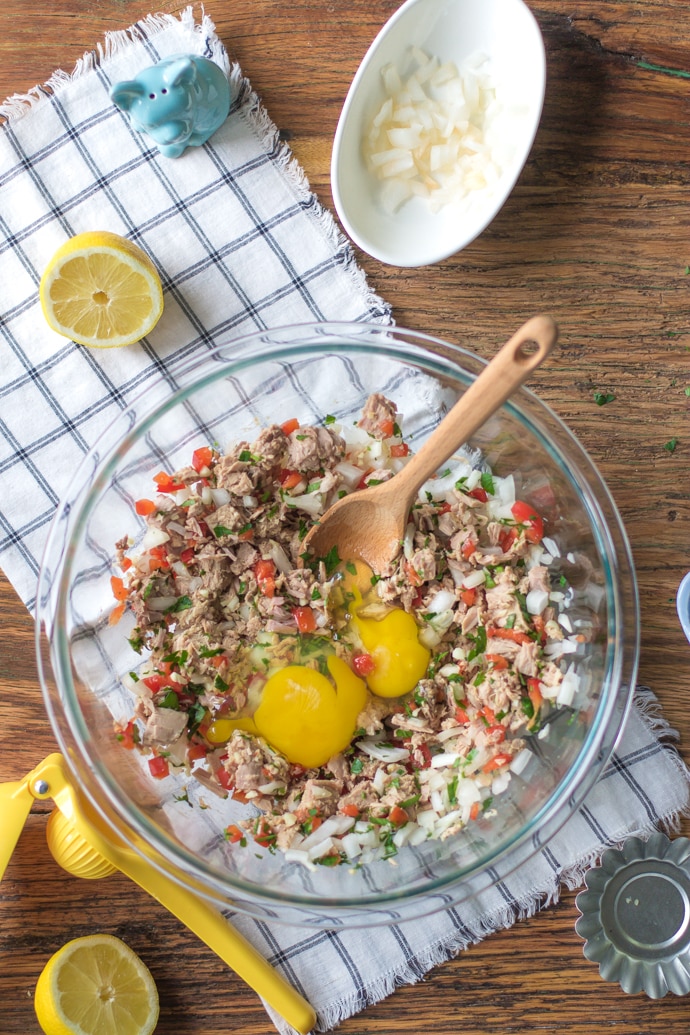 The chickpeas are blended up real nice, almost to a hummus consistency. If there are a few chickpea chunks left over, that's okay.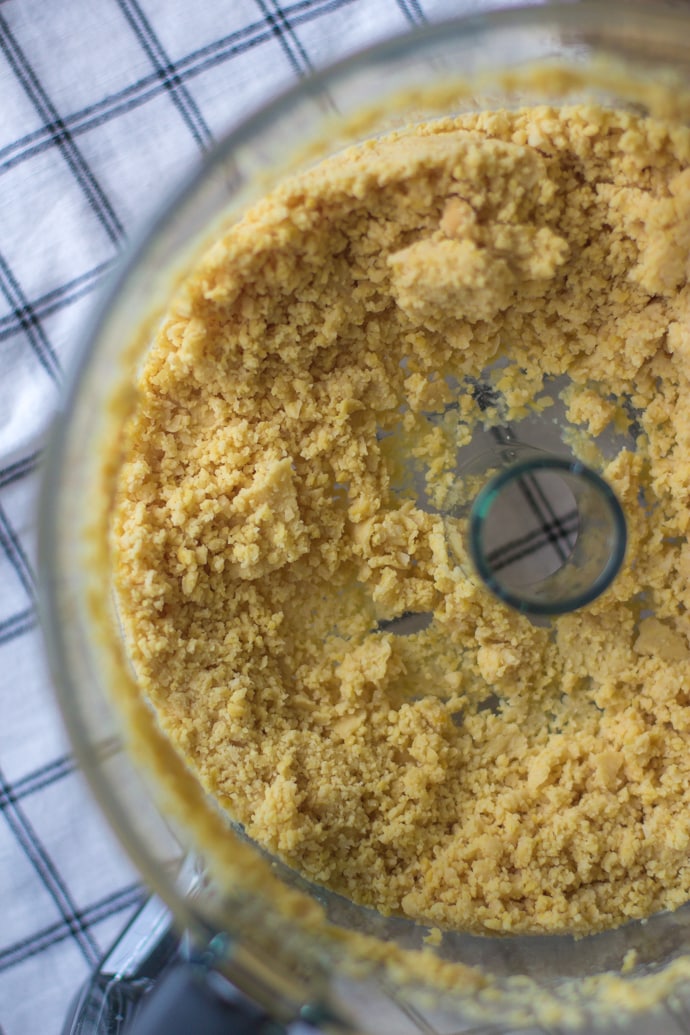 The chickpea mixture, along with some lemon juice, is mixed into the tuna and veggies.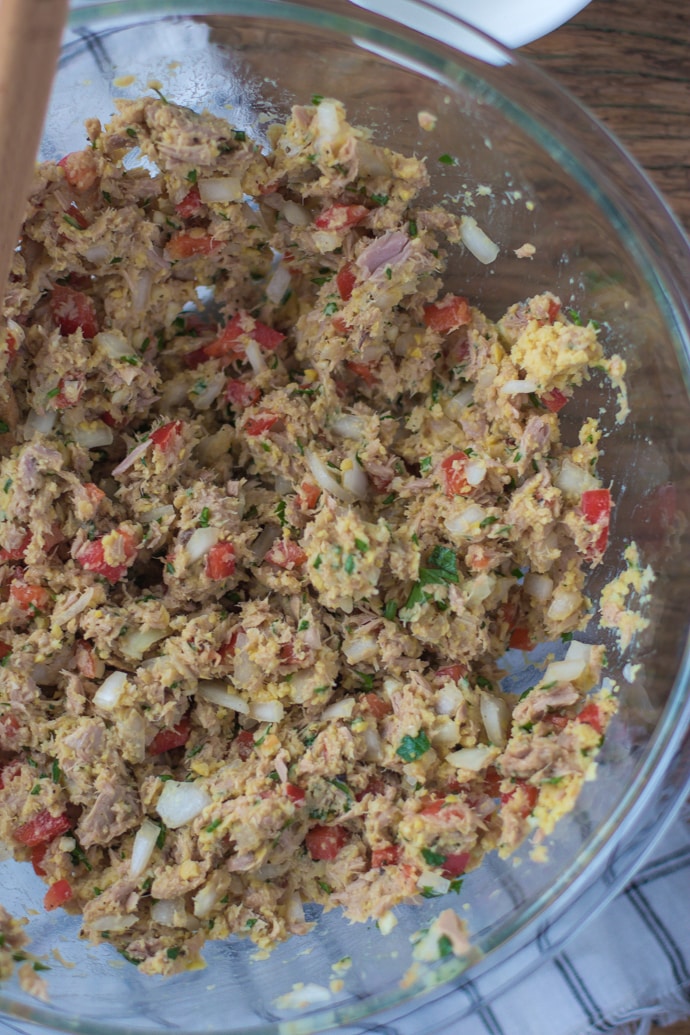 A good pinch of S&P are added before the tuna is formed into patties and ready for a well greased skillet.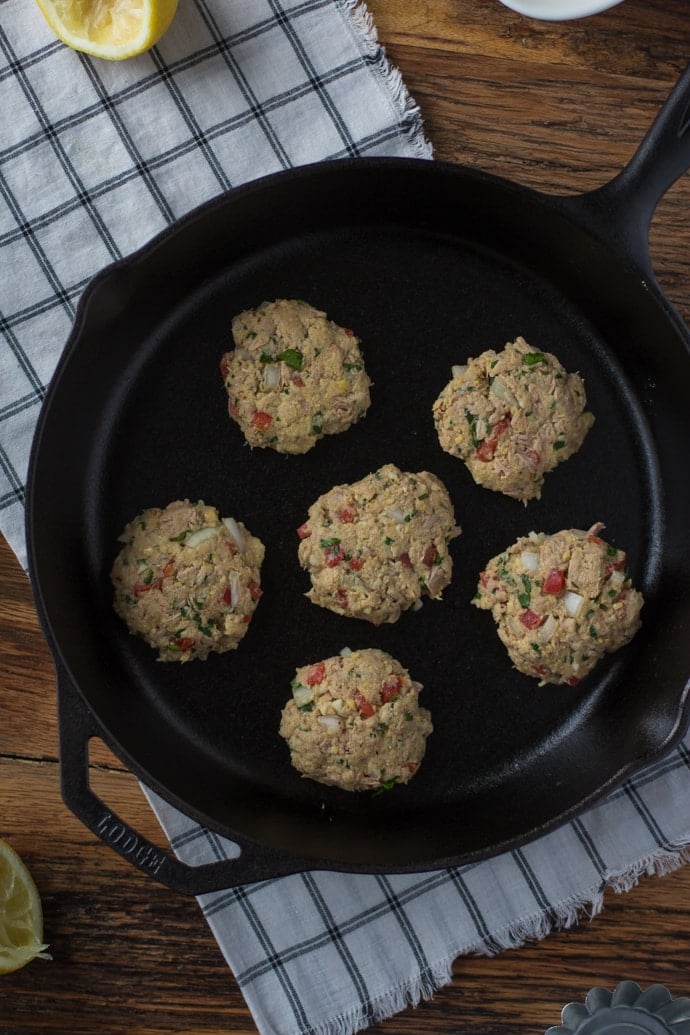 These take a bit to cook. ~6-7 minutes on each side at a medium low heat. You'll also want to be careful when you flip them because, truth be told, they are certainly not as sturdy as a hamburger. If you want them to hold together super well, you could add ~1 cup of bread crumbs. But, they aren't really needed.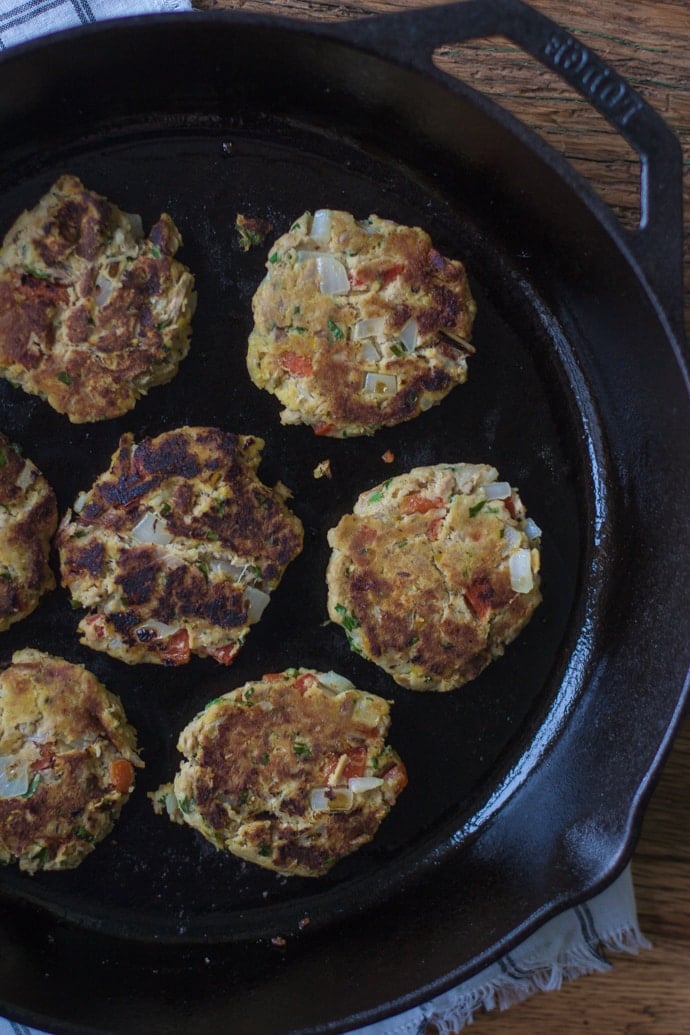 Once cooked, they're placed on a cooling rack while a delicious sauce is prepared with even MORE protein.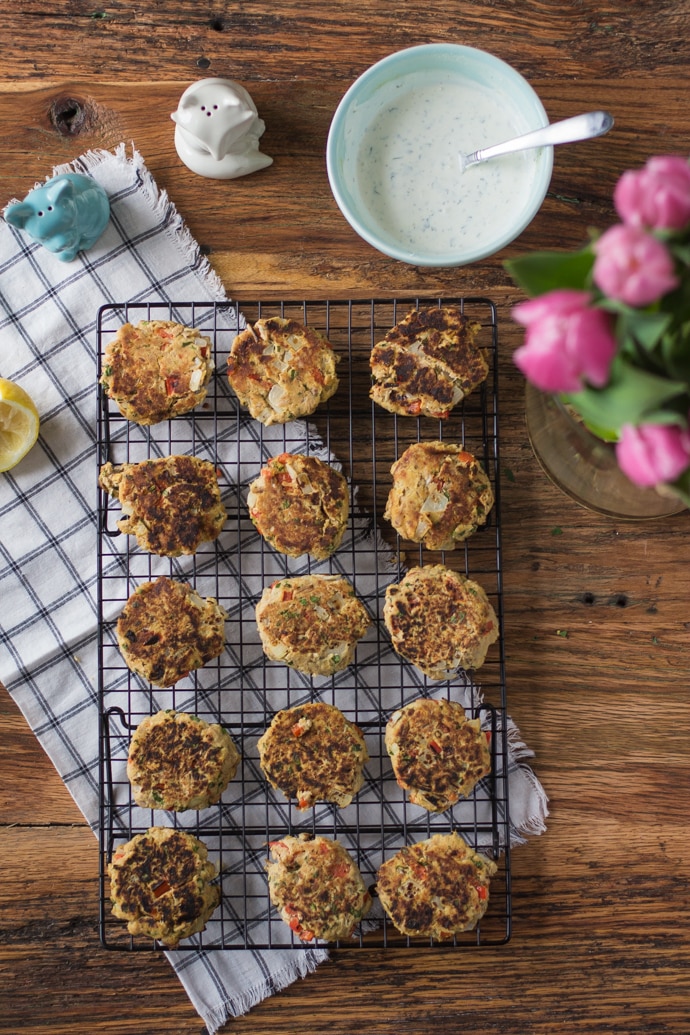 The topping sauce is simply plain greek yogurt, garlic, parsley/ chives, lemon juice, and a bit of S&P. And MMMM is it good!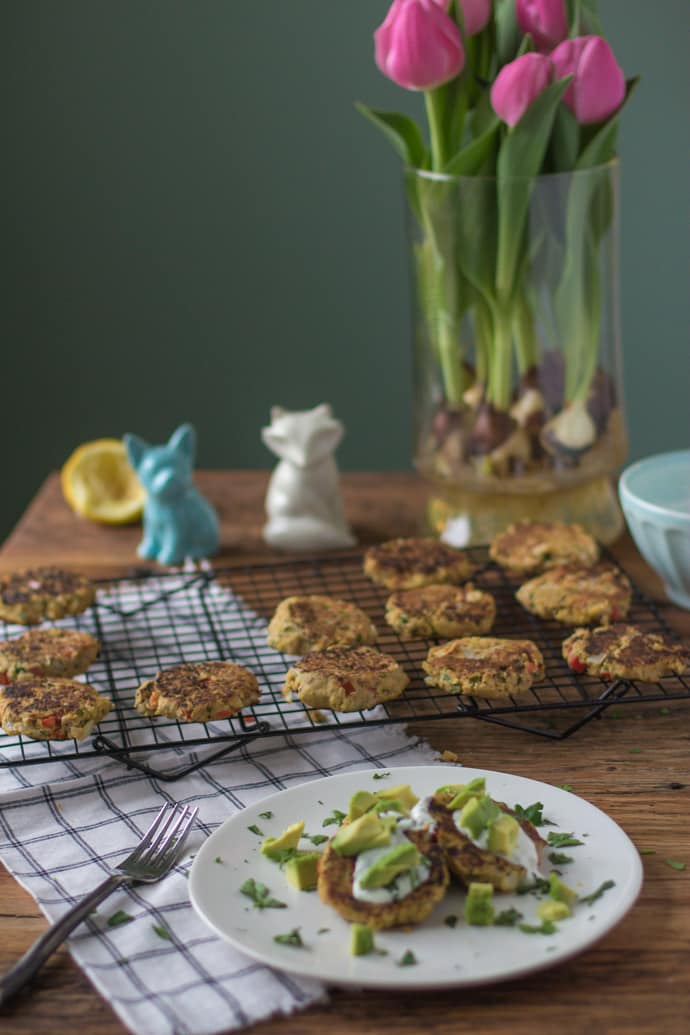 A few good chunks of avocado on top won't hurtcha either.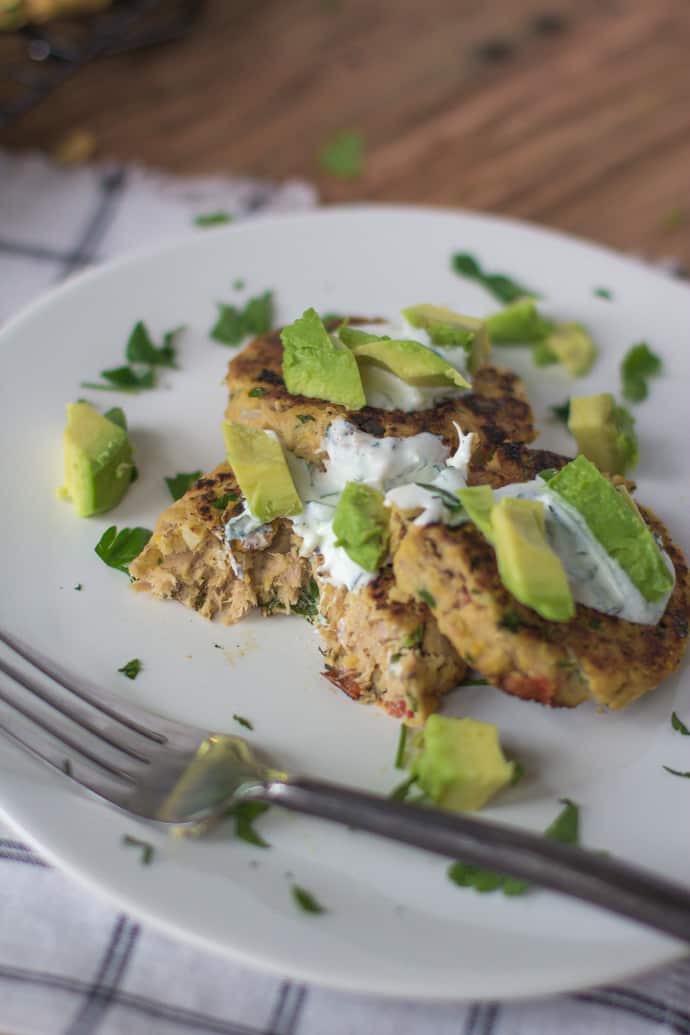 Print
Chickpea Tuna Patties
---
Tuna Patties:
1

15oz can of chickpeas, well drained

4

cans of tuna, drained of as much liquid as possible

3 tablespoons

of finely chopped parsley

3

cloves of garlic, minced

1/2

of a white onion, finely chopped

1/2

of a red bell pepper, finely chopped

2

eggs

2 tablespoons

of fresh lemon juice
Garlic Sauce:
1/2 cup

of plain greek yogurt (can also use sour cream)

1 teaspoon

of chopped parsley or chives

1

–

2

cloves of garlic, minced

1 teaspoon

of lemon juice
S&P to taste
---
Instructions
For Tuna Patties:
In a food processor or blender, process the chickpeas until they begin to have the consistency of hummus.
In a large mixing bowl, mix together all of tuna patty ingredients (including the chickpea mixture) until well combined.
Form into small patties. Grease a skillet and heat over medium low heat.
Cook the patties, ~5 at a time depending on the size of your skillet, for ~7 minutes on each side. Flip carefully.
Once done, let cool slightly before eating.
For garlic sauce:
Mix all of the ingredients in a small bowl.
it's ready!
ENJOY!
Prep Time:

10 minutes

Cook Time:

25 minutes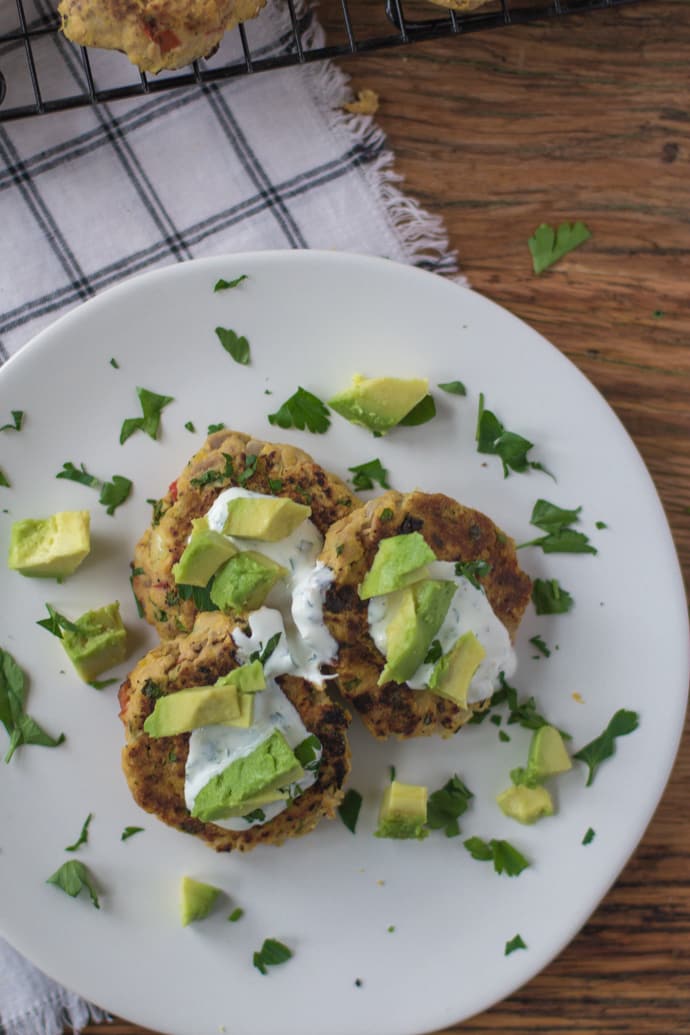 This post may contain affiliate links. Please read my disclosure policy.