Chocolate Chip Pumpkin Cookies
This post may contain affiliate links. Please read my disclosure policy.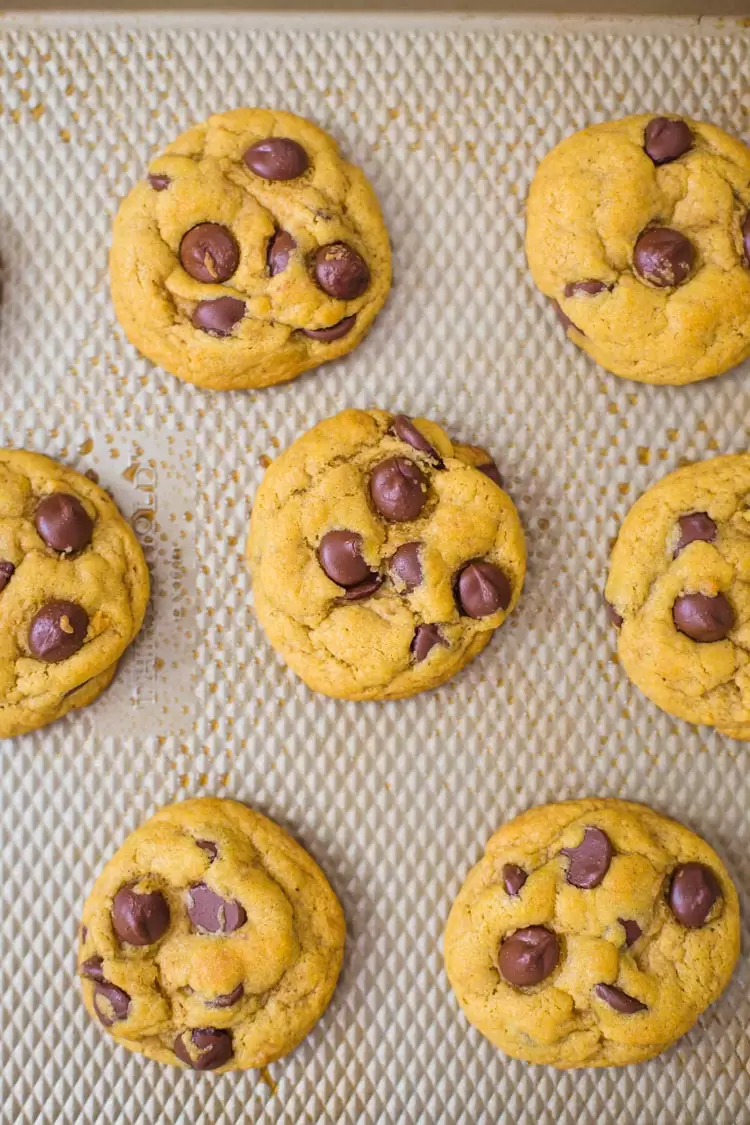 Oh HAY! Remember me? The overly ambitious food blogger who used to hang out around these parts? I hope you didn't forget me due to my serious lack of posting.
When my best friend had her baby (~5 months before Jemma was born), I asked her if babies are really, truly as exhausting as everyone says they are. As a non-parent who had very little experience dealing with infants, I simply couldn't understand what the big deal was. It seemed as easy as: feed the baby, rock the baby to sleep, get TONS of stuff done. I was so so so very naive. For all you parents out there: you get it….no further explanation needed. For any non-parents: just trust me when I say that babies can/ most often are EXHAUSTING (and yea…totally worth it!).
Jemma is currently sleeping (after screaming for a while from Thanksgiving festivities over stimulation). I have a SO many different things that I should be doing right now, including lots of client work. However, I'm very happy to be here with you. I've been waist deep in all things food media since coming off of maternity leave and have been filming 8-12 food videos per week. Unfortunately, none of those videos have been for my own blog. I truly, genuinely miss developing my own recipes and posting them here for you. It's happening again (in full force!) SOON.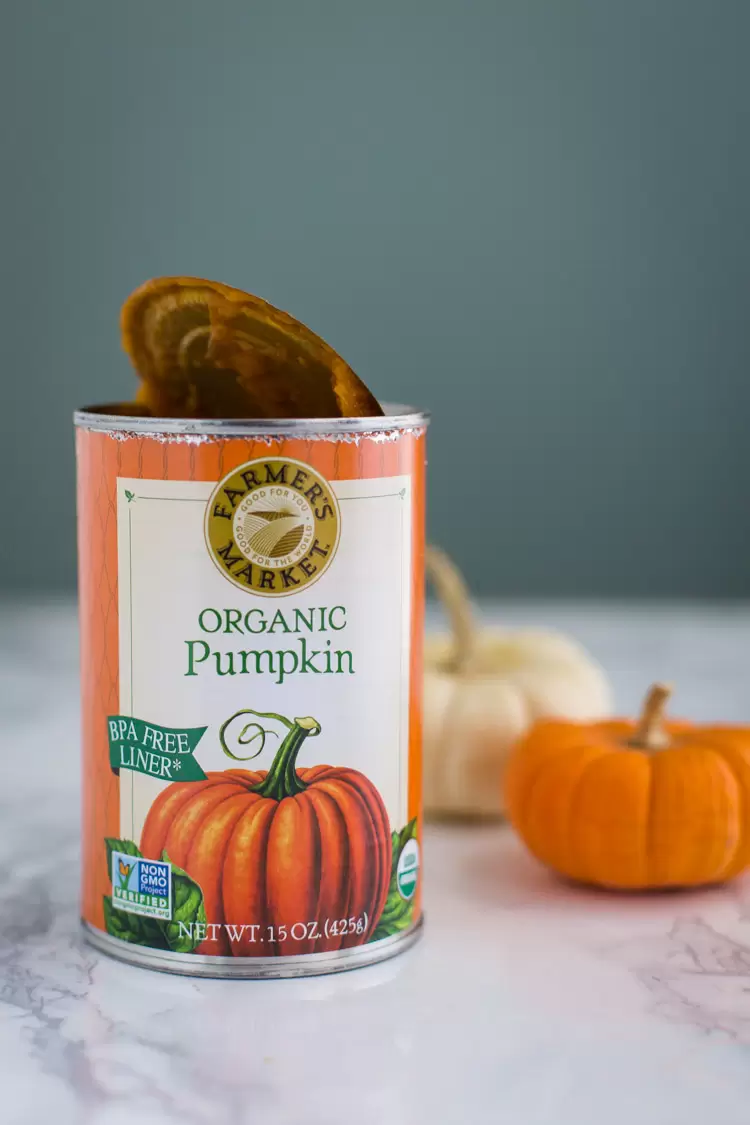 Anyways. Today we're here to talk about these Chocolate Chip Pumpkin Cookies that I spent forever getting right AND that I've had sitting here in my draft folder for MONTHS. I was hoping to be ahead of the pumpkin game…but, better late than never I figure :D I would totally eat these ALL YEAR LONG!
The recipe is based off of my all. time. favorite. soft chocolate chip cookie recipes from Pinch of Yum (recipe HERE). I tested it out with coconut oil (to give it a vegan option) as well as regular butter (honest- tastes better IMO….vegan butter also works). The egg in the recipes is replaced with the pumpkin which provides a lovely and subtle hint of pumpkin to the cookies. The pumpkin pie spice really amps things up to give you that BAM in-your-face pumpkin flavor. I'm really into it.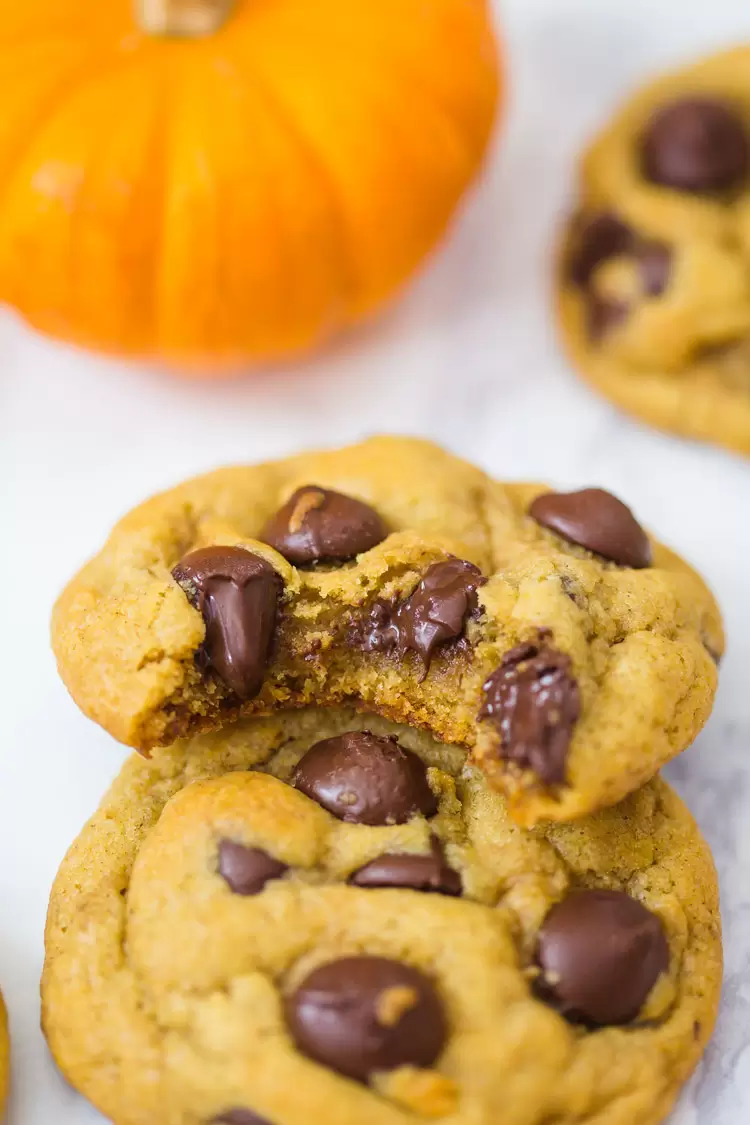 Something else I'm rather obsessed with: DARK CHOCOLATE. It's very confusing to me that some people aren't into it but to each their own, I suppose. I make my cookies, more often than not, with dark chocolate. You can use whatever kind of chips that you desire.
If you want a more subtle pumpkin taste, you can totally leave out the pumpkin pie spice. In fact, I accidentally did that one of the times I was testing this recipe and the cookies still tasted great!
I hope your Monday is filled with lots of chocolate chip cookies (and maybe a few thanksgiving leftover remnants!?).
Print
Chocolate Chip Pumpkin Cookies
---
Author:

Total Time:

20 minutes

Yield:

12

cookies

1

x
1 stick of butter (8 tablespoons) melted (can be replaced with 1/2 cup of coconut oil if desired)

1/2 cup of white sugar

1/4 cup of light brown sugar, packed

1 teaspoon of vanilla

1/4 cup of pumpkin puree

1 1/2 cups of all purpose flour (I've also tried these with whole wheat pastry flour)

1/2 teaspoon of baking soda

1/4 teaspoon of salt

1 teaspoon of pumpkin pie spice (optional but recommended!)

3/4 cup of dark chocolate chips (or any chip of your liking)
---
Instructions
Pre-heat your oven to 350 degrees F.
In a stand mixer (or using a hand mixer), beat together the butter, white sugar, and brown sugar until fully combined.
Next, add in the vanilla and pumpkin puree and beat until just mixed together.
Add in the flour, baking soda, salt and (if desired) pumpkin pie spice. Continue to mix until a dough is formed. You want it to be soft but not so sticky that it sticks to your fingers. If it is too sticking, add a couple tablespoons more flour into the batter and mix.
Fold in the chocolate chips.
Roll the dough into ~12 balls and place them on a greased or lined baking sheet. Bake for 10-12 minutes making sure not to over bake at all. The bottom will be only very slightly browned.
Let cool for as long as you can manage and then enjoy!!
Prep Time:

10 mins

Cook Time:

10 mins
Adapted from my VERY favorite chocolate chip cookie recipe from Pinch of Yum
This post may contain affiliate links. Please read my disclosure policy.