Creamy Butternut Squash Pasta with Crispy Brussels Sprouts
This post may contain affiliate links. Please read my disclosure policy.
I really hope that you're not sick of the butternut squash recipes yet because I have a LOT of them planned for the coming months :) As I've mentioned at least 10 times before, I grew 2 butternut squash plants this summer and still have a ridiculous amount of the stuff lying around my house. But, there's absolutely no complaints on my part because I'm not sure that I could ever get sick of the stuff. I've been making bread with it, LOTS of spiralized noodles, and even just eating it raw (<<<which is definitely a great idea if you've never tried it!).
If I'm being 100% honest with you, today's post is really just an excuse to share another butternut squash noodles recipe so that I can show you the fun new video that I published today :D
THIS RECIPE
for Butternut Squash Pasta (which is hardly a recipe at all), is consistently my popular post pretty much every single month. Last month it brought in a totally of 15% of my entire traffic for the month. All of that to say, I figured it was long past time that it had it's own video :) Also, more than just my hands make an appearance in this video since it's impossible to film me operating a spiralizer in any other way.
Lets talk about my spiralizer for just a minute. I have THIS SPIRALIZER (also called the Inspiralizer). Full disclosure, this spiralizer is about double the price as some of the other ones that you can find on Amazon. However, as someone who has owned TWO of those cheaper spiralizer, I'm here to testify that this is the time to spend the extra money. One of the spiralizer was just total crap and didn't work very well and the other one worked okay for about 6 months but then broke. I was able to tape it back together and it worked kind of okay. But yea, just splurge for the Inspiralizer!
Back to the Butternut Squash Noodles. These are simple noodles, covered in the Sage & Garlic Cashew Cream Sauce that we made last week. Oh, and topped with some crispy Brussels sprouts for texture and crunch and just all around yumminess. Crispy Brussels sprouts= something that I want a LOT more of in my life!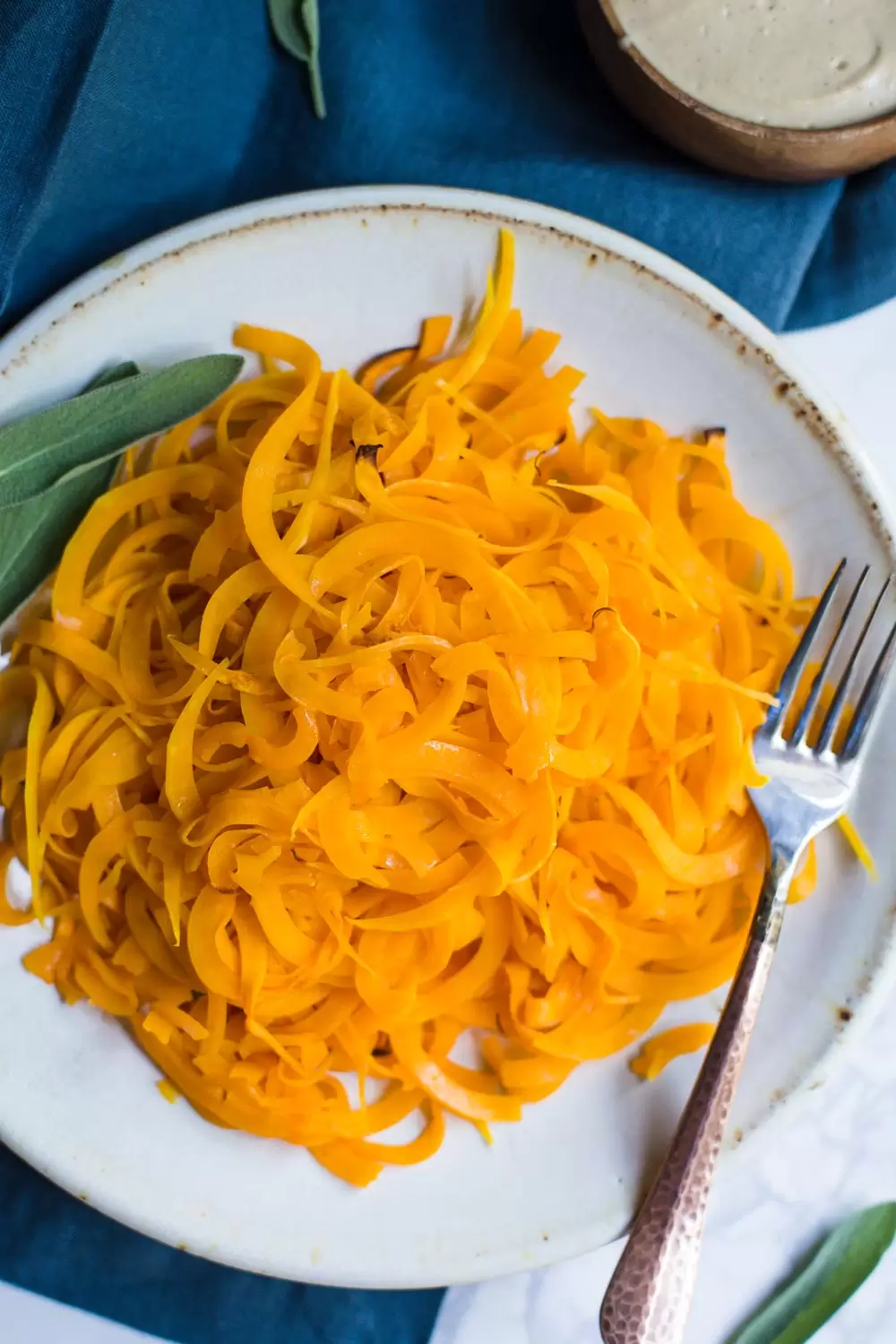 Well friends, that's all I have for today. I hope you've been enjoying my fun little recipe videos even just half as much as I'm enjoying making them! AND I hope that you have lots of spiralized butternut squash noodles in your near future because they're maybe my favorite all of all the spiralized veggies :)
Print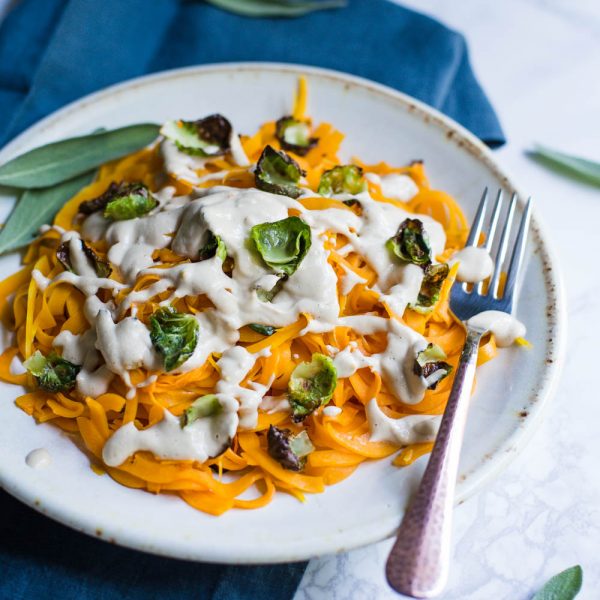 Creamy Butternut Squash Pasta with Crispy Brussels Sprouts
---
Author:

Total Time:

30 minutes
---
Instructions
Pre-heat oven to 400 degrees F.
Cut the stem ends off of the Brussels sprouts and peel away the leaves. Place the leaves evenly on a baking tray and toss to coat with 1/2 tablespoon of olive oil, salt, and pepper. Set aside.
Place the spiralized butternut squash on a baking tray. Pour the 1 tablespoon of oil evenly over top and sprinkle with a bit of salt and pepper. Toss to coat and then spread the noodles evenly out on the pan.
Place the butternut squash in the oven and bake for 10-12 minutes or until the noodles are tender and just barely beginning to brown on the edges.
When the noodles have 10 minute left, place the brussels sprouts in the oven and bake for 10 minutes. I left mine get quite brown but if you want less of a burnt taste, you can take them out sooner.
When the squash and the sprouts are out of the oven, plate the noodles evenly on two plates. Top with the cashew cream sauce split evenly between the 2 plates. Top with the burssels sprouts and ENJOY!!
Prep Time:

10 minutes

Cook Time:

20 minutes
This post may contain affiliate links. Please read my disclosure policy.