Easy Baked Ravioli
This post may contain affiliate links. Please read my disclosure policy.
Thanks to Three Bridges for sponsoring this post! You can learn more about their easy, wholesome, and delicious pastas HERE!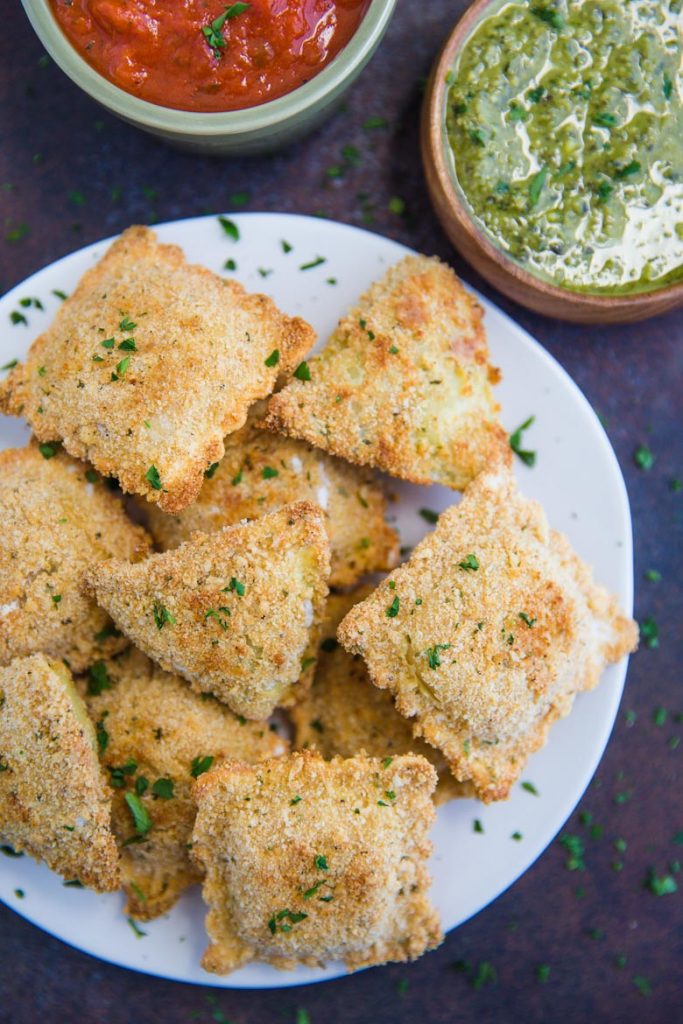 For my very last post of 2017, I thought we'd go out in style with a super easy and ridiculously delicious recipe: Crispy Baked Ravioli in partnership with Three Bridges.
I'm using their Butternut Squash Ravioli and their Kale and Cheese Ravioli for this recipe but they have a full line of premium refrigerated pastas (including SO MANY amazing ravioli options that would all work great for this recipe) and sauces made with simple, honest and better-for-you ingredients. Their pastas are on my shopping list pretty much every single week because inevitably, there's at least one night each week where we need dinner in a pinch. "In a pinch" for us means that neither Mr. Britnell nor I feel like making dinner but we're both starving. In this situation (which- again- is weekly), I boil the water for the Three Bridges ravioli and Mr. B throws together a quick salad (typically Caesar because I'm obsessed). The pasta is topped with a simple sauce and a bit of cheese and we always feel like we're eating a gourmet meal that took us an hour to cook.
Needless to say, I'm a pretty big fan :)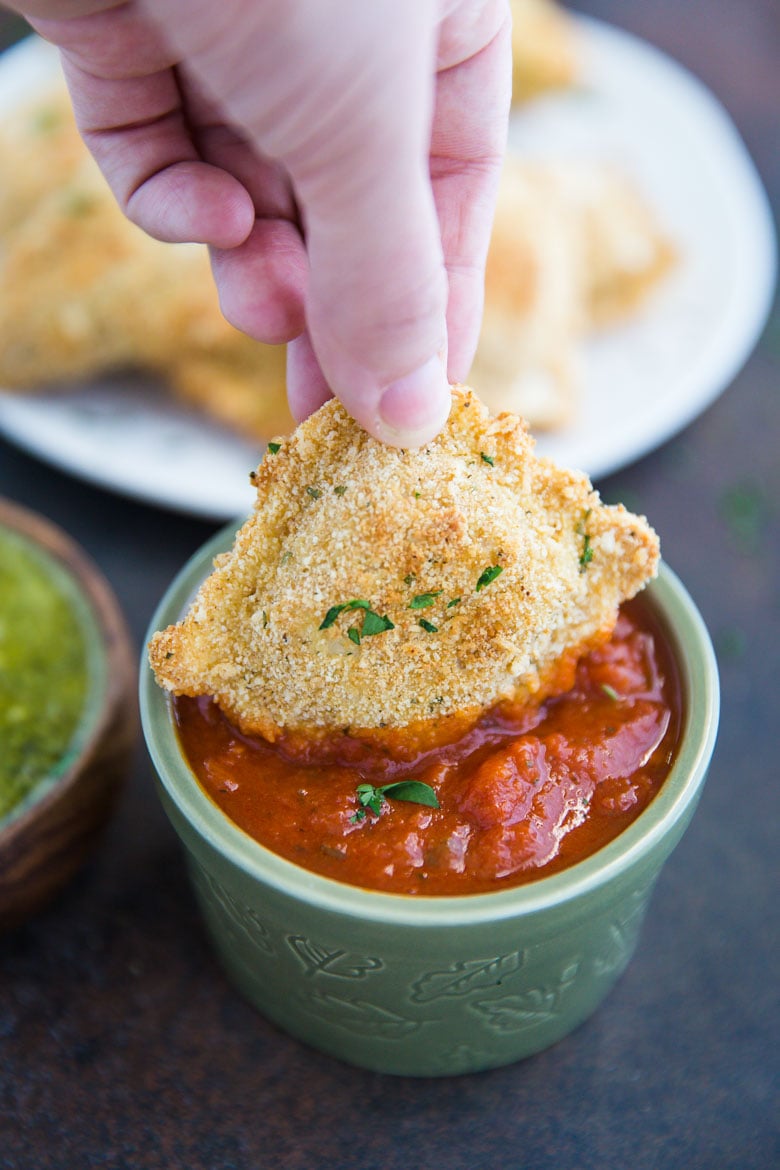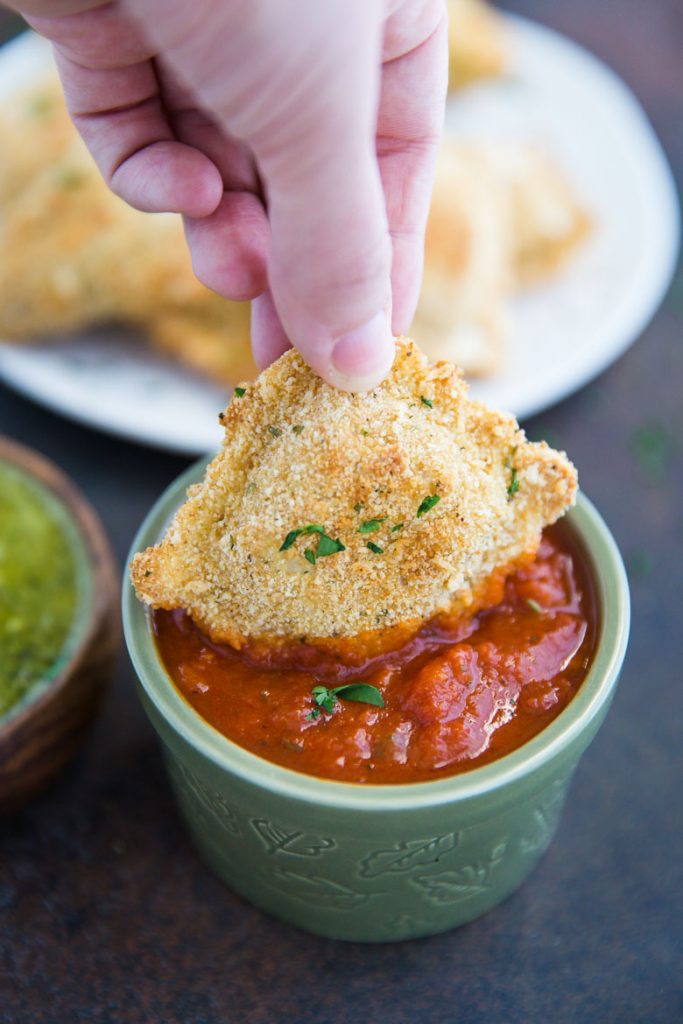 While I love their raviolis served traditionally with a bit of sauce, I thought we'd try something a bit different today with these Crispy Baked Ravioli. I wanted a fun way to serve the raviolis as a finger food for parties and most importantly at TAILGATES! I've been really into football this year (cheering simultaneously for the Titans AND the Packers) and am therefore planning a rather large Super Bowl party. Really, I just want an excuse to have a bunch of friends over and serve them lots of yummy food.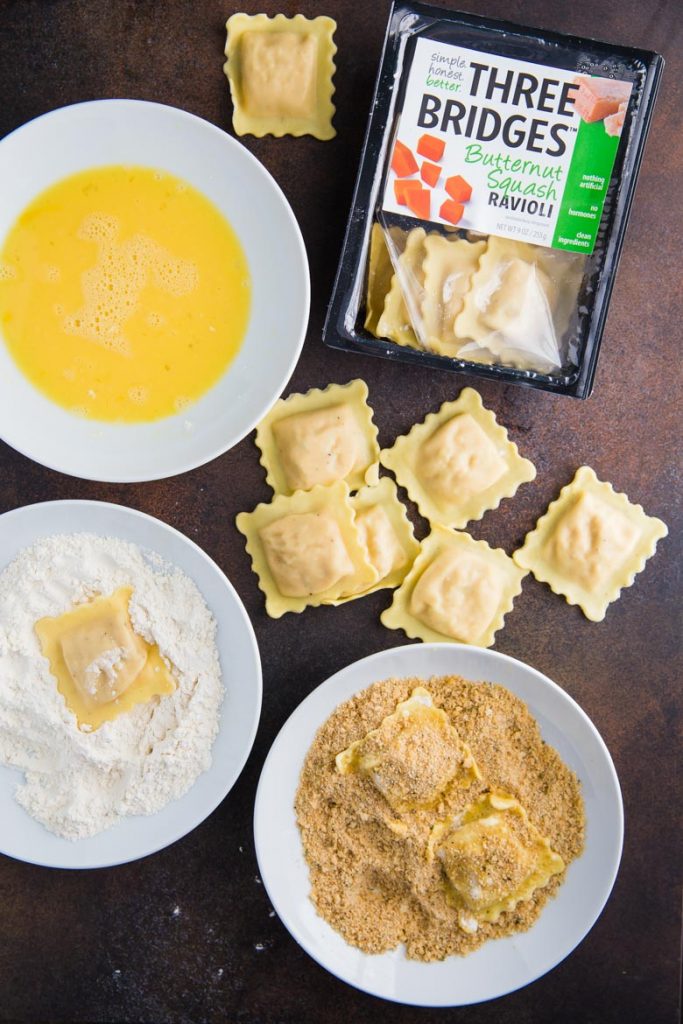 Making these Easy Baked Ravioli is super simple since Three Bridges has done the hard work for us. First the ravioli is dipped in a bowl of flour. Next dip the ravioli in an egg wash bowl, and then finally in a yummy mix of breadcrumbs and spices. They're then lined up on a baking sheet and popped in the oven for about 15-20 minutes. AND that's it! Easy enough, right?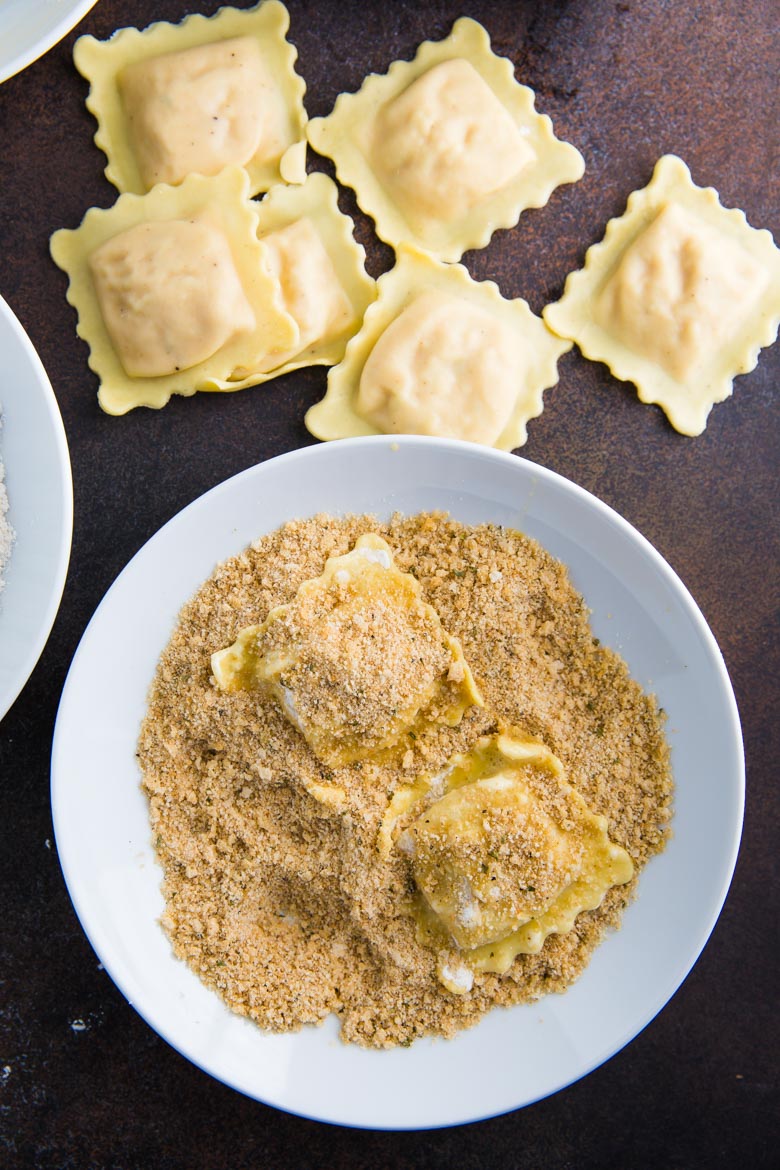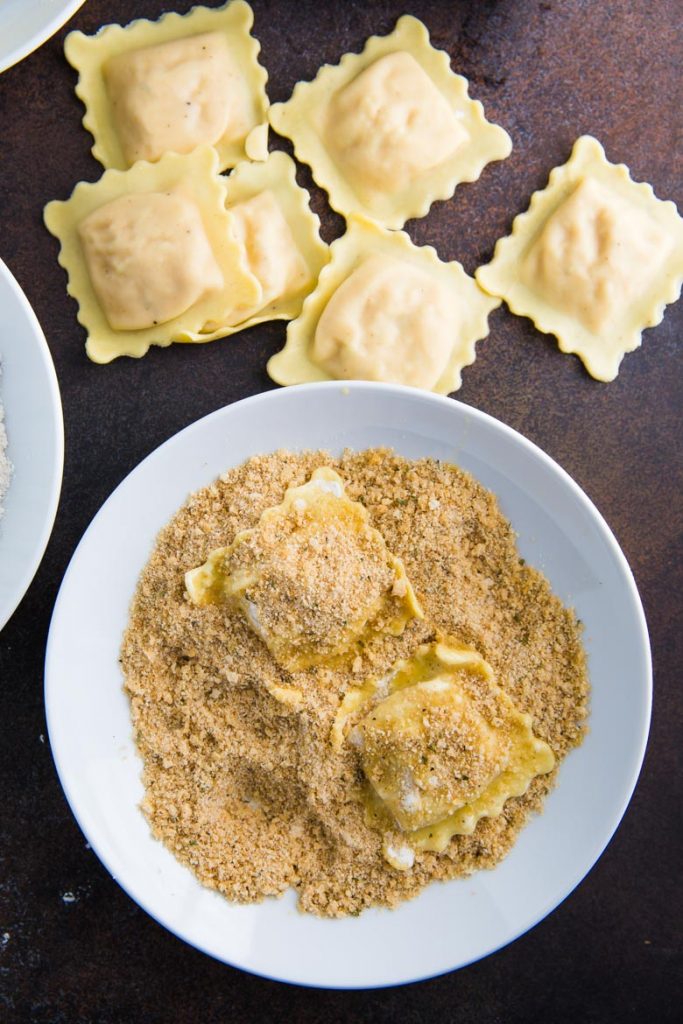 For tailgating, these would be perfect served with a variety of sauces. I'm planning on some classic tomato sauce as well as a classic pesto sauce but I also think that these would be super yummy fondue style- dipped in CHEESE!
A bit more about Three Bridges because I know you're now dying to get your hands on some :D Three Bridges products contain no artificial ingredients, flavors, and
colors, and no preservatives, fillers or hormones. I've found them at my local Fresh Market store but you can also find them at natural food and grocery retailers nationwide including Target, Safeway, and Raley's.
I hope you have a wonderful new year! I've got LOTS of exciting things planned for the New Year and I'm so very excited to jump in!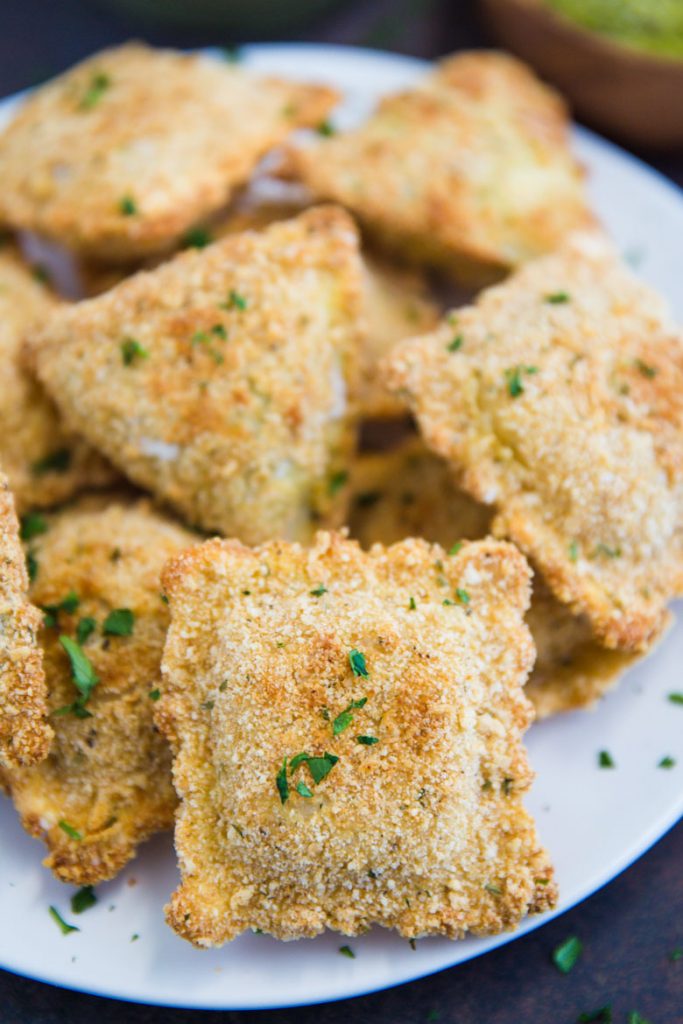 Print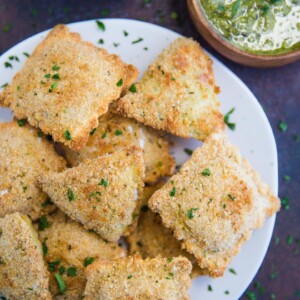 Crispy Baked Ravioli
---
Author:

Total Time:

30 minutes
2– 9 oz packages of Three Bridges' ravioli, I used 1 butternut squash package, and 1 kale and cheese package

2 eggs, whisked

1 cup of breadcrumbs

1/2 teaspoon of dried oregano

1 teaspoon of garlic powder

1 teaspoon of dried basil

1/4 teaspoon of pepper

1 cup of all purpose flour
---
Instructions
pre-heat your oven to 400 degrees F and line/ spray a large baking tray.
In a shallow bowl, combine the breadcrumbs, oregano, garlic powder, basil, and pepper. In 2 additional shallow bowls, whisk the eggs in one and place the flour in the other bowl.
Taking one ravioli at a time, first dip it in the flour until it's completely covered. Tap off any excess flour. Next, dip the ravioli in the egg until it's fully covered. Finally, dip the ravioli in the breadcrumb mixture making sure that it is evenly covered.
Place on your baking tray and repeat with all raviolis. Bake for 10 minutes, flip, then bake an additional 10 minutes.
Let cool slightly and serve with your favorite sauce!
Prep Time:

10 minutes

Cook Time:

20 minutes
This post may contain affiliate links. Please read my disclosure policy.