Mint Christmas Meringues
This post may contain affiliate links. Please read my disclosure policy.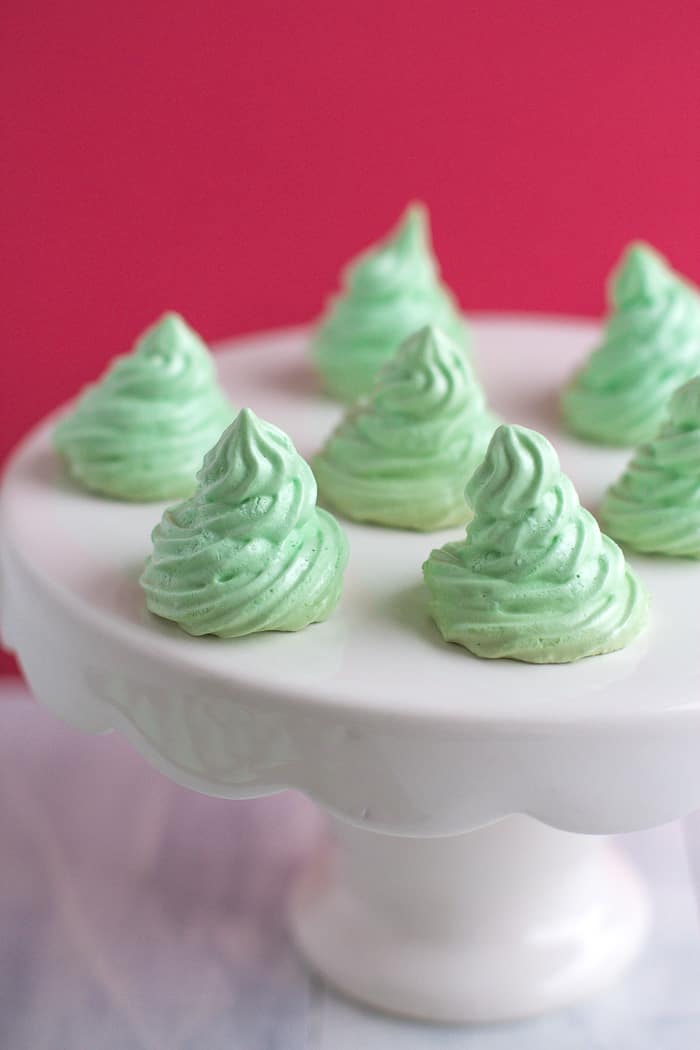 I have TWO announcements before we get started with lots of meringue goodness:
Bloggers Give Back!! I posted last week about a fun holiday team-up that I'm doing with Ashley. We're raising money (and donating some of our own) to support a single mother and her baby for the holidays. The mother requested some clothing and toys for the child and asked that we just get her grocery gift cards. We're excited to be able to give back even just a little. If you would be willing to donate a little money to help us help her, you can donate HERE. You can read my full post on Bloggers Give Back HERE.
Yummly! I've joined the Yummly publisher network and have added the Yummly button to the bottom of my posts so that you can start saving my recipes in your Yummly recipe box. I set it all up over the past week so that I could start adding my recipes and was SO delighted to see that thousands of people had already been yumming my recipes. Thanks friends! If you've never used yummly, I highly recommend it. It's kind of like Pinterest but ONLY FOOD.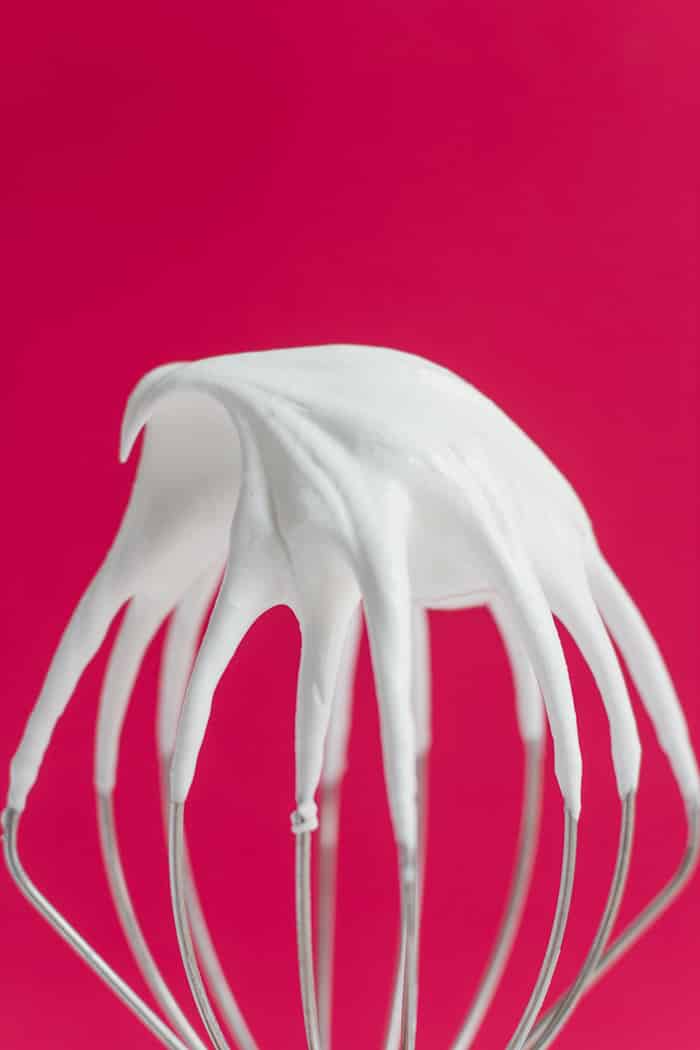 Have I told you yet about what I will be doing on Christmas day this year?? I will be doing NOTHING. I won't be leaving the house at all. I won't be having anyone over (not that I don't like my family and friends but I'm kind of a huge introvert).
The ONLY plan for the day is gift exchanging between me and Stephen AND cooking. I planned a somewhat ambitious dinner menu that includes a lot of things that I've never cooked before such as prime rib and creme brulee. I will no doubt report back on how that goes.
To back track just a little: the reason that we will be all on our lonesome on Christmas Day is because 1) My mom and brother are leaving on Christmas morning to go to Las Vegas just because they both really like Las Vegas. I was invited but decided that I would rather utilize that time to finally decorate my house a little and hang some stuff on the walls (and paint every single room). 2) Stephen's parents left a couple days ago for England and will be spending Christmas with his mother's side of the family in Cornwall 3) See note above about my extreme introvert-ness (is that a word?).
This is the first year in my whole life that I've had nothing to do on Christmas day. Growing up I always woke up at my moms house and then at some point during the day made the 1.5 hour treck to my dads house for christmas presents round dos. I also figure that this is the last year that we'll have zero plans and no one to see on this day for at least another 28 years.
Okay AND, on to the Mint Christmas Meringues.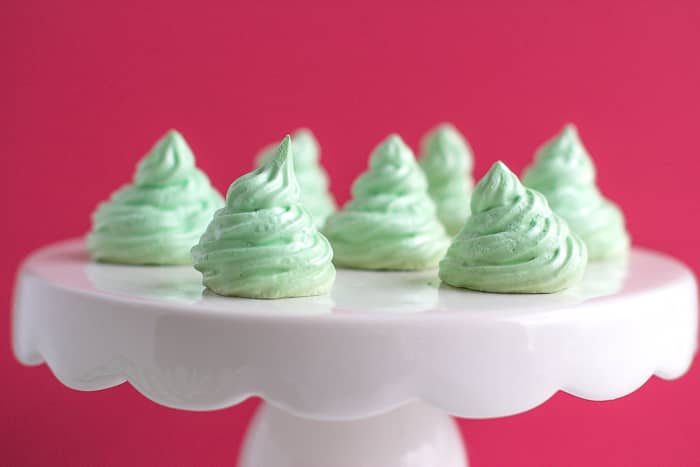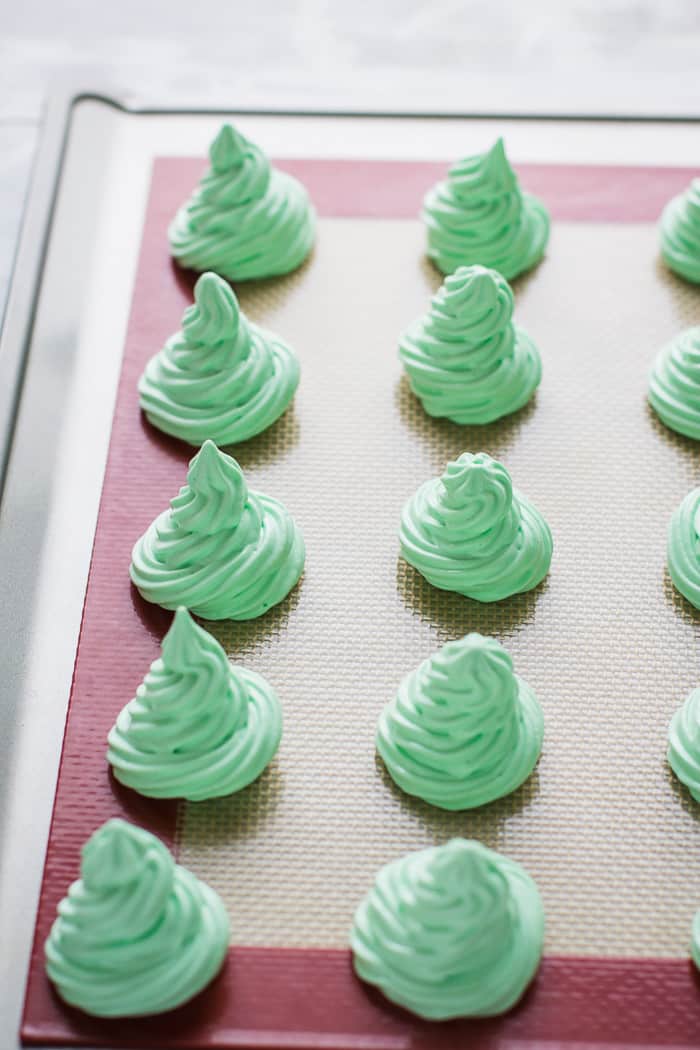 I've been perfecting my meringue recipe for quite some time now. I've burned them, under cooked them, not whipped them to the proper "hard-peak"-ness. I'm proud to say that I am now a meringue making expert(ish). I also have an endless supply of eggs so I never have an excuse not to make meringues. :)
We start by whisking the egg whites until they get nice and frothy.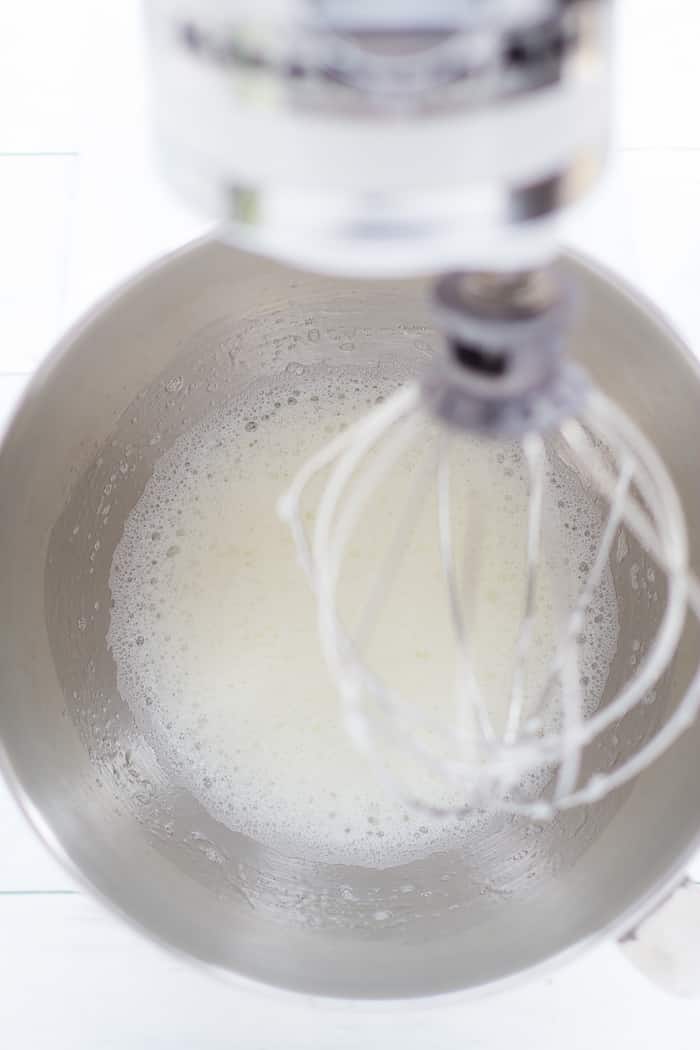 At this point, the cream of tartar is whisked in. Not all meringue recipes call for it but I've found that it's absolutely essential for perfect fluffy and well formed meringues.
This is beaten until soft peaks form. The peaks will stand up and yet are droopy. Something like this: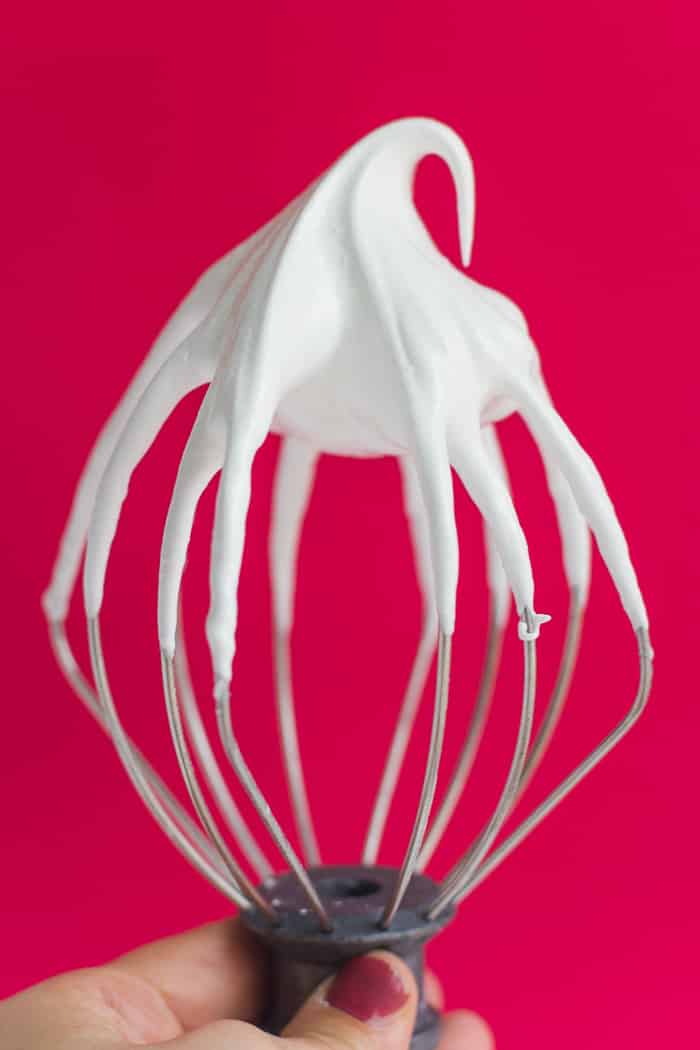 At this point, the sugar is beaten in. One tablespoon at a time until stiff peaks form. Even in a stand mixer this can take a while. Mine seem to take ~10 minutes.
This is what it looks like when the peaks are almost stiff….but not quite yet. There's still a bit of a droop in the peak.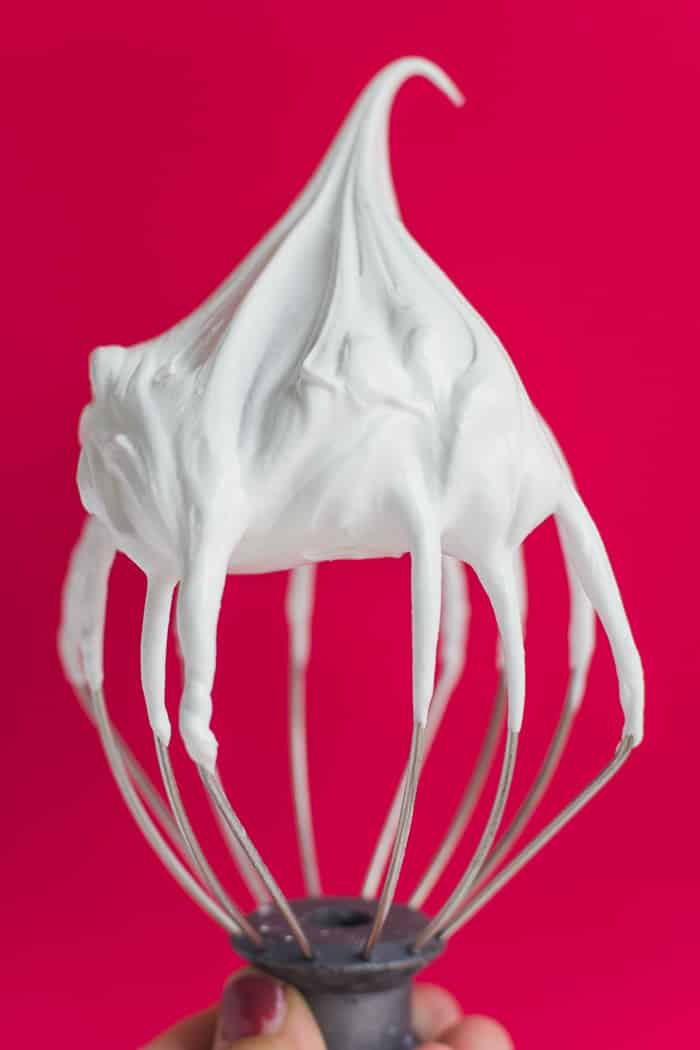 AND this is what nicely stiff peaks look like. NO droop at all: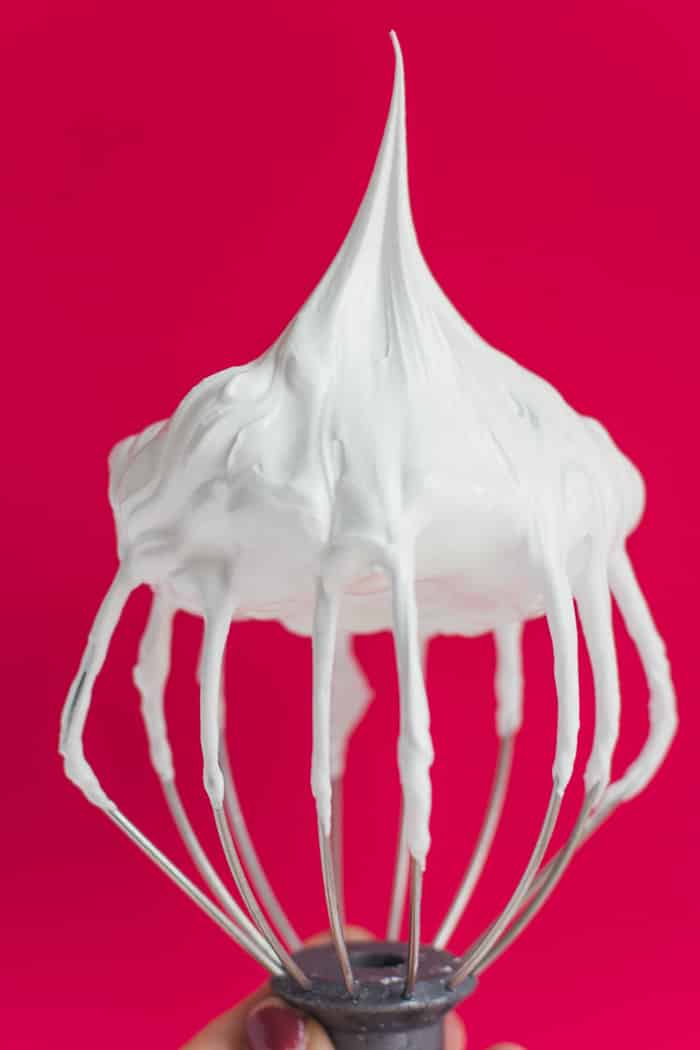 Now, typically I would have beaten the food coloring around the same time that the sugar was mixed in but I didn't just to show you the process with and without it.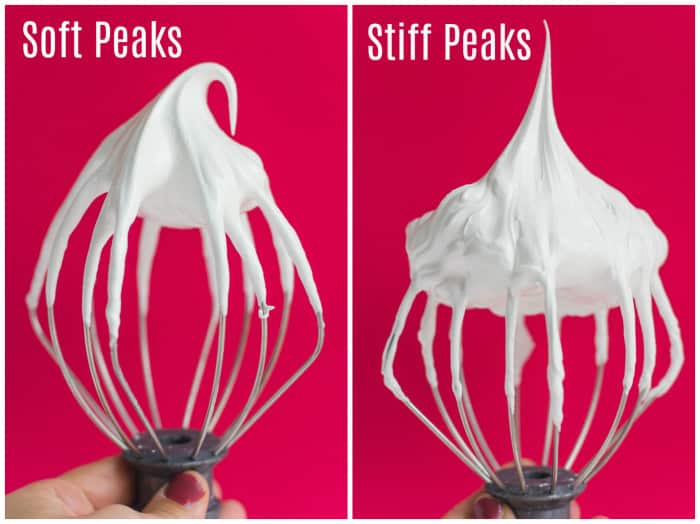 So, let's do that now…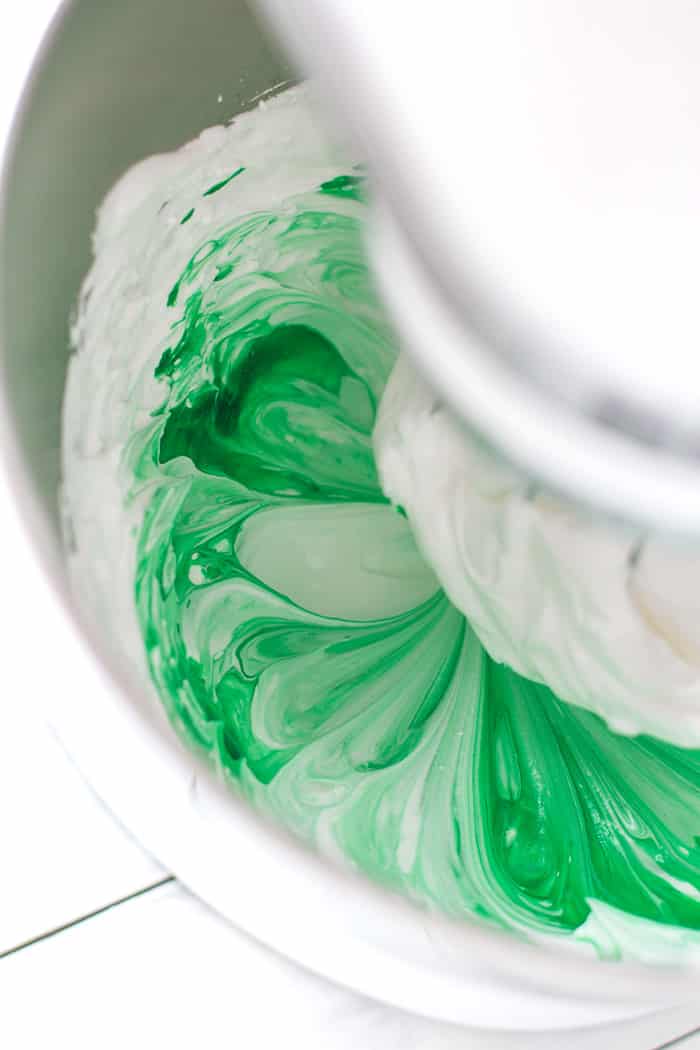 I then scooped it all into a piping bag but if you don't have those, you can easily use a plastic baggy. You WILL however need a star tip for this to really work. THESE are the ones that I have.
The meringues are then piped onto a baking sheet. I did this 2 different ways to test it out. 1) I piped three dollops of the meringue, one on top of the other like building blocks and 2) I did a simple spiral motion starting at the base and getting smaller as I came up. I found that #2 works much better and results in prettier Christmas Tree like meringues.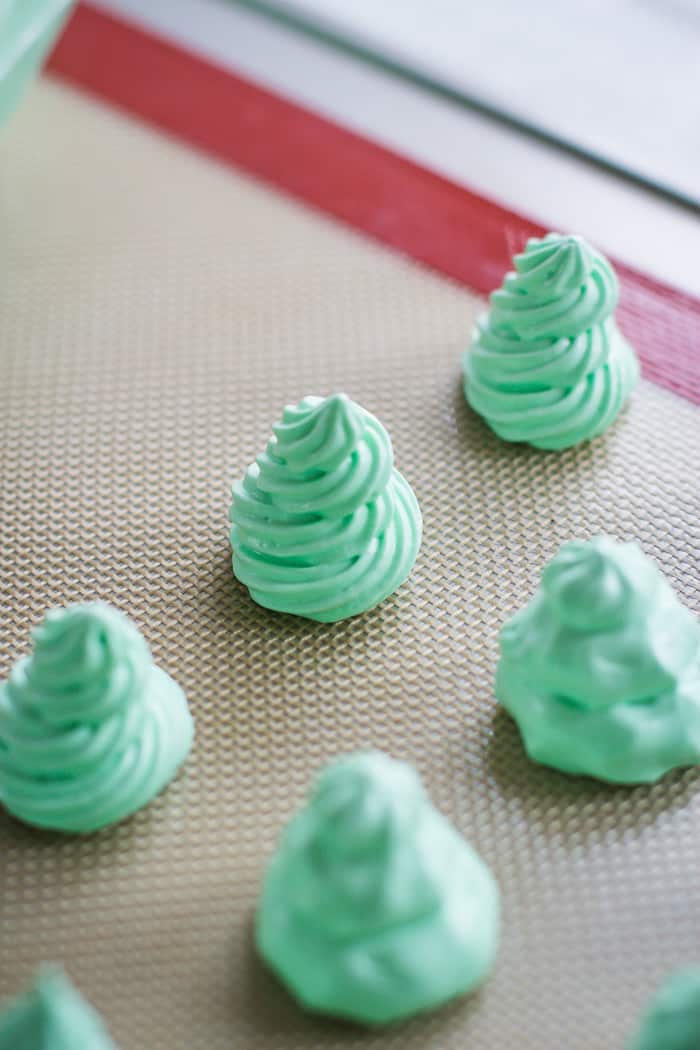 They then bake for 80 minutes on a low heat. I found that mine were perfectly done at the point that they were JUST starting to brown on the bottom. Like, the tiniest bit of brownness.
Once done, the oven is turned off but the meringues are left in the oven with the door propped open until they're completely cooled off.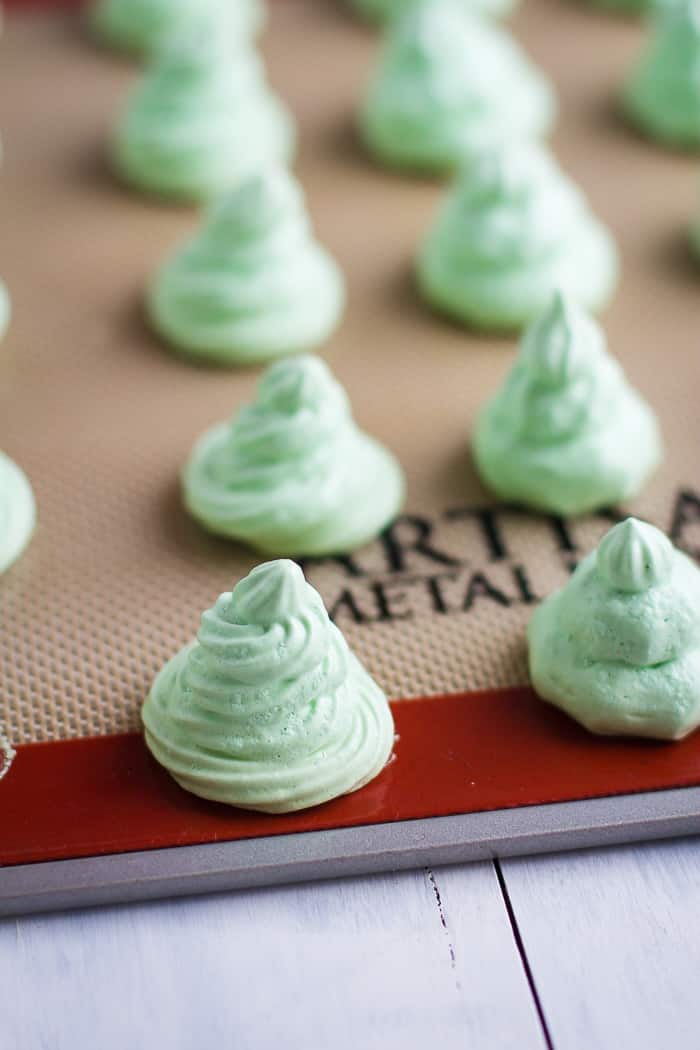 And that's it! Meringues don't have to be scary (says me to my past self). It's really just a matter of PATIENCE. You can do it! :)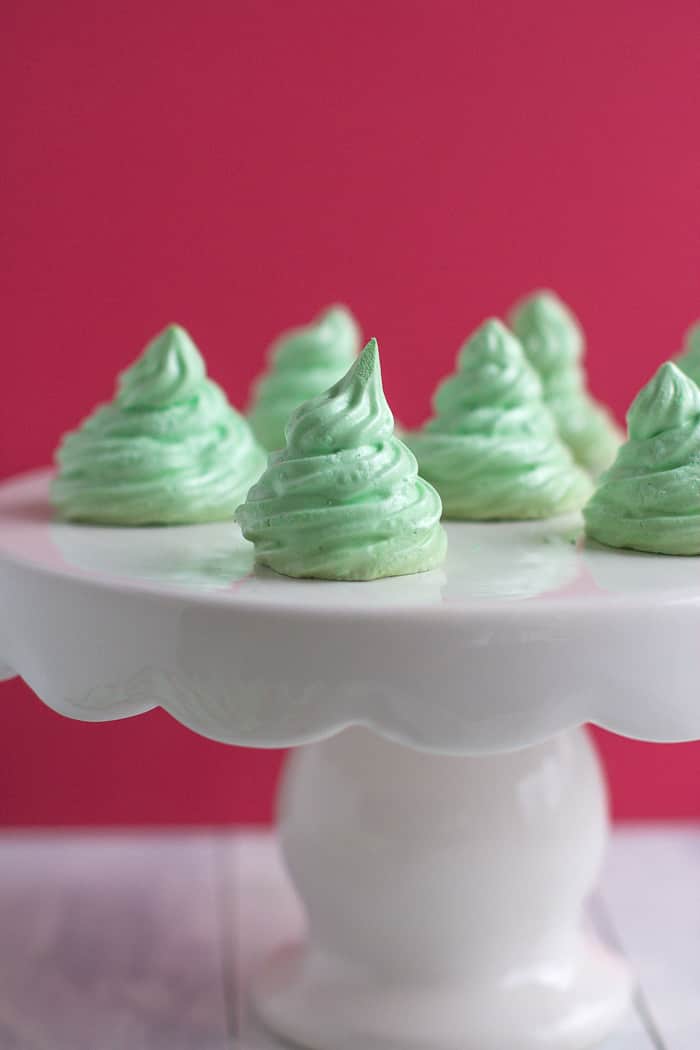 Anddddd that's all for today. I'll be back tomorrow with (you guessed it) more holiday recipes.
Print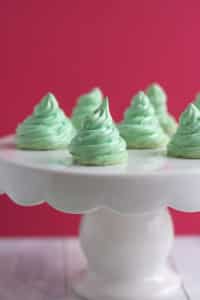 Mint Christmas Meringues
---
Total Time:

1 hour 40 minutes

Yield:

3

0

1

x
3

egg whites, room temperature

1/2 teaspoon

of cream of tartar

2/3 cup

of sugar (superfine sugar seems to work best but is not necessary)

1/2 teaspoon

of peppermint extract
Green food coloring (I used about 15 drops)
---
Instructions
Pre-heat oven to 200 degrees F. Prepare 2 backing sheets that are covered in silicon mats or parchment paper.
In the bowl of a stand mixer, beat the egg whites on medium speed until it becomes frothy (picture above).
Add in the cream of tartar and continue to whisk on medium-high speed until soft peaks for (picture of soft peaks above).
tablespoon at a time, add in the sugar until it's all mixed in. Add in the food coloring until you achieve your desired color.
Continue to beat until stiff peaks form. There should be no droop in the peak at all. This could take upwards of 10 minutes. (picture above)
Add the egg white mixture into a plastic baggy or piping bag that's fixed with a star piping tip. Pipe the egg white mixture in a circular motion getting smaller as you go up. Mine were all about an inch and a half in diameter.
Bake meringues for 80-90 minutes. I've found that they're perfectly done when they JUST begin to brown on the bottom. Turn the oven off. Leaving the meringues in the oven, prop open the oven door and leave them until they're completely cooked off.
ENJOYYYY
Prep Time:

20 minutes

Cook Time:

1 hour 20 minutes
This post may contain affiliate links. Please read my disclosure policy.