Gluten Free Banana Nut Muffins
This post may contain affiliate links. Please read my disclosure policy.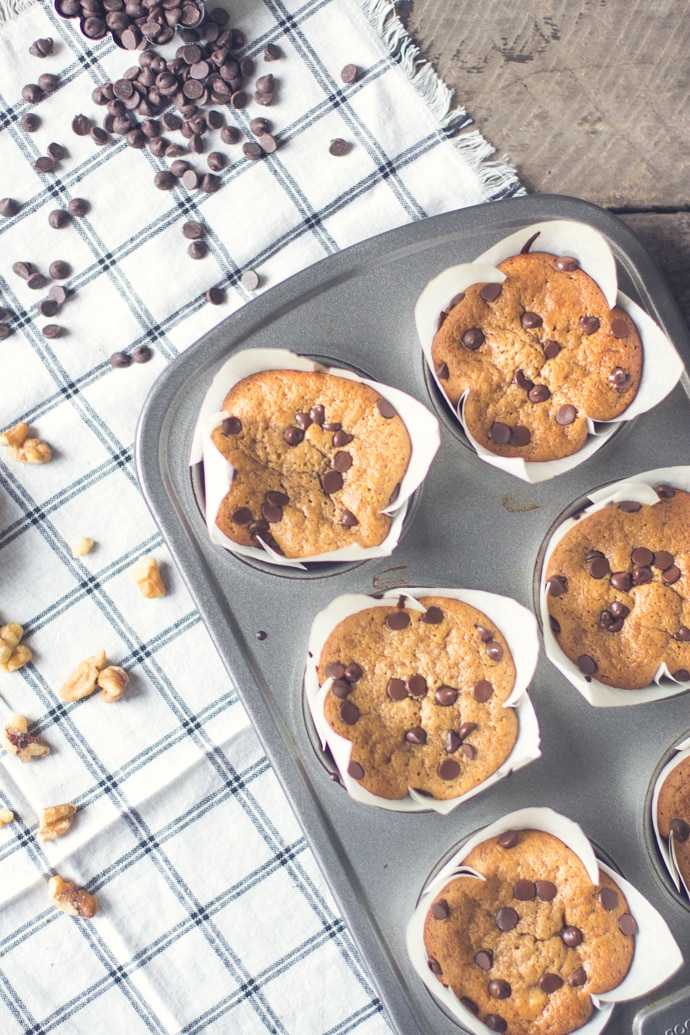 y'all. the struggles of january are so real for me right now. coming down off the high of a wonderful holiday break is just rough. but then add in single digit temperatures in nashville and the beginning of an extra hectic work season. sdfbjuhhgkjshd. why haven't i moved somewhere tropical yet?
also, while we're discussing the struggles that are january: all i want to eat are carbs! I've been craving dumplings and cheese and homemade pasta. but, like every other human being, i'm trying to do the "new year, fresh start on my diet" thing. it's going okay (if you don't count the perpetual fatty carb cravings). these muffins help a LOT….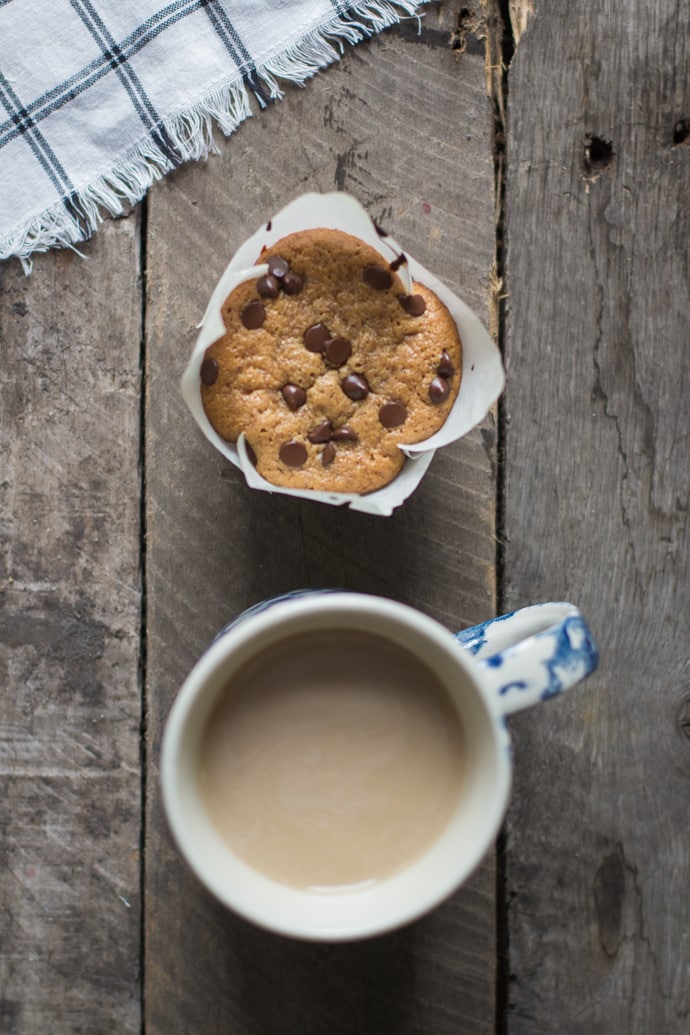 these muffins are officially my new. favorite. thing. i'm eating one right now, in fact. I made a big batch last night and bagged them up for breakfast throughout the week.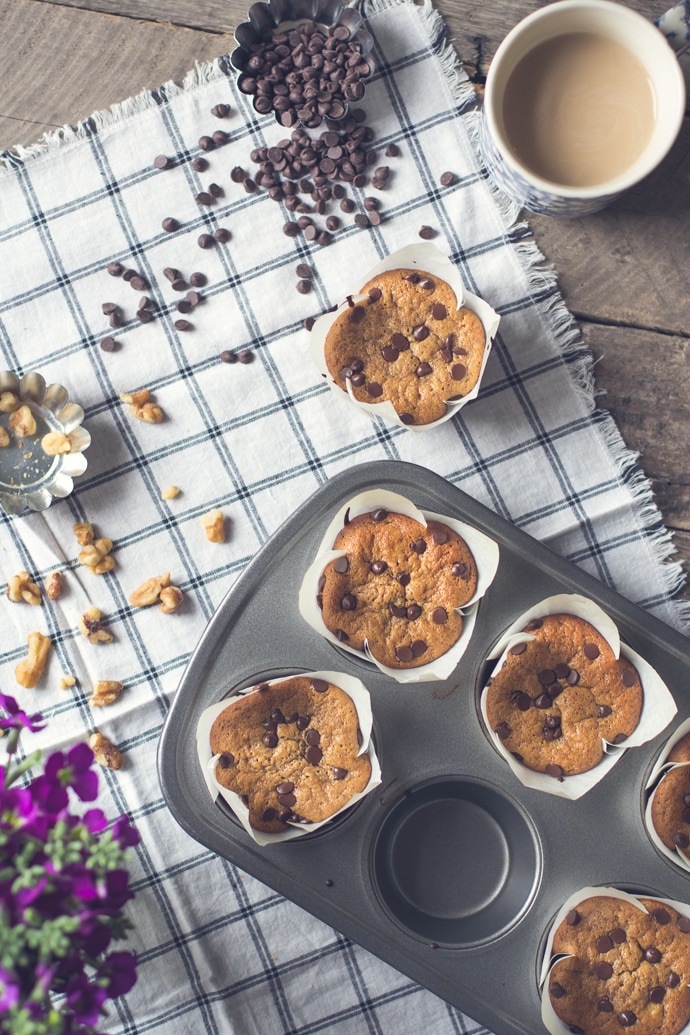 let's talk about these banana nut muffins: they're gluten free. they're completely flour-less, actually. they're made up primarily of almond butter (although pretty much any nut butter would do), an egg, and honey. the fun thing about these is that so much can be added in. i plan to try some plant based protein powder in my next batch.
remember these banana protein pancakes? these muffins are the second cousin of those pancakes.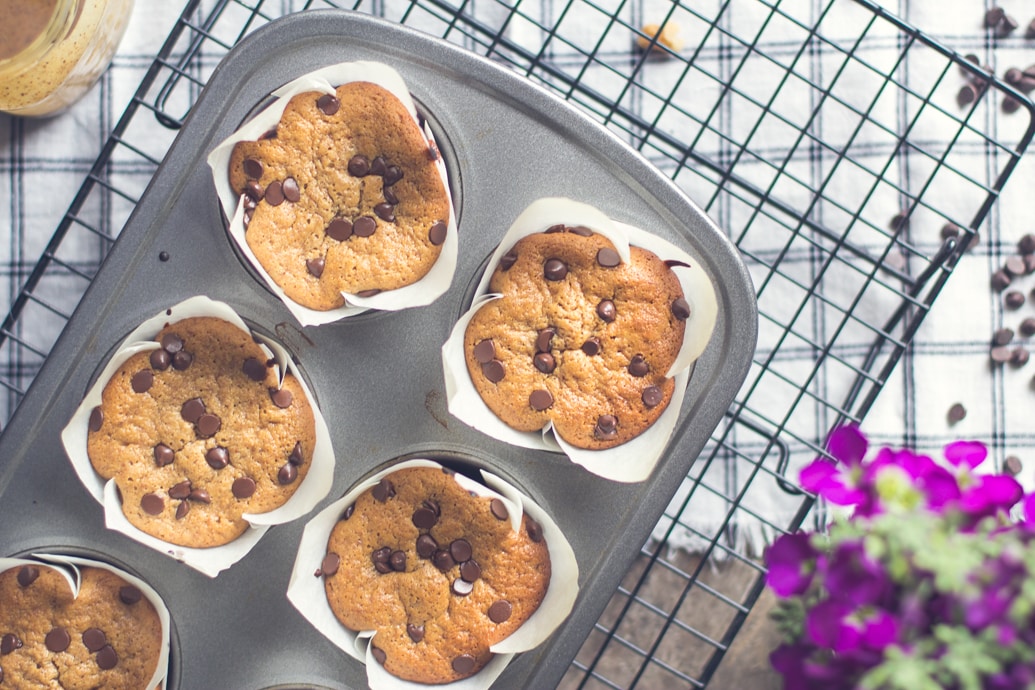 making them is RIDIculously easy too. basically throw everything minus the nuts and chocolate in a blender/ food processor, blend, add nuts, pour in muffin tins, top with chocolate, bake, EAT!
but it's monday morning and i move much slower on monday mornings, so, let's walk through this. (plus, duh, i took tons of pretty pictures that i have to share with somebody).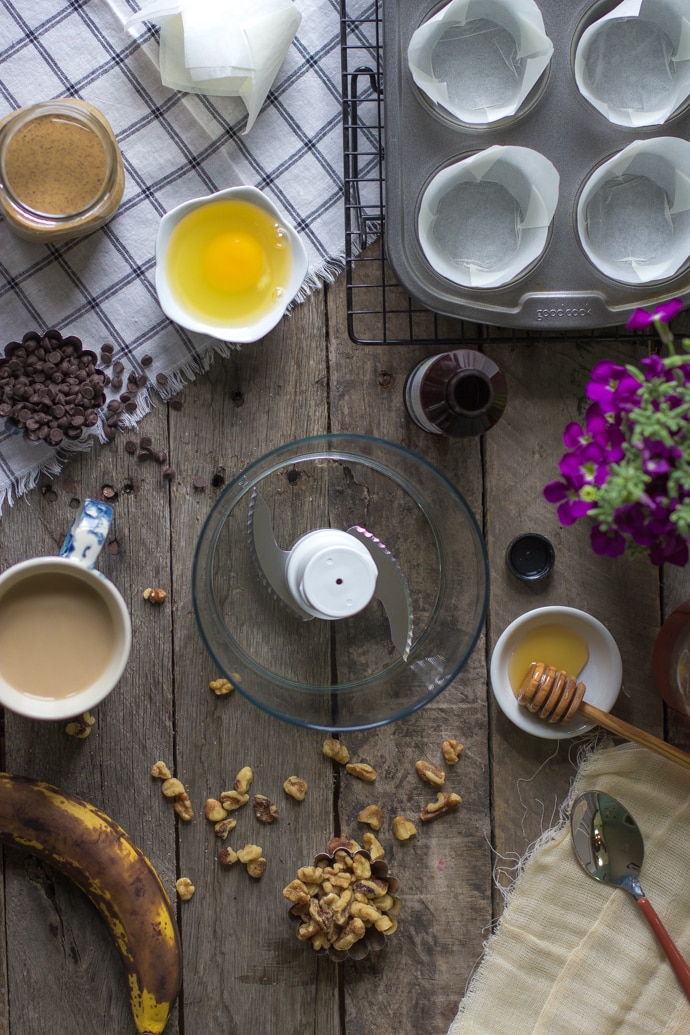 all of the ingredients are added to the bowl of a food processor (or blender, i'm a food processor kinda girl). first the banana and egg.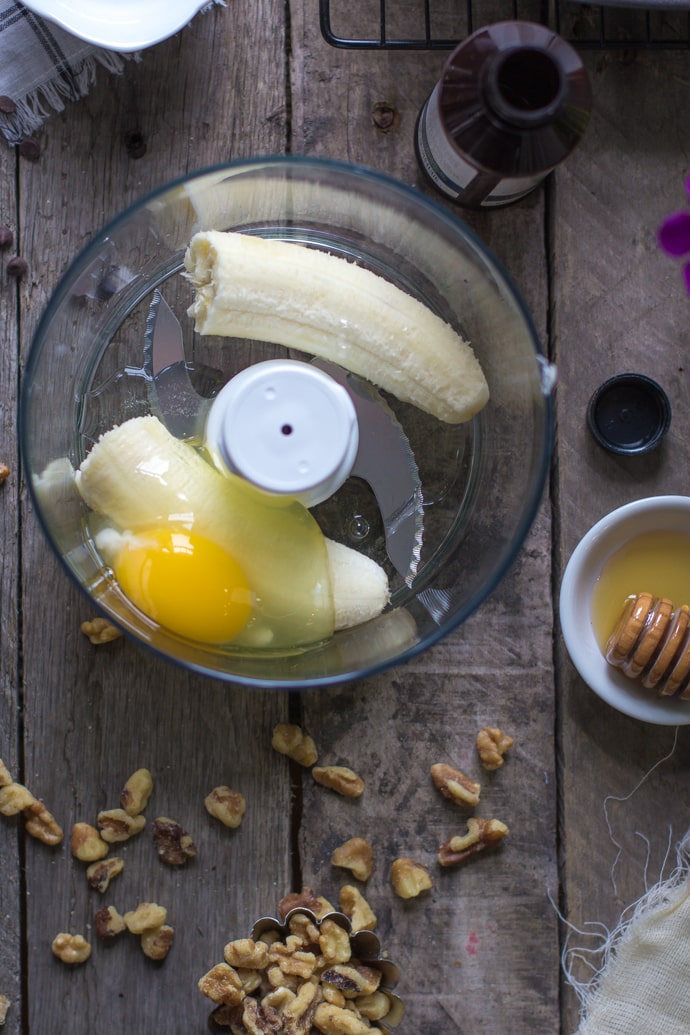 then the almond butter is poured in while i refrain from eating all of it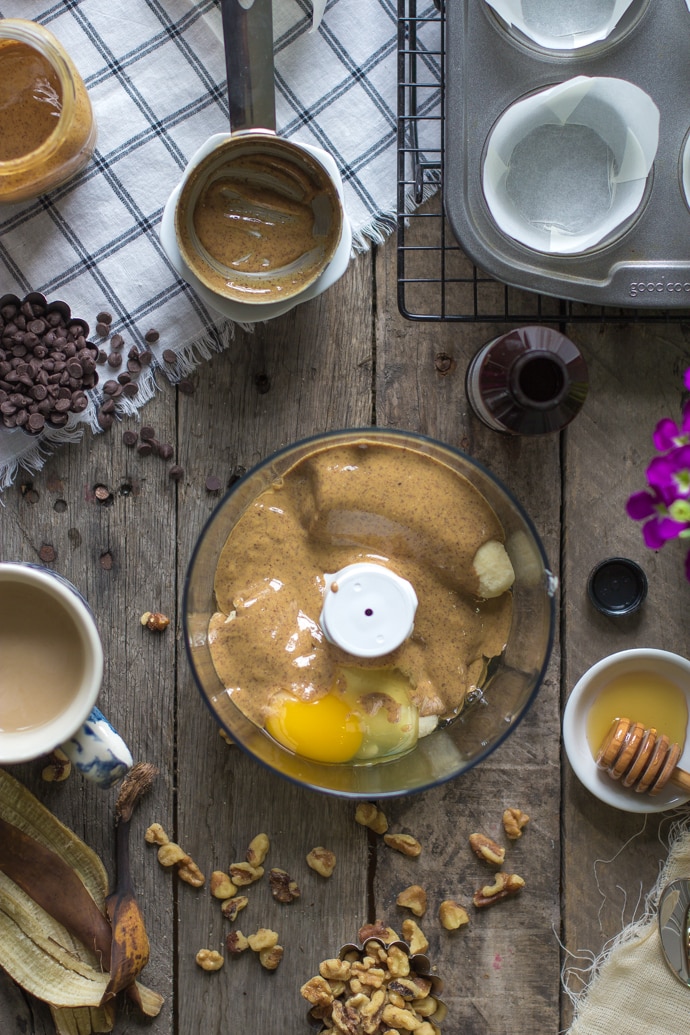 ditto with the honey. i've got some REALLY good local honey right now and i just want to eat spoonfuls of it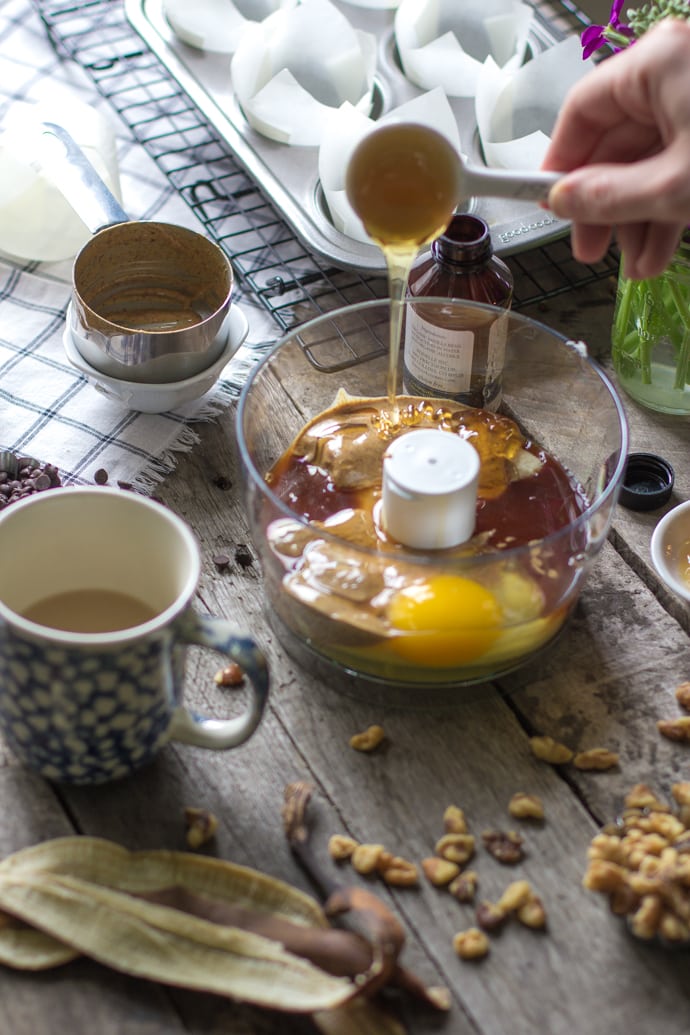 finally, some salt, baking soda, and vanilla extract are added in.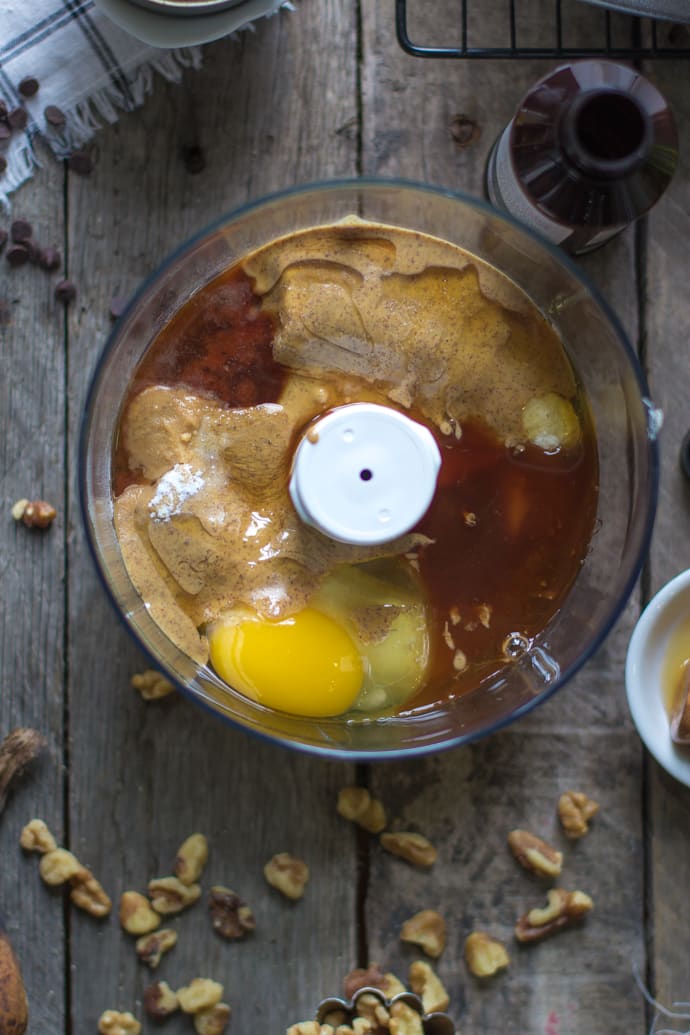 and it's all blended up to a creamy, smooth consistency. this is like cookie dough….you're going to want to eat all of it raw. try not to do that….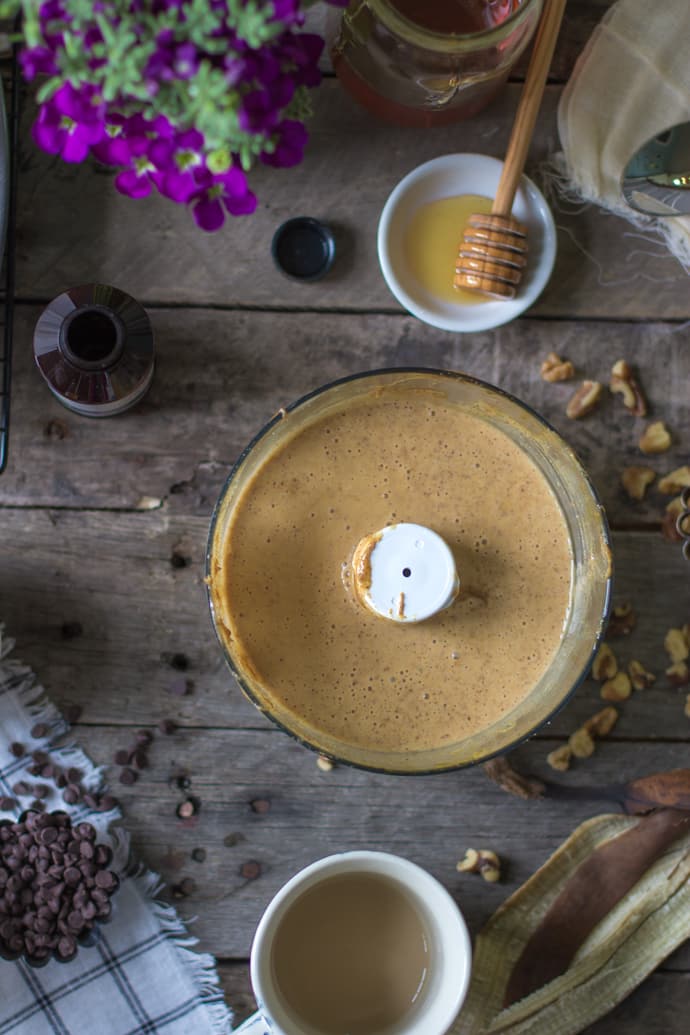 add in the nuts after the mixture has been processed and you're about to pour it into the muffin tins.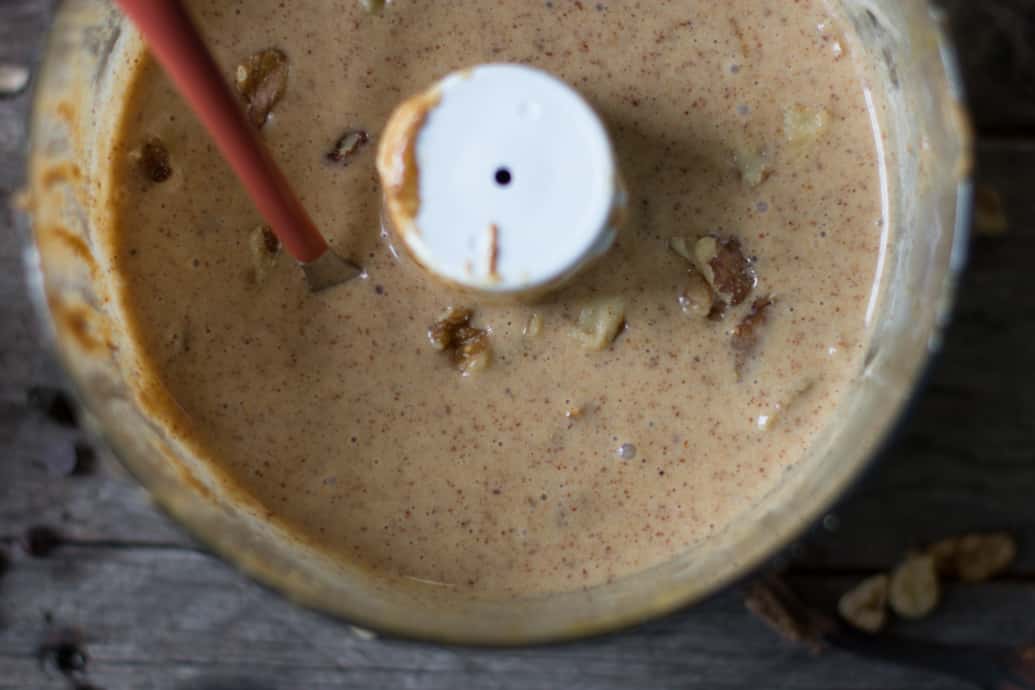 divide the mixture up evenly among 6 average sized muffin cups.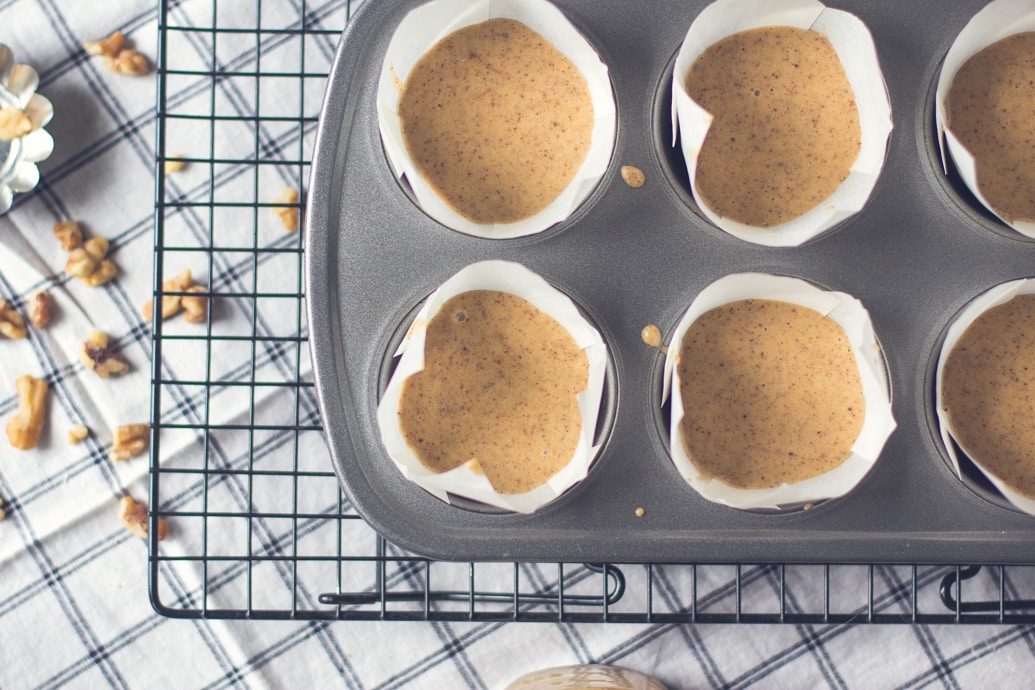 i recommend baking for a few minutes before adding the chocolate chips to the top. the batter is rather thin so if you add the chocolate before putting them in the oven, it may sink into the muffins. still tasty, just not as pretty.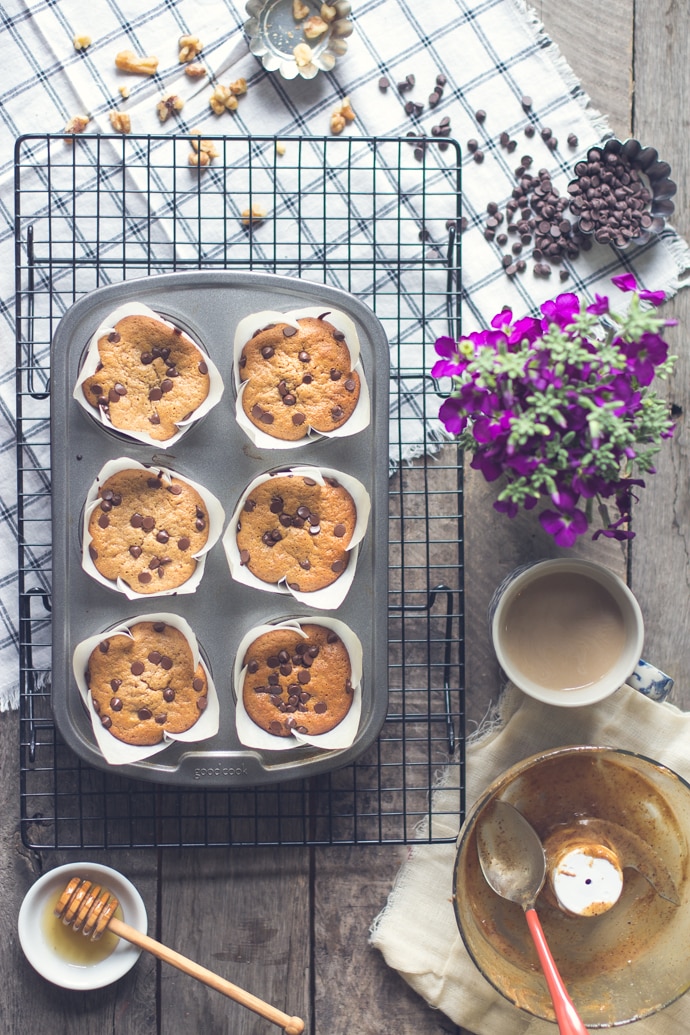 let cool and EAT ALL THE MUFFINS. or, maybe just 2 of them. yea, 2 is a good number.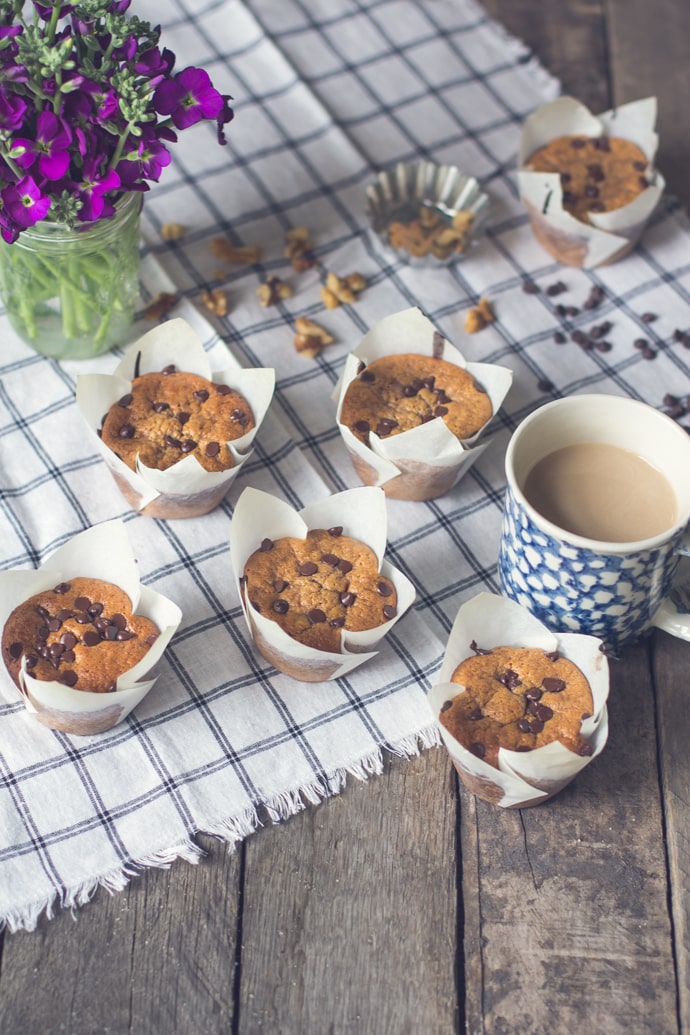 it still surprises me how fluffy and moist these muffins are! AND how much they taste like they are normal muffins (delicious normal muffins, that is).
you should probably whip these muffins up tonight. i bet you have bananas going bad in your house AND all the other ingredients lying around. you won't be sorry, i promise!
Print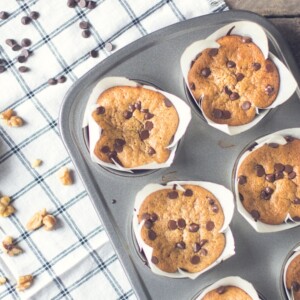 Gluten Free Banana Nut Muffins
---
Total Time:

25 minutes

Yield:

6

1

x
1

ripe banana

1

egg
heaping

1/2 cup

of creamy almond butter (other nut/ seed butters will work as well)

3 tablespoons

of honey

1 teaspoon

of vanilla extract

1/8 teaspoon

of salt

1/4 teaspoon

of baking soda

1/4

–

1/2

cup of walnuts depending on your preference (you can also omit these)
optional: chocolate chips for topping
---
Instructions
Pre-heat the oven to 400 degrees Fahrenheit and prepare a muffin tin by either greasing it or lining it with muffin liners.
Using a blender or the bowl of a food processor, add in the banana, egg, almond butter, honey, vanilla extract, salt, and baking soda.
Process for a couple minutes until the mixture is fully combined. It'll have a pretty runny consistency.
Add in the walnuts and stir with a spoon.
Divide the mixture up evenly among 6 muffin cups. This batter does not rise very much so it's okay to fill them up almost to the top.
Bake for 18-20 minutes taking the muffins out after about 5 minutes to add the chocolate chips on. If you add them on before baking, they'll sink into the batter.
Once done, let cool and ENJOY!!
Prep Time:

5 minutes

Cook Time:

20 minutes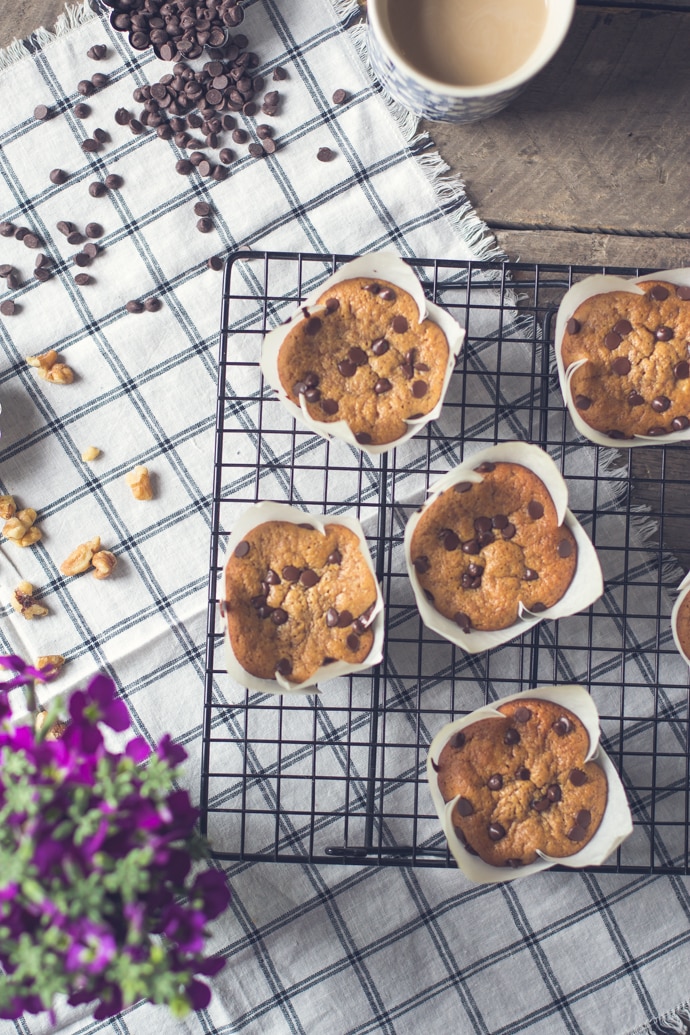 This post may contain affiliate links. Please read my disclosure policy.