Homemade Spaghettios
An easy and healthy homemade spaghettios recipe that is just like the classic but something you can feel good about giving to your kids!
Now that Jemma's old enough to enjoy all of the foods I enjoyed as a kid, I've been having fun recreating many of them at home. I've also discovered that food guilt (or at least that is what I call it) is a real part of mom guilt. I feel guilty when she doesn't have home cooked meals and I feel guilty when I'm not making new things for her to try.
Since Jemma goes to daycare everyday, that means I have to pack her a lunch. Every. single. day. That task is FAR more difficult than I thought it would be. Enter easy dishes like this homemade spaghettios recipe. I feel a little better about it since it's homemade and I know exactly what is in it. But I also LOVE it because it's ridiculously easy to throw together.
I wrote the recipe so that this can be made with or without dairy depending on your preferences. I'm a sucker for a little parmesan but if you would like, that can be substituted for nutritional yeast to still give it that cheesy taste. You can also just skip it altogether and the dish will still be delicious.
What kind of pasta to use:
Because I love for this to have that classic spaghettios look, I ordered pasta rings which are called anellini pasta. I ordered a bag from Amazon only to then find them at TWO local stores. It's one of those things that you never notice is there until you're looking for it.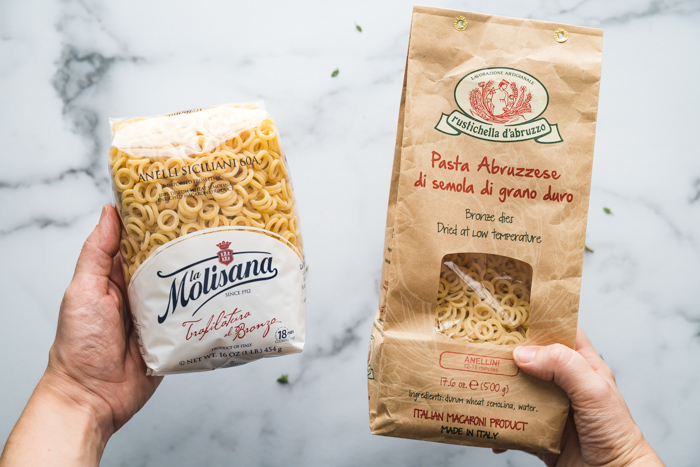 THIS is the brand that I ordered from Amazon if you're unable to find it locally.
I've also made this using Ditalini pasta which I pretty much always find at my local market. These pastas are particularly nice for small children who can't easily eat other pastas such as spaghetti or penne. Since my daughter is only 18 months old and has a rather small mouth, both of these pasta are perfect for her!
How to make this homemade spaghettios recipe:
If you can boil water, you're over halfway there to making this recipe :D
Simply cook the pasta according to package instructions, drain, and add back into the pot.
Over low heat, stir in all of the remaining ingredients and mix until fully combined and the sauce has heated through. If desired, you can add a little more milk and/ or tomato sauce if you want yours a bit thicker. The recipe that I have written below ended up being a perfect balance for me.
AND THAT'S IT! Super easy, right?
I haven't tried it yet, but I think that this would be good with a little bit of spinach mixed in or maybe even peas? I do whatever I can to get veggies in Jemma's mouth and when they're mixed in with pasta and covered in tomato sauce, she doesn't usually seem to notice :)
Print
Homemade Spaghettios
---
Author:
Prep Time: 5 minutes
Cook Time: 15 minutes
Total Time: 20 minutes
Yield: 4 large servings 1x
Description
An easy and healthy homemade spaghettios recipe that is just like the classic but something you can feel good about giving to your kids!
---
Scale
Ingredients
2 cups of uncooked Anellini pasta (ditalini is often easier to find and works well here too)
¼ cup milk of choice (I tested this with unflavored almond milk as well as 2%)
⅓ cup parmesan cheese or nutritional yeast
⅔ teaspoon of dried oregano
½ teaspoon of garlic powder
2 tablespoons of tomato paste
1 1/4 cup of tomato sauce
½ teaspoon of paprika
¼ teaspoon of dried sage
salt and pepper to taste
---
Instructions
Cook pasta according to packaging instructions. Drain and add back into the pot.
With the pasta over low heat, stir in the remaining ingredients, adding salt and pepper to taste.
Once fully combined, remove from heat and ENJOY! This dish makes for great leftovers and stores well in the fridge for a few days.
---
Category: Kids friendlt
Method: stovetop
Cuisine: american
Keywords: spaghettios, kid friendly, pasta