Split Decision Pie Pan: Dinner and Dessert
This post may contain affiliate links. Please read my disclosure policy.
Thank you to Chicago Metallic for sponsoring this post today! I've used their bakeware for YEARS and am so excited to be working with them on this Split Decision Pie Pan: Dinner and Dessert.
Anyone that knows me well will tell you that I'm a classic over-thinker. It's the reason that half of our house is still undecorated; I just can't decide exactly what I want to hang on certain walls or precisely what design style I want in particular rooms. Indecision is just something I've learned to accept about myself. But, I'm working on it ;)
Enter this Split Decision Pie Pan!
When Chicago Metallic first sent me their Split Decision Pie Pan, I thought long and hard about what 2 pies I wanted to make. At first I was leaning towards 2 different flavors of fruit pie. But then, Stephen presented the idea of using the pie dish to create a whole meal in one adorable little pie. So, we ran with it!
One of the things that I love about this split decision pie pan is that it doubles as a regular pie pan. SO, no need for a lot of extra kitchen utensils (because I already have WAY too many random kitchen gadgets in my house). The pan comes with a removable bottom so the split decision insert can come out and a flat bottom can go in for a regular pie.
I went back into the archives of my blog to revamp some old recipes. I used THIS healthier chicken pot pie as well as THIS apple pie recipe. It took a little testing to get the proportions just right but I DID IT! The whole pie is surprisingly easy to throw together and the perfect well rounded meal :) We're big fans!
For ease, I used a store bought crust here. You can make your own if you'd like but I wanted this recipe to be easy and approachable. I have a great recipe for pie crust made with coconut oil if you're into that. Otherwise, GO FOR the store bought crust. I won't tell anyone :)
First up, the chicken pot pie side: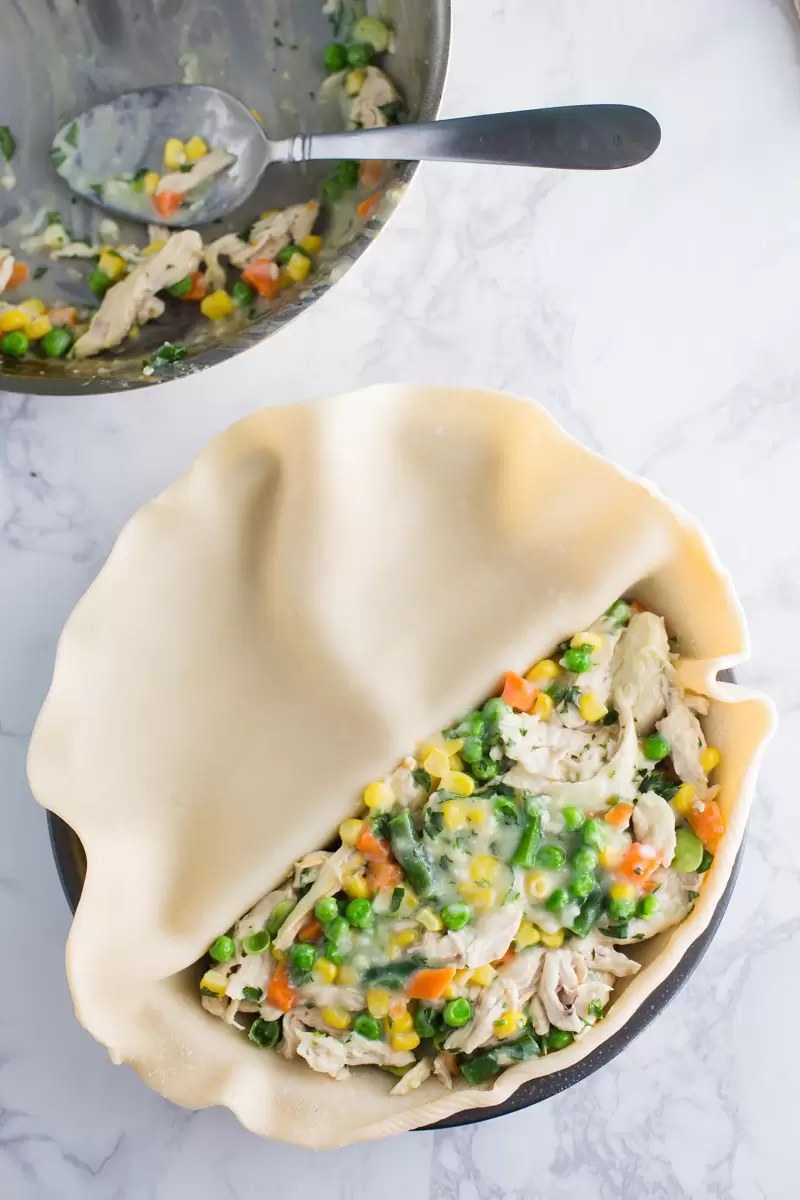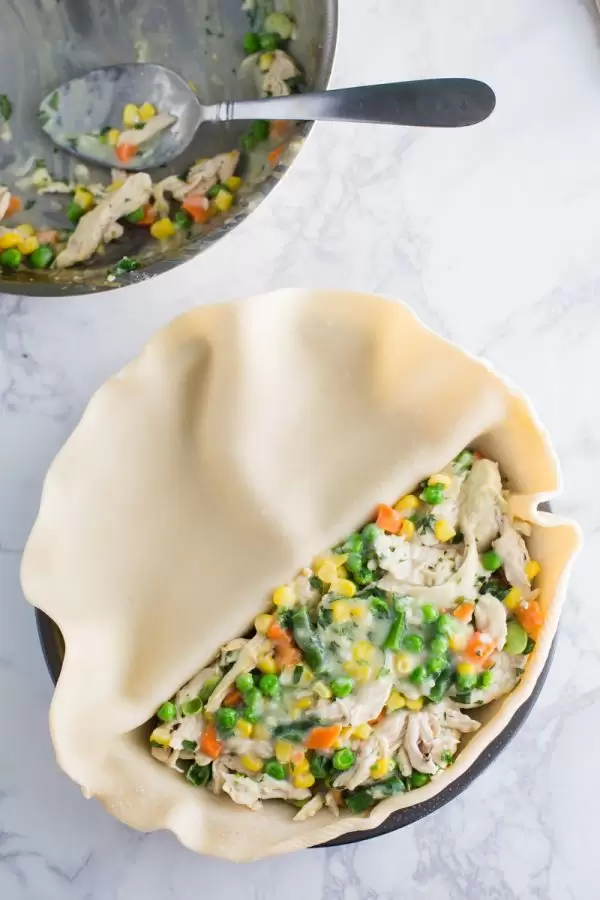 The chicken pot pie stuffing comes together in one simple skillet. Shredded chicken, veggies, and a simple sauce are brought together on the stove top. To make this extra EXTRA quick and easy, you can buy a rotisserie chicken, shred that, and use it in this pie. Otherwise, you can follow the written recipe for how to cook the chicken in the skillet yourself.
Sticking with the theme of quick and easy, I used a bag of frozen veggies instead of chopping everything up myself. Fresh veggies are totally an option if you already have everything on had but the frozen is just as tasty.
I REALLY love how delicious this simple chicken pot pie is. It's something that I plan to make more often for dinner.
Next up, the apple pie side:
The first time that I made this, I folded the crust over both sides of the pie. So, no lattice crust on the apple pie. It worked out and was a bit easier than the lattice BUT it resulted in a pie that was *ever* so slightly too juicy. The lattice allows some of the moisture to escape and the juiciness of the pie turned out perfect!
The filling is simple to make and comes together while you wait for the chicken to cook.
Thinly sliced apples are mixed in a bowl with a bit of flour, spices, sugar, and lemon juice. Then it's piled into the pie dish and covered with a lattice crust. It's THAT easy. We should all be making homemade apple pie way more often.
Once both of the fillings are in the pan and the top crusts are on, the pie is ready for the oven. Both sides bake perfectly at the same temperature and for the same amount of time which is what makes this combo so perfect.
For the 2 of us eating this pie, the chicken pot pie side we split in half while the apple pie was cut into quarters meaning that we had leftover pie for the next day (if it lasted that long).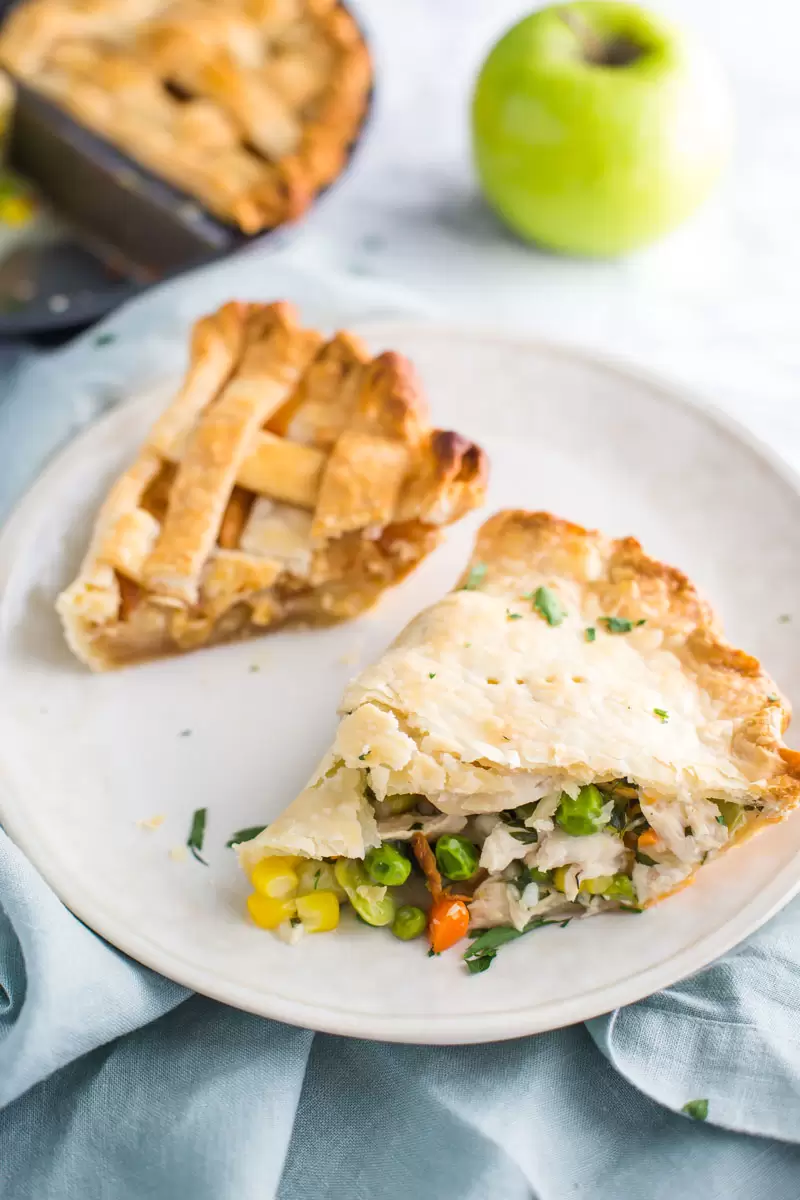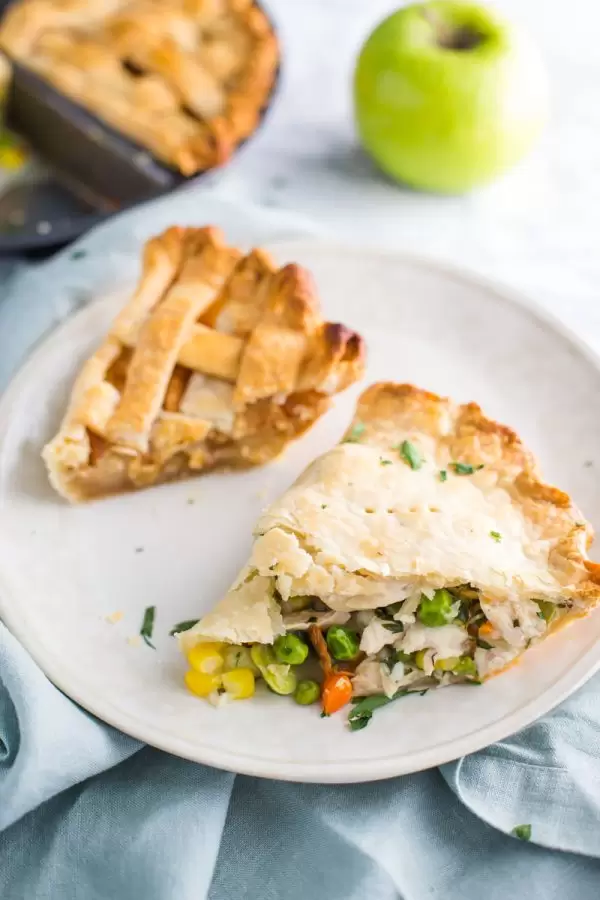 I'm REALLY excited to try out some more split decision pies. Any suggestions?? In Nashville, strawberries and peaches are both in season so I might try and make that happen soon. SO many possibilities!
Thank you again to Chicago Metallic for sponsoring this post. You can buy the Split Decision Pan HERE. If you end up making this apple and chicken pot split decision pie, please let me know by tagging me on Instagram @foodwithfeeling.
Print
Split Decision Pie Pan: Dinner and Dessert
---
Author:

Total Time:

45 minutes

Yield:

2

-

3

servings

1

x
Description
Chicken Pot Pie and Apple Pie all in one dish with the Split Decision Pie Pan!
---
1 whole pie crust (top and bottom)
For the chicken pot pie:
2

small chicken breasts or

1

large (~½ pound)

1 1/2 cup

of chicken broth (plus 1/2 cup more if needed)

¼ cup

of milk (unsweetened plain almond milk works)

1 ½ tablespoons

of flour

7 ounces

of mixed vegetables, I used frozen but fresh works great as well!

1 tablespoon

of fresh parsley
For the apple pie:
2

small/ medium granny smith apples, peeled and thinly sliced

1 teaspoon

of lemon juice

2 tablespoons

of white sugar

2 tablespoons

of brown sugar

1 teaspoon

of cinnamon

⅛ teaspoon

of nutmeg

Pinch of salt

1 ½ tablespoons

of flour
---
Instructions
For the chicken pot pie:
Pre-heat oven to 400 degrees F
Season the chicken on both sides with salt and pepper. In a medium skillet over medium high heat, cook the chicken in the broth until done and at an internal temperature of 165 degrees F. Once done, remove from heat (reserving the cooking liquid), let cool slightly, and shred.
In skillet, combine 1/2 cup of the saved cooking liquid (if all of your broth cooked off, add in additional 1/2 cup of chicken broth), milk, and flour. Cook on low until the sauce thickens which should only take a couple minutes.
Once the sauce is thick, add in the parsley, shredded chicken, and frozen veggies. Cook for an additional 3 or 4 minutes until everything is nicely combined.
Assemble the pie by first placing the crust into one half of the pie pan so that it drapes over the other side and so that there is a little bit hanging over the side. See photo above. Pour the chicken filling into the crust and fold the crust over top of the filling. Cut off any excess dough, press together to seal the crust shut, and using your fingers, crimp the edges. HERE is how to properly crimp the edges.
Poke a few holes in the top of the pie with a fork.
For the apple pie:
In a large bowl, mix together the sliced apples, lemon juice, sugars, cinnamon, nutmeg, salt, and flour. Stir until fully combined.
Pour the apple mixture into your pie crust and even it out so that none of the apples are sticking up much higher than any other. I usually use my fingers to arrange the apples in a neat manner.
Now is the time for the top crust. I did a simple lattice crust for the top. You can also cover the top in the same way that we covered the chicken pot pie side but just be sure to make a few slits in the top for the pie to breath. For the lattice, you'll want to cut the crust in half 60/40. Place the 60 into the pan and use the 40 to cut into thin strips for the lattice.
Place the whole pie into the oven and bake for 25-30 minutes.
Let cool slightly, slice, and ENJOY!
Prep Time:

15 minutes

Cook Time:

30 minutes

Category:

dinner

Cuisine:

American
Keywords: split decision pie, apple pie, chicken pot pie, healthy, dinner and dessert, dessert
This post may contain affiliate links. Please read my disclosure policy.