Watermelon Cucumber Cocktail
I had to wear leggings and long sleeves when I went outside to open the chicken coop this morning (in all fairness, it wasn't actually that cold but 65 degrees feels cold to me). A part of me cried inside at the thought of summer's end.  Fall is okay. I do like an excuse to wear leggings all day, I'm looking forward to using our fire-pit,  and I'm kind of excited about seeing ALL of the trees in our new yard change colors. However, the end of summer is always so very hard for me to accept. SO, I'm not accepting it. Not yet. (technically summer doesn't even end until mid September, right?) <<<denial.
Enter the watermelon. It's summer in a bright green shiny melon and I love it. Total side note: our new yard has a completely random little side yard that's down a small path. I plan on it being totally dedicated to watermelons and squash next summer. I already have my summer 2016 garden all planned out.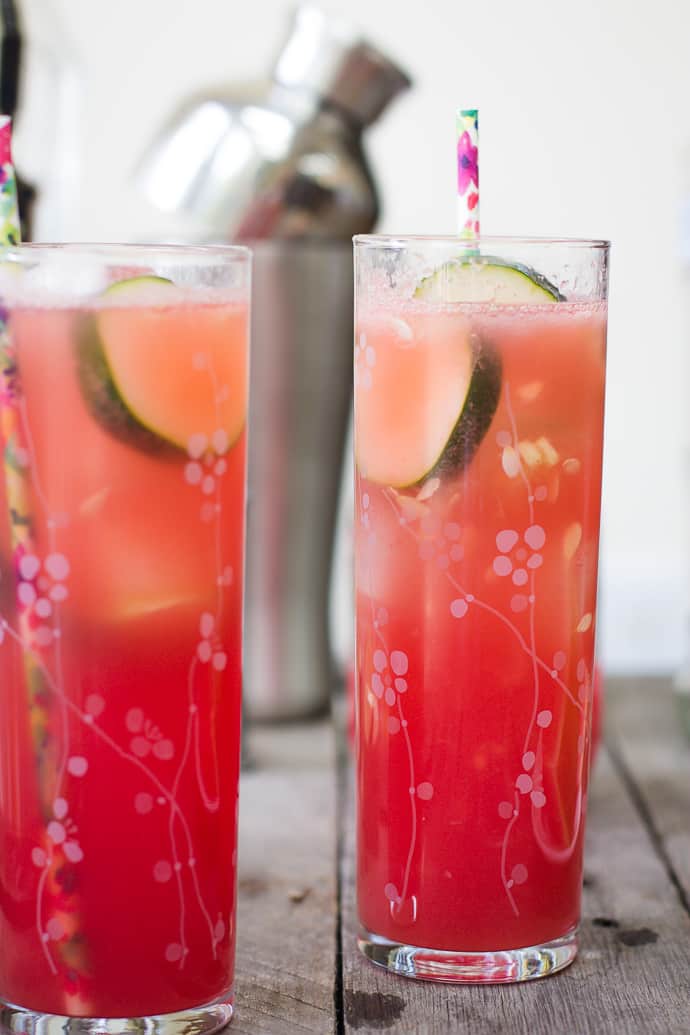 This cocktail is basically just a combination of several other cocktails that I have posted before. We're easing our way into creative culinary adventures over here in our new house that's still stacked high with un-packed boxes. So, this drink is basically THIS cocktail mixed with THIS cocktail.
The hardest part of this cocktail, which isn't very hard, is blending up the watermelon and then running it through a fine mesh strainer to get all the watermelon JUICE. It's very worth it though.
It blends up in a matter of seconds and after the pulp-y bits are strained out, you're left with this: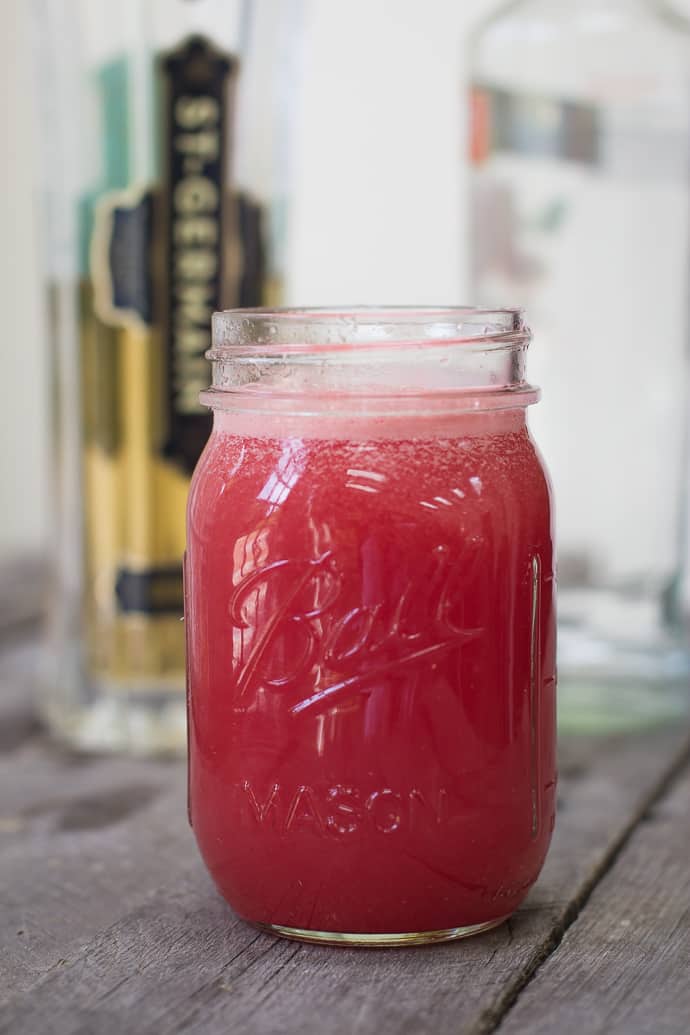 It's drinkable by itself. I might have stolen a few sips.
Cucumber is muddled and the watermelon juice added.
St. Germain, vodka, and a tiny pinch of sugar are added in and it's all shaken up and then poured over ice. Club soda is then added into the mix to fill up the glass.
Pre-stirring:
Mix it alllll together and you're ready to continue holding on to every last drop of summer. Dear Summer, please never leave me.
Print
Watermelon Cucumber Cocktail
---
Prep Time: 5 minutes
Total Time: 5 minutes
Yield: 2 1x
Scale
Ingredients
2 cups of watermelon, diced into cubes
6 cucumber slices
2 ounces of St. Germain
3 ounces of vodka
couple pinches of sugar
~8 ounces of club soda, separated
---
Instructions
Put all of the watermelon pieces into a blender and blend until completely liquefied. Using a fine mesh strainer, strain the watermelon juice to remove all of the watermelon pulp, leaving you with only juice.
In a cocktail shaker, muddle the cucumbers a bit and then add in the St. Germain, vodka, and sugar. Shake well.
Pour the liquid evenly into 2 glasses filled with ice. Top the glasses the rest of the way up with club soda.
Stir thoroughly and ENJOY summer! :)
---