DSLR Buying Guide for Beginners
This post may contain affiliate links. Please read my disclosure policy.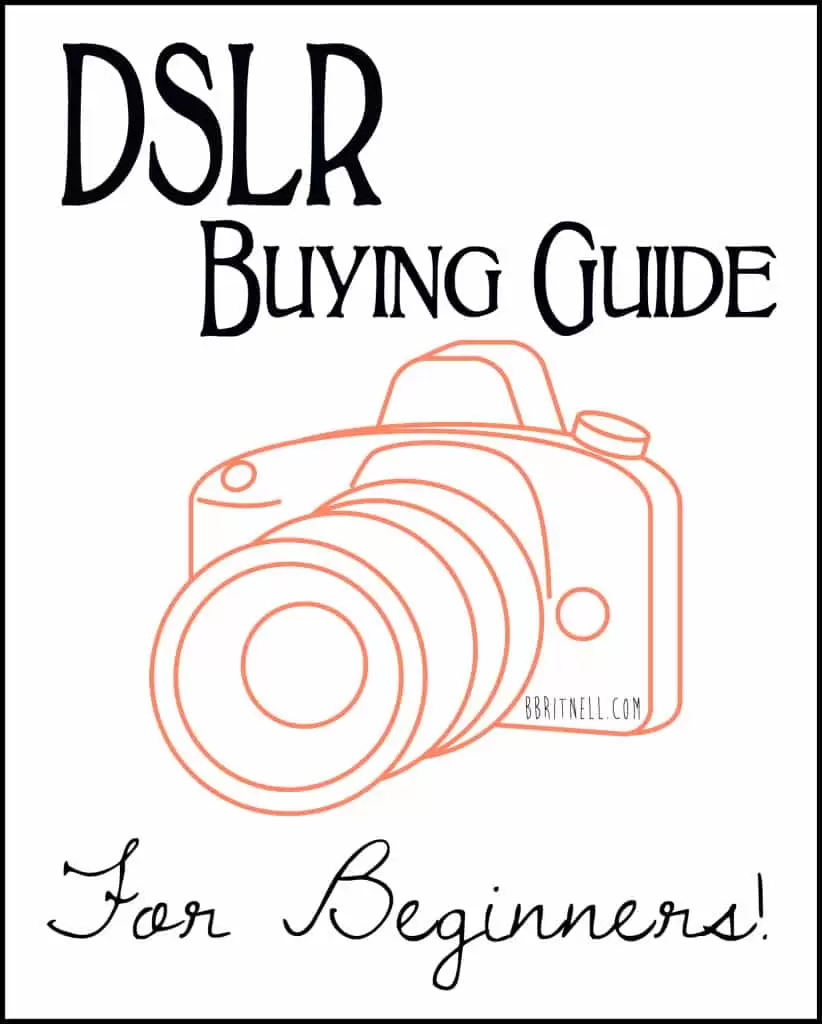 One of the most common questions I get is what kind of photography equipment I use. What I see happen time and time again is that someone starts a new blog as a fun hobby and quickly realizes that no matter how little they know about photography, pictures are VERY important on a blog. In fact, this is pretty much exactly what happened to me. So, you realize you need pictures, good pictures, and the first logical thought seems to be "I guess I should get one of those DSLRs huh?"
I've always been really into the idea of photography. When we mom had her house built (back when I was ~15 years old) there was a spare closet that I BEGGED to be able to use as a black room that I could develop photos in. The builder set it all up for me and installed the proper lights. I never ended up using it and that closet now houses my moms board games and office supplies. O well.
Needless to say, I've gotten really into photography over the past couple years. I won't for a second pretend to be anything more than an amateur photographer. But, I have spent a lot of time researching photography and photography equipment specifically and I'd love to pass along some of that knowledge.
Additionally, I asked my brother-in-law David, who just started
his own photography business
, and Mary-Katherine, who is a fashion blogger at
The Gold-Hatted Lover
, what their equipment setups look like and what they recommend for newbies looking to buy a DSLR.
My photography setup:
Camera:
I currently use a Canon EOS 60 D which just so happens to be discontinued. The newest model,
Canon EOS 70D
, is very similar though and I highly recommend it!!
I LOVE this camera. It was the perfect intro DSLR camera for me and I would highly recommend it to others (or, the new version of it at least).
When I bought my camera, I knew that I really wanted to get into photography more than just taking pictures of my family and friends. I knew (hoped really) that I would use it a lot and so I decided to go a step above the intro level camera.
What I recommend:
**First I would like to say that I HIGHLY recommend ONLY buying the body of the camera and then buying a lens separately. The kit lenses that come with cameras are not great. I used mine a couple times before quickly realizing that I hated it. I was lucky enough to have a friend who lent me her 50mm 1.8
and I LOVED it. I'll talk more about lenses and what I recommend later.
If you're looking for a DSLR at a very basic level, don't have a ton of money to spend, or maybe don't plan to use it all that often, I recommend getting a camera similar to this one:
Canon EOS Rebel T5i Digital SLR Camera (Body Only)
I have a good friend with the equivalent to this camera and she takes some truly beautiful photos with her camera. In fact, I know quite a few people with this exact camera and I've heard nothing but positive feedback about it as an intro DSLR camera.
If you want to get something a bit nicer, especially if you plan to use it a lot, but are a beginner, I recommend the Canon EOS 70D
which is equivalent to the camera that I use now (pictured above).
Lens:
I have a long list of lenses that I really want. After borrowing a friends' 50mm (known comonly as the nifty fifty), I knew I needed my own. I got the 50mm 1.4 (this one to be exact
). I use the heck out of this lens. In fact, it's pretty much the only lens I use right now. I highly recommend this lens as a first lens.

I know that buying a new camera and lens can be pricey so for a beginner wanting to save money, I think it's okay to get the 50mm 1.8
instead of the 50mm 1.4. The 1.8 is about $125
while the 1.4 is closer to $400
.
If you have no idea what I'm talking about, just know this for now: the 1.4 lens, compared to the 1.8, lets more light into the camera and results in a brighter, more vibrant picture. It's not a huge difference but enough that I noticed and prefer the 1.4 over the 1.8. That being said, I used the 1.8 for about 6 months and took some truly great pictures.
Lighting:
Pretty much everyone is going to tell you that natural light is TOTALLY the way to go. And I agree! Natural light creates the most beautiful and evenly lit photos. But here's the thing: I often wake up for work while it's dark outside and don't get home again until after the suns gone down. What am I supposed to do? Never photograph food which I love doing SO much? I try and do most of my photographing on the weekend. However, that's not always possible.
So, in order to be able to do this thing that I love, I needed to find a way to light my photos for the times that it is necessary to take pictures at night. I agonized over this for about a month looking at all the different options. I bugged the HECK out of a photographer that I know and ended up buying exactly what she recommended. It's worked out great for me and I would highly recommend my setup to others.
I have this speedlight which I got as a birthday gift (~$250). I would eventually like to get another one but for now, I've learned to make one work well for me.
Canon Speedlite 430EX II Flash for Canon Digital SLR Cameras
In order to hold the light (because for something like food photography, you DEFINITELY don't want the flash attached to your camera) and to soften the light so it looks more natural, I use this softbox (~$20):
Umbrella Softbox Reflector for Speedlights
This stand to hold it all (~$18):
Photography Light Stand with Cases
And then this little doohickey to attach the speedlight to the stand ($7):
Swivel Bracket Umbrella Holder
Finally, to make the speedlight work, you need a wireless trigger on your camera and a wireless trigger attached to the speedlight so that they communicate. I bought these and they've worked perfect! (~$30 for the set):
Yongnuo Wireless Remote Flash Trigger for Canon
I use this equipment fairly often and expect I'll start using it even more since the days are getting shorter. It took a bit of practice to learn how to set everything up so that the lighting looked as natural as possible. If it's something you'd be interested in, I could do a whole post later on how I set up all of my lighting equipment.
The only other equipment I use (and I personally don't use them all that often) is a tripod (similar to this
) and a remote (this one
). I mostly just use my tripod and remote for gifs like these (I really like gifs :)) :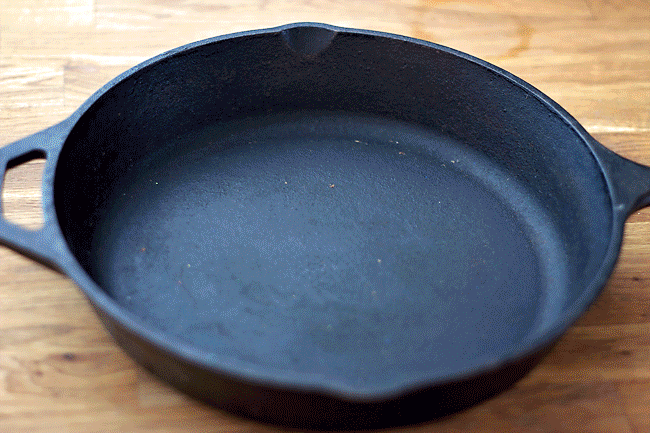 from my BBQ Skillet Nachos
from my Sangria Popsicles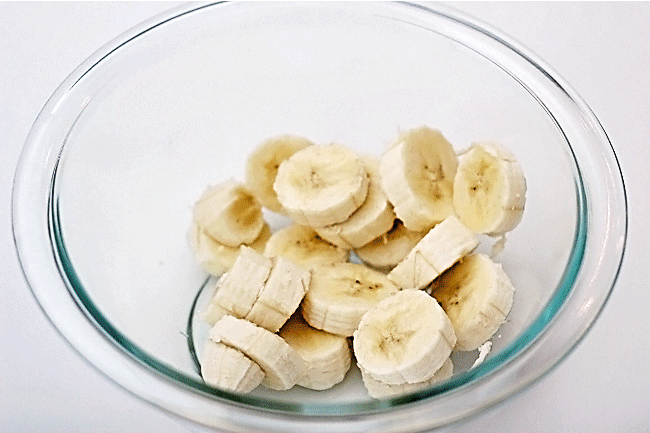 from my Banana Protein Pancakes
David's Suggestions:
David is a photographer in the Knoxville, TN area and focuses most primarily on Wedding and Engagement photos.
What camera do you use? I just upgraded to a Nikon D700 with a MB-D10 Battery Grip
. I have a Nikkor AF 20mm f/2.8D Lens
and a Nikkor 70-200mm f/2.8G ED-IF AF-S VR Zoom Lens
that I use with it
Would you recommend it? I would definitely recommend it to somebody wanting to get started as a professional photographer. The low-light capability it provides is crucial when wanting to make high-quality images at all times.
What camera did you start out/ learn on? I started out with a number of different point and shoot film cameras as a kid but my first serious camera I got when I was maybe 15 or 16 was a Nikon N65 35mm SLR.
What would you recommend to someone wanting to get into photography? Unless you are wanting to get into serious professional photography and need everything a full frame sensor DSLR provides I would recommend getting a mirrorless camera. A mirrorless camera allows you to capture high-quality images in a much smaller form factor. I don't have the funds available for one yet, they aren't very expensive though, but a photographer friend of mine has a Samsung NX300
that he loves so that is what I would recommend.
What lenses do you use most? Currently with my two lenses I use the 20mm the most but the both get lots of use. Once I am able to purchase one my main lens will be the Nikkor AF-S 24mm f/1.4G ED
.
What lens would you recommend to someone starting out? I would recommend the Nikon AF-S NIKKOR 50mm f/1.8G
and the Nikkor 70-200mm f/2.8G ED-IF AF-S VR Zoom Lens
. If you have boatloads of money go for the Nikkor AF-S 24mm f/1.4G ED
and the new Nikkor AF-S 70-200mm f/2.8G ED VR II
.
What other equipment do you have that you find very useful? One of my favorite pieces of equipment is my JOBY Gorillapod Focus
. It is a small tripod with flexible legs that allows it to be setup or mounted practically anywhere. Very nice for when you might want a tripod handy but don't want to bother carrying a full-size tripod.
David's website: http://www.britnellphotography.com/
David's Facebook: https://www.facebook.com/britnellphotography
Mary-Katherine's Suggestions:
Mary-Katherine is a fashion blogger at the Gold-Hatted Lover and takes most of the pictures for her blog herself. Much like myself, she learned as she went along because she knew that quality pictures were important for a successful blog.
What kind of camera do you use?
Up until last week, I was using a
Canon Rebel XS
, but recently upgraded to the
Canon Rebel T4i
. I would definitely recommend either to a new blogger, there are so many things they can do, and although I am still learning how to use a DSLR, the Canons are pretty simple to use and at the very least, the quality of the pictures is so much better than a typical digital camera.
Since I just upgraded I don't think there is another camera I have on my radar, I just want to learn how to use the one I have!
What editing software do you use?
I use
Photoshop Elements
to edit my pictures. I like it, but really haven't learned how to do anything too crazy with it. I do like that it allows me to make collages as well as edit outfit pictures. It gives you all the basic things you need from Photoshop for a fraction of the price. I have also heard really great things about Adobe Lightroom.
Do you use any other photography gear?
I do not have any other gear other than a lens. When I first started my blog, before I even told my husband about it, I was taking my pictures on self-timer. I do NOT recommend this tactic! My pictures were always blurry because when I would run into the frame, it would be focused on the wall or scenery behind me and I was always out of focus. I also did not have a tripod so I would have to find something to rest my camera on. I am sure if anyone saw me they would have laughed so hard! If you are going to take your pictures yourself, I would definitely recommend investing in a tripod (
http://bit.ly/1qOmZrA
) and a remote (
http://bit.ly/1sL0bAg
). This will allow you to get quality pictures rather than the blurry mess I was coming out with.
What lens do you use?
I use the
Canon 50mm f/1.8 lens
, which is not the kit lens that came with my camera. I had heard this one was recommended for bloggers and got it for Christmas. It is a pretty inexpensive lens (around $100) and allows for really great outfit photos. The lens is a prime lens, meaning that it does not zoom, so the photographer has to actually move backwards or forwards to change the picture. The benefit of this lens is that the aperature is much larger than the kit lens, which only goes to about 3.5 or so, and the larger aperature allows for more of that background blur that us fashion bloggers love while keeping the subject in focus.
Any other advice?
Practice, practice, practice – you cannot expect to become a master in a day. What I have tried to do is focus on learning one thing at a time. It is tempting to want to go full Manual and just do everything at once, but it is really important to take it slow and learn what each feature does and how they interact.
In addition, practice also applies to posing for outfit pictures. It is really awkward at first and though it is still kind of awkward a year into it, it does get easier. Try different poses and angles and find what looks best for you.
There you have it! A little insight into our DSLR cameras and what we recommend to beginners. If you have any questions, I'd be happy to help! Leave a comment or shoot me an email.
Do you have a DSLR? What advice do you have for newbie photographers?
Disclaimer: Many of the above links are affiliate links. This means that if you found the above information useful and decide to purchase anything through my links, I will receive a small percentage of money from the sale at no extra cost to you. If you do decide to buy anything from above, thank you!
This post may contain affiliate links. Please read my disclosure policy.