4 Stuffed Sweet Potato Recipes
This post may contain affiliate links. Please read my disclosure policy.
These stuffed sweet potato recipes are consistently the most popular ones that I ever post on social media. I'm constantly getting tagged in your SP posts and I love it!! So today, I'm making sure that you see ALL of your options!
Today on the blog, I'm showing you how to make stuffed sweet potatoes FOUR different ways!
If you've been around for a while then you'll know that I LOVE a good sweet potato recipe and have a lot on my site at this point. I figured that it would be fun to round them all up in one easy to find place.
AND I made a whole Youtube video showing you how to make them:
Here are the 4 different stuffed sweet potato recipes that we're working with: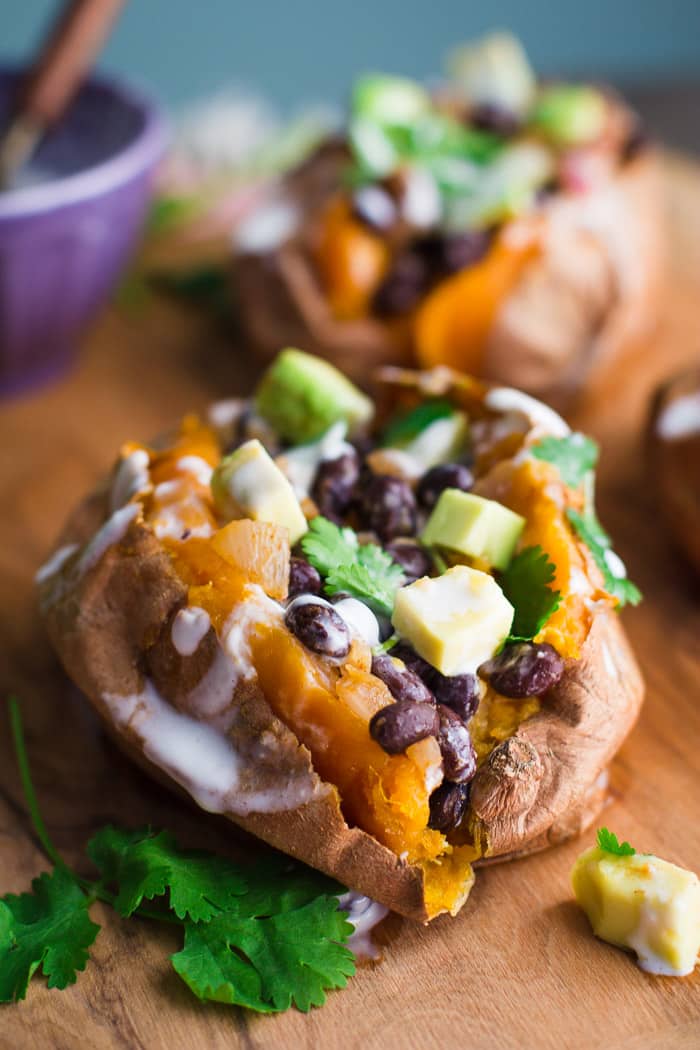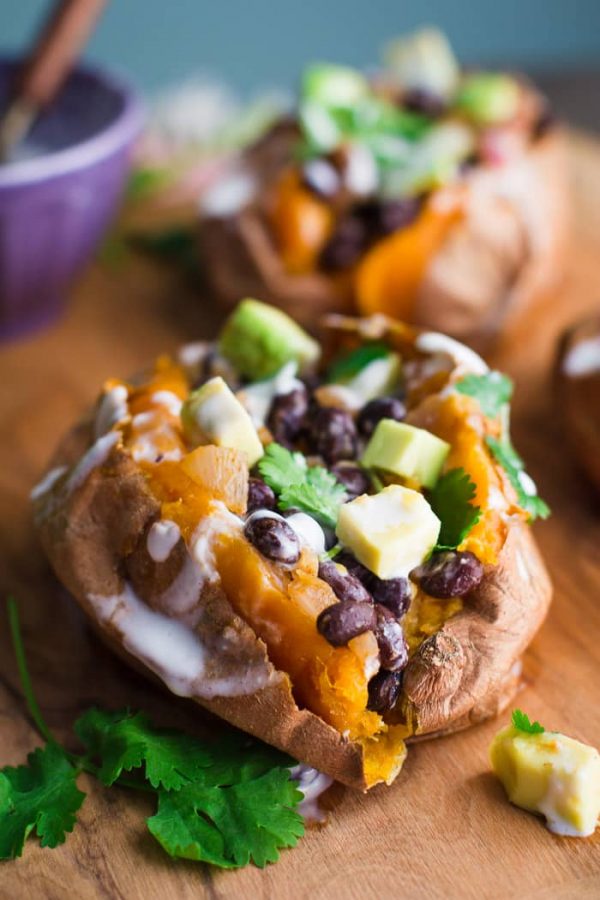 Let's go over how to cook sweet potatoes:
BAKED Sweet Potatoes:
If you want me video above, you'll see that I most often bake my sweet potatoes. To do this, simply pre-heat your oven to 400 degrees F and line a baking tray with foil (this is optional but recommended). Pierce a few holes in the potatoes using a fork and place them on your baking sheet. Bake in the pre-heated oven starting at 40 minutes until the potatoes are tender and very easily pierced with a fork to the center.
Instant Pot Sweet Potatoes:
I have a whole blog post HERE on how to make sweet potatoes in your instant pot. It's super easy and I love that it requires such little effort!
Crockpot Sweet Potatoes:
I've actually never tried this BUT you can cook them in your slow cooker as well. HERE is a blog post showing you how if you're interested!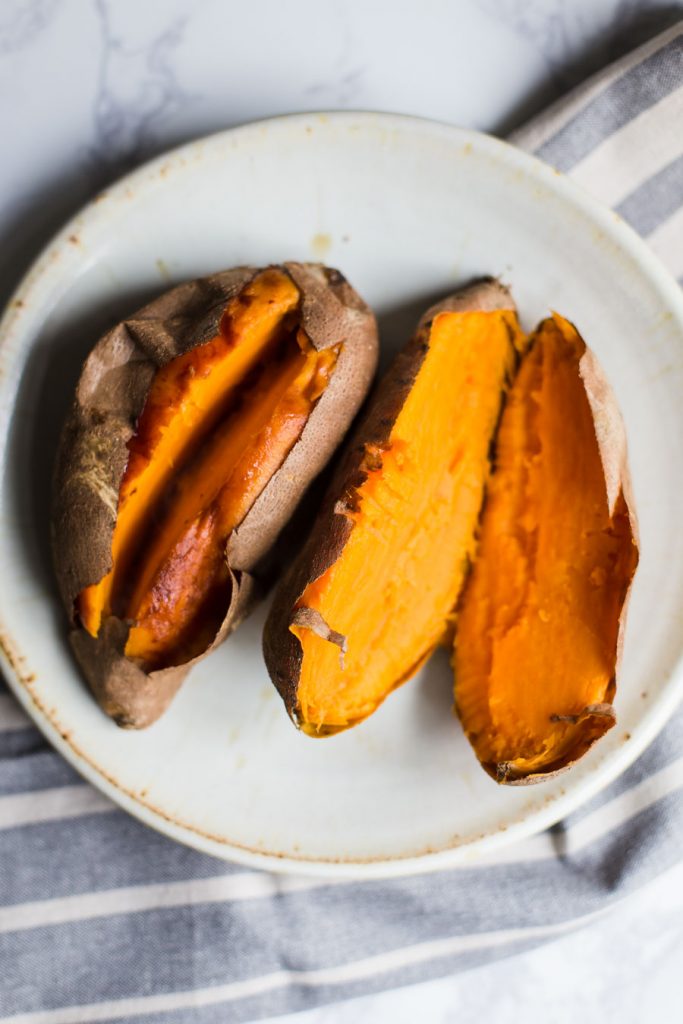 NOW the recipes: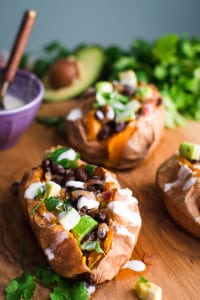 This was the first one I ever posted on my blog and one of the recipes that I make most often from my blog!
Some substitutions:
you can use any taco type seasonings that you like including actual taco seasoning
you can leave out the onions if desired
you could add in more veggies to the skillet to saute such bell peppers, jalapeno, onion etc.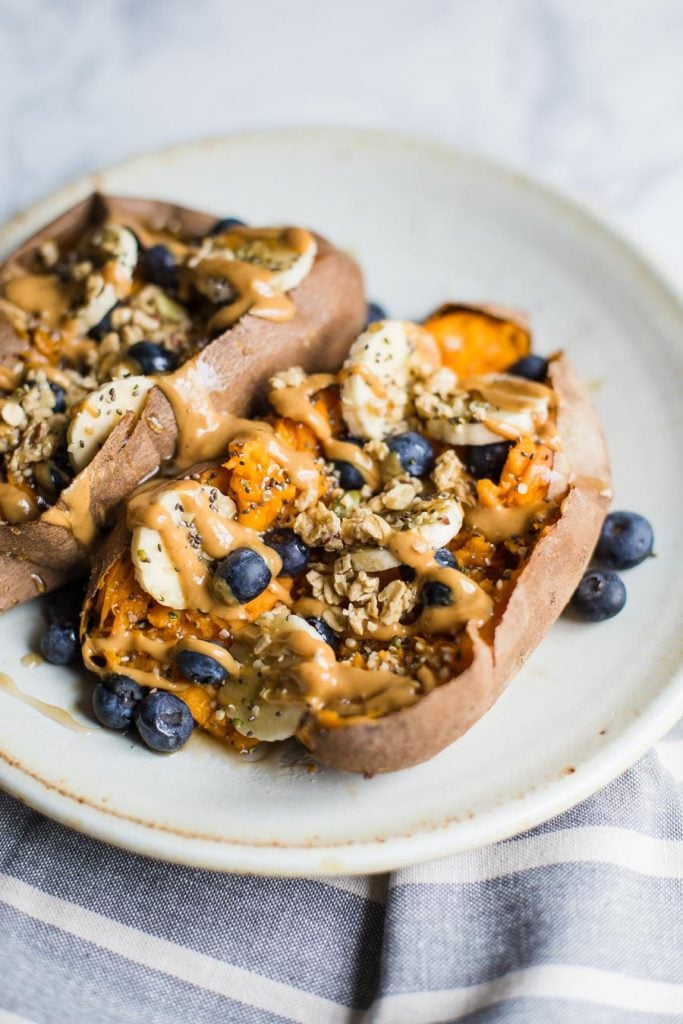 This one is BY FAR the most popular on Instagram. Y'all are always tagging me in this recipe and I love it so much!
Some substitutions (the skies the limit on this one!):
strawberries (or really ANY other fruit!)
granola
hemp and chia seeds
maple syrup
nut/ seed butter: really any kind works here!
pumpkin seeds
PLEASE let me know what you put on yours! I'm always looking for fun new ways to try this out!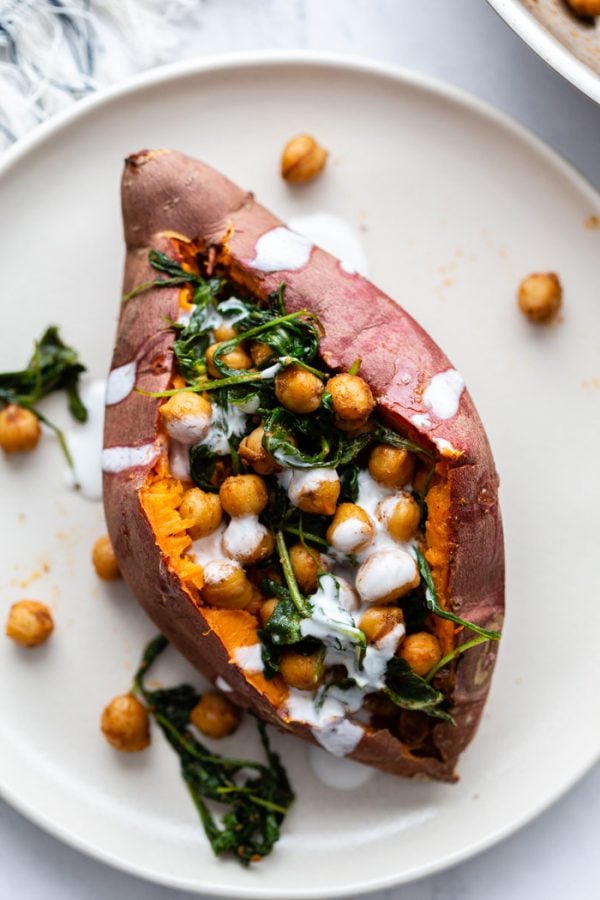 This is the newest stuffed sweet potato addition to my blog! I love that it's got a nice extra dose of protein and greens to it!
Some substitutions:
you can use any greens here! I first tested it with spinach but really loved the arugula version of it. This would also be great with kale, collard greens, etc
spices: you can use any spices that you like here
sauce: this would be great with all kinds of different savory sauces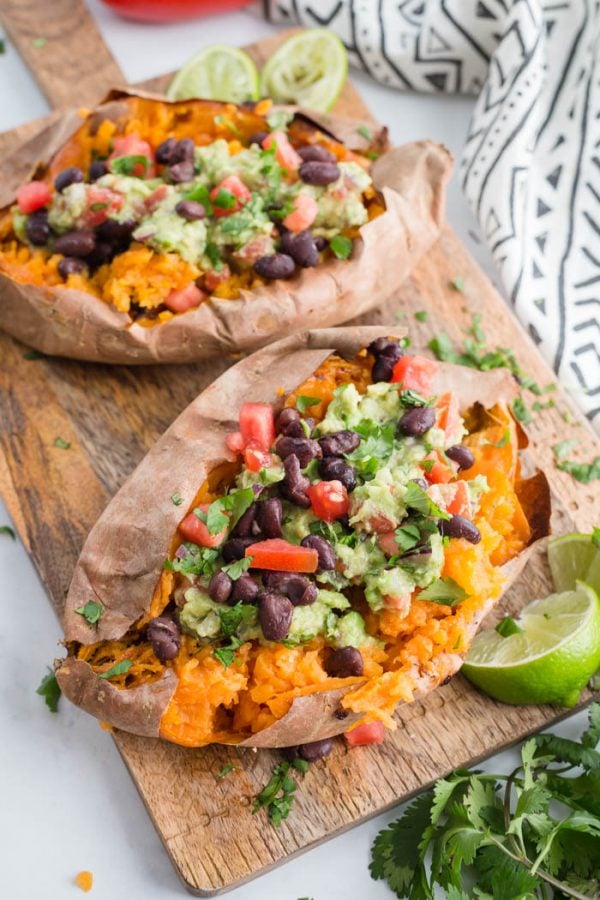 HERE is my original and EASY Guacamole recipe. I never would have thought that avocado in a sweet potato would be so good but it really is!
Some substitutions:
you could use store bought guacamole OR make a super simple guac by mixing together mashed avocado, pico de gallo, and salt + pepper
the extra tomato and black bean toppings are optional but totally recommended!
you could kind of combine this recipe with the stuffed black bean version and add the guacamole on top of the sauteed black bean mixture.
THAT'S ALL FOR TODAY! If you end up making any of these recipes, please don't forget to tag me on instagram @foodwithfeeling!
This post may contain affiliate links. Please read my disclosure policy.