Loaded Breakfast Sweet Potatoes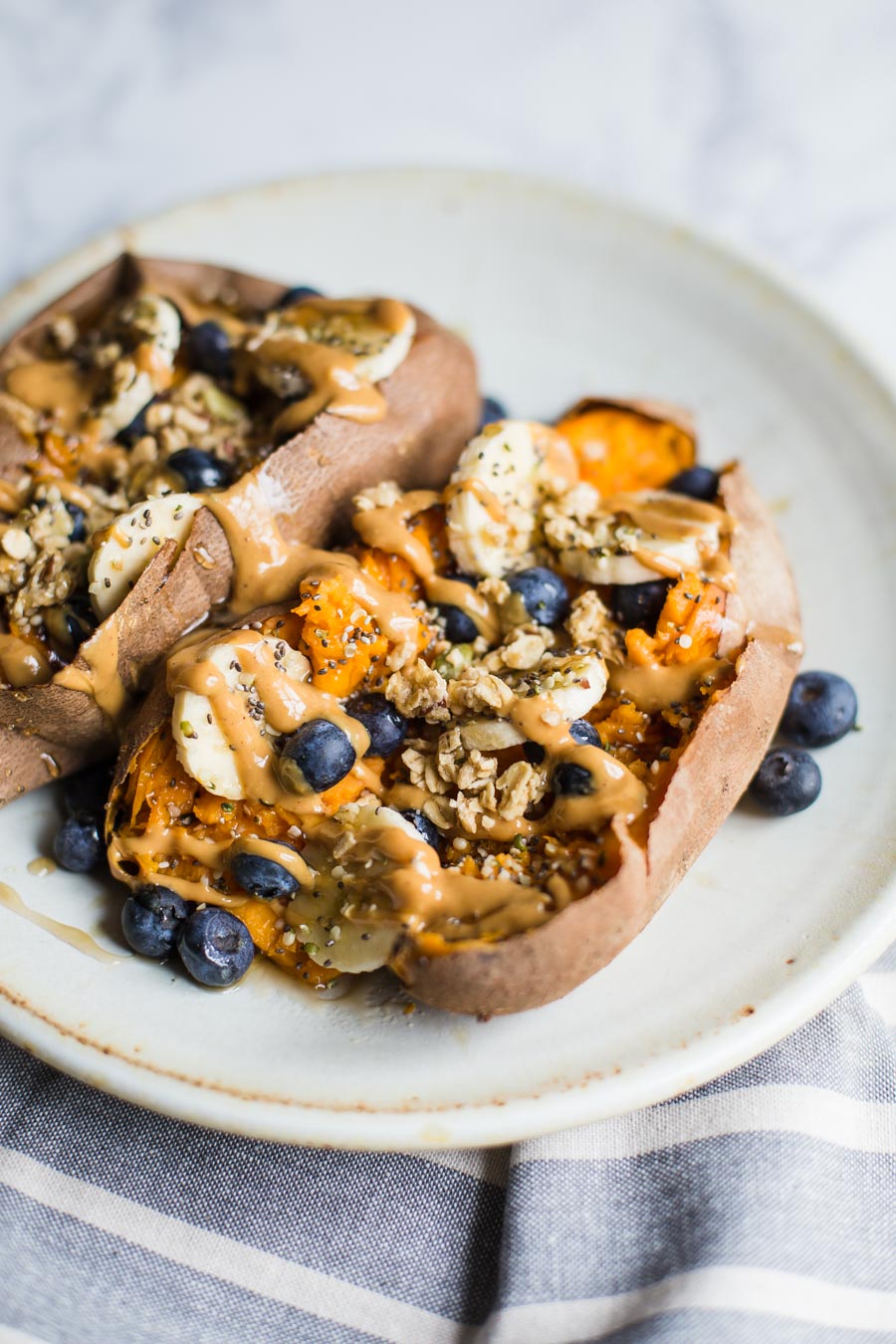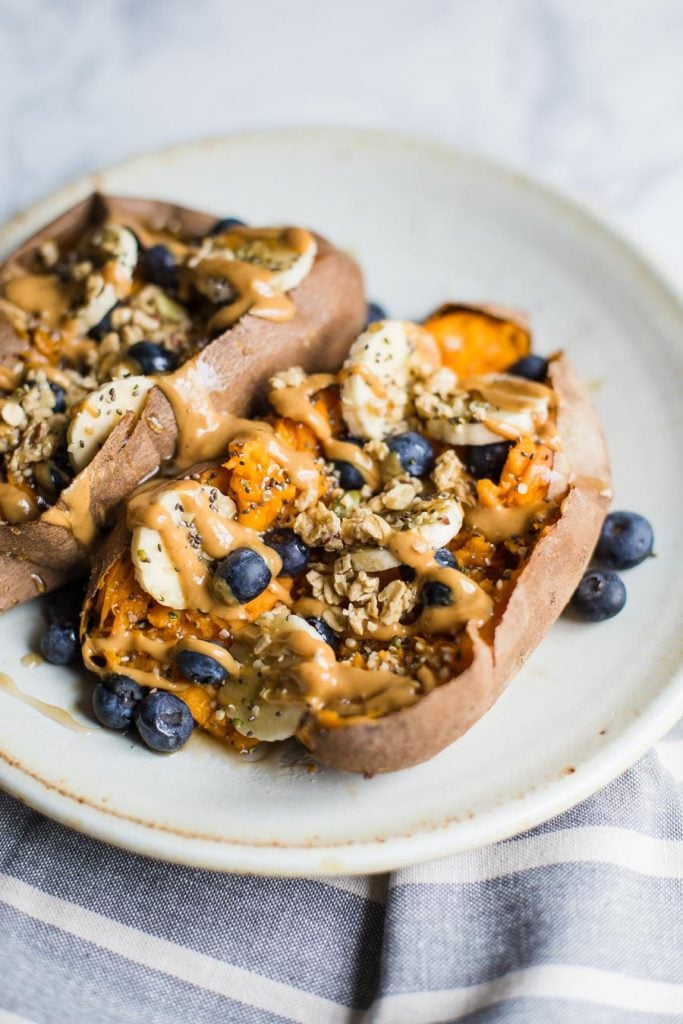 Happy happy Friday, friends! It's currently snowing here in Nashville and while I would usually be enjoying a snow day off, I'm not since I already work from home. The glorious thing about it: the doing work that I love and happy to work through this cold, dreary snow day :)
You know what else is special about this Friday?? It's an ACTUAL end to the work week for me for the first time in 3 years. Prior to quitting my day job, Friday was actually a short break before I spent the ENTIRE weekend working on my blog and client videos. Instead of working tomorrow, I'll be sleeping in, beginning to take down our holiday tree and decorations, and beginning the prelimary plans for my massive spring vegetable and rose garden!! (!!!!!). Yay for Fridays!!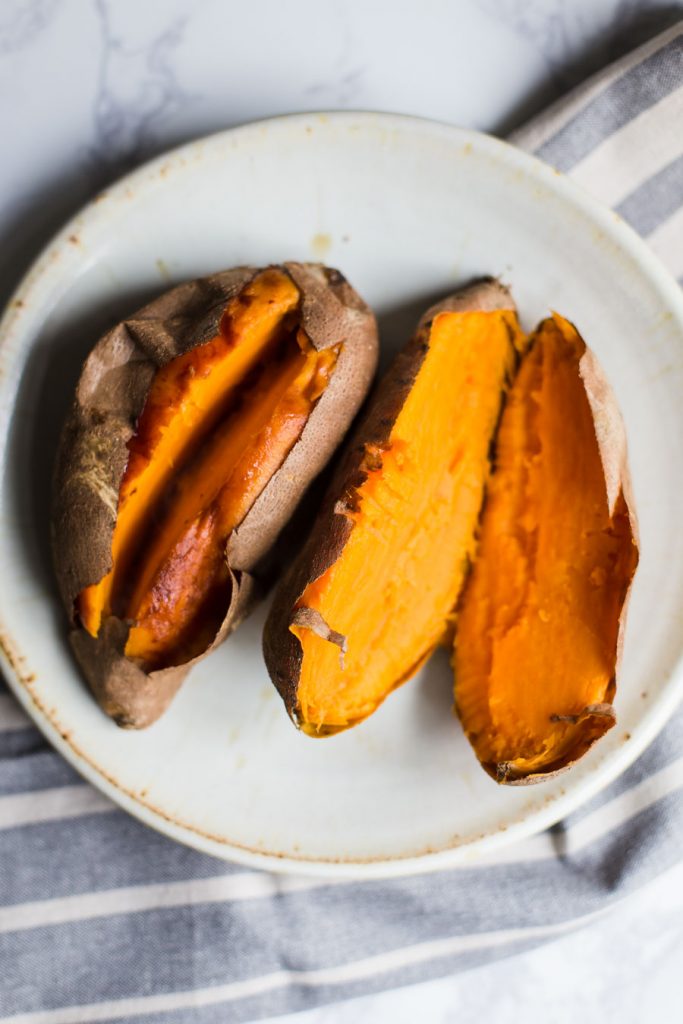 2 things quickly come to mind everytime that I post a sweet potato recipe on my blog: 1) my southern family who LOVE sweet potatoes in every single way that they can possibly be consumed and 2) my British mother-in-law who isn't so much a fan of sweet potatoes. Maybe we'll manage to convert her one day :D
If you're an avid B. Britnell follower then you might be aware that I already have a recipe on my blog for Breakfast Sweet Potatoes. But this one is different and quite frankly a little better because it has PEANUT BUTTER on it. The peanut butter was a very last minute addition to the recipe and it ended up being a total game changer.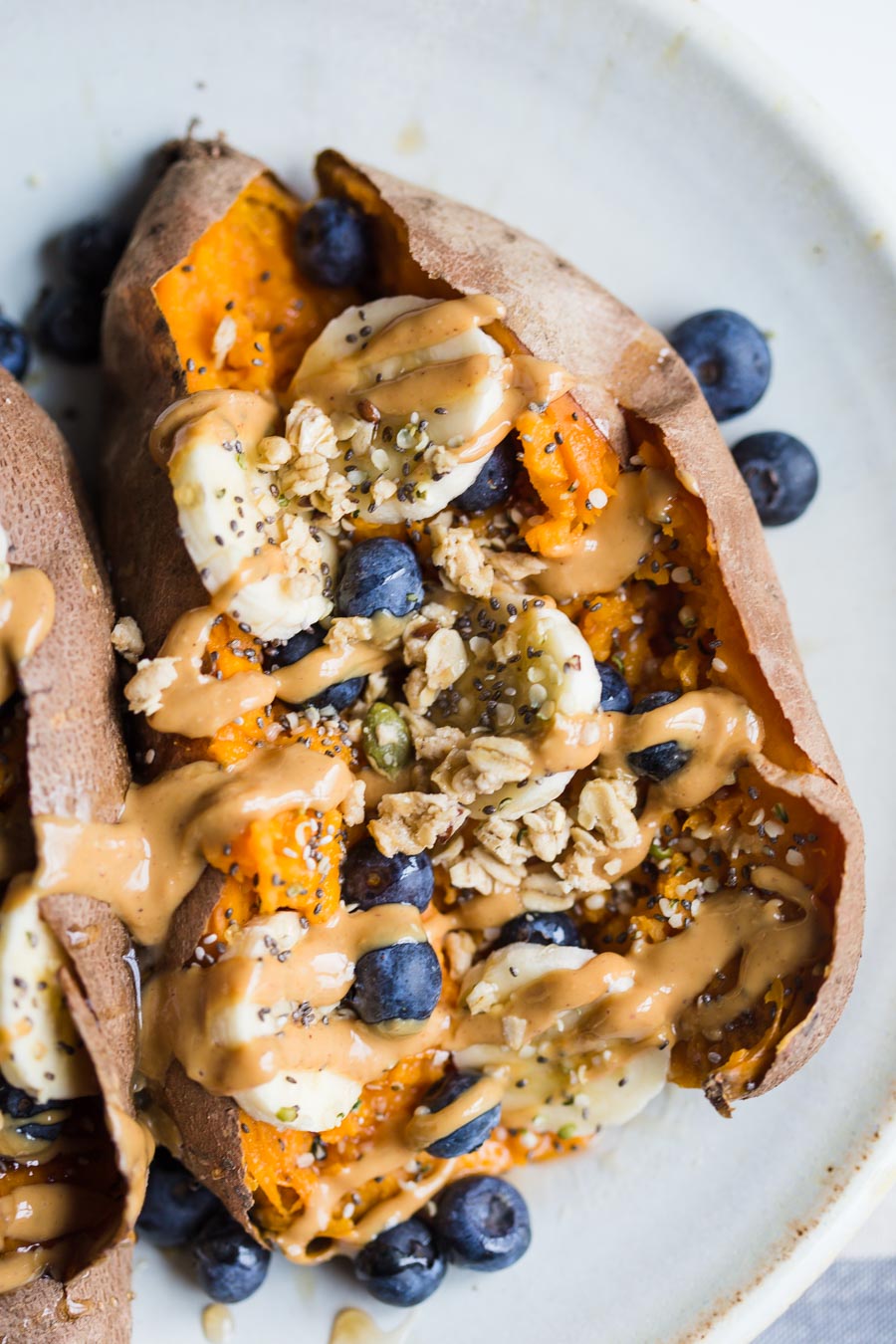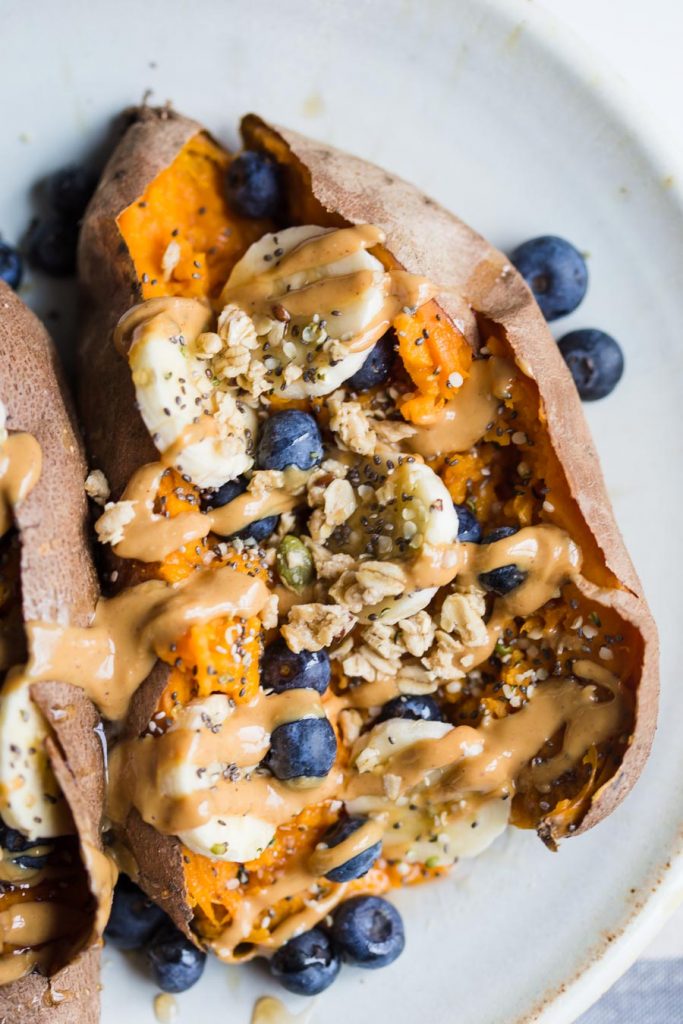 For the actual recipe, I'm leaving it pretty open. Basically, bake your sweet potato and then top it with whatever breakfast goodness sounds good to you. I ended up picking all of the blueberries off and eating them on their own. My all time favorite combo so far is simply sweet potato + peanut butter + banana. If that's all I have, I'm a VERY happy camper. Oh, and granola. I REALLY like the added texture crunch that the granola offers :D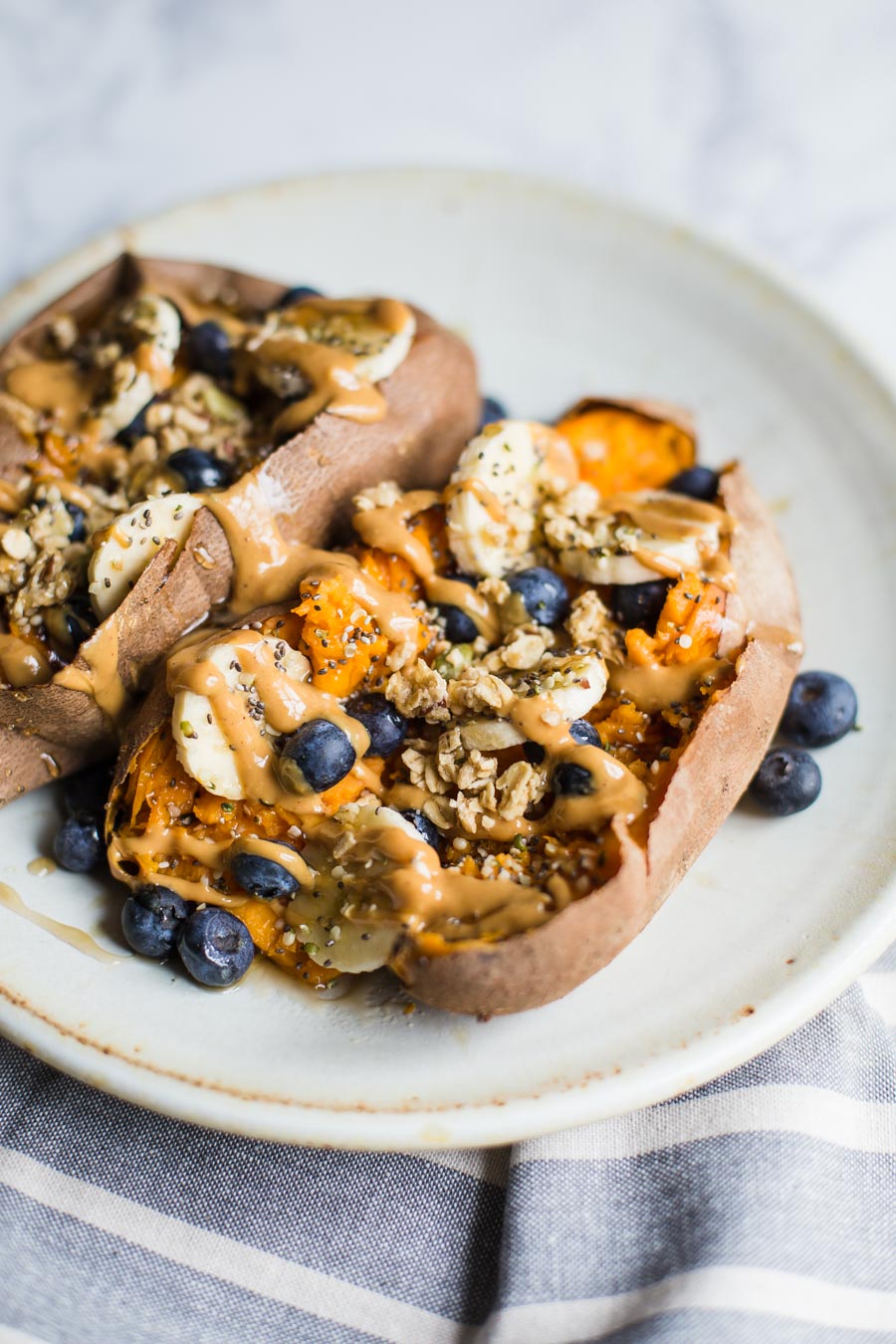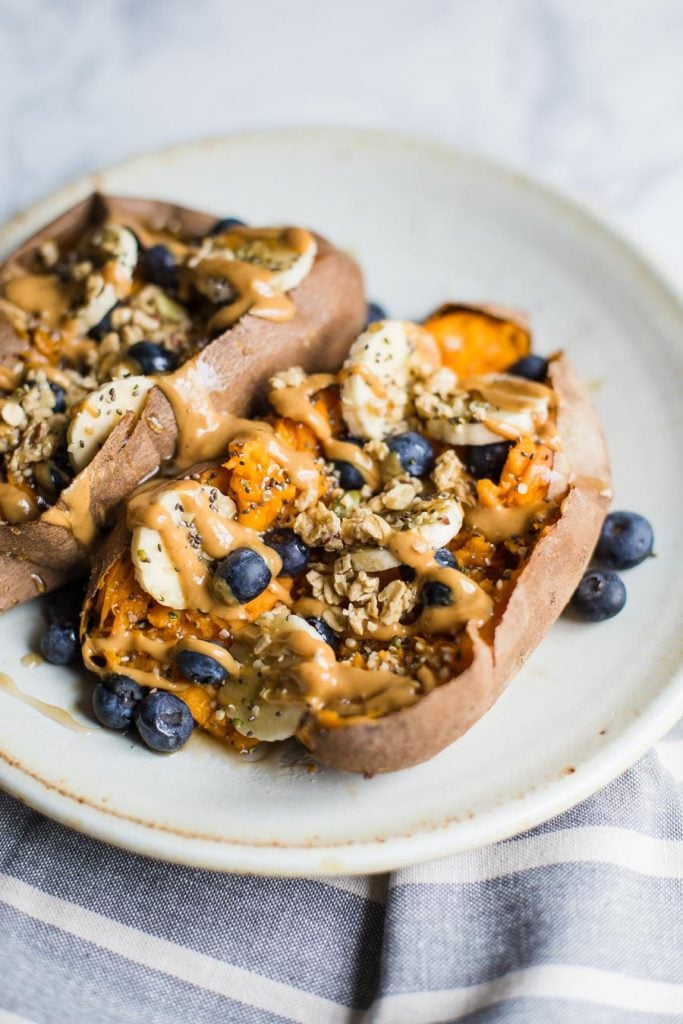 My suggestion is that you bake an extra sweet potato next time you're eating them for dinner and then throw it in the fridge. The next morning or 2, you've got a SUPER easy breakfast that just needs to be heated up with a few toppings thrown on. Alternatively, throw the sweet potato in the oven first thing when you wake up and then you'll have breakfast ready in under an hour.
Oh and for sweetness: I tend to but organic sweet potatoes which I have discovered are ALWAYS sweeter and thus don't need any added sweetener. However, if you want it all a bit sweeter, I highly suggest drizzling it with a touch of maple syrup or agave. SO GOOD!
ps- you know what else this recipe is good for?? A super filling but still good for you DESSERT!! YES PLEASE!!
See How to Make the Loaded Sweet Potatoes:
Print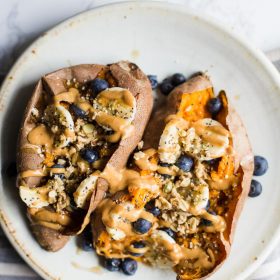 Loaded Breakfast Sweet Potatoes
---
Author:
Prep Time: 5 minutes
Cook Time: 45 minutes
Total Time: 50 minutes
Yield: 2 filling breakfasts or 4 light breakfasts 1x
Scale
Ingredients
2 medium sweet potatoes
optional toppings: fruit such as berries and banana slices, chia seeds, nut butter, cookie butter, hemp seeds, maple syrup, agave, granola etc. Have fun with it! My favorite toppings= granola, peanut butter, banana, and chia seeds.
---
Instructions
Pre-heat the oven to 400 degrees F.
Bake the sweet potatoes directly on the rack for 40-50 minutes. They're done once a fork can easily be pierced into the center of the potato and the inside is tender.
Cut a slit down the center of the sweet potato about 2/3 of the way down. Slightly mush the inside of the potato.
Top with your favorite breakfast toppings!
ENJOY!!
---
Notes
Works great if you bake the sweet potatoes the night before and then the whole meal only takes 5 minutes to prepare in the morning :)