vegan blueberry oatmeal waffles
This post may contain affiliate links. Please read my disclosure policy.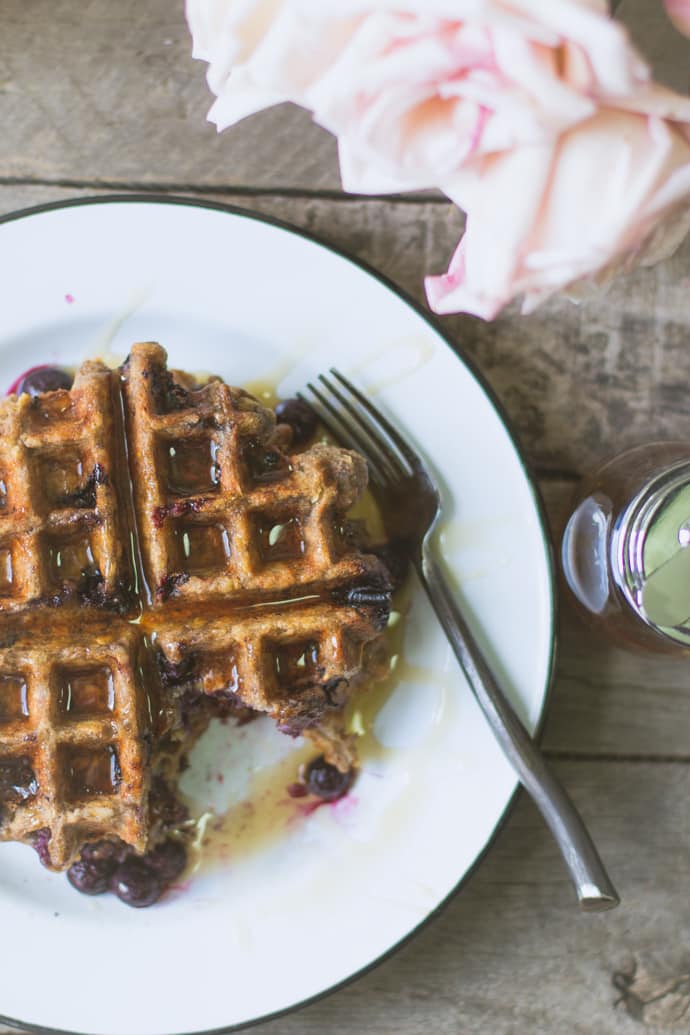 oh HEY there 2015. so nice to see you. the new year feels like it's just now beginning for me as i've still been enjoying my holiday. but, today, it's back to work for me.
let's talk about new years' resolutions for a minute.
i'm not really a fan of new years' resolutions. for me….i don't like them for me. and yet, i almost always make them. yes, i want need to eat more greens. yes, i should find room for a little more cardio in my life. i know, i should probably cut back on my beer/ white wine intake and replace that with vastly more cups of water each day. (those are some typical resolutions from the past…..say 15 years of my life).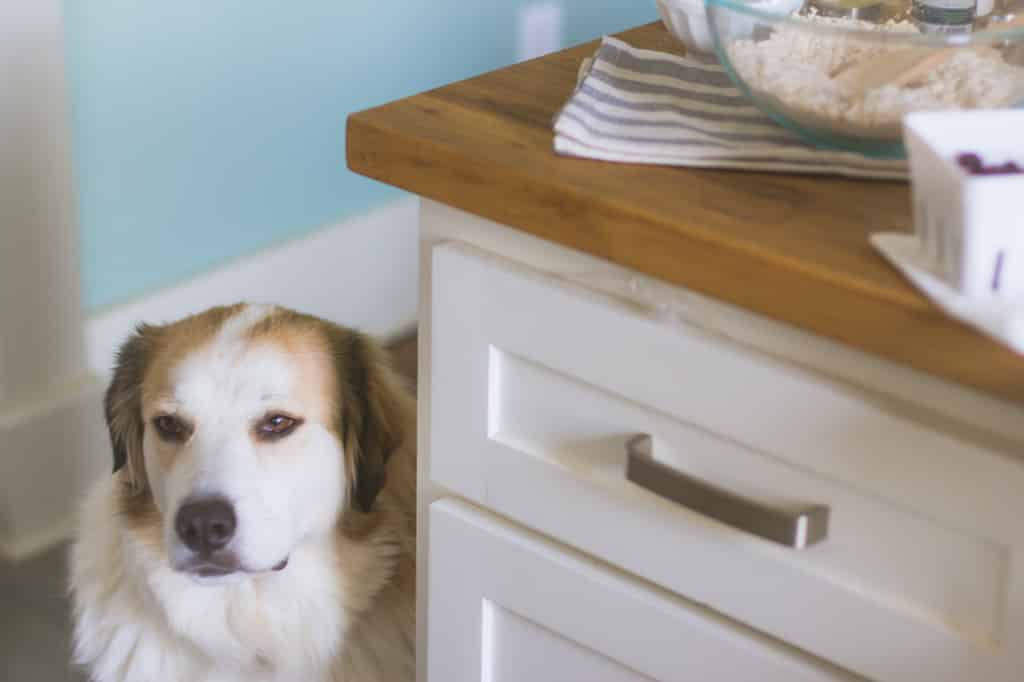 but, this year, my only resolution is to not have one. i've spent my life making tons and tons of plans. some of them work out while others don't. i wear myself out thinking about the way in which my life is supposed to be going. and so this year, i'm not going to give my year an ultimatum of what it must be for me. we'll figure it out week by week and marvel in the treasurers of our hard work. i wish i could say that these were 100% original ideas but, truthfully, i was inspired by another blogger to make this a resolution-less 2015.
also, i decided over my first cup of coffee this morning that i can't be bothered with capitol letters (except for the purpose of making a strong point, i suppose) on b.britnell any longer. it's the cool new things to do, i promise. hmmm, maybe i'll even change my logo. who knows? crazy thoughts.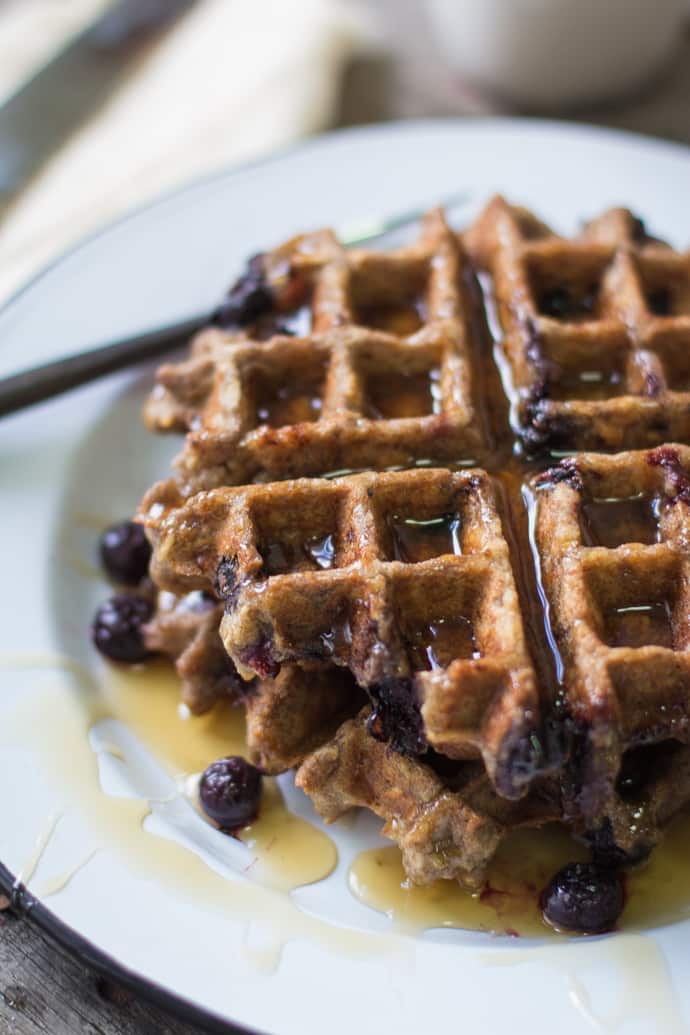 and with all of that, let's eat some waffles! this is actually the debut of waffles on my blog and i'm very very excited about that!
these waffles come to us referred from a friend (who you will hear more of later) who does lots of vegan cooking. i have no intentions of becoming vegan anytime soon but i will say that i'm fascinated by some of the fun substitutions that are found in vegan recipes. like using applesauce in place of eggs to hold everything together. fun!
flour, cinnamon, salt, and baking powder are sifted together for maximum fluffiness.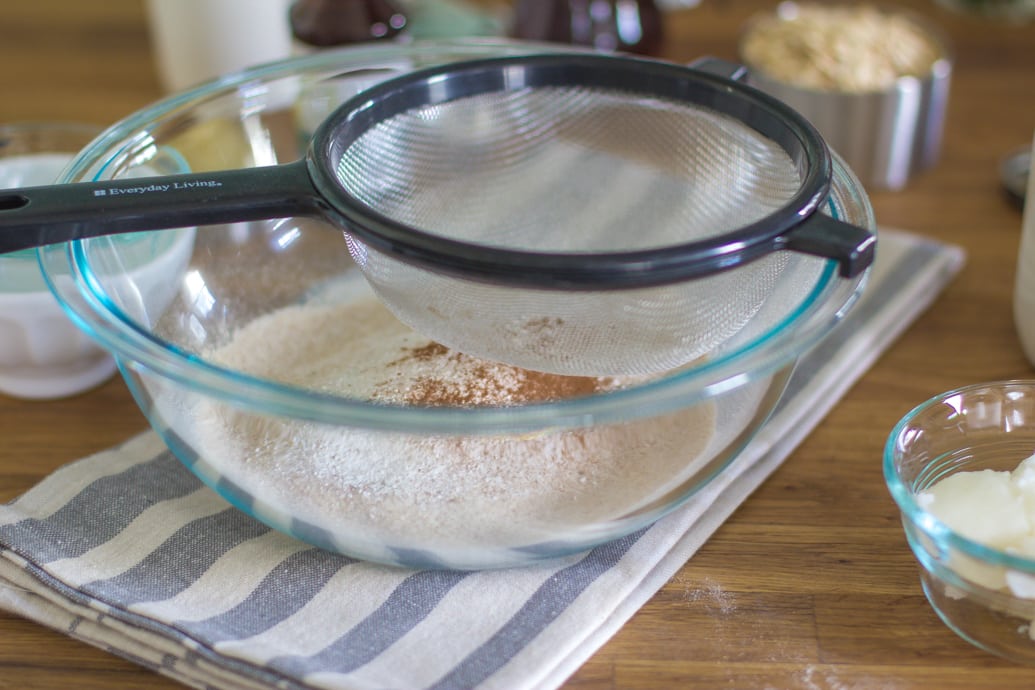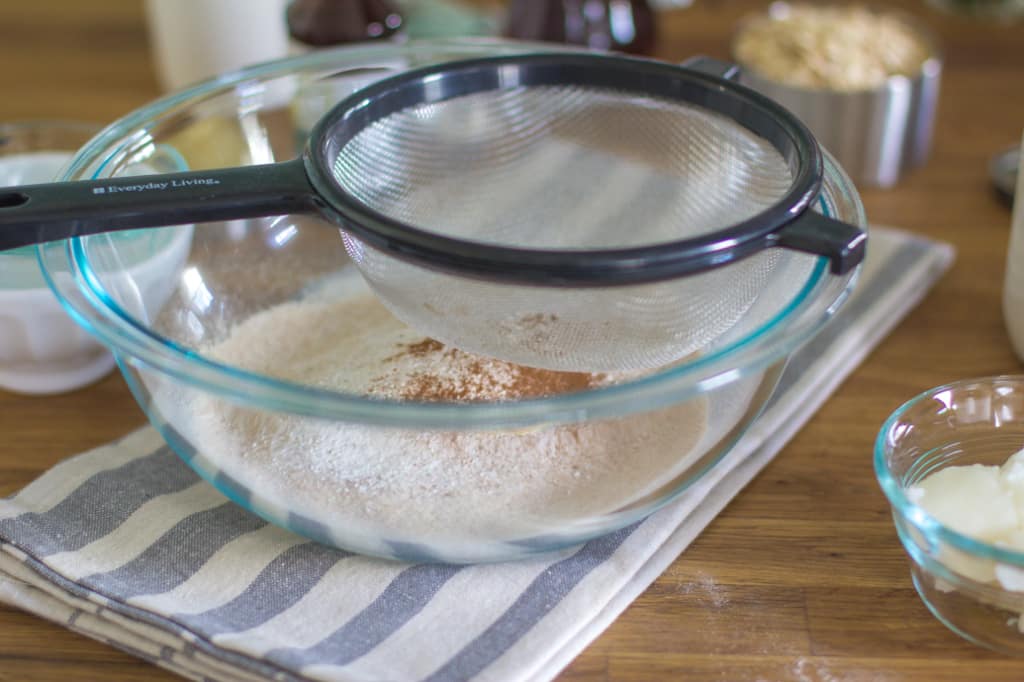 then some oats are stirred in.
next, the wet ingredients are added. first the applesauce, vanilla extract, maple syrup, and coconut oil.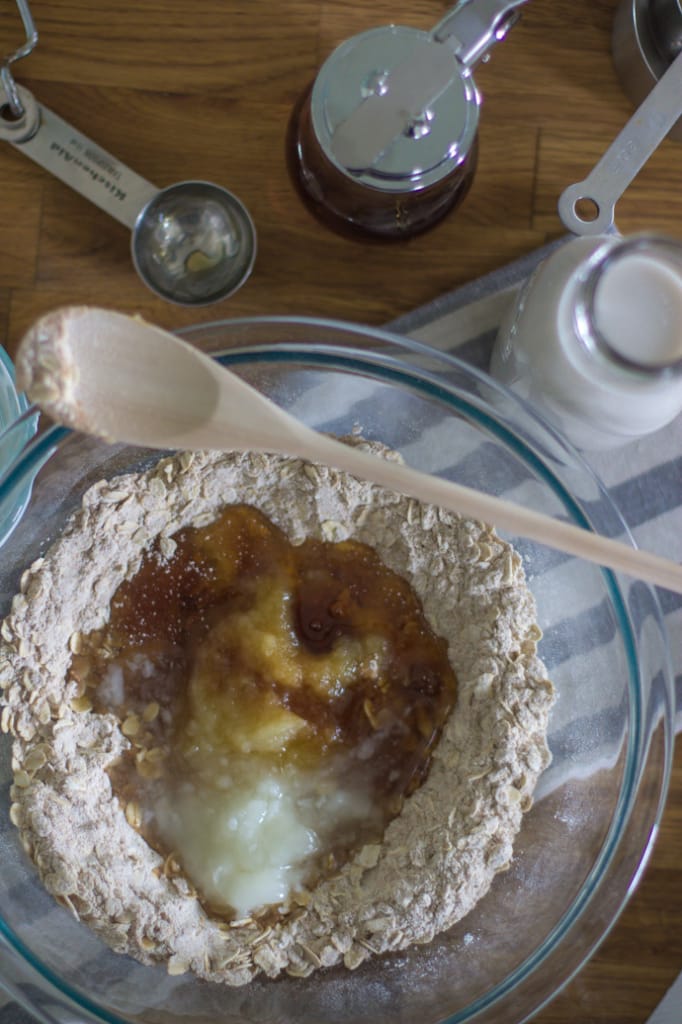 and then the milk. I gif'd this for your Monday morning viewing pleasure. i find an odd kind of satisfaction watching the wet ingredients mold into the dry ingredients. just me? okay.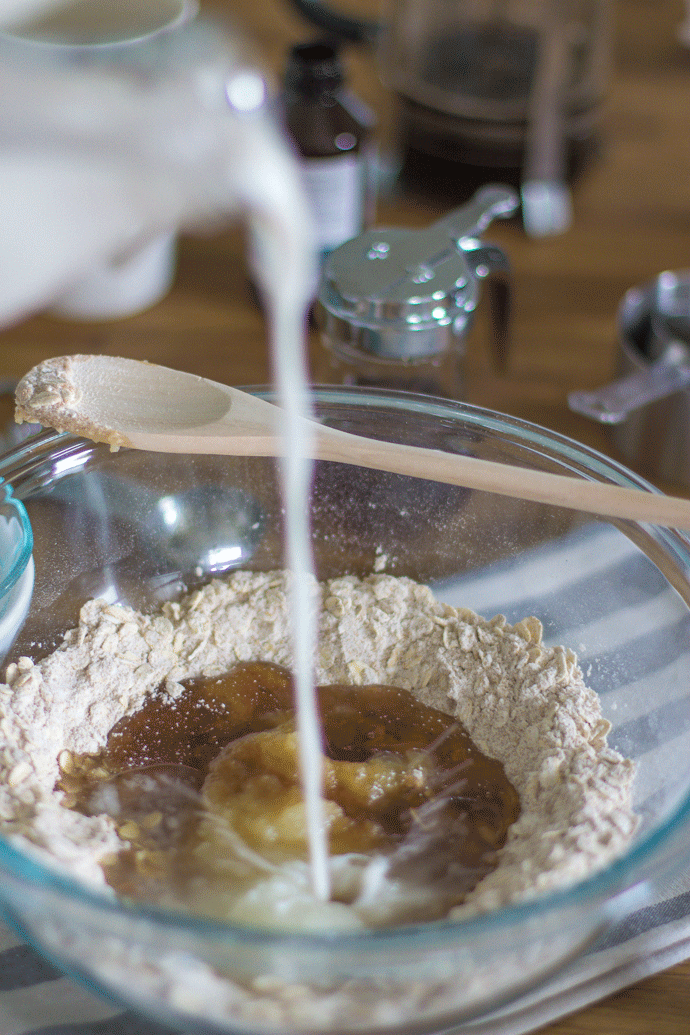 we'll stir that all together and let it sit for a few mins while we prepare the waffle iron by thoroughly spraying it with cooking spray.
in case you care, i have opinions on waffle irons: some kitchen appliances in life are worth spending the extra money (like a blender). others, any old thing will do and unless you use said kitchen appliances ALL the time, it's not worth spending the extra money to buy the fancy pants one. waffle irons fall into the category of "buy the cheap one and save your money for unnecessarily expensive lattes paying off your student loans". This is the one I have
. all of that being said, I kind of want this one
that results in heart shaped waffles. that's worth the mullah, I think!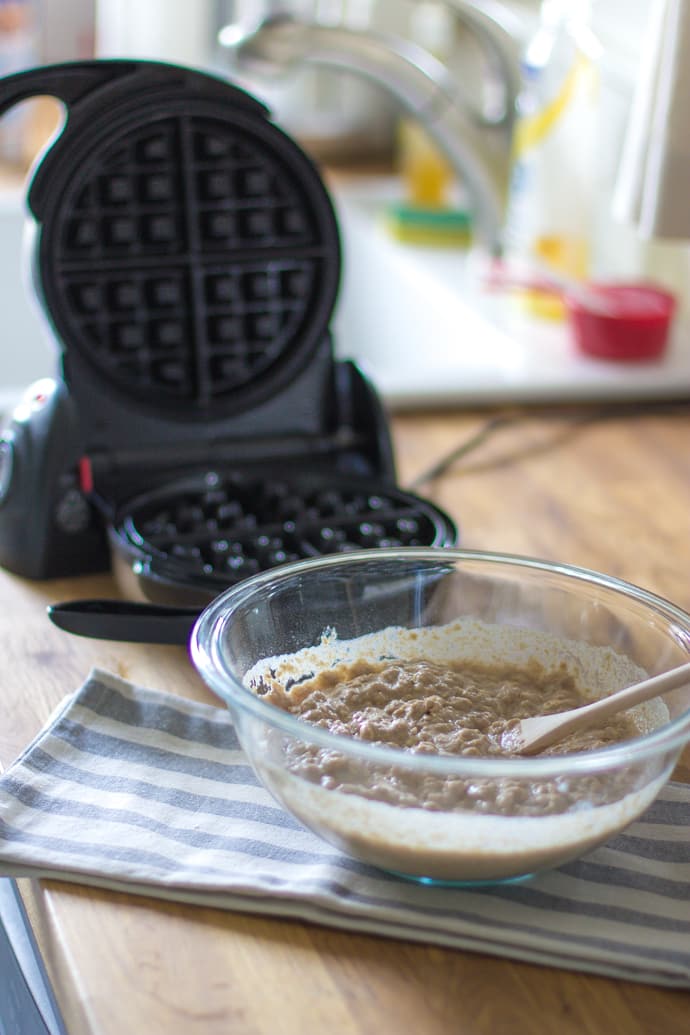 right before making the waffles, stir in the blueberries.
using a 2/3 cup measuring device, we'll pour batter onto the waffle iron. it's much thicker than normal waffle batter so take a spoon and gently spread out the batter so that it's even. close the lid slowly and gently but firmly. flip a few times and then set the timer to 6 minutes.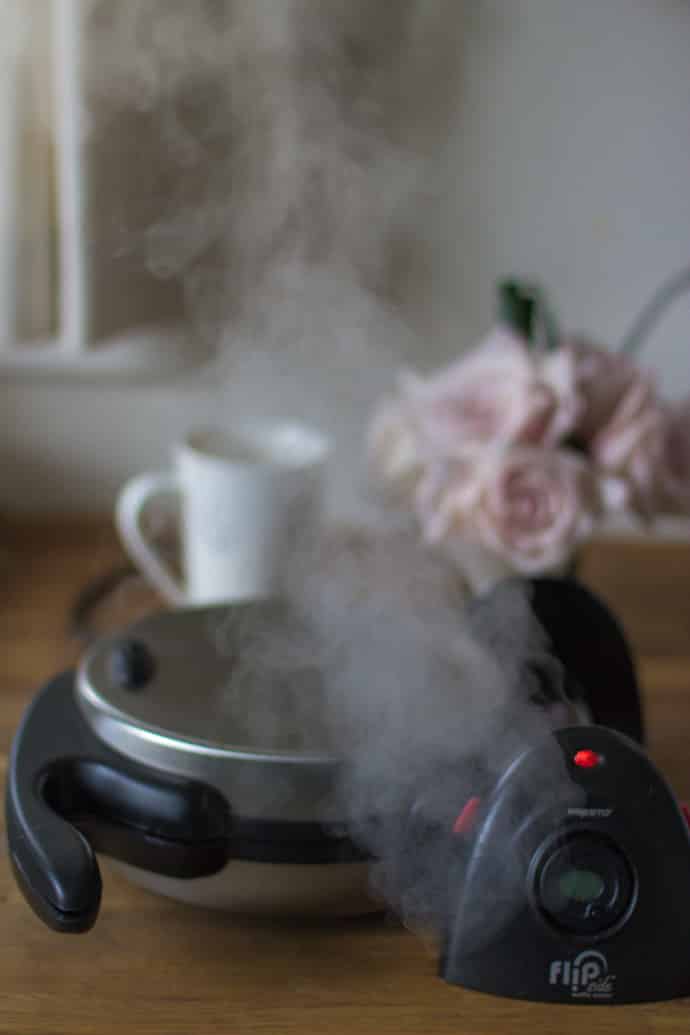 i suppose that every waffle iron is different so watch yours. it may take a minute more or a minute less than mine. either way, these definitely take longer than regular waffles to cook.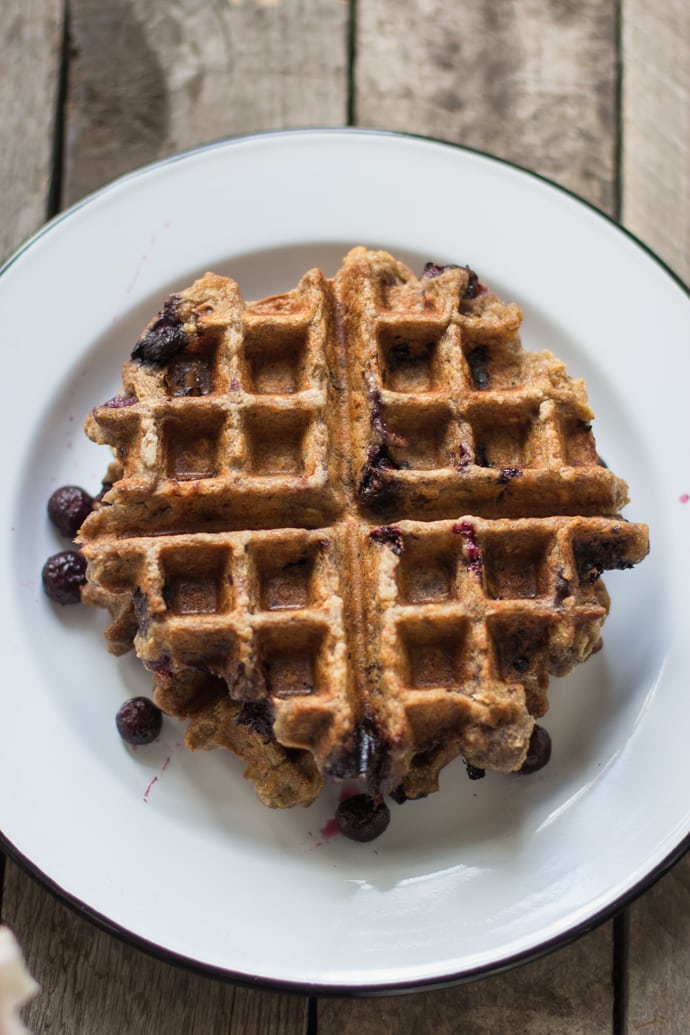 once cooked thoroughly, remove, let cool, top with lots of yummy things, and ENJOY!
mmm. it's a fact: i need more waffles in my life.
unrelated: zorro, who usually sleeps by my feet while I'm in the kitchen, hid around the corner this time. he kept a close eye though.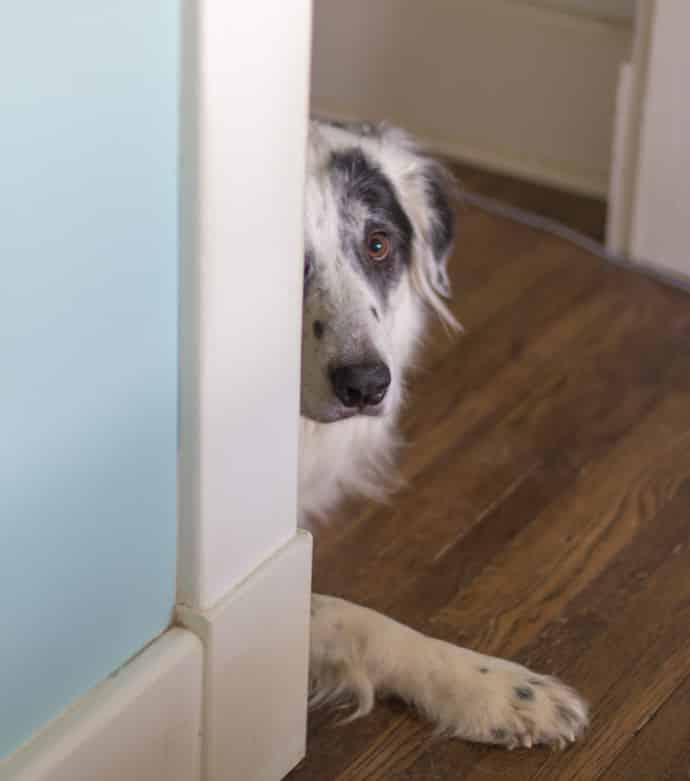 if you like this recipe, you should check out my Almond Milk Pancakes, my Banana Protein Pancakes, and my Pumpkin Protein Pancakes!
Print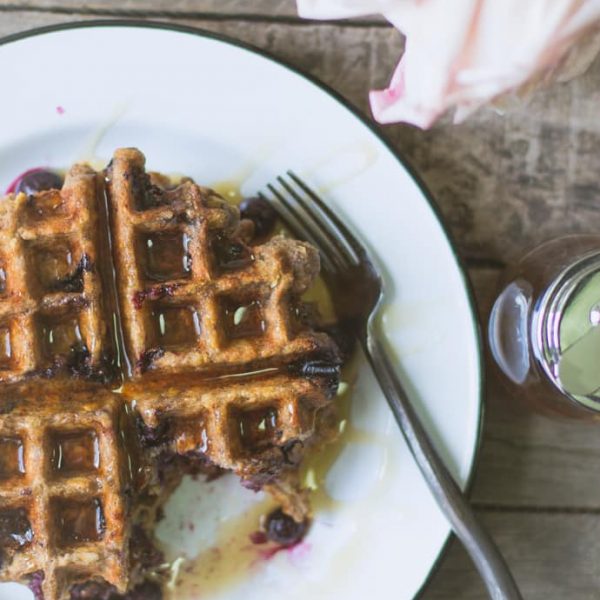 Blueberry Oatmeal Waffles
---
Total Time:

16 minutes

Yield:

3

1

x
1 cup

of whole wheat flour

1/2 teaspoon

of salt

1/2 teaspoon

of cinnamon

1 tablespoon

of baking powder

1 cup

of oats

1/3 cup

of applesauce, preferably unsweetened

3 tablespoons

of pure maple syrup

2 tablespoons

of coconut oil, softened

1 teaspoon

of vanilla extract

1 1/2 cups

of unsweetened non-dairy milk (almond etc). I used an almond/ coco milk combo

1 1/2 cups

of frozen blueberries
---
Instructions
In a large bowl, sift together the flour, salt, cinnamon, and baking powder and then mix in the oats.
Add into the mix the applesauce, syrup, oil, and vanilla extra and stir.
Finally, add in the milk and stir until just thoroughly combined.
Leave batter to thicken while you prepare the waffle iron. Spray both sides good with cooking spray (and don't forget to RE-spray after each waffle!).
Once the batter has sat for about 7 minutes, stir in the blueberries.
Pour ~2/3 cup of the batter into the waffle iron. Using a spoon and spatula, spread the batter out even and slowly close the waffle iron. Flip the iron over a few times and then set the timer for 6 minutes. Every iron is different and depepdning on how big you make them, they may cook a bit slower or a bit faster, so watch them.
Once cooked, remove waffle from the iron and let cool briefly before digging in!
Prep Time:

10 minutes

Cook Time:

6 minutes
Recipe adapted from Post Punk Kitchen
This post may contain affiliate links. Please read my disclosure policy.