Vegan Protein Donuts
This post may contain affiliate links. Please read my disclosure policy.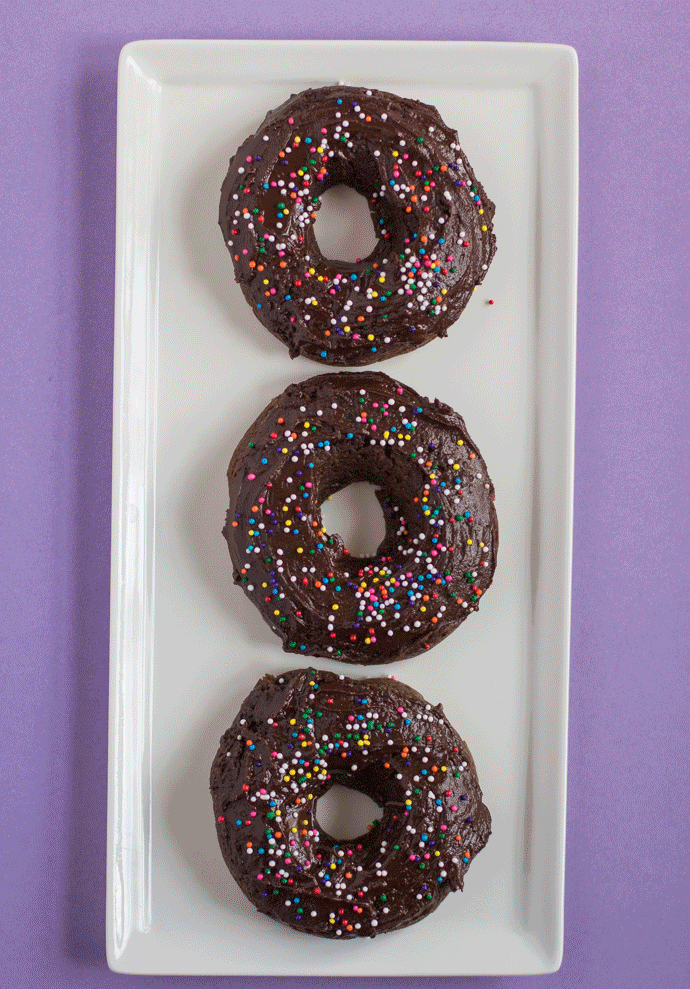 I've had about 20 friends lately ask me if I am now a vegan. I suppose that's due to the fact that I've posted quite a few vegan recipes in the past few weeks. Truth is, I just really enjoy experimenting with odd ingredients (that just so happen to be vegan) and finding healthier alternatives to traditionally un-healthy treats. Like donuts.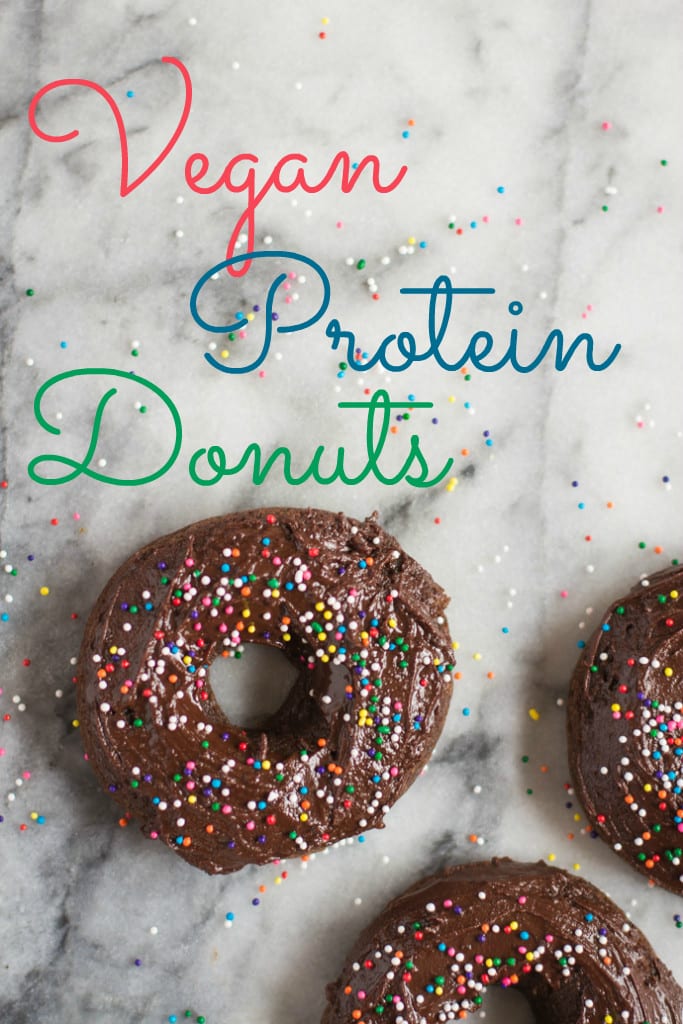 I've made these donuts quite a few times now and in quite a few ways. I experimented with coconut flour, different kinds of protein powder, and some other weird ingredients. Every time they've turned out great but every time they've tasted rather different.
These donuts are inspired by Aloha and their healthy "social gathering menus" initiative. I wish I could show their recipes to everyone I work with because nothing gets me more than free food at work. It's both a blessing and a curse that I work in a place that has an abundance of free breakfast, lunch, and dinner meetings and receptions. Why is free food exponentially harder to say no to?
The donuts are the worst of all the free foods for me. They're always there. They're always fresh. And they're almost always delicious. Here's my compromise: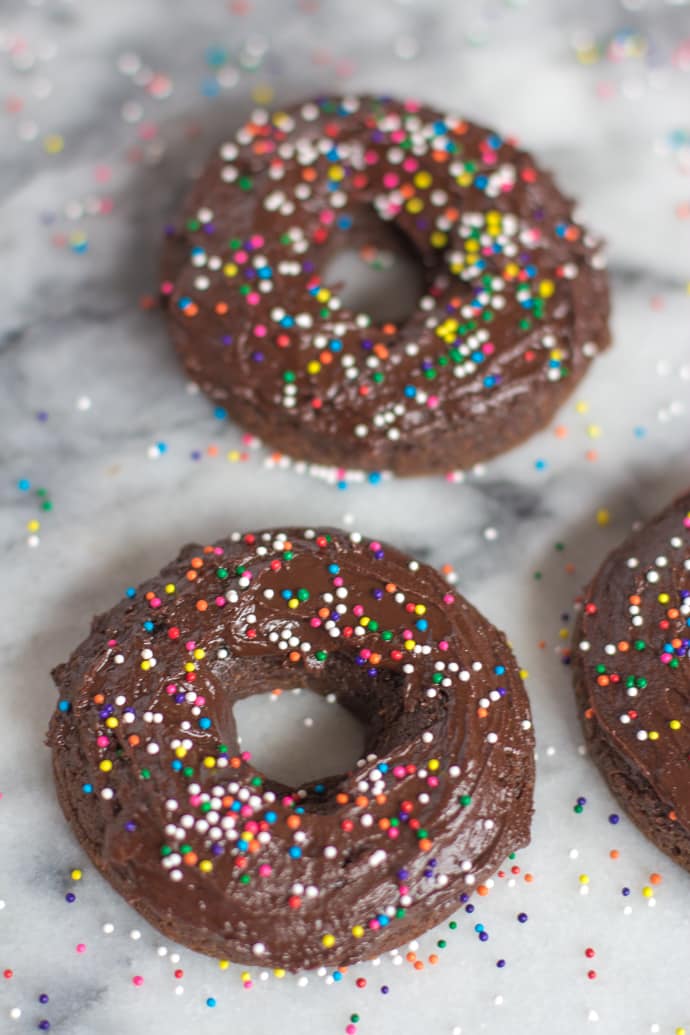 While I had heard about them for awhile, it wasn't until recently that I finally tried out some of Aloha's products. I signed up for their free trial membership so that I could try out a few products before committing to anything.
I'm kind of a sucker for good packaging and they do it so well: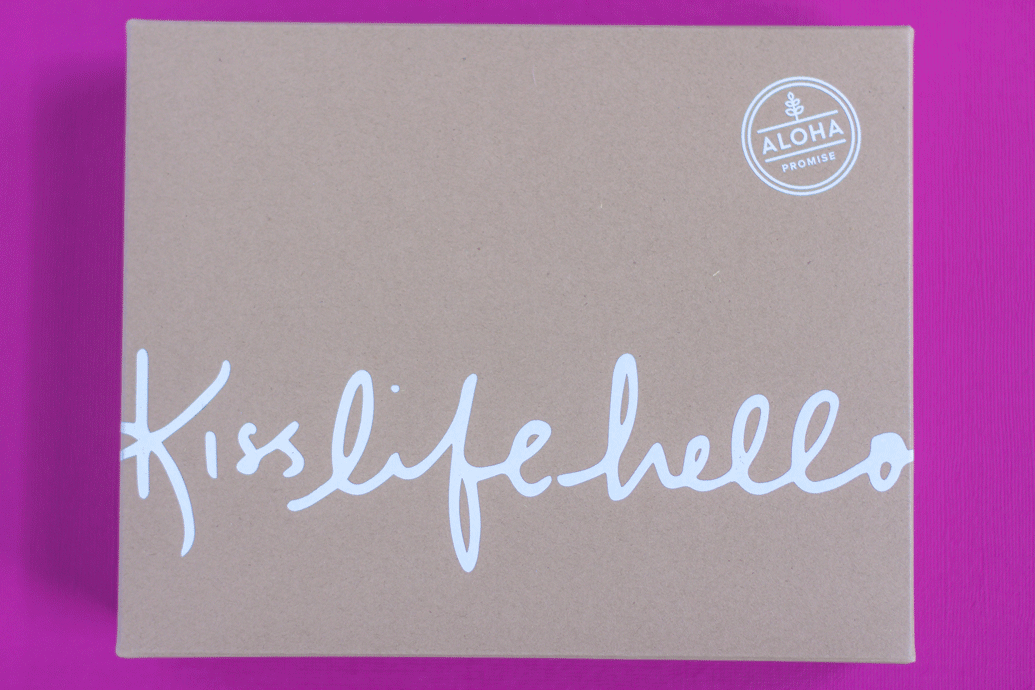 I tried out their protein powders (because, as you know, I'm always on the hunt for the best protein powder!) and some of their whole food powders.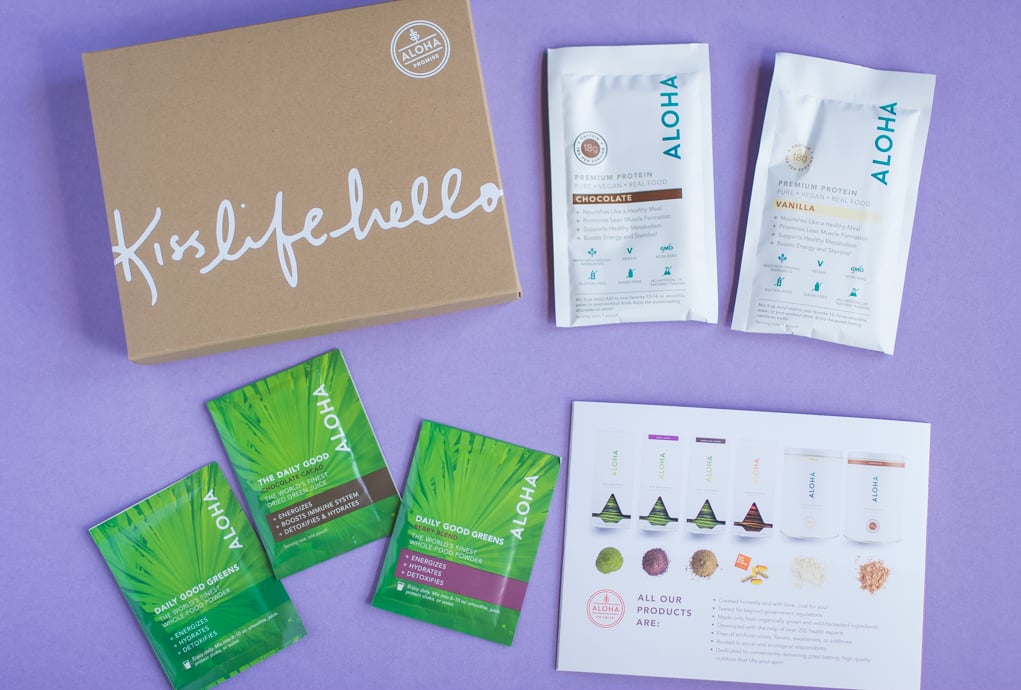 After browsing the healthy recipes on their website, I was inspired by this chocolate cake recipe. I used the icing recipe from this recipe for my donuts.
These Vegan Protein donuts are dairy and egg free. They're also flour-less and yet still delicious!! These are pretty similar to the muffins that we made a couple weeks ago, except they have protein in them and the egg was replaced with some apple sauce.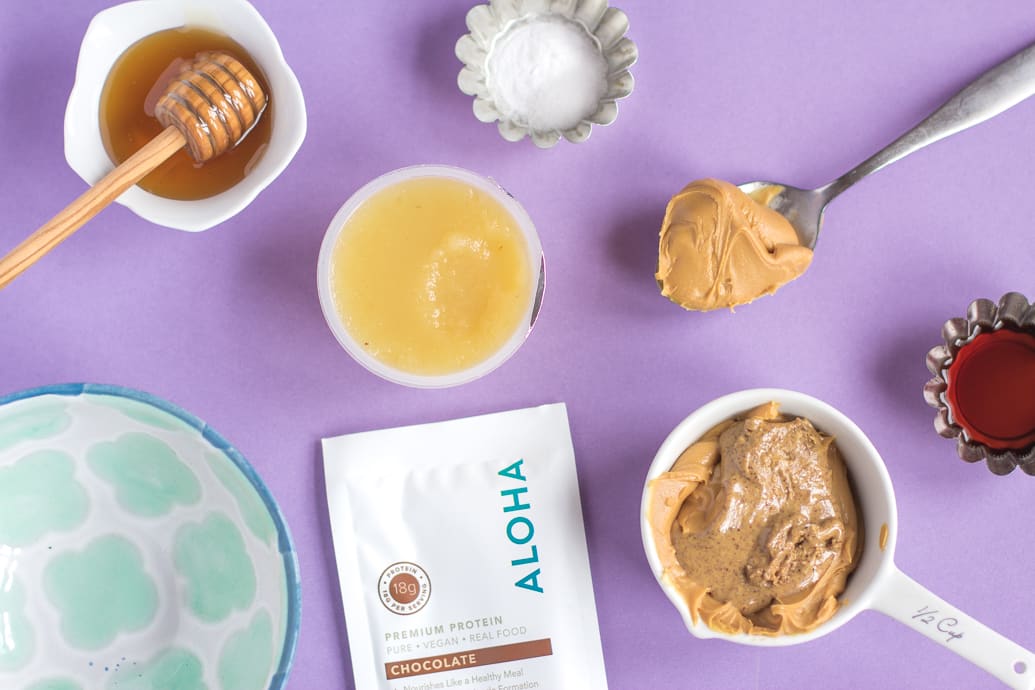 I was also running out of almond butter so I used half almond butter and half peanut butter.
Everything is mixed together thoroughly in a bowl.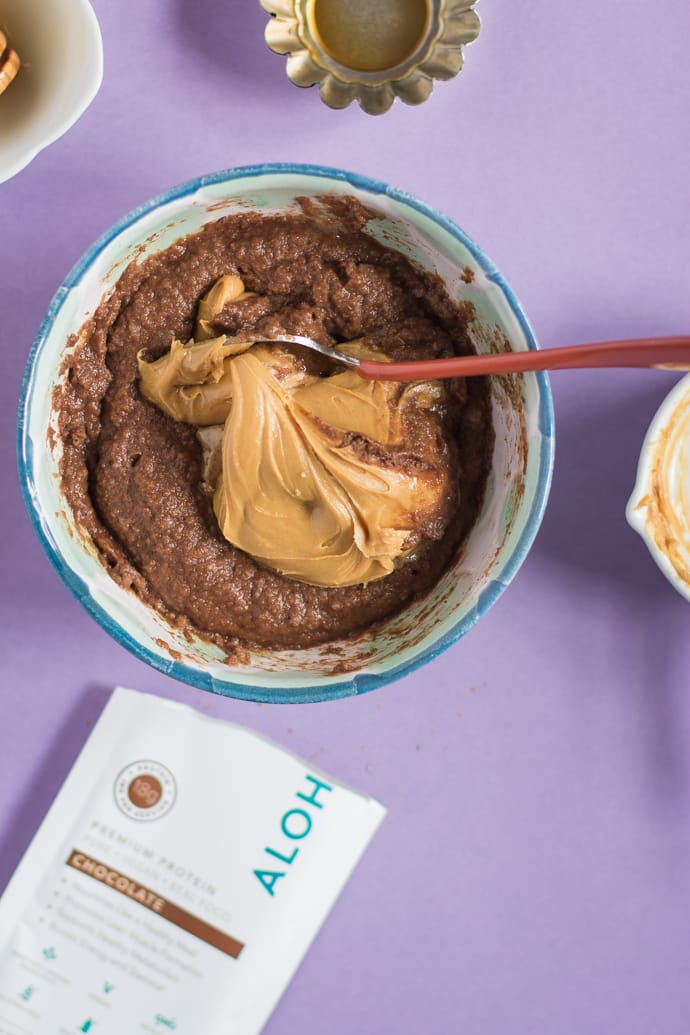 Once everything was said and done, I decided to add a bit of cocoa powder into the mix as well.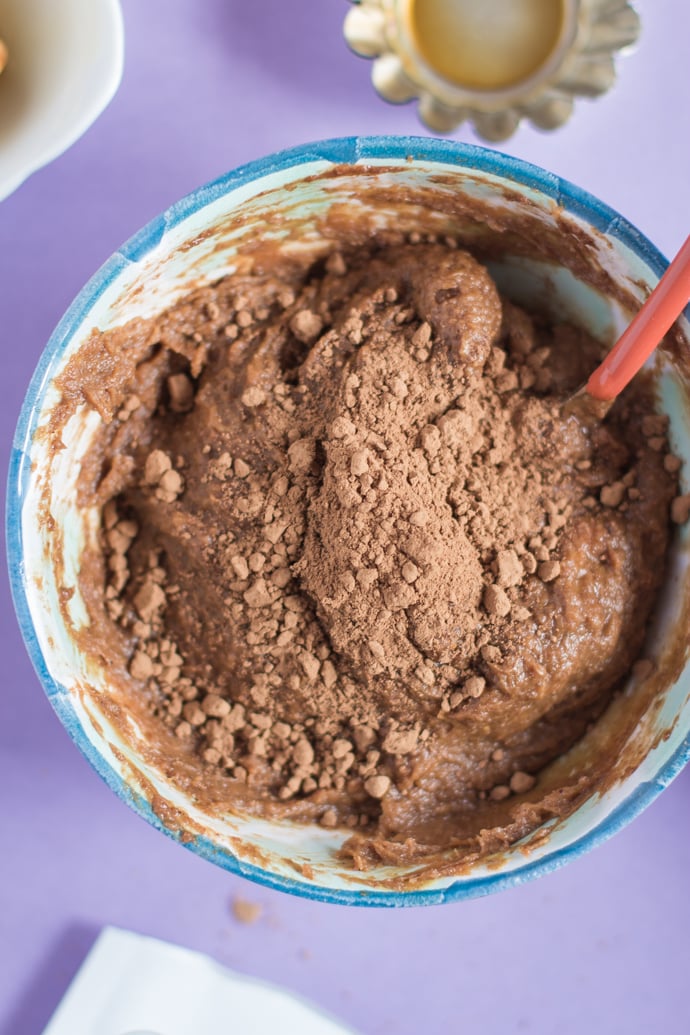 Again, stir it all up nice and good making sure there are no big lumps left in the batter.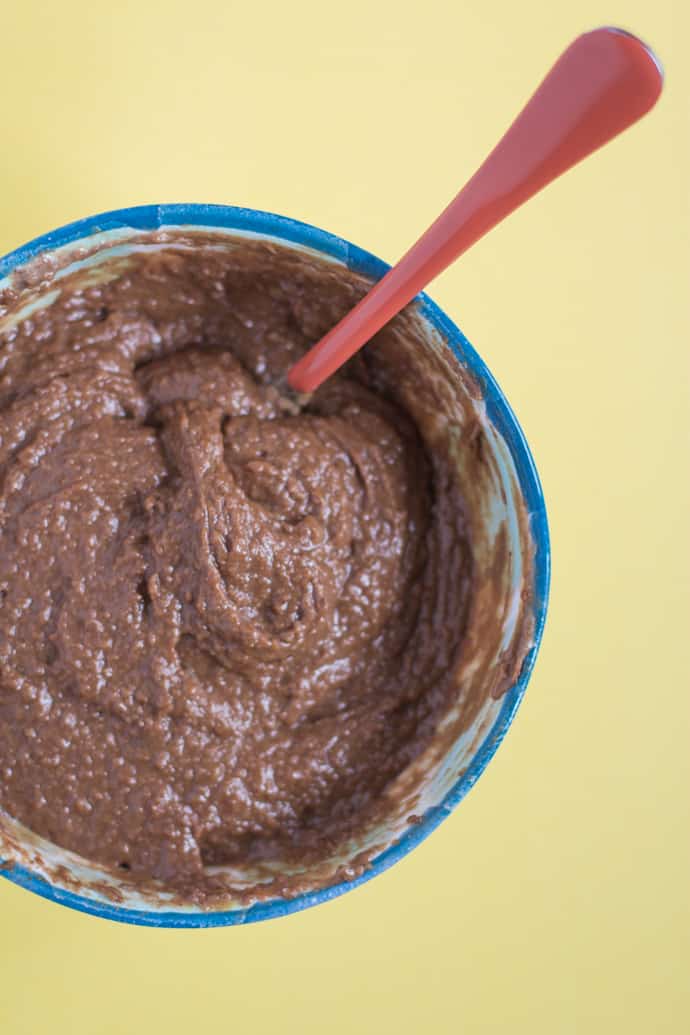 To make things all a bit easier, I put the batter into a plastic baggie so that I can get it into the donut pan without making a huge mess.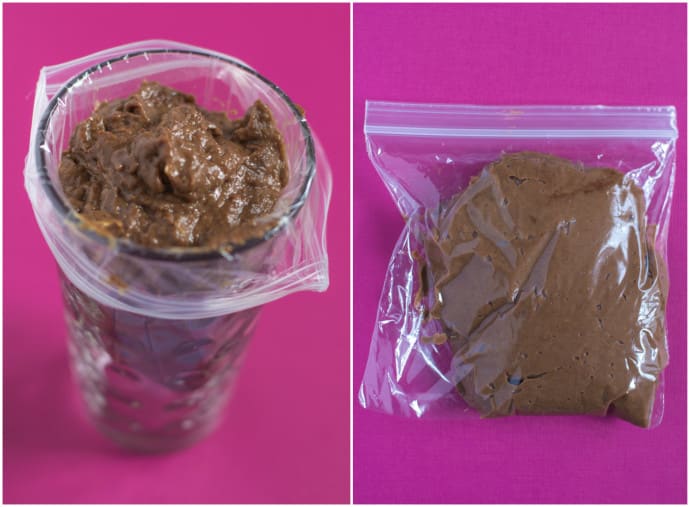 Cutting a hole in one corner of the baggie, the batter is piped into a greased donut pan.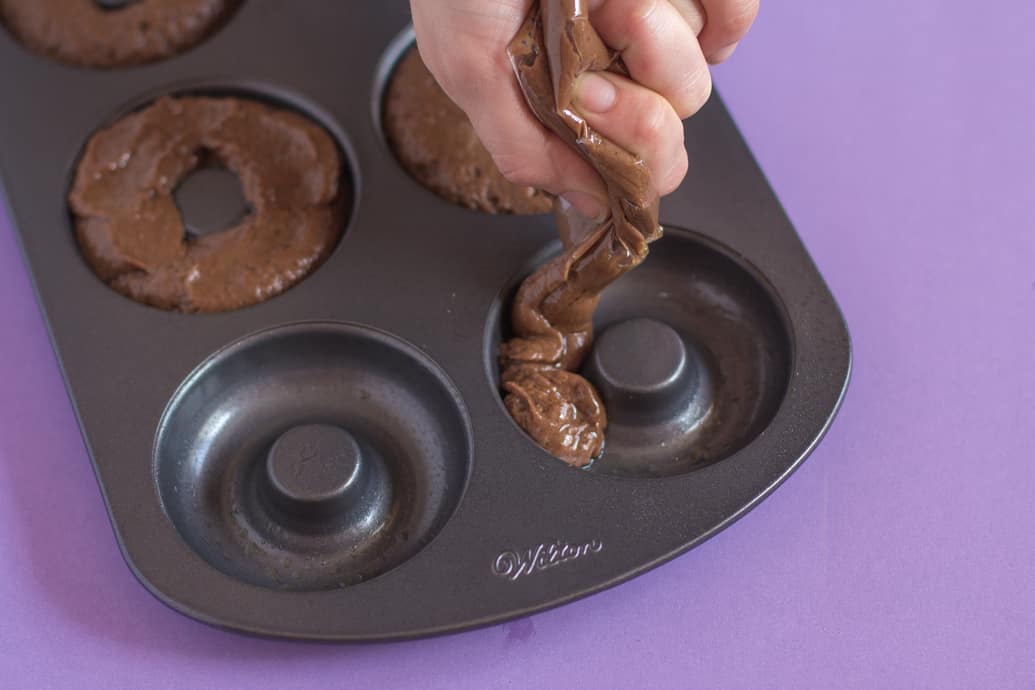 This recipe makes exactly 5 donuts. Sorry to all the OCD people out there who really wanted an even number of donuts :)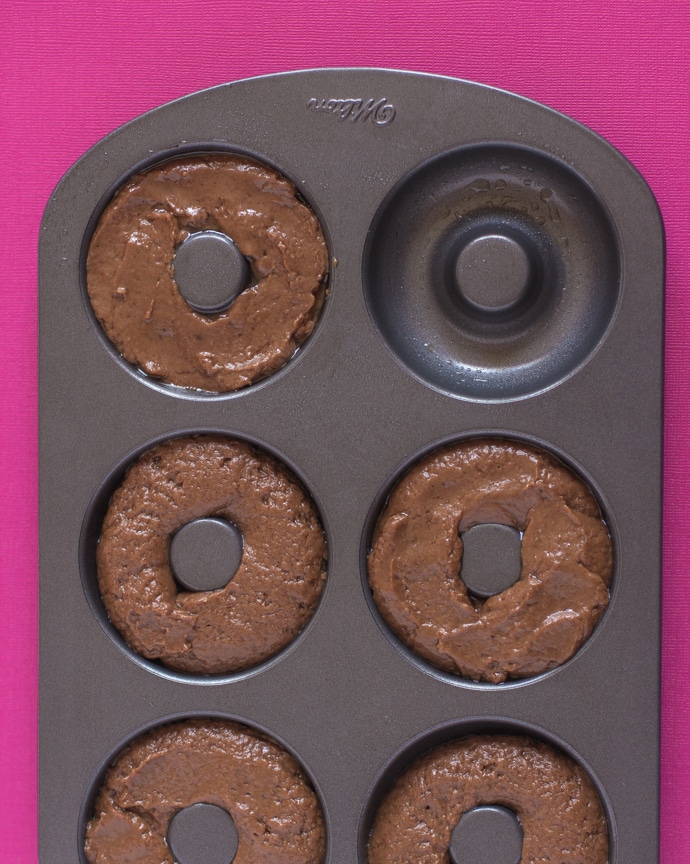 Bake for 8-13 minutes. The time of these really depend on exactly what ingredients you use. The first time I made them, I used sunflower seed butter and they baked perfectly in 8 minutes. The next time I used peanut butter and it took them about 3-4 minutes longer. After about 8 minutes, take your donuts out of the oven and see if they're done by sticking a toothpick into one of the donuts.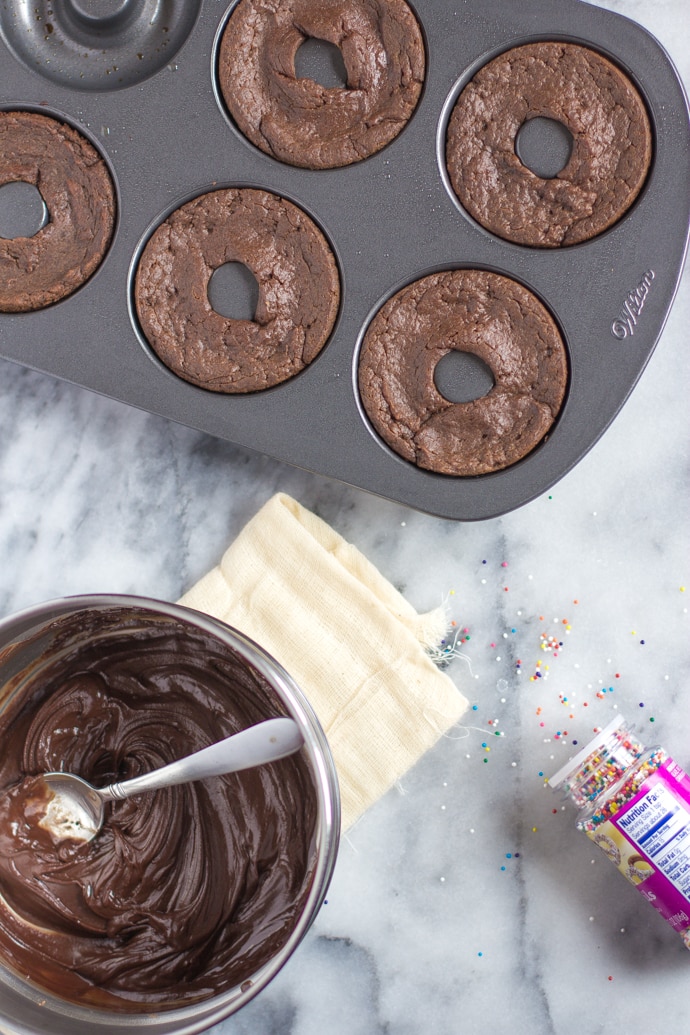 Once they're done, it's important to let them cool completely before icing them. If you don't want to ice them however, the donuts taste pretty good warm out of the oven!!
The icing is a combination of dark chocolate, vegan butter, and cocoa powder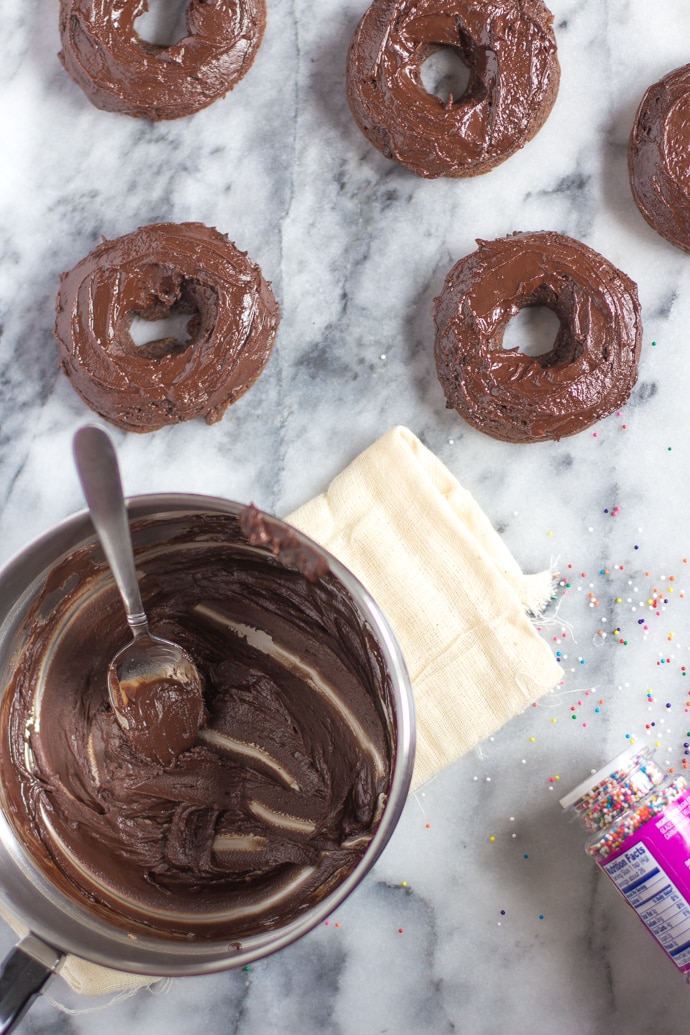 Top with sprinkles and let sit for a while to let the icing harden. Alternatively, dig in and just lick the gooey chocolate off of your fingers afterwards.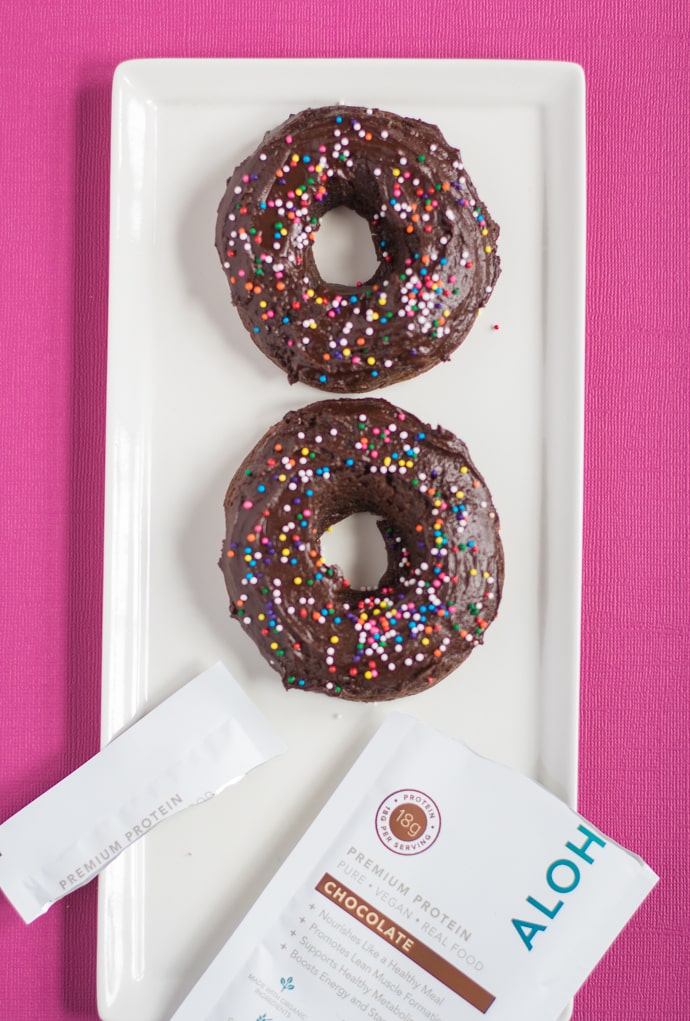 These donuts are SO good and I feel a little bit better about eating them than the giant donuts people always bring to work.
How about one more gif :)
Print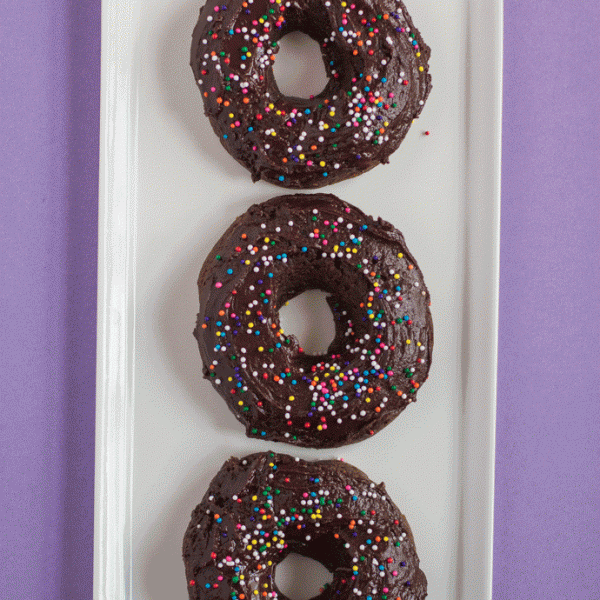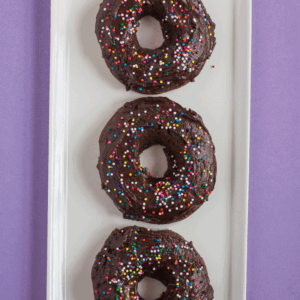 Vegan Protein Donuts
---
Total Time:

20 minutes

Yield:

5

1

x
For donuts:
1/2 cup

of unsweetened applesauce (or one

3.9 ounce

single serve container)

1/2 cup

of any nut/seed butter (I've tried these with almond, peanut, and sunflower seed butters)

2 tablespoons

of maple syrup

1 teaspoon

of vanilla extract

1/4 teaspoon

of salt

1/4 teaspoon

of baking soda

1

scoop of protein powder (~1/8 of a cup. You can also replace this with

1/8 cup

of coconut flour)

1 tablespoon

of cocoa powder
For Icing (which is optional):
2/3 cup

dark chocolate

1 tablespoon

of cocoa powder

1 tablespoon

of vegan butter
Optional: sprinkles for topping
---
Instructions
Pre-heat oven to 400 degrees F and grease a donut pan.
Make the donut batter by combining the applesauce, nut/ seed butter, honey, vanilla, salt, baking soda, protein powder, and cocoa in a medium bowl. Stir until it is thoroughly combined and there are no more big lumps left.
Spoon the batter into a piping bag or small plastic baggie (with a hole cut in the corner) to make it easier to get the batter in the donut pan.
Pipe the batter into the pan evenly. You'll end up with 5 donuts.
Bake for 8-13 minutes. After 8 minutes, take the pan out of the oven and test to see of the donuts are done by poking one with a toothpick. The donuts are done when the toothpick comes out clean. The bake time depends largely on the kind of nut/seed butter that you use.
Once done let cool completely before icing.
Make icing by melting chocolate and stirring in the butter and cocoa powder.
Ice each donut evenly and top with a few fun sprinkles. the icing will harden quite a bit if that's what you want but it will take up to a few hours to do so.
ENJOY!!
Prep Time:

10 minutes

Cook Time:

10 minutes
This post may contain affiliate links. Please read my disclosure policy.