Veggie Vegan Enchiladas
Nashville got MORE snow last night.  It was cute the first time around but now I'm REALLY over it. For anyone relatively new to this blog, you should know that I'm a giant baby when it comes to the cold. I'm just simply not a fan.
I did however take my new camera outside yesterday as the sun was going down and took ~100 pictures of the dogs and chickens playing in the snow. By "playing" I mean that the dogs just kept eating it and the chickens let the snow accumulate on their backs to a certain point before shaking it all off in a very goofy looking manner. I failed to accurately capture either of these in my photos. I did snapchat the chickens annihilating a tomato in the snow, though. (do you follow me on snapchat @bbritnell?? I'm newly obsessed!)
To stay warm, we're eating lots of comfort food that's simultaneously packed with lots of nutrient rich veggies AND covered in a bit of vegan cheese and this yummy homemade enchilada sauce.
And wait, can we just talk about the word "healthy" for a minute? I'm doing my best to shift my mind (and my blog) away from the word "healthy" and more towards the word "nutritious" when talking about food. I feel like "healthy" is so subjective and confusing of a word these days. However, "nutritious" is pretty straight forward, right? I won't make the claim that these enchiladas are healthy but I will tell you that they're loaded with lots of veggies and beans and topped with fresh herbs and all of ???????????????? equals a good dose of your daily nutrients.
mmkay. Back to the recipe.
I suggest making the enchilada sauce HOMEMADE and doing so a day or more in advance. This isn't vital to the recipe or anything but it just makes everything a bit easier.
After that, it's just a matter of sautéing all of the veggies.
You could pretty much do any veggies that you want in this one. I went with mushrooms, red pepper, onion, jalapeno, and garlic.
Then you just stuff the tortillas with the beans and the veggies and top with a bit of vegan cheese before rolling the enchiladas up and placing them face down in the casserole pan. Full disclaimer: flour tortillas are less likely to tear BUT I really prefer corn tortillas for my enchiladas. Either will work just fine.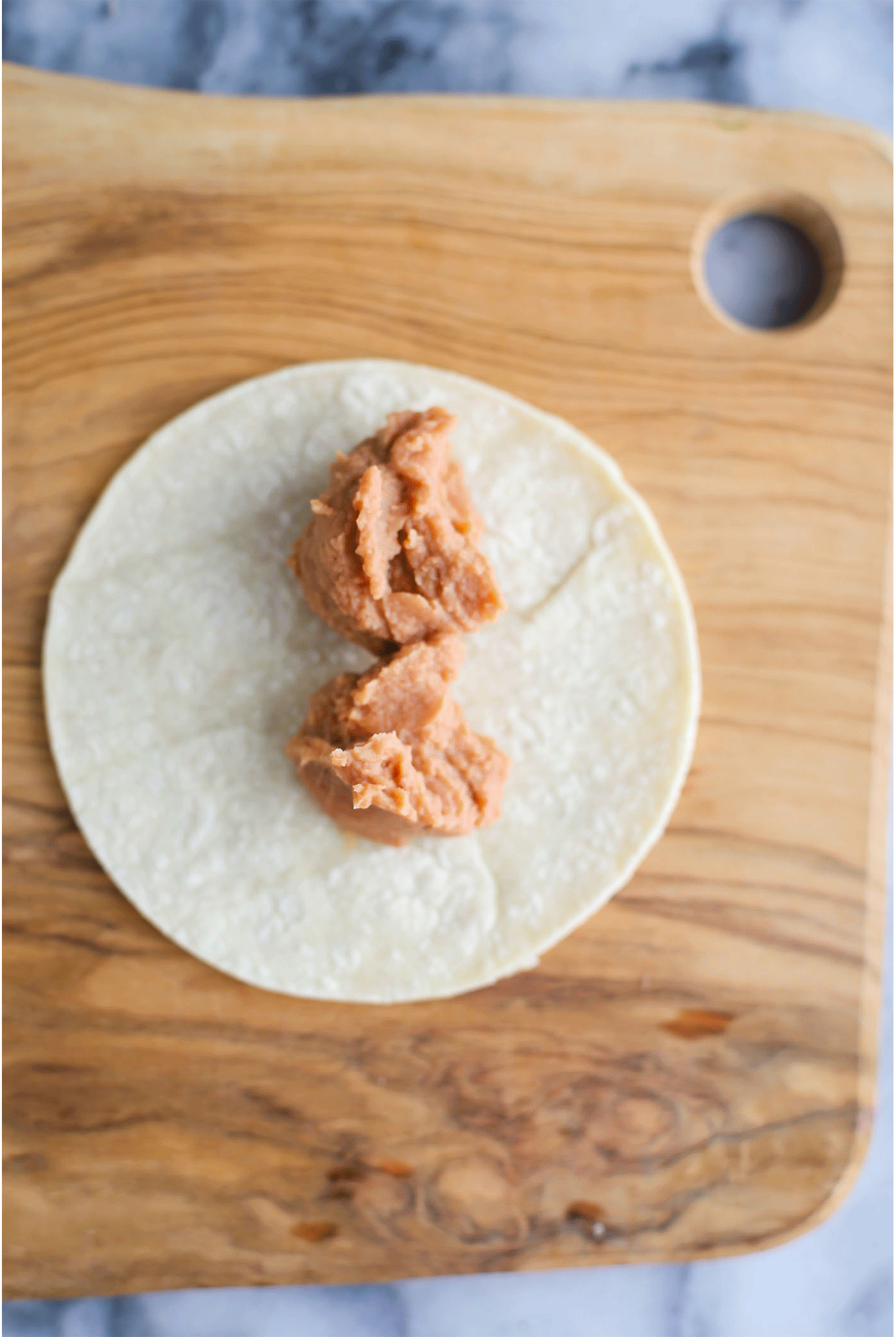 Once all of the tortillas are in the pan, just top with the enchilada sauce and then with the remaining vegan cheese.
All that's left to do now is pop it in the oven for 30 minutes and then you can enjoy the BEST damn Vegan Enchiladas that you've EVER had!! :) Seriously, I'm in LOVE with these enchiladas!!
Print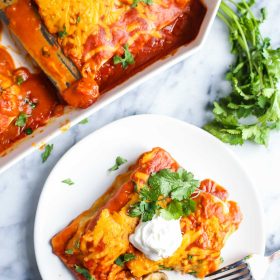 Vegan Veggie Enchiladas
---
Author:
Prep Time: 20 minutes
Cook Time: 30 minutes
Total Time: 50 minutes
Yield: 4 1x
Scale
Ingredients
2 tablespoons of olive oil
8 ounces of mushrooms, sliced
1 bell pepper, diced
1/2 yellow onion, diced
1 jalapeño, de-seeded and diced
3 cloves of garlic, minced
1/4 teaspoon of cumin
1/4 teaspoon of dried oregano
1/4 teaspoon of ground black pepper
8–12 corn tortillas, depending on size and how much you stuff them
16 ounces of refried or black beans (I used and prefer refried beans for this recipe)
12 ounces of non dairy cheese (store bought or homemade)
2 cups of enchilada sauce (store bought or homemade)
---
Instructions
Pre-heat the oven to 350 degrees F. Grease a casserole dish.
In a skillet oven medium heat, heat the oil. Add in the mushrooms, pepper, onion, jalapeno, and garlic. Saute for 10 minutes.
Mix in the spices and cook for an additional minute. Take off of the heat.
Add to the center of each tortilla: 2 tablespoons of beans, 2 heaping tablespoons of the veggie mixture, and a small handful of the cheese. Roll up the tortilla and place it, seam side down, neatly into the casserole dish. Repeat this until all of the ingredients are gone.
Spread the enchiladas sauce evenly over the tortillas and spread the remaining cheese over top of the enchiladas.
Bake for 30 minutes. Let cool slightly and ENJOY!
---
Looking for more vegan recipes?? I highly recommend these two books (disclaimer: these are affiliate links but I DO own both of these books and LOVE them):