How to Cook Tofu
How to Cook Tofu– in this comprehensive post, I'm going to talk all about what tofu is, how to cook tofu a bunch of different ways, and tofu nutrition facts!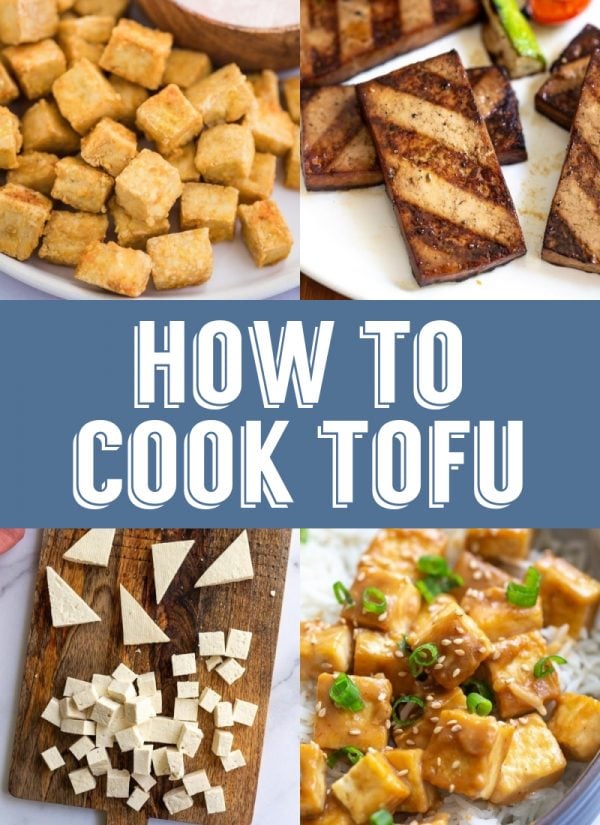 I've been working on this post for WEEKS and I'm so glad that it's finally here!
Let's master tofu together and cook it all kinds of fun ways that will all make you fall in LOVE with tofu :D
See my video showing you lots of different ways for how to cook tofu:
What is tofu?
What is tofu made of?: Tofu is a soy based product that is made by coagulating soy milk to create soy bean curds. Those are then very tightly pressed into a block that results in tofu. I won't pretend to be a tofu making master as I've never made it at home but I HAVE prepared it a LOT :)
You can get tofu in a variety of types including soft, silken, firm, and extra firm.
Silken tofu is much softer and often used to make tofu smoothies, and tofu based pies and dips.
For all of these recipes today, we're going to be using firm and extra-firm tofu which holds it's shape much better than silken tofu and does a great job absorbing flavors. I use extra firm tofu on a weekly basis and am excited to share all of these recipe with you.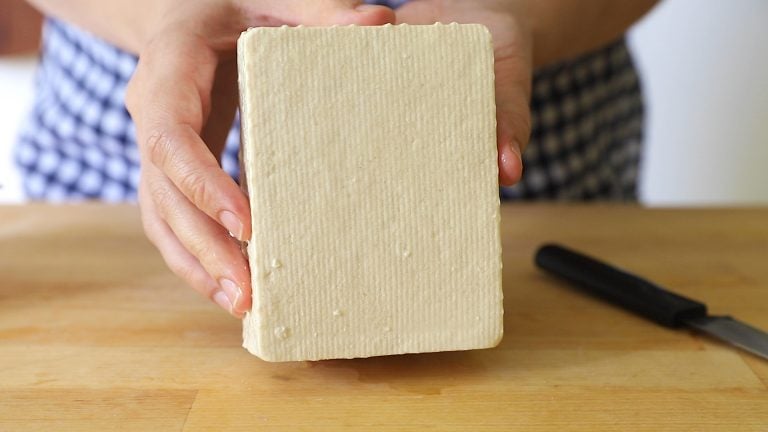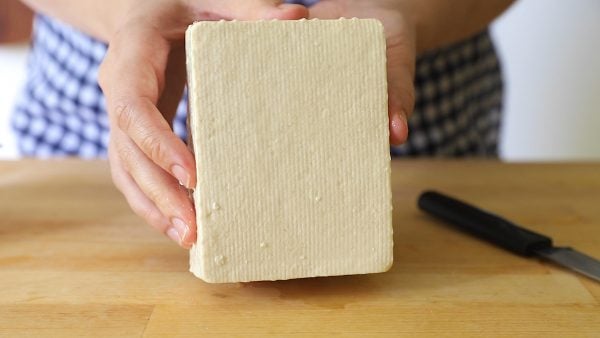 Is Tofu Healthy?
As I started eating tofu more often, a lot of family members expressed concern based on rumors that they had heard about soy being bad to consume. I am not a health professional and do not want to give detailed health advice but after some research on my own, I came to the conclusion that tofu is a healthy option for me and my diet. Like anything, you should consume everything in moderation and maybe not eat soy for every single meal. I have tofu about 1-2 times per week.
How much protein in tofu?: I found THIS article on Healthline that details tofu nutritional facts. Tofu is a great source of protein containing 8 grams of protein per 3.5 ounce serving of tofu. It's high in iron, calcium, and magnesium and overall a great alternative to meat in a plant based diet.
Tofu calories: 1/2 cup of firm tofu only has about 70 calories in it which makes it a great weight loss option and overall source of protein!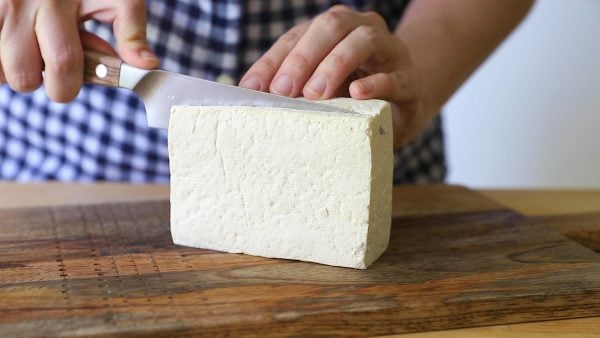 How to Prepare Tofu:
How to Press Tofu: I go into detail in my video (see above) on how to press tofu both with a tofu press and using random objects you have lying around your kitchen. I use THIS tofu press.
For the longest time, I resisted getting a tofu press since I already have SO MANY extra kitchen gadgets lying around. But after getting to the point that I was wasting SO MANY paper towels pressing tofu multiple times per week, I figured that it was time.
If you don't cook tofu often, you DEFINITELY do not need a tofu press. However, if you find yourself cooking it several times a week then it might be worth getting one. The tofu press that I have was only about $20 and totally worth it for me.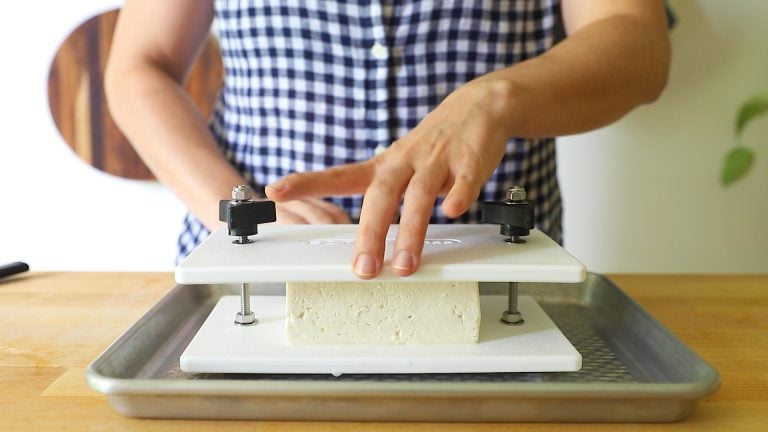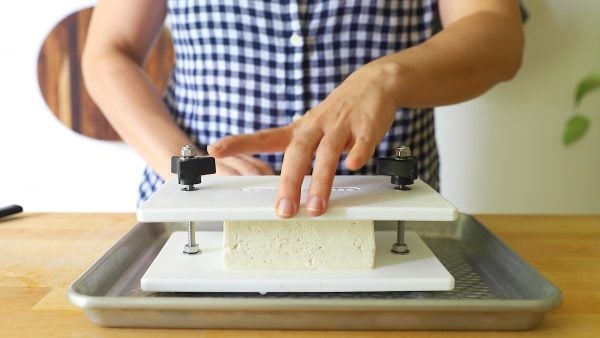 How to use a tofu press: using a press is ridiculously easy. Place the tofu press on a rimmed surface to catch the excess liquid. Place the block of tofu into the press and tighten it down so that the tofu has a considerable amount of pressure on it without completely squishing it. Leave that for 10 minutes and then tighten it a bit. After an additional 5 minutes, the tofu is ready to cook.
How to press tofu without a tofu press: if you don't have a press, you can get much of the excess moisture out using a skillet and some cans.
Cut the tofu in half so that you have 2 thinner rectangular sheets. Wrap those tofu sheets in a kitchen towel and place them on a rimmed plate to catch the excess liquid. Evenly place a skillet or heavy pot on top of the tofu and weigh it down with something heavy such as a few cans. After about 20 minutes, much of the moisture will have been released from the tofu and it's ready to cook.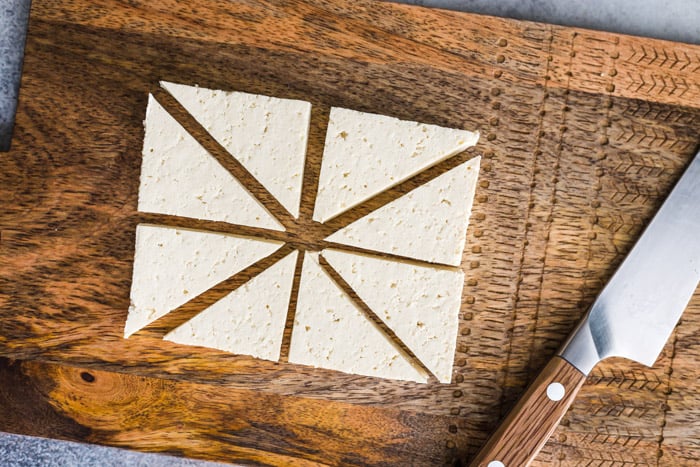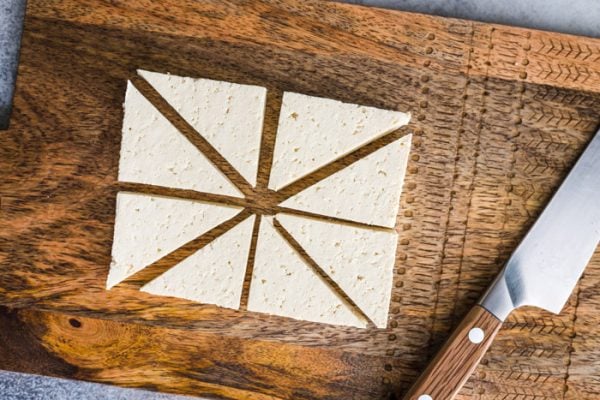 How to cut tofu: tofu can be cut in any which way that you would like to cut it. In my video above, I go over a few of these different methods including to cut it into various sized cubes for sautéing and baking, rectangles for grilling, and triangles that are great for frying.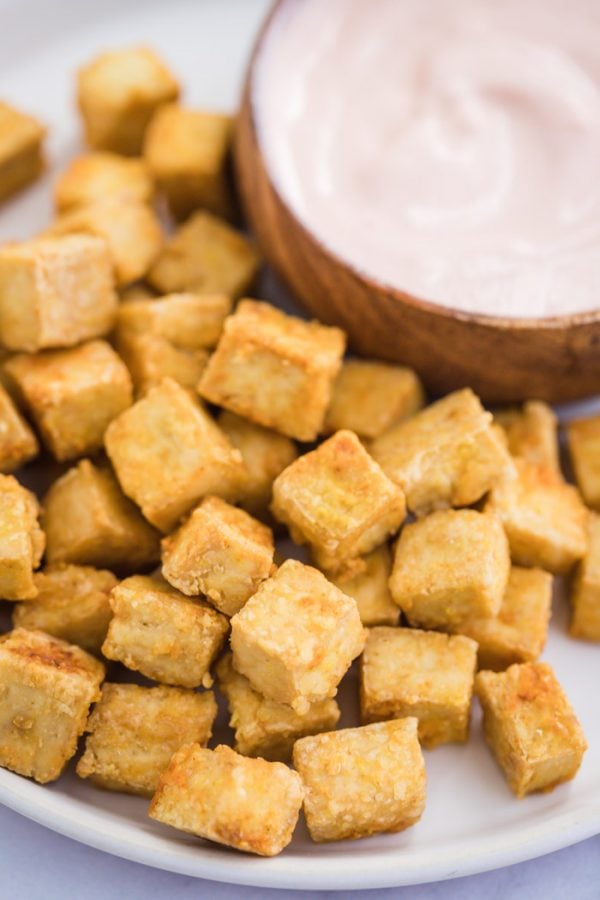 How to cook tofu:
Baked Tofu
After pressing the tofu, cut it into small cubes and place it into a large bowl with olive oil, cornstarch, salt, pepper, and spices of choice. Toss to coat and place on a parchment lined baking sheet. Baking in an oven at 400 degrees for 30 minutes, flipping mid-way through.
For more detailed directions on how to make this PERFECT crispy baked tofu, you can read the full recipe HERE.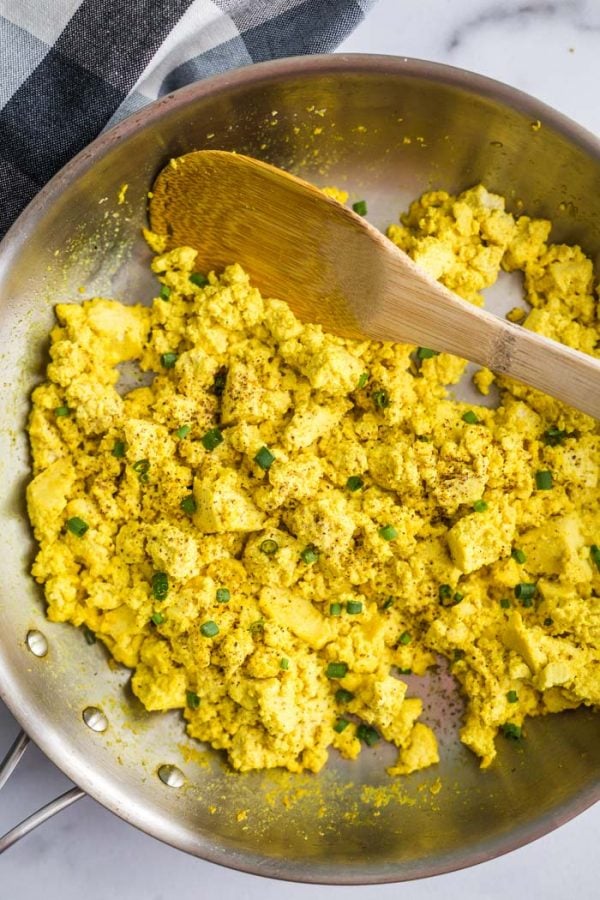 Tofu Scramble
Tofu scrambles are such a fun and EASY breakfast that are packed with protein. The yellow color comes from adding in a little bit of turmeric to the pan.
To make a tofu scramble, take your pressed firm tofu and break it into large chunks. The size doesn't matter too much as you can break it up more once in the pan. Heat some oil and toss in the tofu chunks. Stir in turmeric, garlic powder, onion powder, and salt and pepper. Continue to stir and cook until heated through and break up the tofu until it's at your desired size. Serve up and enjoy!
If desired, you can saute veggies in the skillet with the tofu for a full, well balanced meal!
For more detailed directions on how to make this Easy Tofu Scramble, you can read the full recipe HERE.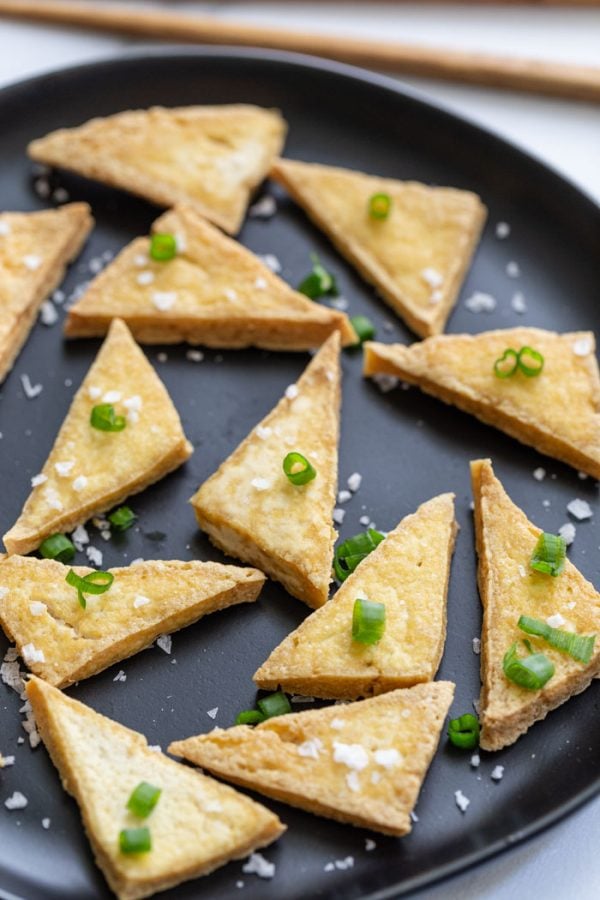 Pan Fried Tofu
Frying tofu is ridiculously easy. For this, I like to cut the tofu into triangles (see how to do this in my video above).
Start by filling a large skillet with oil so that there's about 1/4 inch high in the pan and put over medium heat. Once the oil is hot, add in the tofu and fry for about 3-4 minutes on each side. Watch it carefully so that it does not cook for too long on either side.
Place the fried tofu on a paper towel lined plate to remove excess moisture. Sprinkle with salt and enjoy!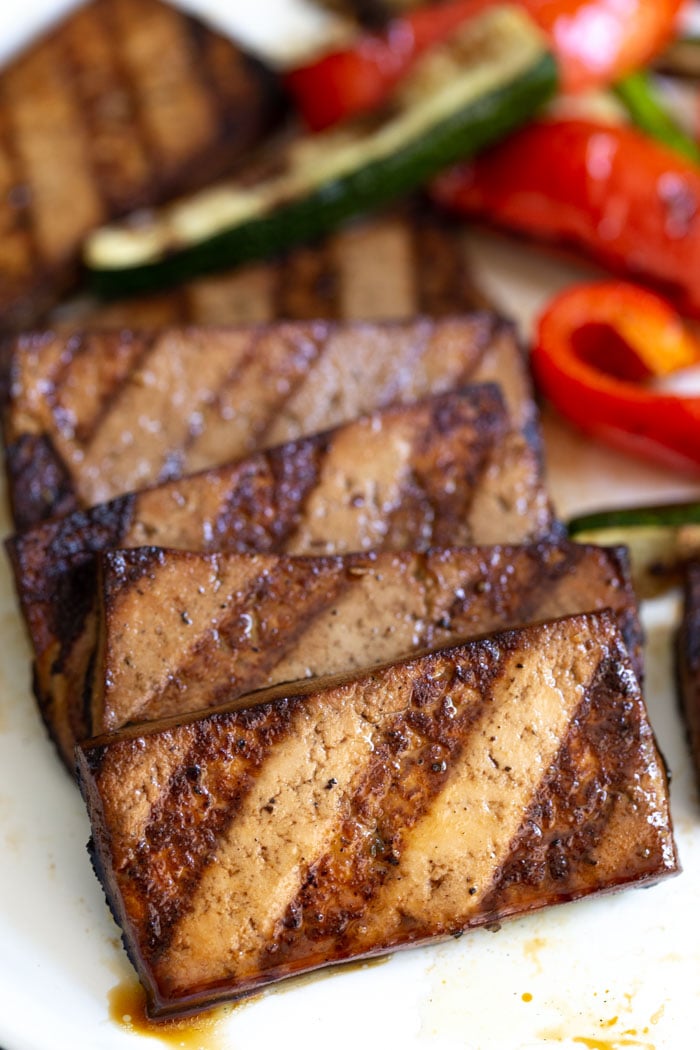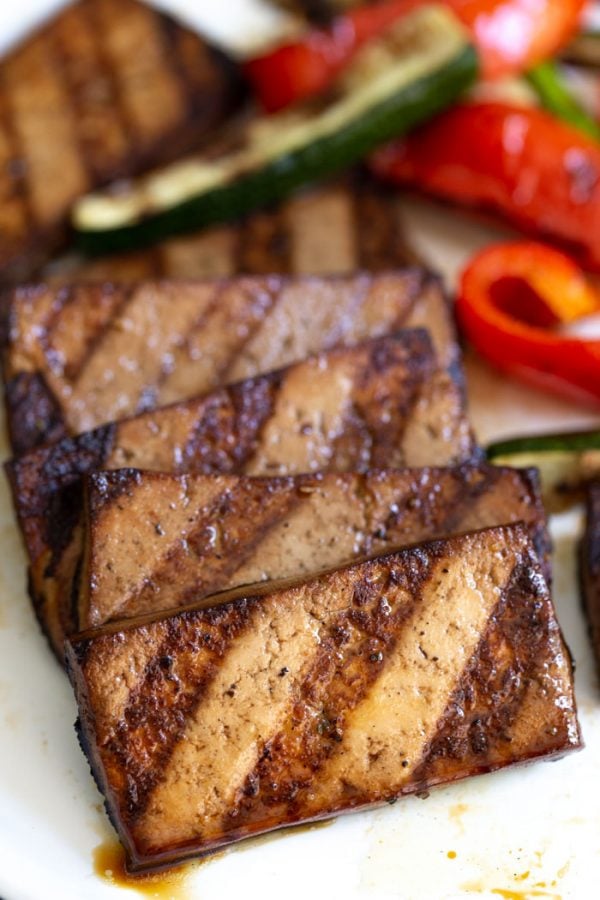 Grilled Tofu
This is one of my new favorite ways to enjoy tofu!
To grill tofu, cut the pressed firm tofu into rectangular pieces as shown in the video above. Place those in your marinade for at least a few hours or even overnight. Once ready to cook, heat your grill to high heat (I usually aim for around 400 degrees) and once hot, place the tofu on the grill to cook for about 10 minutes on each side.
Serve immediately with your favorite sides and ENJOY!
For more detailed directions on how to make this Grilled Tofu, you can read the full recipe HERE.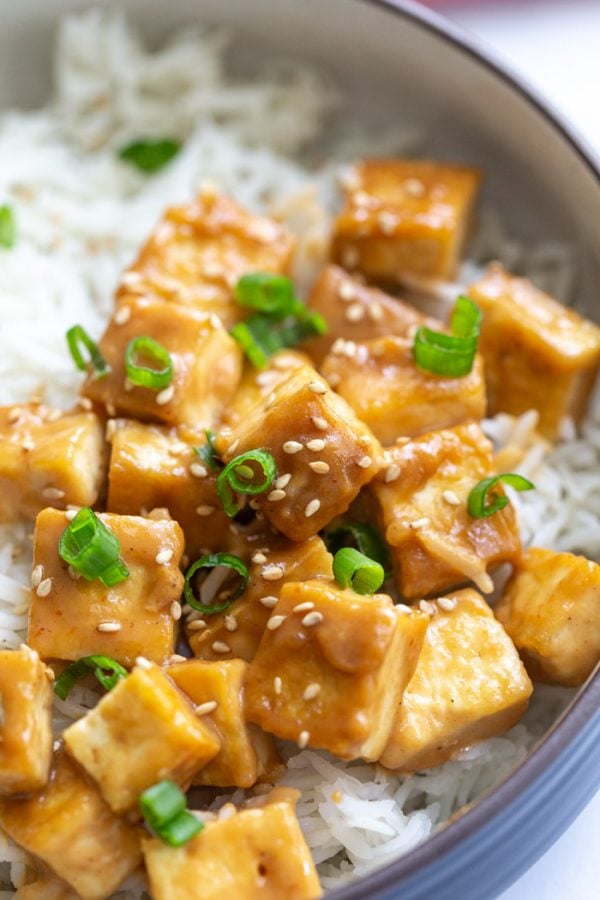 Sautéed Tofu
This is another quick and easy way to prepare tofu. Heat about 1-2 tablespoons of oil in a large skillet and then cut your pressed tofu into chunks (big or small work here). Place the tofu cubes into the skillet in an even layer and refrain from moving them at all for about 4-5 minutes until the pieces form a nice crust on the bottom. Toss and cook on all sides.
You can serve this sautéed tofu with any sauce you'd like or toss it into a stir fry. There are so many delicious ways to enjoy sautéed tofu!
For more detailed directions on how to make this Sautéed Tofu, you can read the full recipe HERE.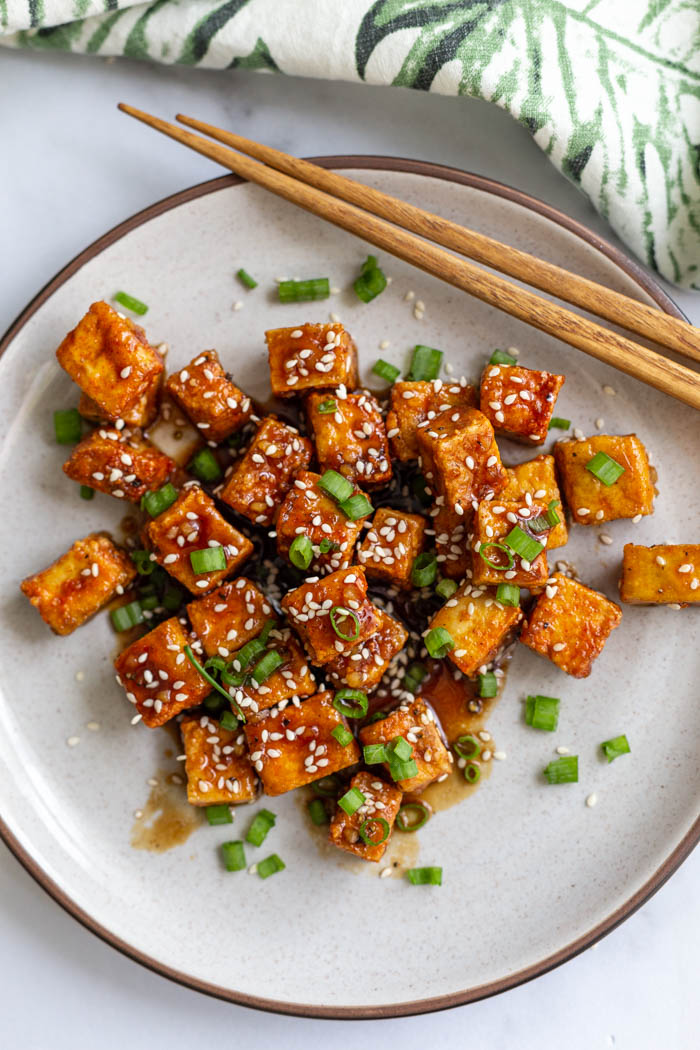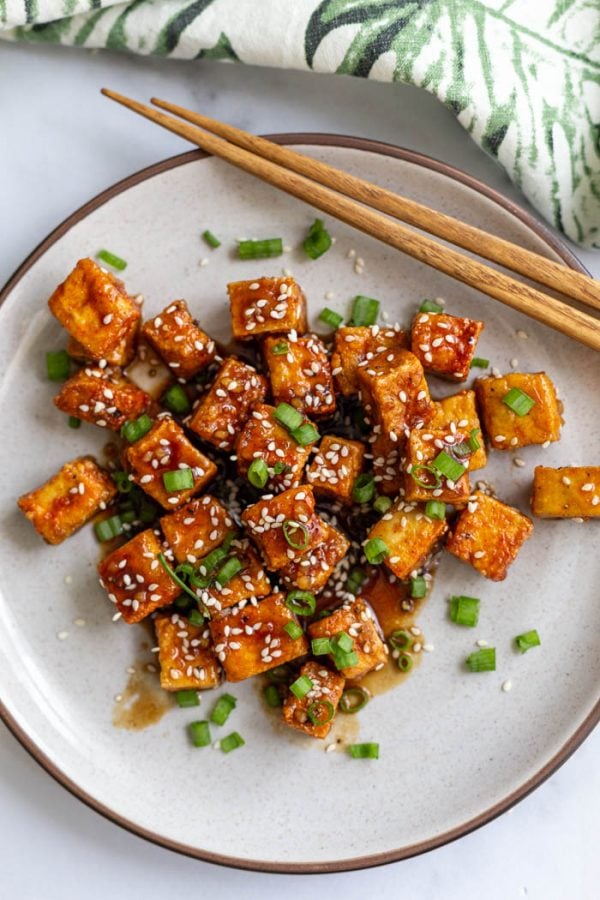 Air Fryer Tofu
Since I'm new to using my air fryer (I have THIS air fryer from Skinnytaste), I'm using a recipes from my friend Lindsay over at The Toasted Pine Nut.
For this recipe, start by cubbing pressed tofu and toss it in cornstarch (Lindsay suggests using arrowroot flour), garlic powder, paprika, cumin, and salt. Spray the inside of your air fryer and place the tofu cubes in an even layer. Set the air fryer to 350 degrees and cook for a total of 25 minutes, flipping halfway through.
Once done cooking, you can serve with your favorite sauce or dish. Lindsay's recipe shows you how to make a very delicious ginger soy sauce that I highly recommend.
For more detailed directions on how to make this Air Fryer Tofu, you can read the full recipe HERE.
Easy Tofu Recipes
I recently wrote a whole post rounding up my favorite tofu recipes. These are all packed with flavor and I'm excited for you to give some of them a try!
Read The Best Tofu Recipes Around HERE!!
Print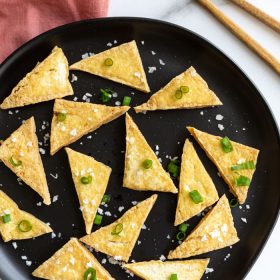 How to Fry Tofu
---
Author:
Prep Time: 15 minutes
Cook Time: 10 minutes
Total Time: 25 minutes
Yield: 2 servings
Description
How to make perfectly fried tofu!
---
Ingredients
~14 ounce block of extra firm tofu
oil for frying
sea salt and pepper for serving
---
Instructions
Press your tofu for 15 minutes by using a tofu press. If you don't have a tofu press, see note above for how to do it with what you have lying around your kitchen.
Cut your tofu into thin pieces that are about 1/4 inch thick. These can be small stripes, cubes, or triangles like what I used. See the video above to learn different ways to cut tofu.
Pour oil in a large skillet so that it will come up about 1/2 up the tofu pieces once they are in the pan. Heat over medium high heat and once shimmering, add in the tofu. Cook for about 5-8 minutes on each side until it forms a nice and even crust. Watch carefully so that it doesn't over cook.
When done, place the tofu on a paper towel lined plate to cool down slightly. Serve with your favorite sauce, in a stir fry, or simply sprinkle with sea salt and pepper and enjoy!
---
Category: tofu
Method: frying
Cuisine: american
Keywords: vegan recipes, tofu recipes, fried tofu