Red Potato Skillet Hash
This post may contain affiliate links. Please read my disclosure policy.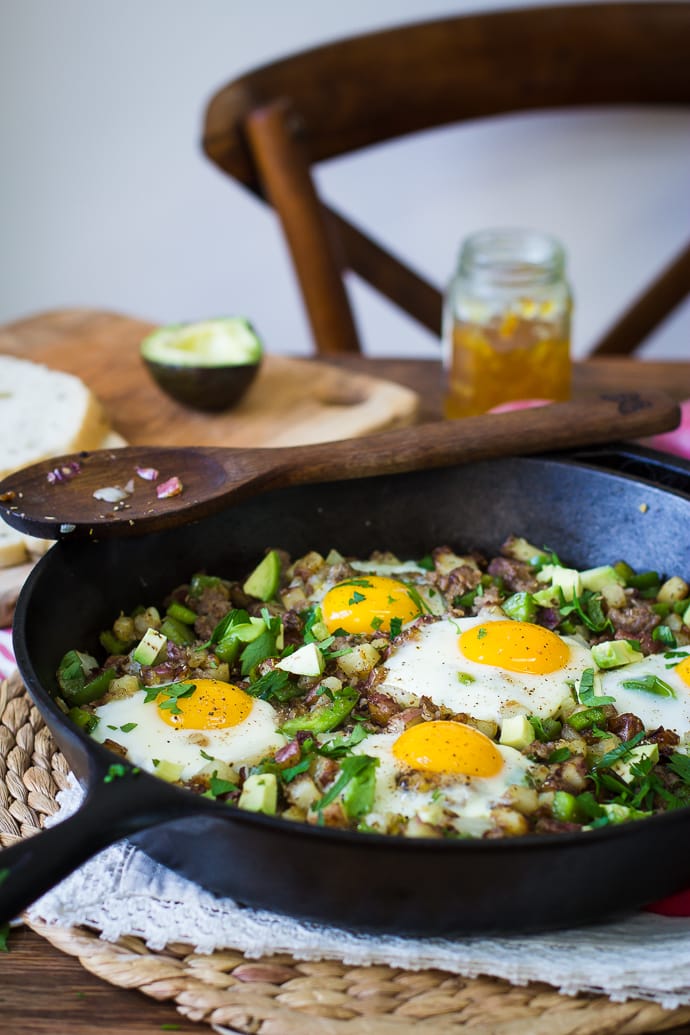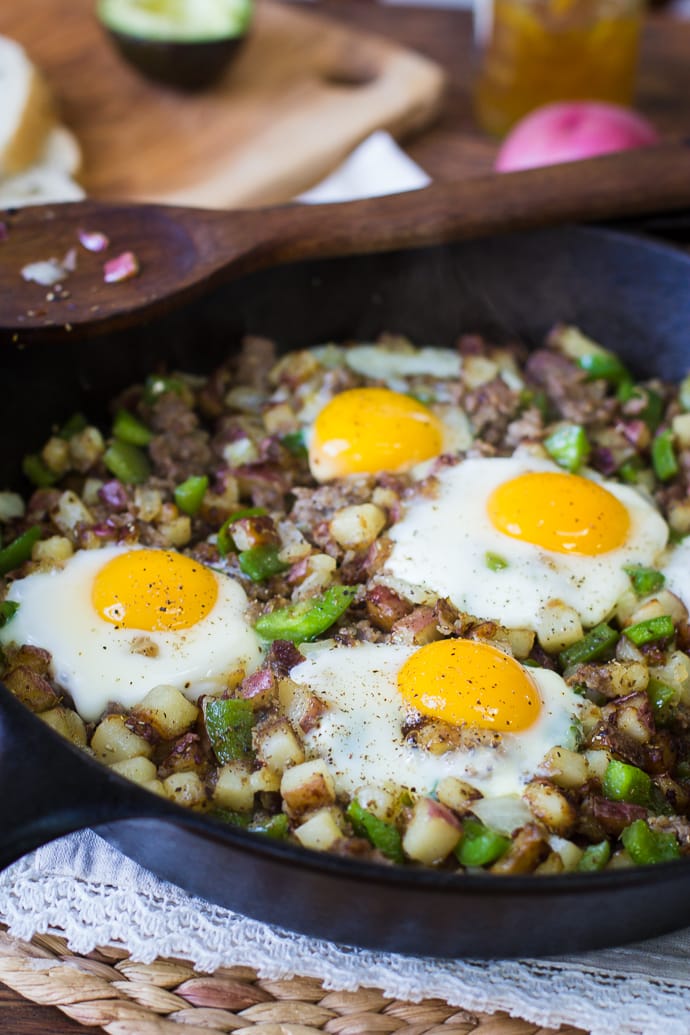 A few weeks ago I ran into Mary, one of my absolute favorite fellow Nashville bloggers, at a beer pairing dinner. It was the day after I posted this recipe for red potatoes. Mary, knowing me so well, commented that those red potatoes looked like the perfect thing to "add an egg on top" of. In case you didn't know, I'm a big fan of adding eggs on top of otherwise normal meals and justifying it as breakfast. Examples of this can be seen here, here, here, here and honestly a couple more.
So, I took Mary's suggestion and turned my rosemary red potatoes into a delicious HASH. A Red Potato Skillet Hash to be exact. Turns out, hashes are awesome and we all should be making them a lot more!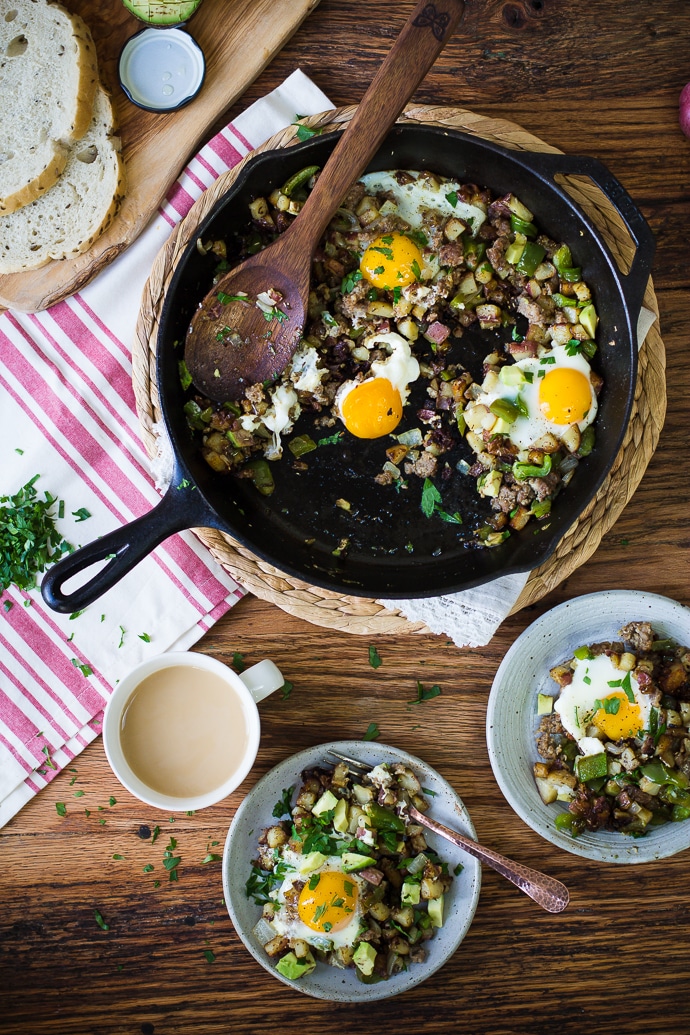 On a completely separate side note (that's maybe inappropriate to bring up in the midst of discussing food??): we have a mouse that lives in our kitchen.
On the very first day that we got the keys to our new house and moved in, I did the thing that I assume every new home owner does: FULLY inspect the kitchen. I had every intention of unpacking the kitchen first and so I wanted to make sure it was clean before doing so. One of the things I noticed was that the old owners left mouse traps under the cabinets. "great! there's mice". I threw the old traps away and didn't think much of it.
My first real run in with the phantom mouse (mice??) was when I left spaghetti squash seeds in a small bowl on the counter over night. I wanted to let them dry out and see if they're as tasty baked as pumpkin seeds are. As it turns out, Mr. Mouse didn't want to wait for me to bake them and instead ate 2/3 of the bowl leaving a trail of squash seeds across the counter. Mouse-1, Brita-0.
After that incident (plus all of the lovely mouse droppings on the counter every few mornings), I decided to get some traps. We put peanut butter on them and left them over night. The next morning Mr. Mouse had eaten ALL of the peanut butter while managing to escape unscathed from the traps. Mouse-2, Brita-0.
I have a vivid image in my mind of what this pesky mouse looks like and I imagine it's a little something like this:
Is it weird that Ive kind of grown a fondness for Mr. Mouse? He's not hurting anything, really. I wish he'd be more respectful of the countertops that I so desperately try and keep clean. Besides that, he mostly just eats crumbs left on the countertops by Stephen two busying, working adults.
I'll keep you updated on the mouse situation. I'm trying to leverage the mouses existence as an excuse to get a kitten. So far, Stephen would rather keep the mouse than get the kitten. I'm working on it.
AND back to the hash.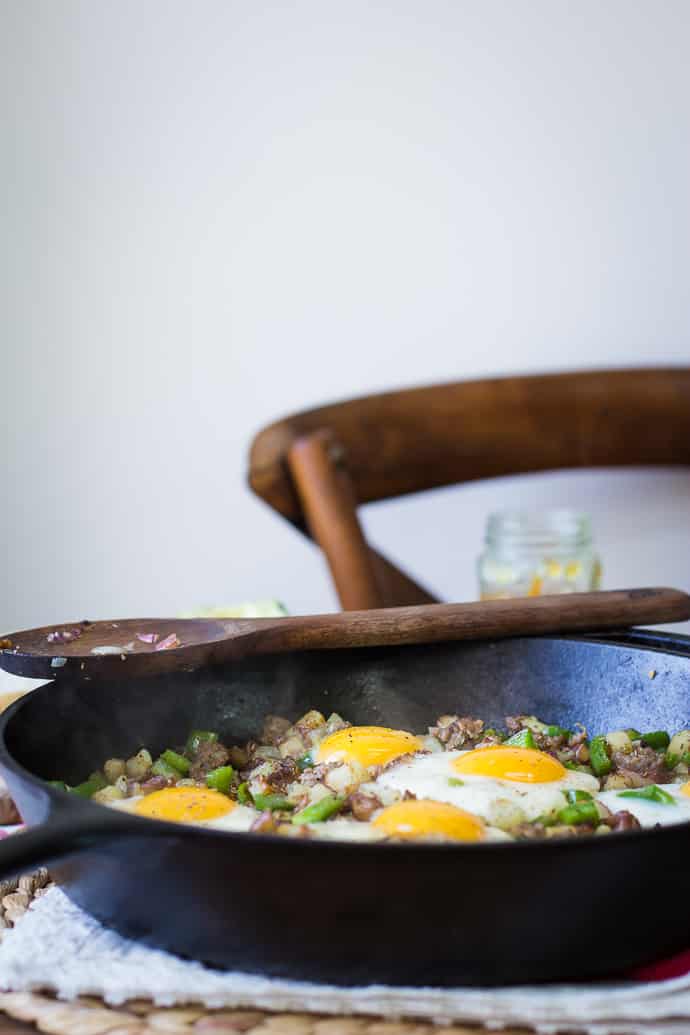 I did lots of research on hash before testing out this recipe. As it turns out, hash it typically a product of leftovers. It's also most typically made with cured meat; I used a simple country sausage. I ALSO learned that maximum flavor is produced if you cook the meat first and then use the juices from that to cook everything else in.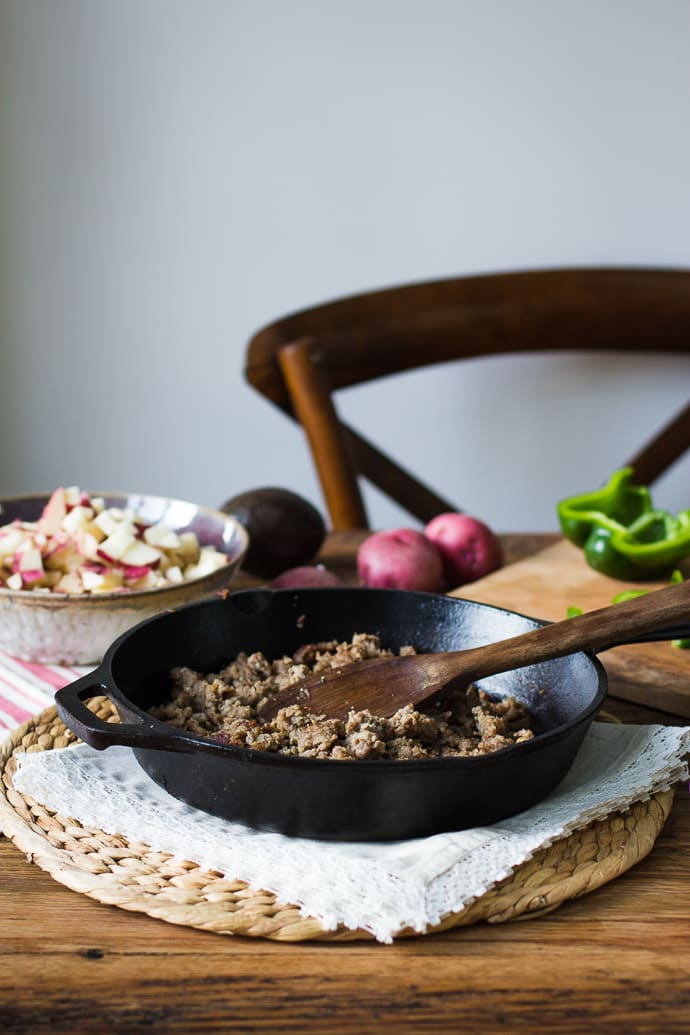 And instead of baking the potatoes, I fried them this time (so that they could soak up all the yummy liquid leftover from the sausage).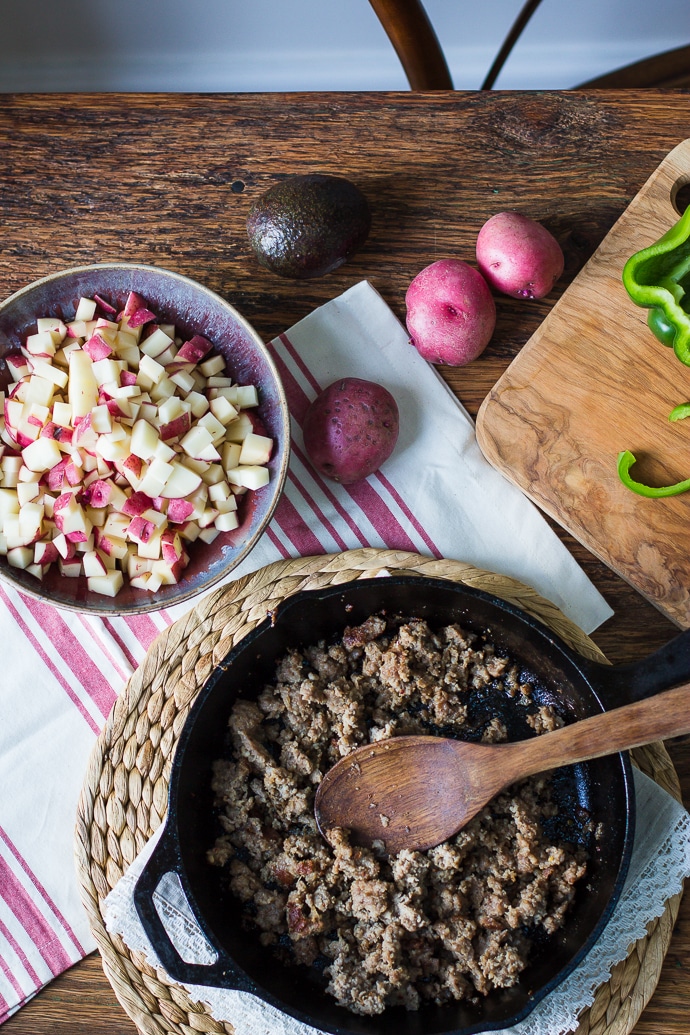 The potatoes are diced up into small pieces this time (although slightly large chunks would also work okay) and drizzled with a bit of olive oil, sea salt, and (of course) rosemary.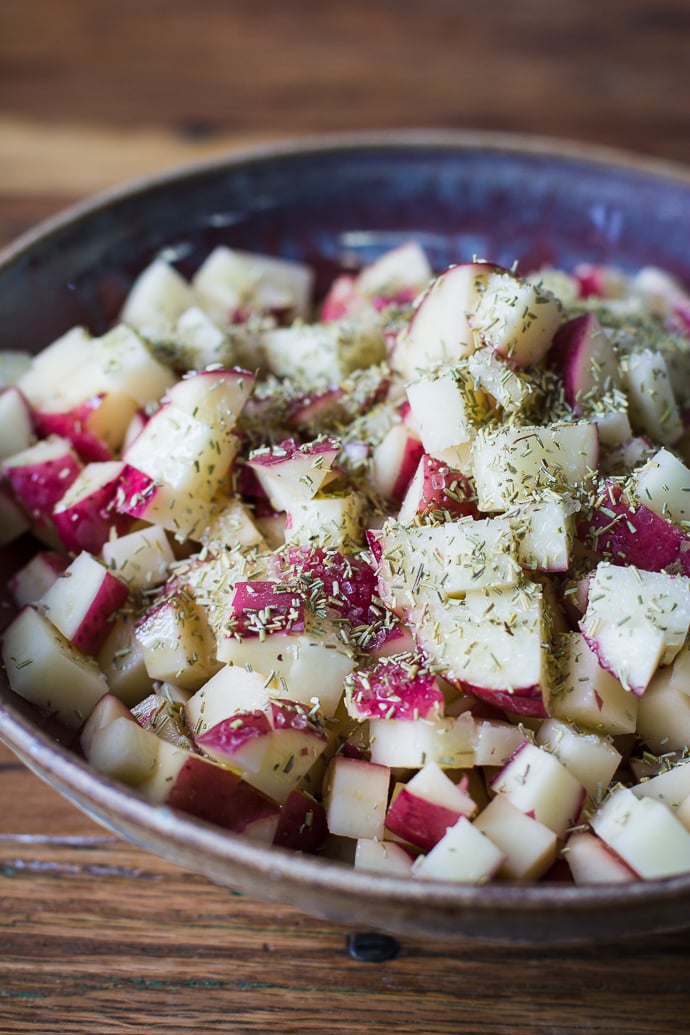 The smaller pieces cook much faster which is why I spent the little bit of extra time dicing them this way.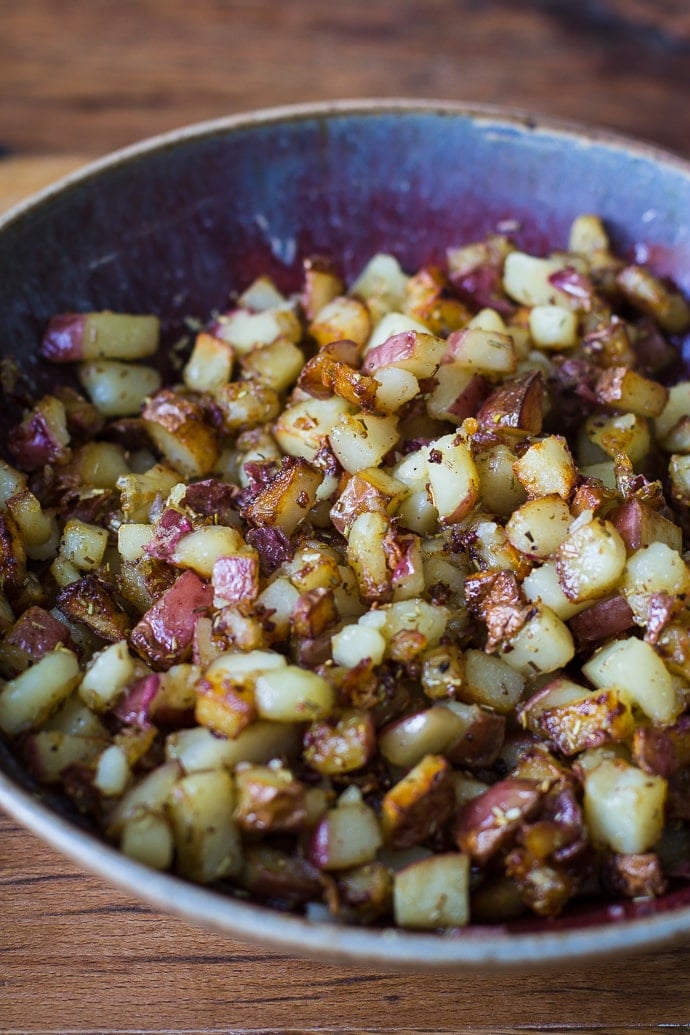 Once the meat and potatoes are both cooked and set aside, the veggies are added into the same skillet and allowed to saute for a few minutes.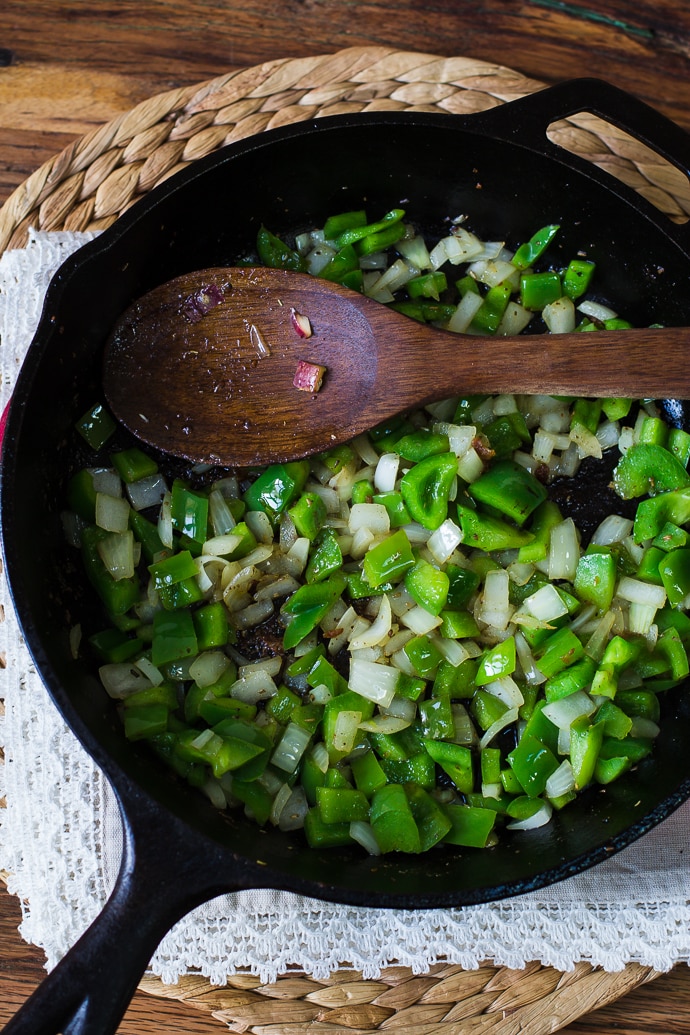 Once the veggies are just tender, the sausage and potatoes are mixed back in and eggs are cracked on top. I've seen hashes where people cleared out room for the eggs but I just cracked mine right on top of everything. It takes them a few minutes longer to cook but it also give the veggies and potatoes a bit of time to get crispy which is what we want from a hash (at least I do!).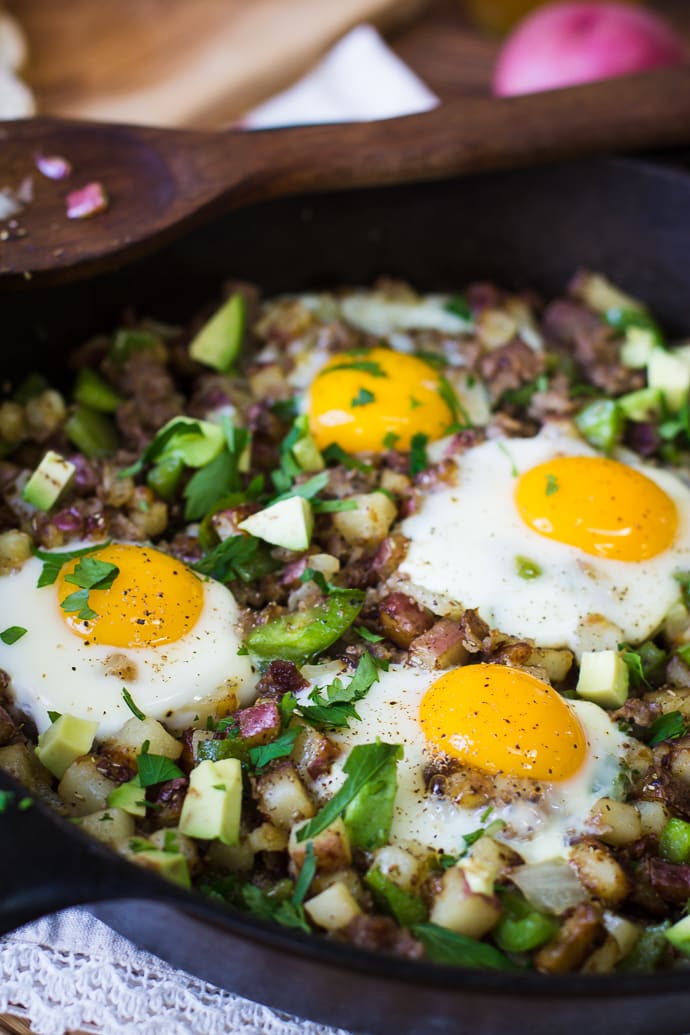 I topped it all with some fresh parsley and a couple chunks of avocado (duh). This ended up being the perfect amount for 4 hungry breakfasters!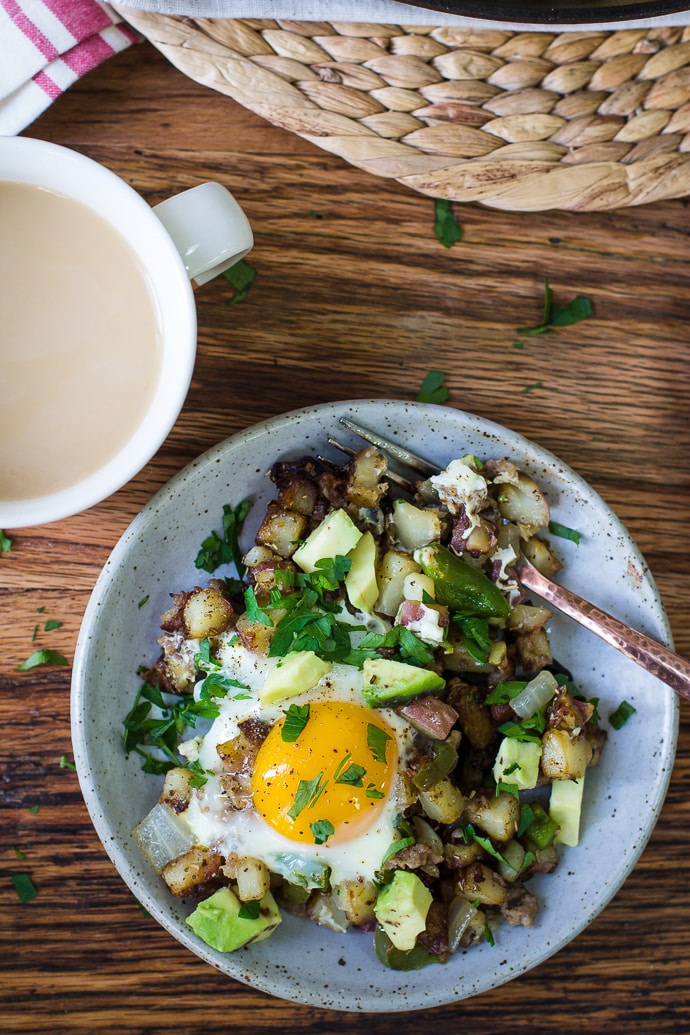 Have a lovely week, friends!!!
Print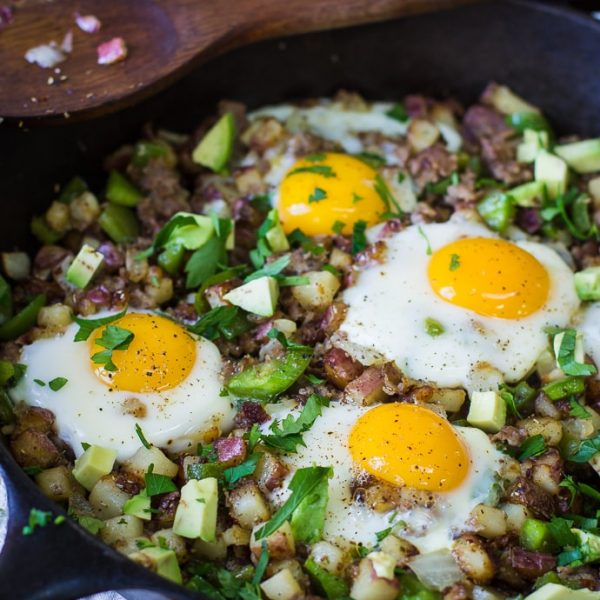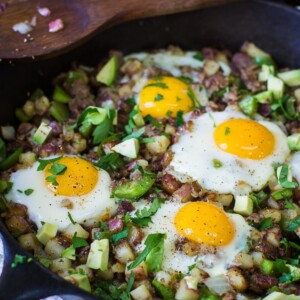 Red Potato Skillet Hash
---
Total Time:

45 minutes

Yield:

4

1

x
1/2

pound of ground country sausage (could also use sausage links cut into small chunks)

1 1/2

pounds of red potatoes, diced into ~1/3 inch pieces

1 teaspoon

of dried, crushed rosemary

1 teaspoon

of sea salt

2

cloves of garlic, minced

1

–

2

tablespoons of olive oil

1

small white onion, finely chopped

1

green bell pepper, finely chopped

4

–

8

eggs depending on your preference (I used 5)
freshly ground black pepper
optional for topping: diced fresh parsley and avocado
---
Instructions
Start by cooking the sausage in a large skillet until it's just cooked all the way through.
Leaving all of the liquid in the skillet, remove the cooked sausage and place it on a plate covered with paper towels.
In a medium bowl, toss the potatoes with a small lug of olive oil, the dried rosemary, and the sea salt.
Leaving the heat on medium, add the potatoes into the skillet and cook until just tender, about 12-15 minutes. Add in the garlic and cooked for an additional couple minutes. Removed the potatoes from the skillet (leaving any liquid) and set them aside in a separate bowl.
Add in 1 tablespoon of olive oil and cook the bell pepper and onion until just tender, about 7 minutes. Add in more oil if necessary.
The the veggies are just getting tender, add the potatoes and sausage back into the skillet with the veggies and stir to combine everything.
Spread the raw eggs evenly around the skillet and allow them to cook to your desired doneness. For running eggs, they'll need to cook for about 6-8 minutes on top of the hash in order to be done.
Once cooked, removed from heat, top with parsley, avocado, and a bit of fresh black pepper and ENJOY!!!
Prep Time:

10 minutes

Cook Time:

35 minutes
This post may contain affiliate links. Please read my disclosure policy.