Slow Cooker Mashed Potatoes + a Giveaway
This post may contain affiliate links. Please read my disclosure policy.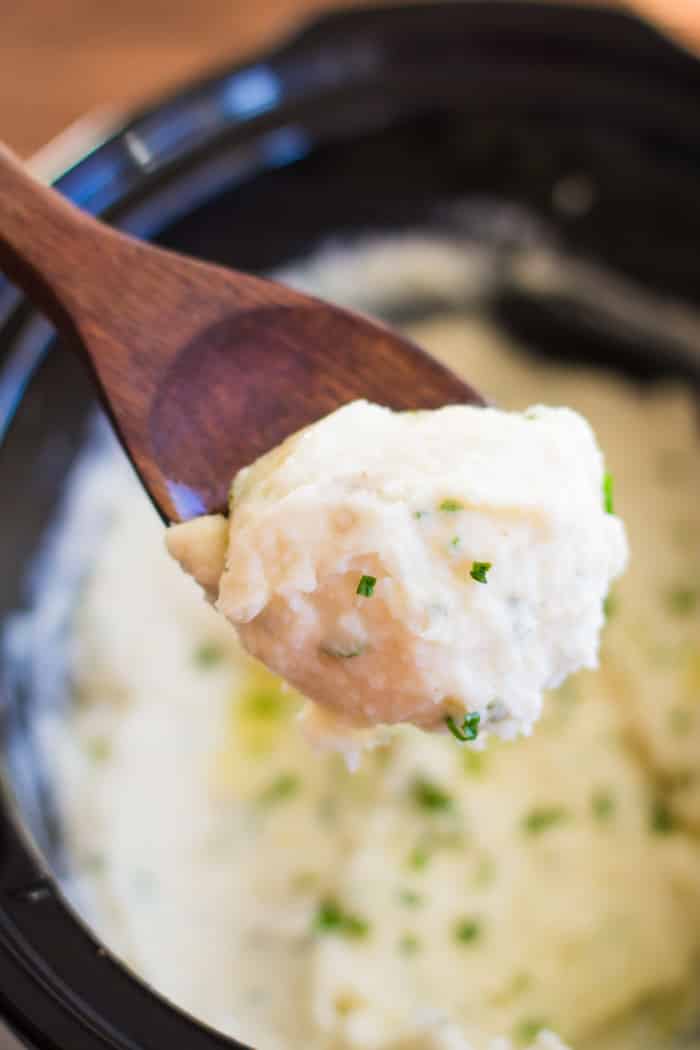 ***Before I dive into the post, I wanted to tell you that I have a really awesome giveaway for you!! A came together with 2 awesome bloggers to host a Thanksgiving giveaway to say THANK YOU to all of our awesome readers. You can enter the giveaway below!
---
Here's an interesting tid bit about my blog: I do the majority of my cooking and photographing in the morning hours of the weekends. The weekends because I have a full time job and the morning because I love the way the light flows into my house in the morning.
I was recently chatting with some fellow food bloggers about their system for photographing blog food and how they do it. Many of them have families that they are cooking for and do their blog cooking in the evenings so that they can eat the food for dinner. That means that their family has to wait until they get done taking the photos in order to eat. I've done this a lot and Stephen is very used to it. He no longer asks "When will dinner be ready?" but instead asks "When will I be allowed to eat dinner??". In his total defense, he's never once complained about it and instead just has a small snack while he patiently waits for me to be done having a full on photo shoot with the food.
But these days my system goes something like this: recipe test for our dinner (which means that no photos are involved and we can eat the food right away) and then cook the food again the next day (or within the next week) to take the photos for the blog. Since I'm doing most of this in the AM, I often make food and don't eat it. But don't worry, it's not as if I'm throwing it away or anything; we just have a LOT of leftovers in our house basically at all times. It's great for the nights when we're lazy and don't feel like doing much else besides press a few buttons on the microwave.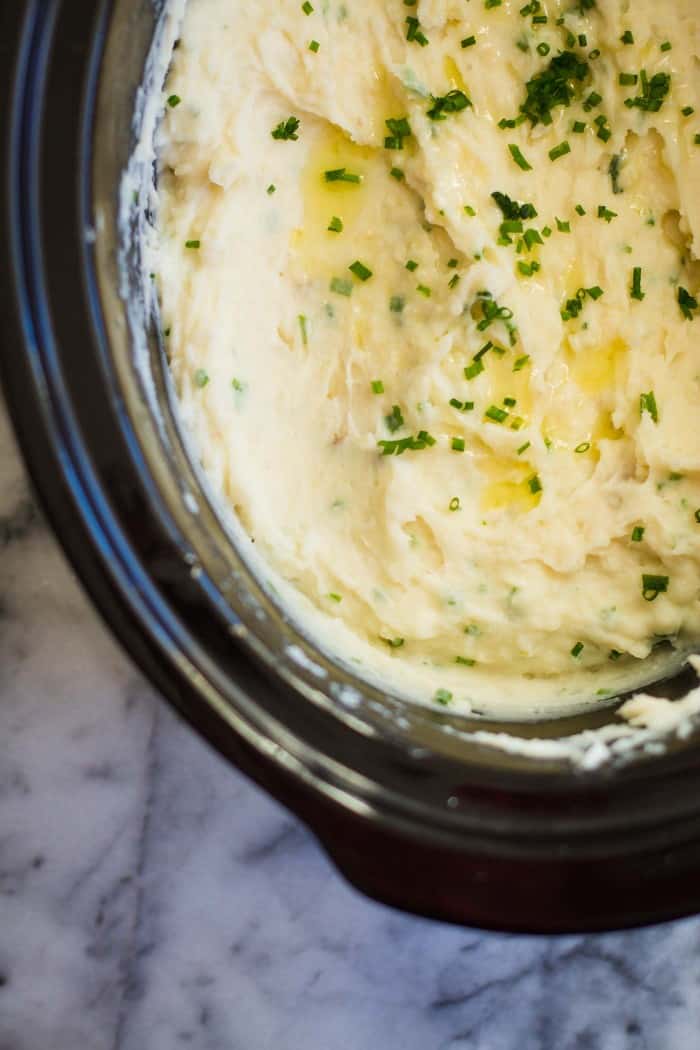 Kind of like these mashed potatoes. I made this kind of early in the morning, we ate them later in the night for dinner, and then we took them for lunch the next day. Oh, that's the other thing: we have lots of yummy leftover lunches!
One of the most common questions that I get from family and friends is "Do you actually get to eat ALL that food you make??" and the answer is YES! (duh :)). I was raised in a household where we had a strict moto of "waste not, want not". So, if all of the blog food isn't eaten immediately, then it's saved for lunches or lazy night microwave dinners.
These Slow Cooker Mashed Potatoes are meant to be SUPER easy. They're meant to make your holiday cooking a little bit less stressful and free up a little bit of space on the stovetop for other yummy things.
Potatoes are chopped and put into a crockpot.
Liquid is added and the potatoes are left to cook for a bit while you relax (or prepare the rest of your holiday meal).
These can be cooked on low for about 6 hours or on high for about 3 hours. After the allotted time, your potatoes will be tender and juicy and ready to be mashed.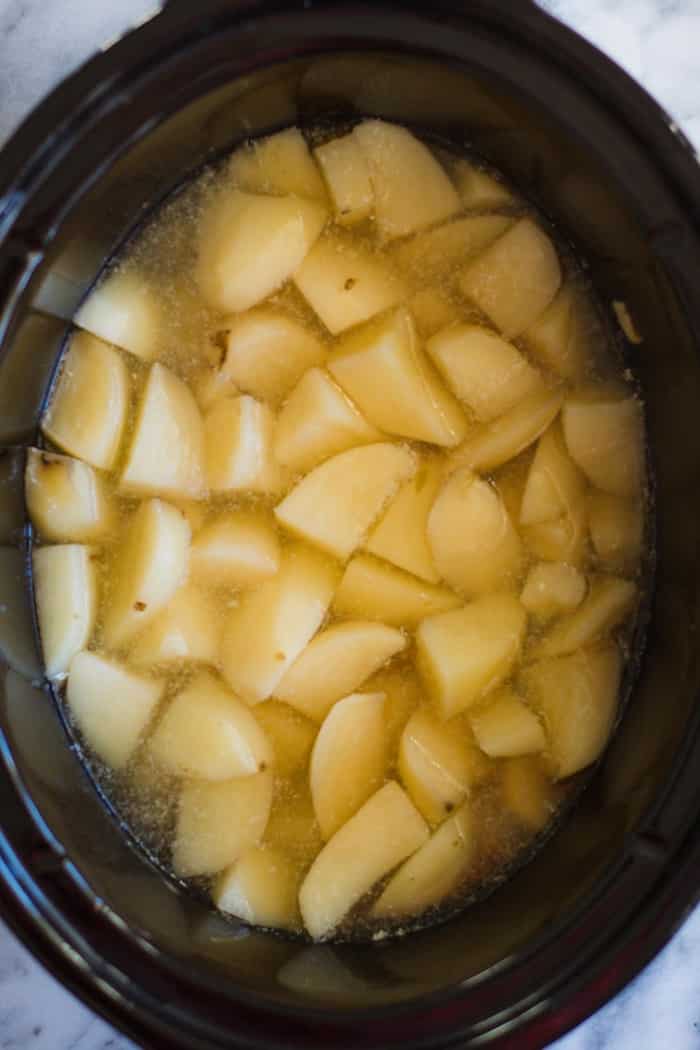 The rest of the recipe is as simple as adding in all the fixins such as garlic, sour cream, butter, cheese, and a bit of milk, and then mashing the potatoes using your desired method. As we discussed before, I do not (yet) own a potato masher. SO, I used an electric hand mixer to cream up the potatoes to a nice smooth consistency.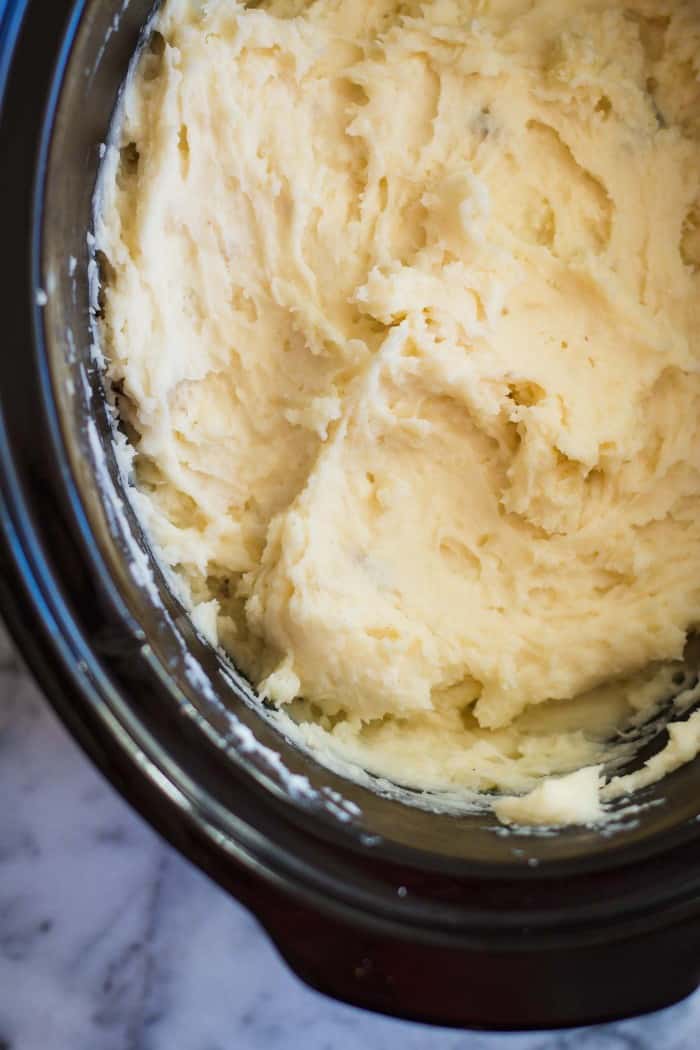 I mashed mine so that they were creamy and yet still had little chunks of potato in them (just how I like mine). BUT, you can obviously mashed them up more so that they're COMPLETELY creamy.
I added the chives in last minute with a bit more olive oil.
I'm KIND of in love with the mashed potatoes and may or may not be eating them for lunch (again) today. No complaints!
A note on my recipe: I have quite a few ingredients in this recipe and while some of them really enhance the flavors, they're not all absolutely necessary. If you want to make it a bit simpler, it would be totally okay to omit the following ingredients and still have creamy and yummy mashed potatoes: chives, garlic, parmesan cheese, olive oil.
---
NOW FOR THE GIVEAWAY!!
I really wanted to do something as a simple thank you to all of you who have been following along with my blog (and to those who are new- hi!). This little blog of mine has become something so so very special to me. All of the support, and kind words that I have received from you means SO so much to me. So, thank you!
Ashley is giving away a free blog design (valued at $75). I LOVE her designs and have had her help me with a few design things in the past. She's also giving away a free pair of Firmoo glasses that I REALLY wish I could win for myself (don't worry-I won't snatch them). Anne is giving away 2 free AD spaces on her blog if you have a company or blog that you are looking to promote.
I'm giving away a free set of Greater Than Gatsby's Innocence Collection Photoshop Actions. I use these actions SO so much and will be doing a WHOLE post on them tomorrow.
I'm doing a little more to say thank you and I will be posting about it on Thursday. It's something that I've been thinking about doing for a long time and I'm very grateful that, thanks to you, I'm able to do it. More on that later in the week :)
Print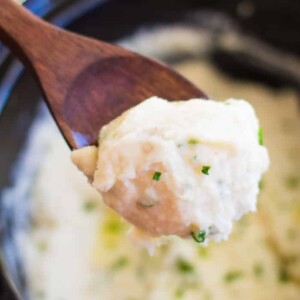 Slow Cooker Mashed Potatoes
---
Prep Time:

10 minutes

Cook Time:

3 hours

Total Time:

3 hours 10 minutes

Yield:

10

1

x
Scale
Ingredients
2 cups

water

2 cups

of broth (I used chicken broth but veggie can also be used)

4

pounds of potatoes (I used russet but any kind will do really)

1/2 cup

sour cream

4 tablespoons

of butter

1/4 cup

of milk (can be any kind including unflavored almond milk)

1/4 cup

of olive oil

2

cloves of finely minced garlic

1/2 teaspoon

of salt

1/4 cup

of parmesan cheese

2 tablespoons

of chopped chives
---
Instructions
Place the water and the broth in the slow cooker and turn it on to your desired heat (low if you're cooking for 6 hours, high if you're cooking for 3 hours).
Clean and peel the potatoes. Chop them into large pieces and place into the slow cooker with the liquid.
Cook on low for 2 1/2- 3 1/2 hours or on high for 6-7 hours.
Once done, put the slow cooker on the "warm" setting. Drain the liquid from the potatoes.
Add in all of the remaining ingredients (minus the chives) and mash the potatoes either using a potato masher OR using a hand mixer. Stir occasionally to make sure that all of the ingredients are mixing in well.
Add in the chives and stir to combine.
Leave on the warm setting while you prepare the rest of your meal OR enjoy immediately.
---
This post may contain affiliate links. Please read my disclosure policy.