Traffic & Income Report: April 2016
This post may contain affiliate links. Please read my disclosure policy.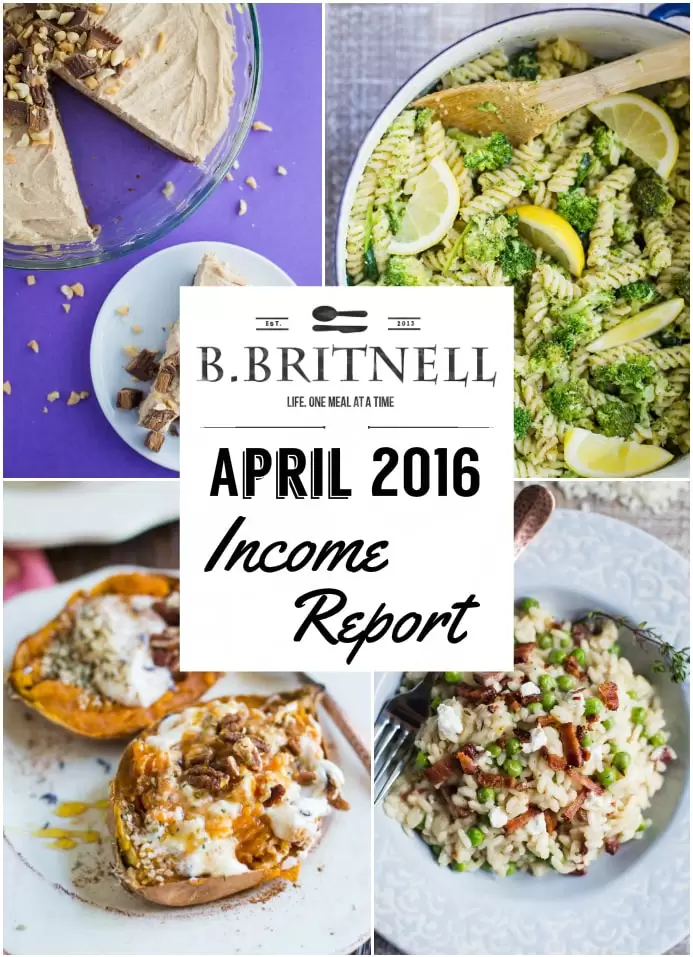 **Before we dive into the income report, I wanted to let you know that as of today (May 24) Food Blogger Pro has re-opened enrollment! I have been a member of food blogger pro for about a year now and it has been SO so very influential in growing my blog and the income that I make from my blog. I wrote a whole post about me experiences with Food Blogger Pro which you can read HERE. Also HERE is a link to a couple coupon codes!
I'm back with this months traffic & income report. This is my fourth income report and I'm super proud of myself for sticking with this!
If you're new to these reports, let me give you a very brief background: I started these reports in January of this year and plan to post a report each month to outline my income, expenses, and traffic numbers for each month. I'm also using it as a way to focus on a new thing each month and then report back my findings. These reports have already helped me immensely AND it's helped me connect with a lot of other bloggers which I absolutely LOVE.
I took it rather easy in April. I had a crazy busy March (blog-wise) and worked my butt off to finish my Smoothies Ebook (check it out HERE :)). I launched the ebook in early April and after that, decided to take a bit of a brake and just focus on creating good content and recipes. I also spent the month formulating a lot of ideas in my head and have lots of awesome things coming to the blog in the near future (yay exciting things!!).
Alright- on to the report!
The Traffic
Overview
Note on Traffic: my pageviews are holding steady in this 60k range. It's frustrating because my goal is to reach 100k by the end of the summer (which I consider to be the first of September) but I'm also grateful because I've heard from a lot of other bloggers that their numbers are actually down right now.
As per usual, I had one really nice spike in traffic this month which came from a Buzzfeed article that a recipe of mine was shared in. My hope with the new ebook is that I can grab some of those new visitors and encourage them to want to come back in the future to try out more of my recipes.
New vs. Returning Visitors
As I stated in January, my goal is to get the returning visitors to a steady 30%. This month my returning visitors rose by about 4% which is a great growth that I'm really proud of! To all of you that keep returning, THANK YOU!! It means more to me than you will ever know.
Top Ten Traffic Sources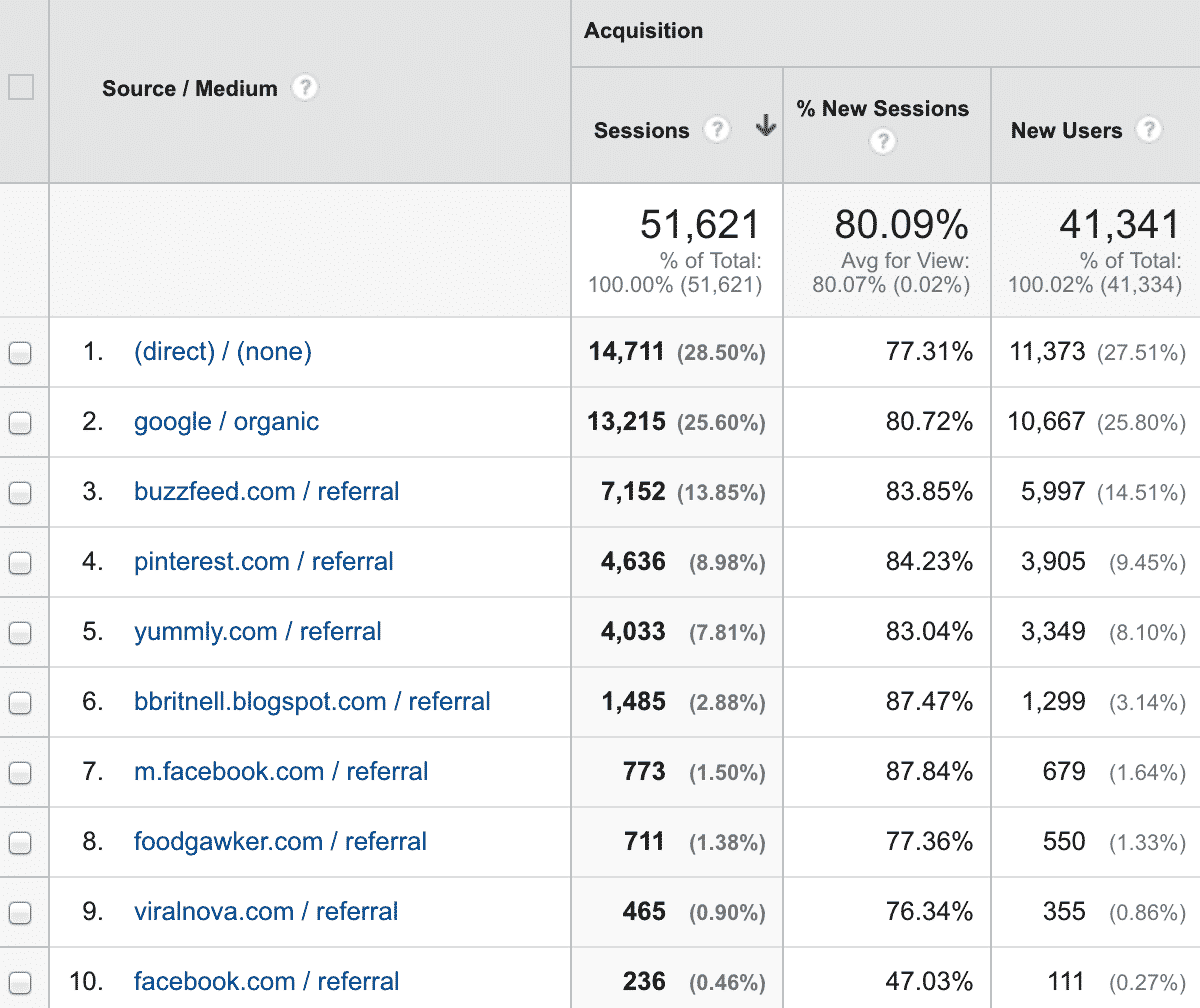 Note on traffic sources: I'm SUPER happy to see my top 5 traffic sources where they are. I've been working hard to optimize my SEO so seeing the organic google traffic at #2 is awesome.
Shoutout to Amanda from Recipes Worth Repeating for continually including my recipes in her awesome Buzzfeed roundups! Every time I'm featured in a Buzzfeed roundup, I see a really nice traffic spike which reminds me that I should really focus on creating more of my own Buzzfeed articles.
I've also been purposefully working on my Pinterest and Yummly so it's nice to see that paying off :)
The Income*
Some of the links below are affiliate links. All of the products and services listed are ones that I use on a regular basis and highly recommend. If you have any questions about any of these, shoot me an email.
*I'm not including any of the money that I make via my food photography business.
Total: $972.96

I just want to make a quick note that I'm SO happy that I made the switch this year to Mediavine for my ads. They have been awesome and so great to work with. They set everything up for me and have a very nice dashboard so that I can opt in/ out of certain ads if I don't like the way that they look on my site.
Shortly after I joined, they implemented a minimum pageviews requirement for joining the network which I think is 30,000 pageviews. Either way, I highly recommend joining a network similar to Mediavine or Adthrive as soon as you're able to. It has been nice taking that off of my plate.
Expenses
WP Engine Hosting: $75
Food: $138.93
I currently only expense food that I actually photograph for the blog and not food that's just part of recipe testing.
Adobe Lightroom/ Photoshop: $10.91
Props: $23.43
Mailchimp Premium: $15
Audio for recipe videos: $21
Optin Monster one time payment: $49
Total: $333.27
What I Focused on in April
As I mentioned earlier, I took a bit of a break in April. I've been working REALLY hard on my blog this year and after 3 months, I decided to take a month just to focus on creating really great content and to formulate some neat ideas for future posts.
So, nothing much to report here but stay tuned over the next couple months for some new blog series that I'm going to be posting!
Focus for the next 30 days
So, what am I focusing on for the future?? 2 things mainly: affiliate marketing and social media.
Affiliate Marketing- Last week I stumbled upon THIS post from a blogger discussing several affiliate companies that will send you free products. While free products are great, they won't pay the bills (nothing against the article though, it's a super great resource!). But, that article led me to doing a lot more research and through Share-A-Sale, I've found some really awesome companies that I already LOVE and use that have affiliate programs. I want to find a way to seamlessly incorporate those affiliates into my blog without being too pushy and without seeming like all I'm trying to do is sell my readers something. I'm hoping to implement some of this over the next couple weeks so next month I'll let you know how it's going.
Social Media- For the first time basically ever, I feel really happy and confident with the content that I'm creating and I'm now wanting to really focus on growing my social platforms and being more intentional about organizing it all. Specifically I'm focusing on these networks:
Instagram: I've never really done much on Instagram besides just post ~once a day but I really want to step up my game! I'm trying to post more (about twice a day) utilizing some older pictures and posts from years ago. I'm also doing my best to interact a lot more with the Instagram community by liking, commenting, and following more people in similar foodie niches to me. I'm genuinely really just having fun with it and have seen my following grow by about 10 people each day (in the ~5 days that I've been focusing on it).
Pinterest: If you remember from my income report in January, I have been focusing heavily on growing my Pinterest account and am just a few followers short of 4,000 followers making it my biggest following on any of my social platforms. I've cut back on this a bit but am still dedicated to posting regularly. My goal is to post at least 1 pin to each board everyday AND stay on top of posting my own recipes to group boards (I've created a rather elaborate spreadsheet system to track this).
Chatting with Trevor from The Blog Village, he recommended that it was far past time for me to look into some kind of a Pinterest scheduling tool. So, with his advice, I subscribed to Tailwind last week and plan to start TODAY scheduling out pins. I'm going to sit down for a couple hours ONCE a week and schedule out all of my pins for the next seven days. I'll report back next month how that is going.
Facebook: Similar to what I'm doing with Pinterest, my goal is to sit down just ONCE a week and schedule out all of my posts for the next 7 days on Facebook. Luckily, Facebook makes it super easy to schedule posts right on their platform so I really have no excuses. My general goal is to start posting 3-4 times a day: 1) an older post of mine 2) new content if I posted a new recipe that day 3 & 4) Recipes from other bloggers. I haven't seen my followers grow very much from doing this BUT I have noticed a lot more engaged which I'm happy about :)
Thanks to YOU
Thanks to you for visiting my blog, I have been able to sponsor a young girl in Haiti again this month (and plan to do so for quite a few months to come). My plan is to continue donating 10% of everything that I make from my blog. I'm grateful for this opportunity to give back, even if just a little for now.
This post may contain affiliate links. Please read my disclosure policy.