Traffic & Income Report: December 2016
This post may contain affiliate links. Please read my disclosure policy.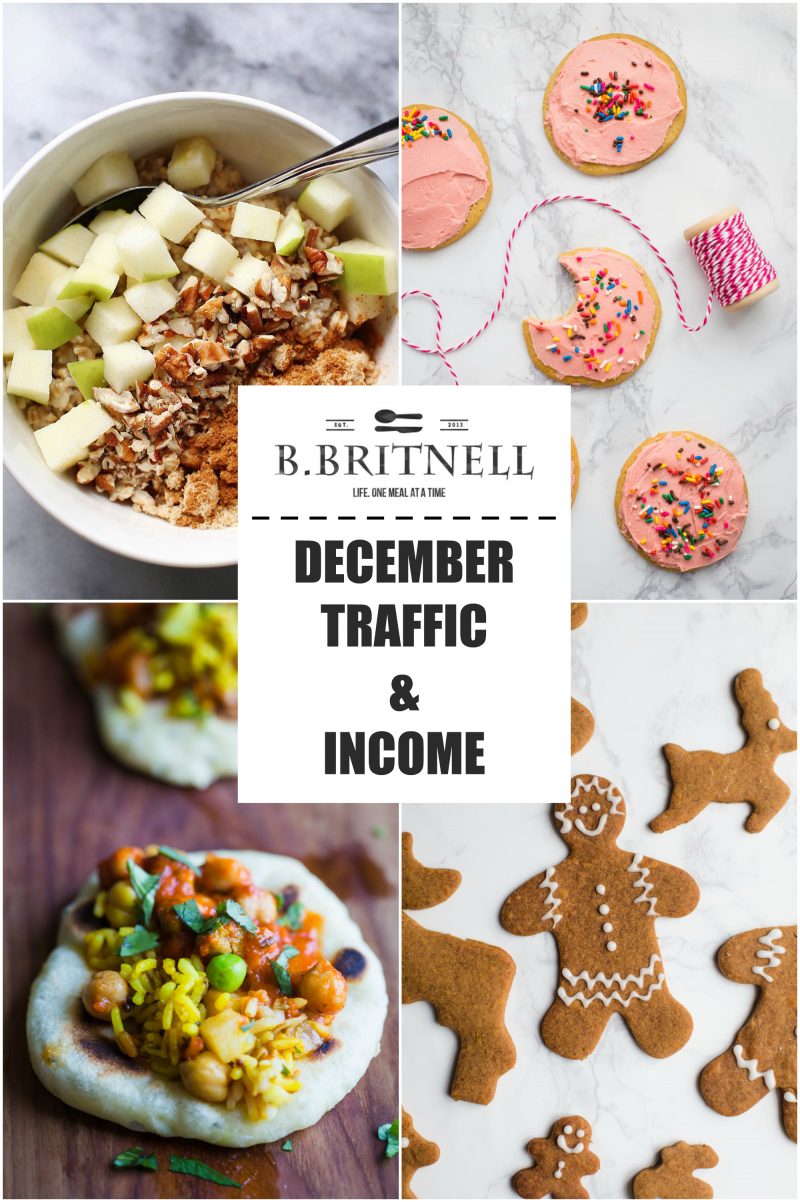 Welcome to 2017 of income reports on B. Britnell!! I'm super excited about all of the things happening right now and I can't wait to share it with you. I've been working from home full time for almost a full month now and while I wish I could say I have the swing of it all, I'm still very much trying to figure it out. I thought being home full time would give me so much more free time. However, that simply is not the case. But, that's okay.
I'm also still trying to figure out juggling my blog and my (almost) full time job as a video producer (is that what I should call myself? I AM a person that produces videos…??). Lately I've found myself spending so much time working on videos for other blogs that I haven't actually been producing videos for my OWN blog. But, I think I'm settling into a bit of a schedule that will make things easier and allow me to really focus a good chunk of my time each week on my own content.
Anyways. I digress. ON TO THE REPORT!…..
The Traffic
Overview
Traffic dipped a bit in December BUT (as you'll see below), I still saw my BEST income month EVER on the blog. I had quite a few posts less than normal in this month. Plus, December is typically a slower month for me. On top of everything else, I also took a big step back from some of the behind the scenes stuff that I usually do such as submitting to recipe submission sites and posting significantly less on social media than I usually do. I really wanted to hit the ground running in 2017 and in order to do so, I felt it was vital to give myself a good rest beforehand.
All those things combined led to a dip in traffic for December. BUT no worries, it's already back up in January which looks like it will be my best month yet! :)

Top Ten Traffic Sources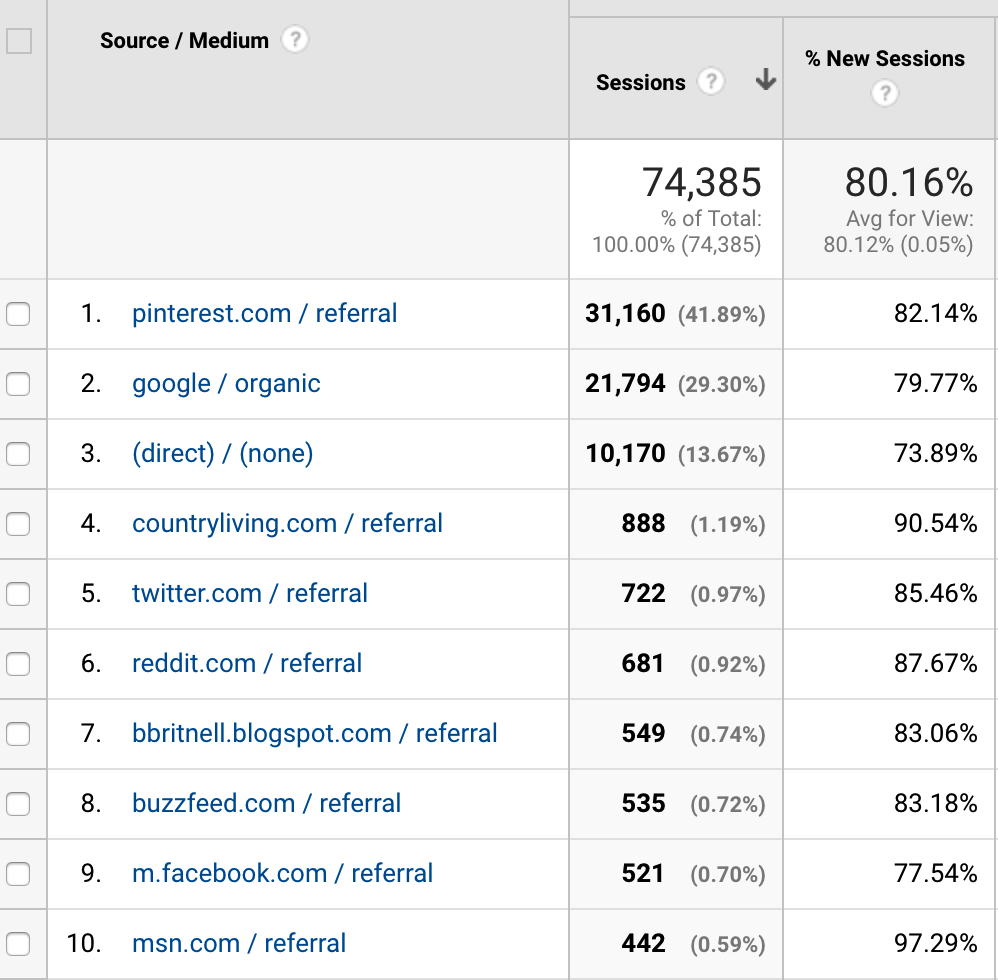 This month saw the first time in quite some time that Pinterest traffic beat out google traffic on my blog. I'm not 100% sure at this moment WHY this happened but I'm most certainly not complaining. I'm working this month to understand these numbers a bit better. I'm bad about making big changes to my blog (such as implementing a more rigorous Pinterest scheduling strategy) but then not implementing a good way to track the ways in which those changes are actually affecting my blog. I'm hoping to be better about that in 2017.
The Income*
Some of the links below are affiliate links. All of the products and services listed are ones that I use on a regular basis and highly recommend. If you have any questions about any of these, shoot me an email.
*I'm not including any of the money that I make via my food photography and videography business.
Total: $3343.92
As many of you probably know, I went full time with my business and blog this month (this month being January)! You can read more about that HERE. So far it's going great! As I mentioned before, I'm still really struggling to get into a good schedule but I figure that will come with time.
I've debated back and forth whether or not to also share the income that I make from my photography and videography business. However, I decided not to. I really want these reports to be helpful to other people looking to grow their blogs AND to document the growth of my own blog. Since the photography and videography is something separate (even if slightly related), I figured it was better kept separate.
In other news: I had the BEST month income wise in December! I got lucky with a few great sponsored posts (great= the opportunity to work with companies that I really love) last month and as usual, ad income cpm's are at their highest as the year is drawing to a close. January income won't be nearly as nice but that's okay. I'm still super excited about the all around great month that I had in December.
Expenses
WP Engine Hosting: $141.98
Food: $200- this is an estimate again this month. I've been doing loads of client videos and I'm having a difficult time sorting out which expenses are for clients and which are for my blog since I pay for all of them with my business account. I'll get this sorted next month FOR SURE!
Props: $0
Adobe Lightroom/ Photoshop + Premiere: $10.91 + $19.99
Mailchimp Premium: $20
The Blog Village: $25
Total: $417.12
As some people have noticed and mentioned to me, I pay more than the average food blogger for hosting. WP Engine is a truly a great hosting company BUT for whatever reason, they are significantly more expensive than other hosts that I see some of you using. Just a couple weeks ago I made the switch to Synthesis Hosting. They charge a flat rate of just $47/ month which covers me for up to 10,000 pageviews per day. I'm still a bit off from hitting numbers above 10k/ day on a regular basis and even when I need to upgrade to the next level, it'll still be significantly cheaper than what I have been paying with WP Engine. I'll keep you updated on how I like the new hosting company. So far so good.
Working with Brands
As mentioned several months ago, my ultimate goal in 2017 when it comes to income is to find a brand or a couple brands that I can work with on a very regular basis. I have one brand that I've worked with a few times but there's no written agreement that we'll continue working together. It's currently on a project by project basis. What I'm hoping to find is a brand that I can promote throughout the year.
I want this for several reasons. 1) Security and ease. I would much rather sign a contract to work with one company for a whole year than sign 12 different contracts to work with a different brand each month. Also, with a year long contract, I know from the start of the year that I am guaranteed to get $xx in sponsored posts for the year. I feel like that's a big weight off the shoulders of someone who just quit their job :) 2) Trust. I want my readers to see me promoting brands that I really love as opposed to whatever brand was willing to work with me that month. I feel that if I continually promote the same brand on a regular basis, it'll tell my readers that it's something I truly love.
Last week I had the opportunity to chat extensively with the rep for a brand that I would LOVE to work with. They're also looking for a long term commitment and I'm excited to get all of that nailed down. This is a brand that I met at the Natural Foods Expo last year in September and who I have been emailing with since then. I really didn't think much would come of it but I think it's proof that cultivating relationships is really worth the effort. Once it's all in place, I hope to share a bit more with you about the whole process and what I think about it.
Currently I'm also finding sponsored opportunities through Clever Girls as well as Socialix. I really like Socialix because it allows me to speak directly with the brands AND it lets me pitch my own price. Typically when I do this, I pitch the brand a price for a sponsored post as well as a price for a sponsored post + video. The majority of the time, the brand pays the extra $$ for video. Many of the other sponsored networks (IMO) set ridiculously low prices that in the end, almost aren't worth my time.
I've instead tried to spend that time emailing brands and connecting with them on social media in hopes of working with them directly to produce a campaign that's more authentic and valuable to both the brand and the reader. One thing to note: Socialix has a requirement to join that I think is something like 5k followers on at least one of your social media networks. Also, just because it says you don't qualify for a specific campaign, go ahead and apply anyways….I got one great opportunity this way.
What I'm focusing on this month
For January, I'm mostly just trying to stay afloat :) I'm hoping to really nail down a good schedule to properly balance my blog work and my client video work. My hope starting in February is that I can be consistently posting 3 recipes per week on my blog while also producing TWO videos for my blog. 2 videos is kind of a lot and not something that I've been able to accomplish thus far. But, I'm hoping with some good organization, I can get there. Wish me luck :D
---
Welp. That's all I have for you this month friends. PLEASE let me know if you have any questions or if I can be of help. I have chatted and connected with some truly amazing people through writing these income reports and I'm always open to answering questions. I mean, I could talk about my blog and video work ALL DAY LONG ;)
Also, if you have suggestions for future income report topics, I'm all ears. I've had lots of requests to write about my video shooting and editing process so I already have that planned for the next few months.
This post may contain affiliate links. Please read my disclosure policy.