Traffic & Income Report: September 2016
This post may contain affiliate links. Please read my disclosure policy.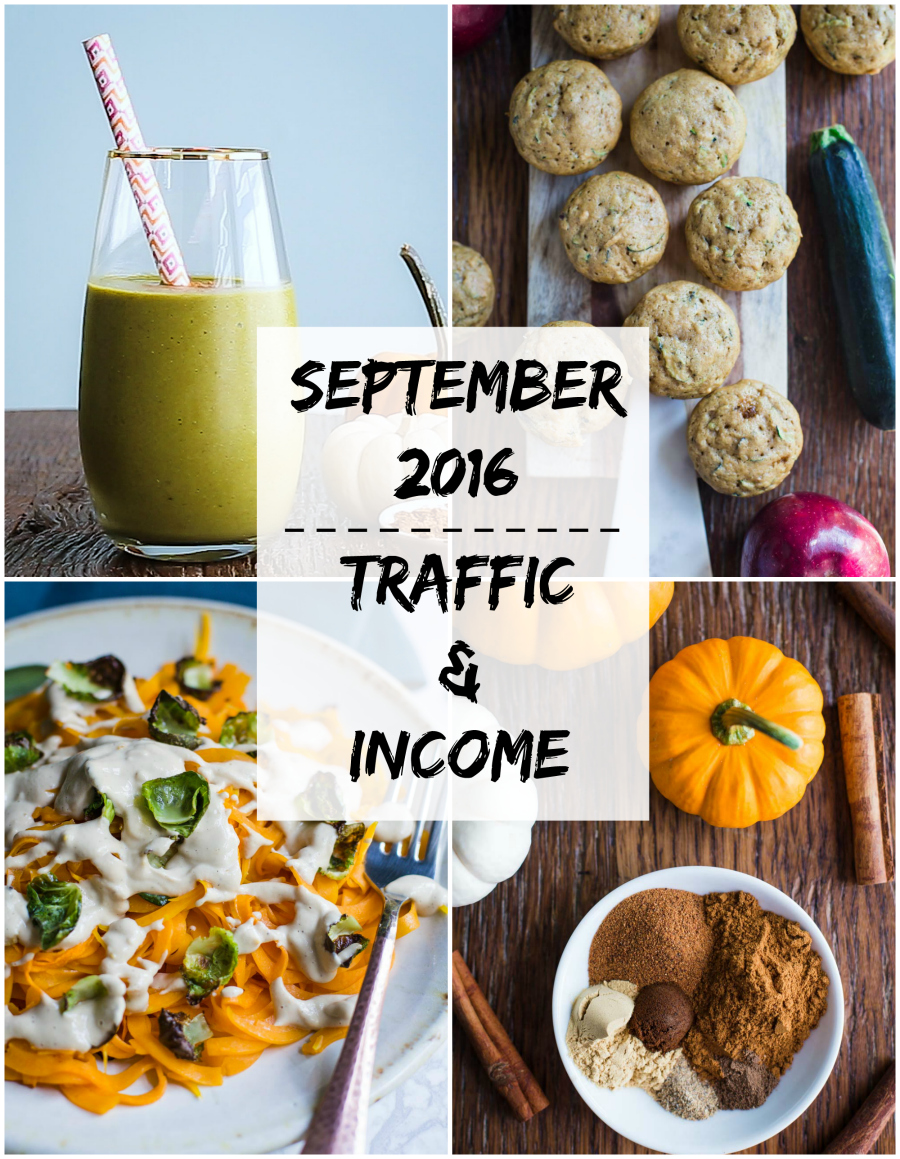 It's completely baffling to me that another month has gone by and it's already time (past time actually) for me to post another monthly income report. Has it really been over 30 days since I was sitting in that coffee shop in Georgetown writing the last report!!??! How does this happen?
If you read THIS POST then you know that September and October weren't exactly the best months of my life. The blog was really put on hold while I spent time with family. However, life is sort of getting back to a new normal and I'm fully back in the swing of all things blogging.
And despite a brief hiatus from the blog, September brought with it my HIGHEST ever number of monthly pageviews at over 110k and my highest monthly ad revenue. I had one day during late September that I made $50 from ads in ONE day….$50 in one single day just seems like such a real amount of money. Not that less than $50 is any less real, but that amount each day would pay my mortgage and THAT makes it seem so real to me.
I want to say thanks, as always, for all of your support, kind words, and simply for coming back to my blog (or if you're new, HI!).
Alright- on to the actual report!
The Traffic
Overview
As already mentioned, September of this year was my highest ever traffic month with over 110k monthly pageviews and 71k visitors. (!!!!)
New vs. Returning Visitors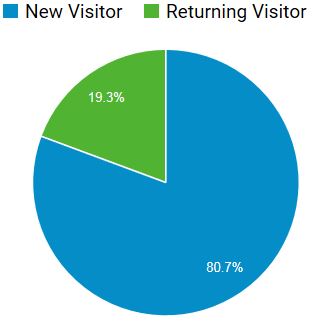 Nothing much to report here. The percentage of returning visitors is almost exactly the same which I'm cool with for now :)
Top Ten Traffic Sources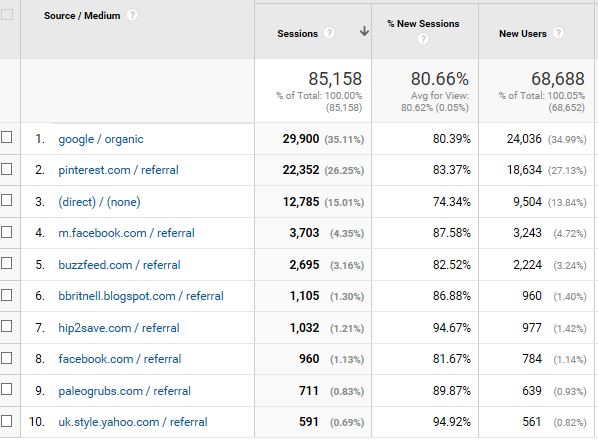 Once again, my top three traffic sources have stayed the same which is EXACTLY what I want to see! As I mention pretty much every single month, I've worked really hard on improving my SEO over the past year and it's nice to see that paying off. Not only did organic google traffic stay my number one traffic source for this month, it also rose from 30% to 35% of my monthly traffic. Yay! It's SO nice when hard work and consistency pay off.
The Income*
Some of the links below are affiliate links. All of the products and services listed are ones that I use on a regular basis and highly recommend. If you have any questions about any of these, shoot me an email.
*I'm not including any of the money that I make via my food photography and videography business.
Total: $1334.58
Expenses
WP Engine Hosting: $122.34
Food: $200- this is an estimate again this month. I've been doing loads of client videos and I'm having a difficult time sorting out which expenses are for clients and which are for my blog since I pay for all of them with my business account. I'll get this sorted soon I promise!
Props: $0
Adobe Lightroom/ Photoshop + Premiere: $10.91 + $19.99
Mailchimp Premium: $20
The Blog Village: $25
Total: $398.24
What I Focused on in September: a super side hustle
I haven't mentioned this on my blog much up until today but something I've been focusing much of my energy on over the past few months is client recipe videos. In August, I emailed a blogger who is someone I greatly look up to AND who recently hired a small team to produce all of the recipe videos for her blog. What I wanted to know was if she thought other bloggers would be interested in also out sourcing their recipe videos.
I had a few thoughts: 1) I love love love creating recipe videos. It just doesn't feel like work because I enjoy it so much. 2) I think I have a somewhat natural eye for it and have gotten pretty good at them (if I do say so myself). 3) Recipe videos can be extremely daunting, especially if you've never done one before 4) Video is rapidly taking over the digital food media space and become something that is almost a necessity for growth 5) I would need to charge a decent chunk of money to make it worth my time to create these videos for other people meaning that I would need to target already established bloggers who are already making enough $$ from their blogs to afford paying someone for video.
With those thoughts in mind, I emailed the above mentioned blogger for advice. I honestly didn't expect much to come from that email but as it turned out, she seemingly agreed with many of my assessments and within about 4 days, I had received several referrals for video. !!!! As of today, I'm regularly working with about 5 bloggers to create recipe videos for them and have another few bloggers that are interested.
What does all of this mean? Am I quitting my blog to produce recipe videos? Answer= absolutely not! I see the recipe videos as a very fun and enjoyable SIDE HUSTLE. This extra income source has allowed me to buy a fancy new lighting setup for my videos. I also plan on buying a couple new lenses in the near future (looking at a 28mm and a 100mm macro) as well as an HD monitor to help make videos a bit easier.
If making your blog your FULL TIME hustle is your ultimate goal, don't discredit side hustles that can help you get there. I recently listened to THIS PODCAST from the Food Blogger Pro team about how to make money from your side hustle. I highly recommend it!
ps- if you're interested in working with me to create Tasty style recipe videos for your blog or brand, please let me know!!! :D
Thanks to YOU
Thanks to you for visiting my blog, I have been able to sponsor a young girl in Haiti again this month. My plan is to continue donating 10% of everything that I make from my blog. I'm grateful for this opportunity to give back, even if just a little for now.
This post may contain affiliate links. Please read my disclosure policy.