Traffic & Income Report: October 2016
This post may contain affiliate links. Please read my disclosure policy.
I can't believe that it's time for another income report ALREADY!! I've been posting these for almost an entire year which completely blows my mind. As I mentioned in a post recently, I kind of failed at holiday recipe creation this year. I had lots of vague ideas but just didn't get the chance to properly test and photograph them. Oh well, I'll put those in my back pocket for 2017 :)
I am, however, completely in holiday mode! Our Christmas tree is up (although yet to be decorated), I've pulled my Santa Claus hot chocolate mug out of the attic (and used it several times already), and I'm ready for all things gingerbread and peppermint. I've also been working on some really great ideas for holiday recipes that I can't wait to make a reality on the blog this year. Hint: loads of cookies :D
Lots of exciting things have happened for me this month and I'm excited to share them with you soon. For now though, I'll be keeping this report extra brief due to the influx of video client work that I have received (yay!). I'm currently working 7 days a week including evenings to get everything done BUT I'm LOVING the work and enjoying every minute of it (ultimately what I consider to be important).
Alright- on to the actual report!
The Traffic
Overview
Although I didn't see much of a growth since last month, I'm still very happy to see my pageviews hovering above the 100k mark. I heard a lot of bloggers complain that October was a very slow month for them and I'm thankful that I didn't experience too much of a dip in traffic.
Top Ten Traffic Sources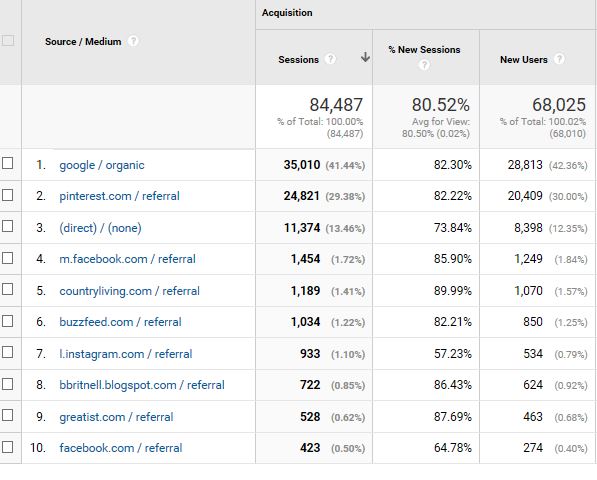 The Income*
Some of the links below are affiliate links. All of the products and services listed are ones that I use on a regular basis and highly recommend. If you have any questions about any of these, shoot me an email.
*I'm not including any of the money that I make via my food photography and videography business.
Total: $1694-81
Expenses
WP Engine Hosting: $141.22
Food: $200- this is an estimate again this month. I've been doing loads of client videos and I'm having a difficult time sorting out which expenses are for clients and which are for my blog since I pay for all of them with my business account. I'll get this sorted in the new year!
Props: $0
Adobe Lightroom/ Photoshop + Premiere: $10.91 + $19.99
Mailchimp Premium: $20
The Blog Village: $25
Total: $417.12
Side Hustle Income
I want to talk a bit about my income this month. At this point in my blogging journey, this income report is a bit deceptive as to how much I'm really making as a result of my blog and I want to explain that. As you probably know, I started creating recipe videos for my blog about 8 months ago. You can read more about my video side hustle in last months report.
A large part of why I've decided not to include freelance photography and videography work is because my guess is that the average person looking to create an income from their blog is not planning to do lots of side freelance work to the extent that they're working 7 days a week including early mornings and late nights. My current work load and schedule are absolutely not sustainable for too long and I am fully aware of that. It also helps that I have no kids, a husband who also works a lot, no more roller derby, and quite honestly, not much of a life outside of food media. Again, it's not sustainable for the long haul but for now, I'm enjoying the hell out of it and I have a game plan for the future (don't worry!).
And while you might not get into freelance videography, there may be something else that you LOVE doing and could make into a very serious side hustle. Or, maybe you don't know what that thing is yet but have faith that you'll find it. 8 months ago, the thought of creating a recipe video scared the CRAP out of me. Like, I got serious anxiety about it. But, I had this burning feeling in my gut that it was a good move for me and for my blog, so I dove in. I blocked off an ENTIRE day to focus on shooting just one video (this video). It was stressful and at the time, I didn't really love the final product. BUT, I went for it. I started. I learned. And, I kept learning.
Now I'm creating videos not only for my blog but for several other blogs and brands who I immensely look up to and admire. I plan to share more details on this in early 2017 so stay tuned. I also plan to give more insight into what my income looks like between the blog and the freelance photo + video work. Coming in 2017!
What I Focused on in October: reaching out to brands
After attending the Natural Food Expo in Baltimore a few months ago (you can see my vlogs from the expo HERE!), I've finally started reaching out to many of the brands that I was able to connect with while there. I came home with about 75 business cards ALL from companies that I would LOVE to work with AND who would be a great fit for my blog and for my audience. Last month, I built a fancy new media kit (thanks to the help of the super awesome Blog Village!), and started emailing all of those brands.
I mostly heard lots and lots of crickets. A few brands emailed me back asking for specifics on pricing. A few said they could send me free product but couldn't do much more than that for now. Many of them said they would be working on their budgets for 2017 soon and that they'd keep me in mind. I went into this with the mindset that what I am really doing right now is making connections and building relationships. I don't expect that from just one simple email all of these brands are going to throw money my way. They need to get a feel for who I am, who my blog is, and who my readers are just as much as I need to know who they are.
But of the 75(ish) brands that I emailed, a few of them jumped on board (yay!). They all paid what I was asking for a sponsored post and most even jumped on board with paying for a post + a video. In fact, I think one or two of them were drawn in by my videos (I think) which makes me all the more happy that I have gotten into video. So because of these upcoming sponsored posts, December is shaping up to be my best month for the blog income wise by a long shot (YAY!).
Let me know if you would be interested in hearing about my method for making contact and starting conversations with brands. I'm NO expert but I've definitely learned a thing or two (mostly about what NOT to do :D).
---
That's all for this month, friends! I hope you have a very lovely December and are diving head first into the holidays! :)
This post may contain affiliate links. Please read my disclosure policy.