Traffic & Income Report: August 2016
This post may contain affiliate links. Please read my disclosure policy.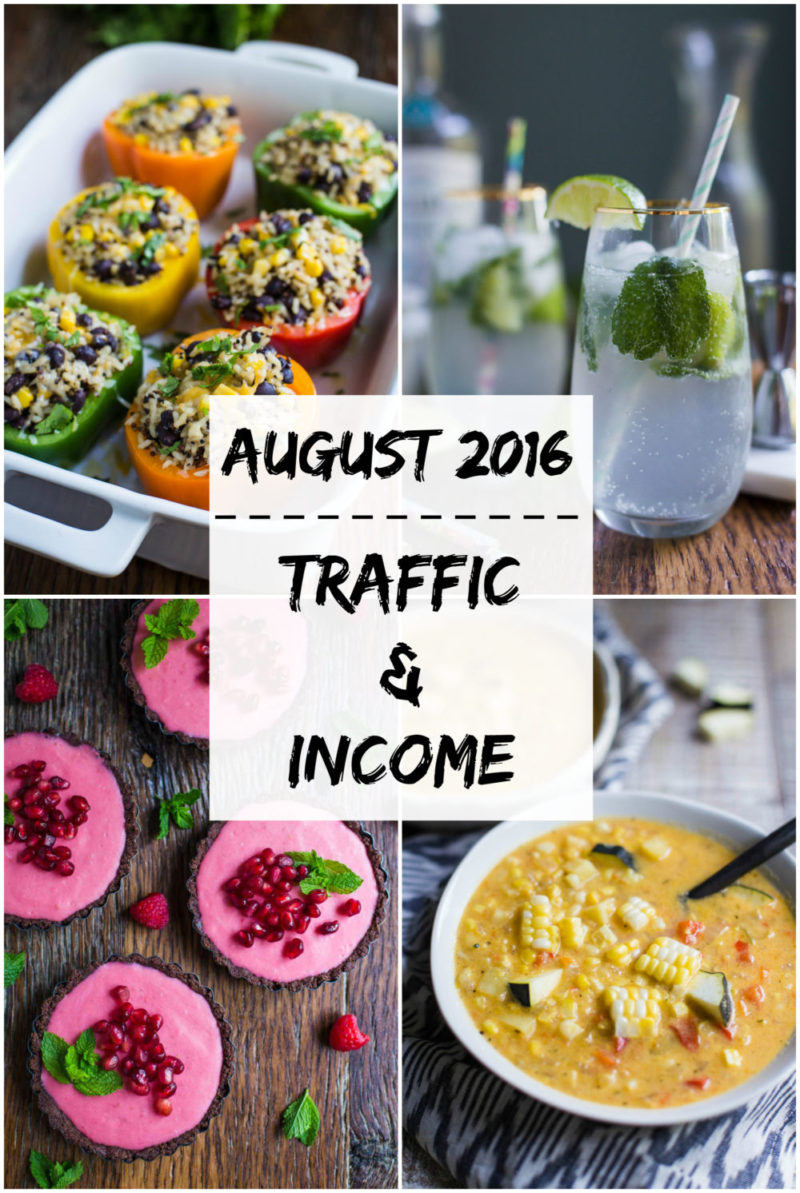 I'm writing this report from a coffee shop in Georgetown after having attended a Natural Products Expo in Baltimore over the weekend. It was such a great experience for many reasons and if you want to see more of my trip, I've been vlogging EVERY DAY :) Check out the vlogs HERE.
While there, I was able to connect with a lot of truly amazing brands (many of which I hope to work with as sponsors of my blog) AND got the chance to connect with 2 truly amazing fellow food bloggers: Sara from Cake Over Steak and Renee from Will Frolic for Food. The information that I collected in my brain while talking to other bloggers is BY FAR the most valuable thing that I walked away with this weekend. I'm always so grateful for the opportunity to connect with bloggers in real life.
Doing these income reports has opened the door for many wonderful conversations that I have had with other bloggers regarding the whole business side of things. I'm grateful to those that actually read these and email me with advice, questions, just to say hi, etc. Thank you!! I say this every month but I'm so glad that I started writing these reports and I hope to continue posting them monthly for a long time to come.
I'm super pumped about the future of my blog and where it will lead me :)
Alright, enough rambling- on to the actual report!
The Traffic
Overview

If you've been reading my reports this year then you'll know that I set a goal for myself to reach 100k monthly pageviews by September 1. Well, I didn't quite reach that goal BUT I consider being 1,782 pageviews away a BIG success. EVEN MORE, I'm currently having an amazing September. But, this is an August report and not a September report so I'll save that for next time.
The most exciting thing to me about my rise in traffic is not simply that it rose BUT that it's been a VERY steady rise. Usually when I have big traffic months, its due to a few big spikes during the month. However, that is not the case for me now, I'm consistently getting higher traffic on a daily basis. I absolutely love that because I know that those numbers are more likely to stick than when I just have rather larger peaks and valleys.
Yay for reaching goals (even if just kind of!).
New vs. Returning Visitors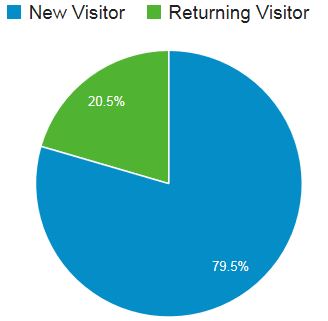 Nothing much to report here. The percentage of returning visitors is almost exactly the same which I'm cool with for now :)
Top Ten Traffic Sources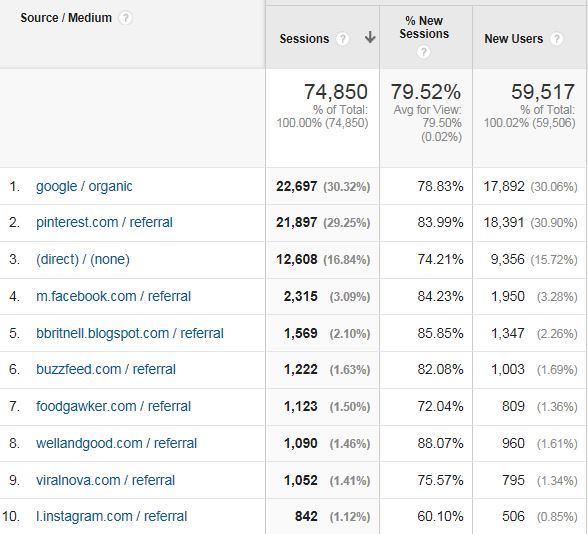 Last month I wrote about how happy I was to see my top 3 (top 4 really) traffic sources holding steady and August is no different.
Now that I've been blogging for 3 years (this month actually!) and have hundreds of recipes under my belt, I'm in a good place where I'm bringing in seasonal traffic. By this I mean that for each season, I have a good handful of recipes already posted and archived in Google so that when people search something like "butternut squash recipe" in the fall, I have quite a few recipes for them. Ditto for summer, winter, and spring recipes. Blog aside, I LOVE to cook seasonally, so I'm glad that it naturally carries over into my blog. What this means for my traffic, I believe, is that I'm starting to see big spikes at the beginning of seasons when, for example, people are ALL about the pumpkin spice recipes.
The other nice thing is that those seasonal recipes have had a year (or in some cases 2-3 years) to get circulating on Pinterest. Many people have pinned those seasonal recipes and now that Fall is starting, they're ready to more seriously consider making them (ie, click over to my site for the recipe). I really feel as if the large growth I've seen over the past few months is due to the fact that I finally have a lot of recipes out in the world and circulating.
On this note, I'm also working to increase my success on Google organic search by adding videos to my most popularly searched recipes. For example, just last week I posted a video for THIS Butternut Squash Pasta recipe. That post is from 2 years ago and what's worth noting about it is that when I first posted it, I got little to no traffic on it. It wasn't until a SOLID year later that it started getting traction and now, 2 years later, it's my absolute most popular post bringing in a whopping 11% of my TOTAL monthly traffic. 11% from one post out of hundreds is pretty substantial!
All of that to say I'm working on making my popular posts even more popular by adding video to them to increase their stickiness (we talked about this last month as well) and hopefully raise their rank in google as high as possible. The higher your rank, the more likely someone is to click on your particular recipe.
The Income*
Some of the links below are affiliate links. All of the products and services listed are ones that I use on a regular basis and highly recommend. If you have any questions about any of these, shoot me an email.
*I'm not including any of the money that I make via my food photography and videography business.
Total: $1019.75
Expenses
WP Engine Hosting: $0- I got a credit on my hosting plan for upgrading and got the month for free. Yay!
Food: $200- this is an estimate this month because I haven't had time to enter my receipts proerly but I don't wnat to put the report off any longer :)
I currently only expense food that I actually photograph for the blog and not food that's just part of recipe testing.
Props: $0
Adobe Lightroom/ Photoshop + Premiere: $10.91 + $19.99
Mailchimp Premium: $20
The Blog Village: $25
Total: $245- Honestly- I think these numbers are fairly off this month. I'll get it sorted and fixed for next month, promise :D
What I Focused on in August: continuity
I've had a slew of life things going on this summer, so for August, I focused hard on simply maintaining my blog. Posting at least twice per week, getting at least one video out per week, posting regularly on social media, etc.
Last month I said that I was going to be writing a FULL report of how I shoot my videos, the equipment that I use, and some special tips and tricks that I have learned over the past few months to make your videos successful. I haven't been able to get to that yet but seeing as I continue to get tons of questions regarding video, I'm going to try and start working on it this week. Let me know if you have any special questions regarding video that I can answer!
Focus for the next 30 days
I have a few things that I really want to turn my attention to over the next 30 days.
Name Change! SCARY scary scary! I know! But, I've wanted to change the name of my blog since the day I started it. B Britnell was always just a place holder and I hate that I've waited this long to make the plunge. Being at the expo is what really reminded me that I wanted to change the name. I hated that people had no idea what I was when the other bloggers I was there with had obvious blog- blog names that are fun and a conversational starter.
All of that being said, I have NO vague idea what I am changing the name to….only that I'm doing it. Suggestions are greatly welcomed!
Sponsorships: it's that time of year that brands are looking at their budgets for 2017 and I want to be in them! And, after attending the Natural Products Expo, I have a huge handful of business cards from companies that I would LOVE love love to work with.
My sincerest hope is to find a handful of brands (maybe 8 max) that I work with for the long term as opposed to lots of companies that I only work with once. I want these to be brands that I LOVE and preferably ones that I already use on a regular basis.
Fingers crossed that it works out. No worries, I will keep you updated.
Media Kit: this goes along with the last one. I have a media kit that has been 75% completed for the past few months. I'm going to get this finished so that I have it to send out to brands.
Thanks to YOU
Thanks to you for visiting my blog, I have been able to sponsor a young girl in Haiti again this month. My plan is to continue donating 10% of everything that I make from my blog. I'm grateful for this opportunity to give back, even if just a little for now.
This post may contain affiliate links. Please read my disclosure policy.