Vegan Cinnamon Rolls
This post may contain affiliate links. Please read my disclosure policy.
SUPER excited to be sharing these soft and simple Vegan Cinnamon Rolls. They're just like the classic recipe you grew up eating but with no dairy and no eggs! This is easily one of my favorite vegan breakfast recipes on the blog and I'm excited for you to try it out!
I'm partnering up today with Taylor USA who makes my favorite kitchen thermometer AND kitchen scale, both of which I use to make these cinnamon rolls simple and delicious! You can check out the full video at the bottom of the post to see how I use them AND you can check out their products HERE.
Do you weigh your flour before starting to bake? It's not something that I used to do but have found that it results in much more accurate results when baking and if the recipes offers those measurements, I always prefer it! I'm trying to update many of my old baking recipes to include that option so be on the lookout for that!
THIS is the Taylor kitchen scale that I use. It's super simple to operate, inexpensive, and an overall great kitchen gadget to have on hand!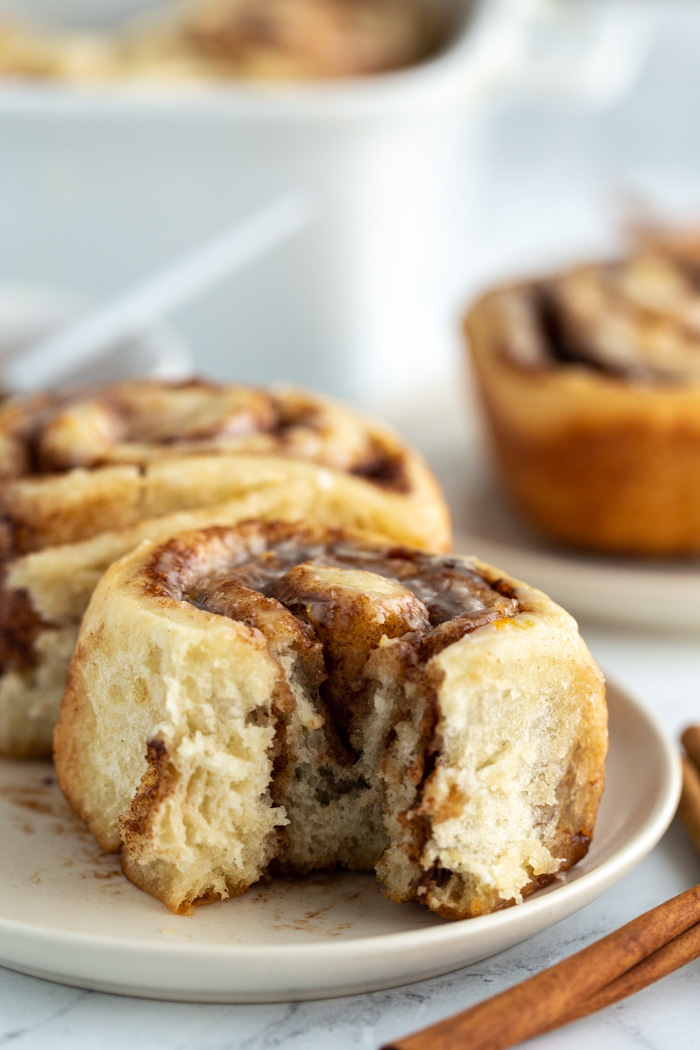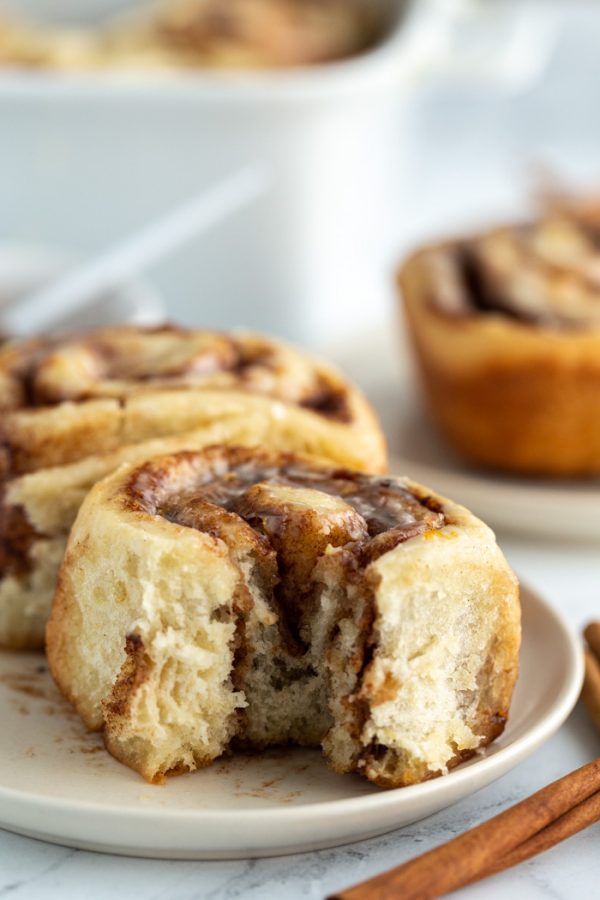 OKAY onto the cinnamon rolls. I kept these simple and as close to the classic as possible which is always how I prefer my vegan recipes to be. I used almond milk in place of dairy milk (although I think that light coconut milk or oat milk would also work well!), vegan butter in place of regular (see my note below about preferred brands), and left the egg out completely.
All of the other ingredients are simple and traditional to regular cinnamon rolls!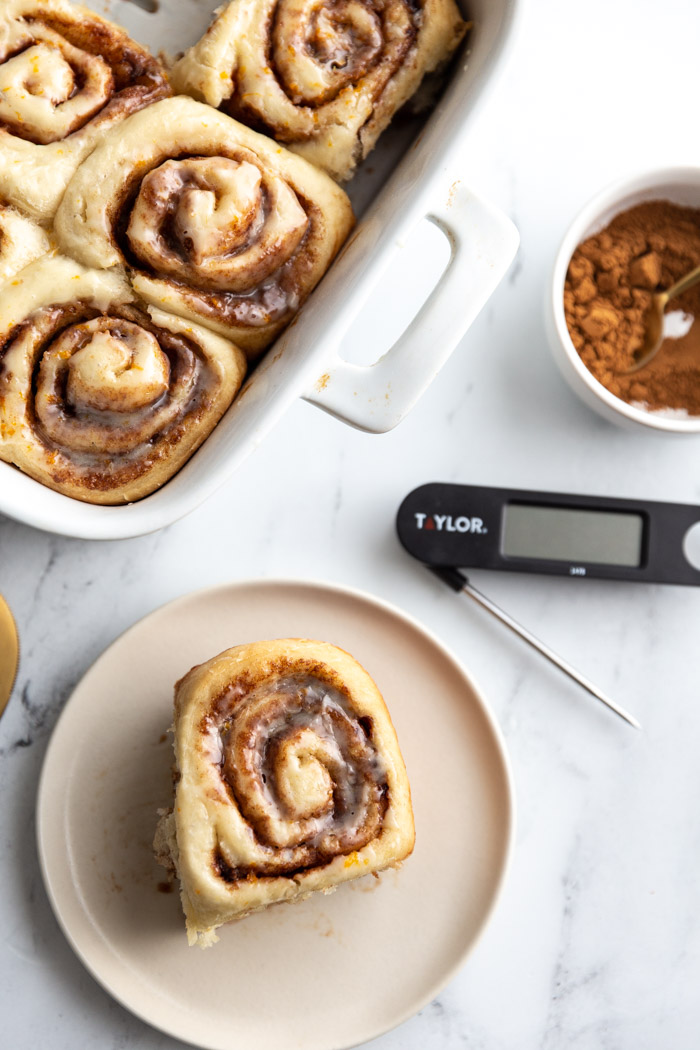 One of the key elements to making this recipe turn out perfect is getting the milk warmed up, not too hot but not too cold. It's an art and I HIGHLY suggest using a kitchen thermometer to get the milk around 110 degrees F. THIS is the one that I have.
Here are the simple ingredients that we're working with:
organic cane sugar: plain white sugar works as well but I've been really liking cane sugar in my baked goods lately.
all purpose flour: I suggest getting a higher quality flour for this recipe
almond milk: as mentioned above, I think that any kind of plant based milk would work well in this recipe including coconut milk or oatmilk
vegan butter: I've been really liking the Country Crock plant butter lately!
active dry yeast and salt
brown sugar and vegan butter for the filling
How to make Vegan Cinnamon Rolls:
I'm not going to lie to you and tell you that you can whip these cinnamon rolls together in a jiffy. They take a little but of time but overall are very easy to make!
You'll first to warm the milk. Having the milk at a temperature around 110 degrees F helps to activate the yeast. Once warm, stir in the yeast and sugar and let sit for a few minutes. It should puff up a decent bit. If the yeast still looks exactly the same after about 5 minutes then it might be bad (and your dough won't rise properly).
The remaining dough ingredients are mixed together and then everything gets left to rise for about an hour. No kneading or anything required….just a nice long rest :)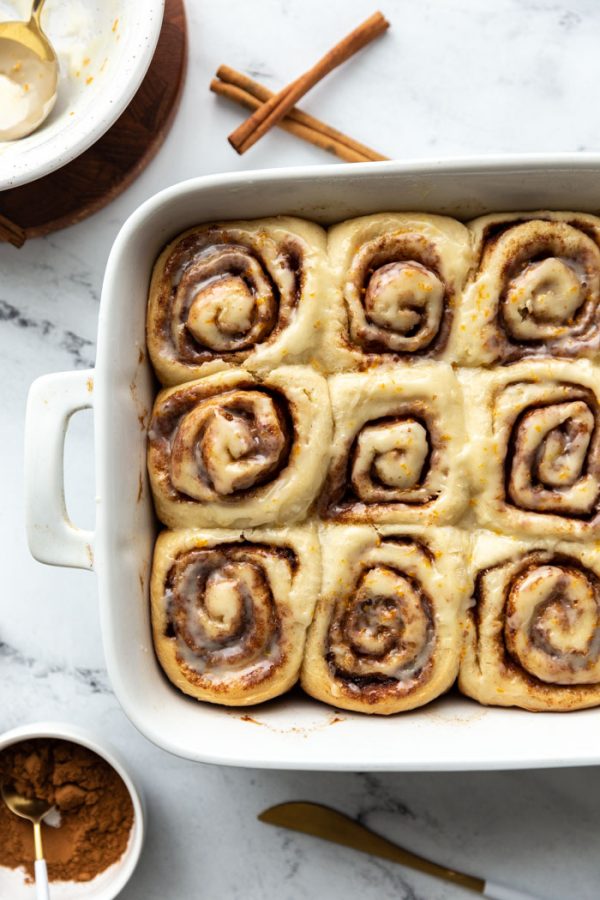 After the initial rise, we'll add a bit more flour before rolling the dough out into a rectangle and covering it in butter and cinnamon sugar! Then it's left to rise ONE more time (just 30 minute this time!) before being baked.
AND that's it!
I like a classic cinnamon roll frosting of powdered sugar and a splash of almond milk. I also LOVE my frosting with orange juice and orange zest in there for added flavor! Alternatively, you could make a cream cheese frosting using a dairy free cream cheese. Everyone in my family prefers the cream cheese frosting…every one except me that is :D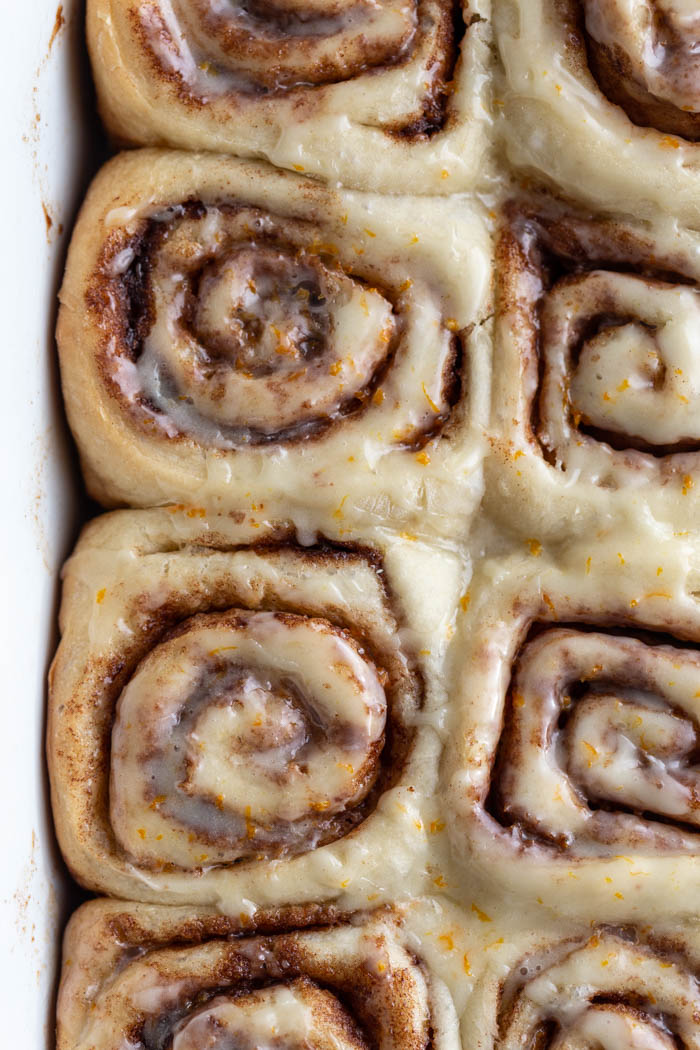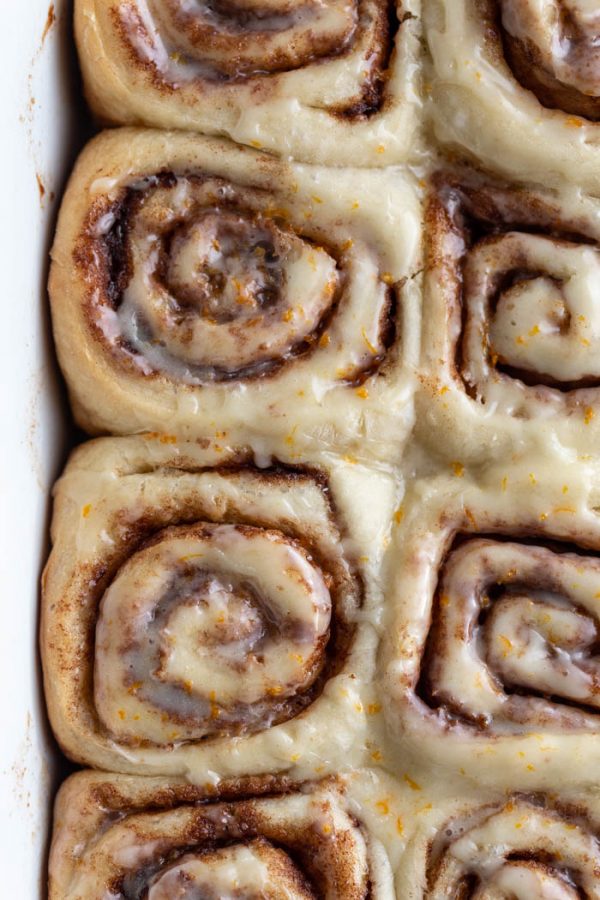 AND that's it for these cinnamon rolls! If you want to see me making them, check out my video here:
This post has been sponsored by Taylor USA. All thoughts and opinions are my own. THANK YOU for supporting the brands that make Food with Feeling possible!
Print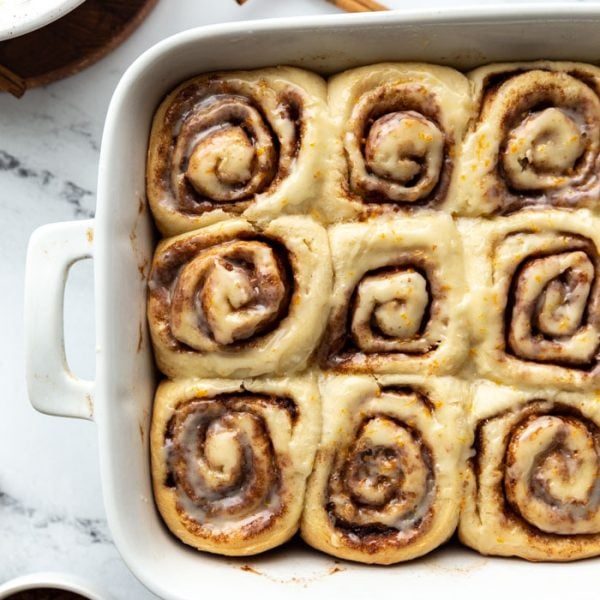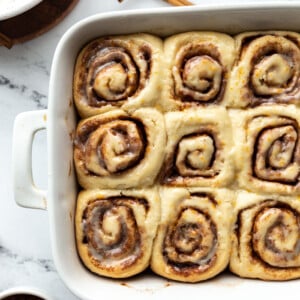 Vegan Cinnamon Rolls
---
Author:

Prep Time:

2 hours

Cook Time:

30 minutes

Total Time:

2 hours 30 minutes

Yield:

12

cinnamon rolls

1

x
Description
These Vegan Cinnamon Rolls are simple to make and SO so good! No one will ever even know that they are vegan :D
---
Scale
Ingredients
For the dough:
1 ½ cups

of almond milk, at room temperature*

⅓

cup vegan butter, melted

¼ cup

organic sugar

1

packet active dry yeast (2 1/4 teaspoon of yeast)

4

cups flour, divided

¾ teaspoon

salt
For the filling:
1/2 cup

of vegan butter at room temperature (you want it to be soft enough to spread along the dough)

3/4 cup

of brown sugar

1 1/2 tablespoons

of cinnamon
For the frosting:
1 cup

of powdered sugar

1 tablespoon

of orange juice**

1/2 teaspoon

of orange zest
---
Instructions
In a small saucepan, mix together the milk, butter, and sugar. Cook over low-medium heat, stirring frequently, until the sugar is dissolved and the liquid reaches 110 degrees F. It should feel like a nice hot bath but should NOT be too hot to touch. If your liquid gets too hot, you need to let it cool down (roughly to 110 degrees) before proceeding or else you will ruin the yeast. Remove from the heat.
Sprinkle the packet of yeast over top of the almond milk mixture and let sit for 2 minutes so the yeast can activate. Pour the mixture into a large bowl.
Add in 3 1/2 cups of flour and the salt. Mix with a wooden spoon until just combined. Cover the bowl and let the dough rise for 1 hour. It should rise to nearly double.
Pre-heat the oven to 350 degrees F and grease a roughly 9×13 inch casserole dish and set aside.
In a small bowl, mix together the brown sugar and cinnamon for the filling. Set aside.
Add an additional 1/2 cup of flour to the dough and mix with your hands until combined. It will be a little shaggy at this point. Turn out onto a well floured surface and knead for about 3 minutes. If the dough is sticky at all, add more flour, 1 tablespoon at a time.
On a floured surface, roll the dough out into a rectangle that's roughly 15 x 9 inches. Stretch the corners just a bit to make sure that everything is even.
Spread the softened butter on the dough leaving about a 1/4 inch margin around the edges. Evenly sprinkle on the brown sugar and cinnamon mixture.
Starting at one of the longer edges, tightly roll up the dough and place the log seam side down. Cut the dough into 12 even pieces and then place them into the prepared baking dish. Cover the dish and let rise again for 30 minutes. If desired, you can cover the dish and place it into the fridge overnight so they're ready to bake in the morning.***
Bake for 30 minutes.
Prepare the frosting by whisking together the frosting ingredients.
Once out of the oven, frost immediately and ENJOY!
Notes
*you can use any plant based milk that you want here
**if you don't want the orange flavored syrup, you can leave out the orange zest and swap the juice for almond milk
***to bake the cinnamon rolls in the morning, prepare them the night before and put them in the fridge BEFORE the second rise. Take them out of the fridge 1 hour before you desire to bake them so that they can rise for a second time (they should puff up a decent bit). To lightly speed up the 2nd rise, you can put them in the oven for 30 minutes at 100 degrees F BEFORE starting to pre-heat the oven. Proceed with the recipe as usual.
Category:

Breakfast

Method:

Baking

Cuisine:

american
Keywords: vegan cinnamon rolls, cinnamon rolls, vegan breakfast
This post may contain affiliate links. Please read my disclosure policy.