Traffic & Income Report: February 2016
This post may contain affiliate links. Please read my disclosure policy.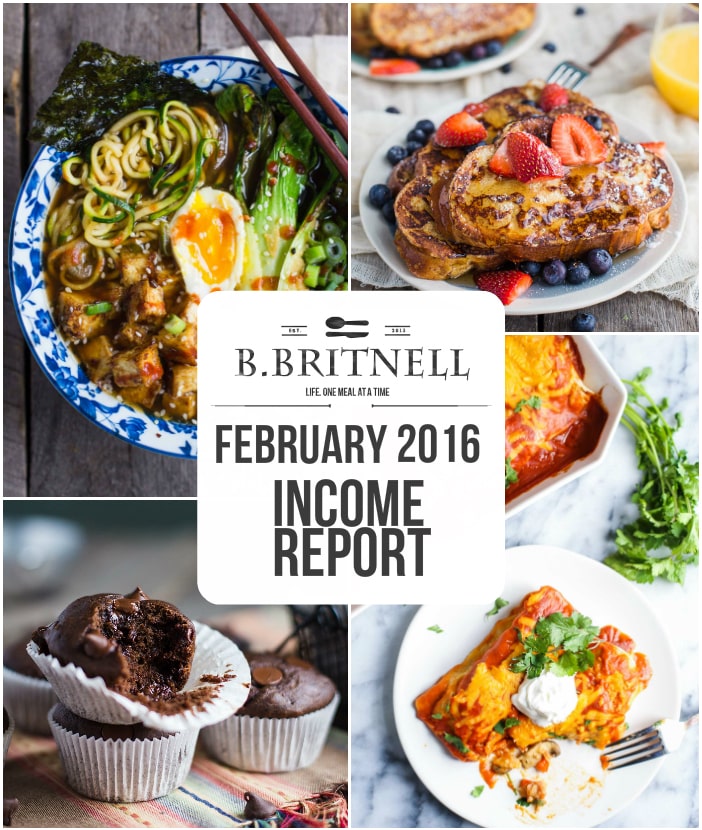 Hello! I'm back for the second installment of my monthly income reports. After just one month of doing these reports, I'm already SO glad that I decided to start publishing my traffic and income to the public. I have connecting with so many people (new and old friends) over my one published income report and I am very grateful for that. I got lots of questions and comments and I'm really glad that I was able to offer insight to so many of you. With that said, please don't hesitate to ever contact me if you have any questions about blogging or photography.
Let's jump right into this…
The Traffic
Overview


February was my highest traffic month thus far which was very exciting!! If you remember from last month, my goal is to reach 100k pageviews/ month by mid 2016. I hustled hard in February by constantly submitting to food submission sites, being active on Pinterest and Yummly, as well as just generally sticking to my posting schedule of 3 post per week.
I wasn't originally going to include the top graph but I think it's very insightful to see. A large portion of my traffic from February is due to a few huge spikes that I had throughout the month. Without those, my traffic numbers would be a different story. One of the spikes is from a Buzzfeed roundup that I was included in and another is from Finding Vegan publishing TWO of my posts in the same week on their facebook page. The middle spike is from Yummly. I'm still unsure why I had such a huge spike in traffic from Yummly last month but I'll take it!
I want to touch briefly on submission sites such as Foodgawker, Tastespotting, and Finding Vegan. A lot of people have given up on these sites as a way to drive traffic. The truth is, they really don't immediately drive a lot of traffic. Last month, the majority of my recipes submitted to Foodgawker where on the first page and two of them even made it into the first row. HOWEVER, even the posts on the top row only brought me around 300-500 extra page views (and that might be generous).
What is VERY IMPORTANT to see though is that it's not necessarily about the direct traffic that those sites bring. It's about what happens to your recipe afterwards. Example #1: see the previous paragraph where Finding Vegan featured TWO of my recipes on their facebook page with 800k+ followers. Example #2: In the last month, I got several emails from blogs/ online publishers that I love, including Refinery 29, about featuring several of my recipes. This happens often and I typically ask how they came across my recipes. A lot of the time the answer is simply that they saw it while scrolling through recipe submission sites. Example #3: Social shares. I think what happens often with these submission sites is that people see a recipe that looks interesting and then they simply share it for later without actually checking it out yet. If I can get people sharing my recipe, I'm happy. You never know when one of those shares will lead to the recipe suddenly taking off. It's always funny to see a recipe that you posted a year ago FINALLY getting some traction after hearing crickets for so long (this is exactly what happened with THIS post).
New vs Returning Visitors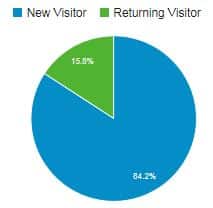 I mentioned last month that I wanted to work on increasing my number of returning visitors. Unfortunately this number actually went down a tad bit but I think that's largely in part to the 12k more pageviews that I had in February compared to January.
I'm working on an ebook to offer readers as an incentive for signing up for my newsletter. I'm really hoping that this will increase my number of returning visitors and bring more engaged and active readers to the blog.
Top Ten Traffic Sources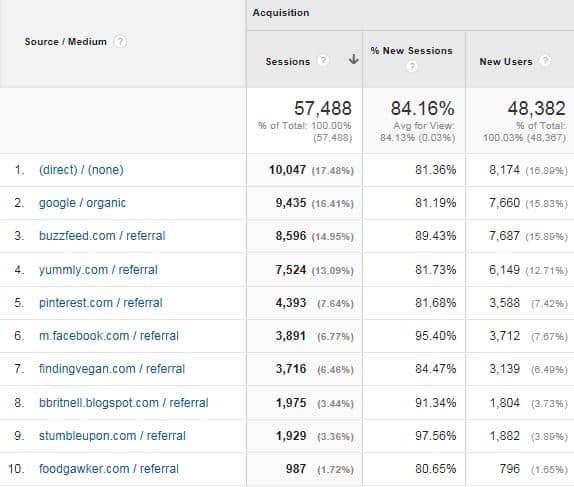 In February, direct traffic was my #1 source which is still a bit confusing to me. THIS article helped me understand it a bit better.
I'm happy to still see organic search as a top referrer for me. I've been working really hard on my SEO and it's nice to see it paying off.
The Income*
Some of the links below are affiliate links. All of the products and services listed are ones that I use on a regular basis and highly recommend. If you have any questions about any of these, shoot me an email.
TOTAL: $598.50
*I'm not including any of the money that I make via my food photography business since that's a separate business from my blog.
Expenses
TOTAL: $234.31
So as you'll see, my traffic in February was higher than January by ~12k BUT I ended up making quite a bit less money. On the flip side, my traffic in March is off to a rather slow start BUT I'm projected to make about triple the amount as February. While large pageviews are nice (and something that all food bloggers strive for) it doesn't necessarily mean large income. And, vice versa.
What I focused on in February
My goal for February was to get a few more leads on sponsored posts. I'm happy to report that I found a few great campaigns to participate in for March.
I also worked really hard on sharing my content a lot more. I've often heard that 20% of your time should be in creating the content and 80% of your time should be focused on promoting it. I'm REALLY bad about that and often reverse those numbers. I did a lot more promoting in February and it really paid off. HOWEVER, it's VERY difficult to keep all of the promoting up. It gets exhausting. It's time sensitive. And sometimes I just find it very difficult to do. When I'm at the point that I can start outsourcing some of the work for my blog, social media management will DEFINITELY be the first thing that I hire someone to do.
Focus for the Next 30 Days
3 things:
My FREE Smoothies Ebook: I'm REALLY hoping to get this ebook out by the end of March. So far my traffic in March is not looking so great and I think that has a lot to do with the fact that I've been focusing so much of my energy on the ebook. I know that it will pay off in the end so I've been doing my best to make it as great as possible. Ps- if you want to receive the ebook as soon as it comes out, make sure to be signed up for my email newsletter!
Amazon Affiliate Links: I've been a lot more intentional about inserting Amazon affiliate links throughout my posts. I'm hoping that in the long run, that will really pay off.
Tracking time spent on my blog: I've been trying to track ALL of the time that I spend working on my blog from grocery shopping to cooking and photographing all the way to publishing and promoting the post. Hopefully I'll have more on that to report in March!
Thanks to you!
Thanks to you for visiting my blog, I have been able to sponsor a young girl in Haiti again this month (and plan to do so for quite a few months to come). My plan is to continue donating 10% of everything that I make from my blog. I'm grateful for this opportunity to give back, even if just a little for now.
This post may contain affiliate links. Please read my disclosure policy.