Vegan Air Fryer Recipes
This post may contain affiliate links. Please read my disclosure policy.
Whether you're new to air frying or just looking for some delicious Vegan Air Fryer Recipes, you're in the right place! Air frying is such a quick and effortless way to get dinner on the table, not to mention it's a healthier option too.
I shied away from the air fryer for the first year of its popularity, because I generally loathe to add appliances we don't need, and I wasn't convinced I "needed" an air fryer.
Had someone fed me air fryer tofu, I would have jumped on the bandwagon ASAP!
(This is the air fryer we ultimately ended up buying and have been pleased with so far.)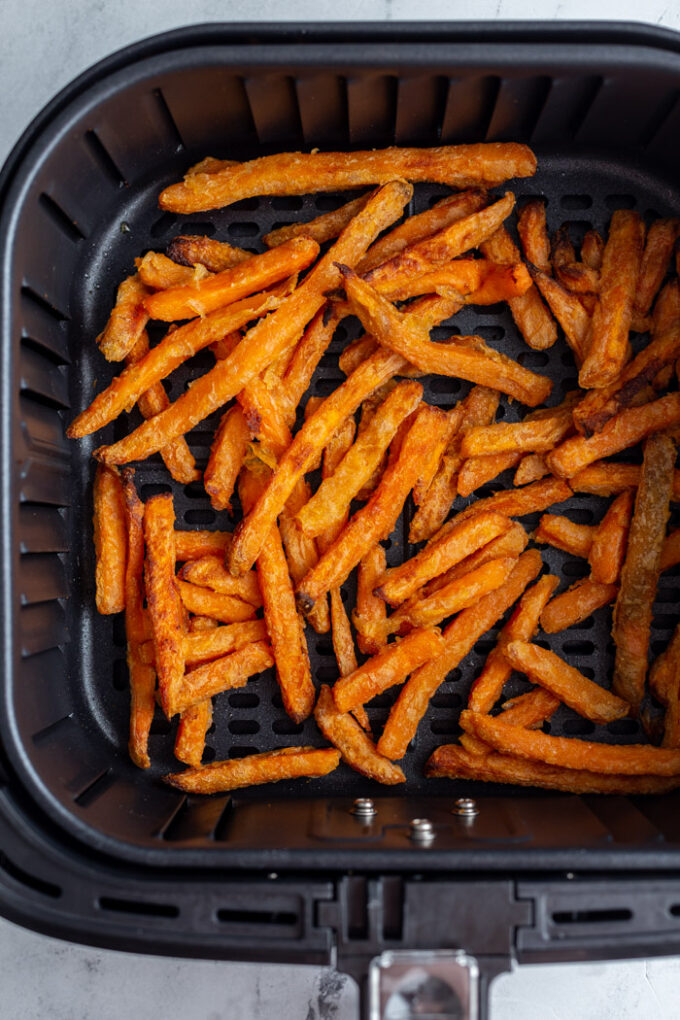 What is an air fryer?
For those who are new to the appliance, an air fryer is essentially a super-powered countertop convection oven.
The top contains a heating element and fan, which blows hot air down and around the food on a rack below, cooking it quickly and making it crispy (it even makes scrumptious Air Fryer Asparagus).
Unlike a standard oven, air fryers can preheat in minutes and their compact size means the food is ready faster (hello, Air Fryer French Fries on demand).
How to Cook in an Air Fryer
Cooking your favorite foods in an air fryer is so easy! There's no fuss and it cooks fast!
Prepare the food with seasoning and a touch of oil if needed per the recipe.
Place the food in the air fryer basket ensuring there is space for air to circulate around each piece.
Set the time and temperature on the air fryer and let it work its magic!
Now, let's get to some amazing Vegan Air Fryer Recipes that you're sure to love! Enjoy!
Tofu Recipes
Air Fryer Spicy Tofu. Cubes of crispy tofu coated in a tasty sweet chili sauce. Serve over rice for the perfect meatless main course that's packed with flavor, protein and nutrients! Best of all? This recipe is ready in just 25 minutes!
Air Fryer Tofu. A simple method for making tofu that includes lots of delicious marinade options. Definitely my new go-to way of cooking my tofu!
Chips
Air Fryer Kale Chips. Thin, crispy, and addicting, these are SO good! This recipe makes the perfect healthy snack, appetizer or side dish. Kale chips are very low in calories and high in nutrients, making them a great replacement for chips or crackers.
Pasta Chips. You may have seen these on social media lately. Learn how to make this simple and surprisingly delicious snack. Make these vegan by using a vegan cheese or simply omit the cheese.
Cauliflower Air Fryer Recipes
Air Fryer Sesame Cauliflower. This recipe comes together quickly and is so ridiculously delicious! There's also an oven option if you'd prefer but either way you cook it, I know you're going to love it.
Air Fryer Buffalo Cauliflower. Crispy on the outside, soft on the inside! This recipe is cauliflower florets coated in a seasoned batter, cooked in the air fryer and then tossed in an easy, homemade buffalo sauce. Serve with your favorite dip for the perfect appetizer or main meal!
Fries
Air Fryer French Fries. Learn how to make 5 different kinds of air fryer french fries: Curly, Waffle, Sweet Potato, Regular, and Steak fries. ALL delicious! They turn out crispy and delicious every single time without ever having to turn on your oven!
Carrot Fries. Simple to make and so ridiculously delicious! A great side dish that everyone will love!
Other vegetables
Air Fryer Asparagus. Easy to make with just a few ingredients and results in a flavorful side dish that pairs wonderfully with a variety of entrees. You just can't go wrong with this one!
Air Fryer Artichokes. The EASIEST way to cook artichokes at home! I'm going to walk you through how to make these and share my favorite artichoke dipping sauce with you!
Air Fryer Potatoes
Air Fryer Potato Wedges. You're going to LOVE how simple and CRISPY these fry up! They come together quickly are just the perfect side dish to any meal.
Air Fryer Tater Tots. You'll LOVE how crispy your frozen Tater Tots turn out after cooking them in the air fryer! It's such an easy way to make them and I love not having to fire up my oven.
Other Vegan Air Fryer Recipes
Air Fryer Onion Rings. Perfectly crispy on the outside, tender on the inside, and absolutely irresistible. They are just as delicious as any restaurant version, healthier and surprisingly easy to make at home! Skip the takeout and give these homemade onion rings a try! You can make these vegan by swapping out the eggs for flax eggs.
Crispy Air Fryer Chickpeas. These turn out SO CRISPY and are ridiculously simple to make! They're great on salads or even enjoyed as a simple snack.
This post may contain affiliate links. Please read my disclosure policy.