Alphabet Soup
This post may contain affiliate links. Please read my disclosure policy.
If you're always looking for fun and EASY ways to get your kids to eat more vegetables then I HIGHLY recommend this Vegetable Alphabet Soup! It's so simple to throw together (especially if you do like me and use a big ole bag of frozen vegetables!), makes for great leftovers, and your kid(s) will love the fun alphabet noodles!
A solid TWO months before we moved last fall, I found alphabet pasta at the grocery store and got so excited to work on this recipe. Flash forward over 4 months and I've finally found the time to test this recipe out and it's SO GOOD. I kept things super simple so that you can throw this meal together with little effort and even less time!
My biggest mistake the first time I made this soup was adding in a bit too much black pepper. If my daughter senses black pepper in a recipe she will not touch it with a 10 foot pole. So, I ended up eating the first batch pretty much all on my own. However, the second time around, I didn't add ANY into the pot and instead just added a little to my own bowl after serving it up. Win win all around.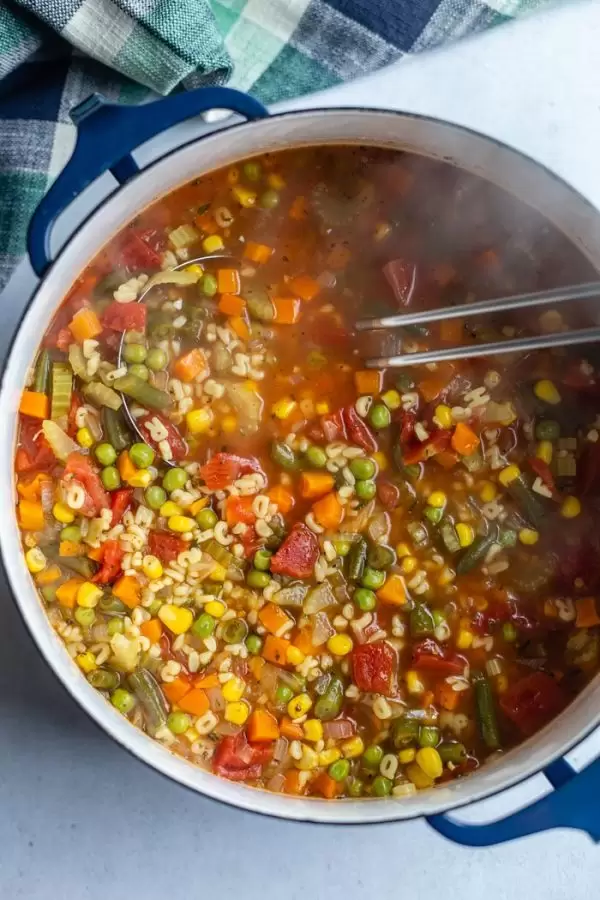 As I knew she would, Jemma LOVED the soup (sans black pepper) and it made for excellent leftovers! So, note to the wise: go LIGHT on the black pepper if you have a kid sensitive to it.
I went back and forth on whether or not to use fresh vegetables or a bag of frozen. In the end, I decided to keep things QUICK & EASY and picked up a bag of frozen mixed veg. Obviously, you can use fresh vegetables in this recipe but I absolutely love how simple this recipe is to throw together when you're using the frozen veg. Frozen vegetables are seriously underrated!
To use fresh vegetables, simply dice them up and sautee them with the onion until softened (but not completely cooked through as they'll cook more while the soup simmers). Then add the broth etc and proceed as the recipe is written.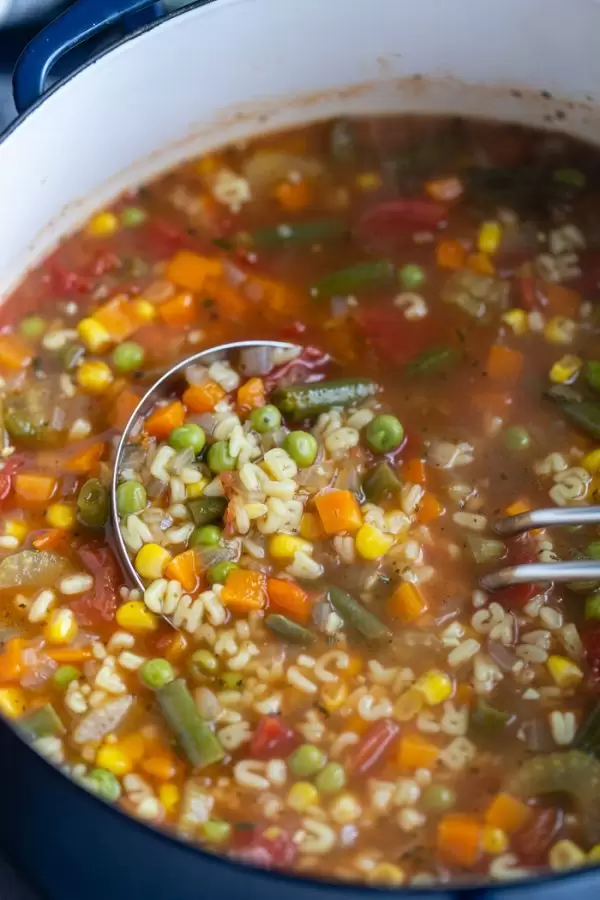 What's in this Alphabet Soup:
Noodles– I found a very inexpensive box of alphabet noodles at my local grocery store but they're not at all stores. You can find them on Amazon HERE and HERE (affiliate links) OR use a different small pasta such as THIS or THIS. I haven't tried it but orzo pasta would also work great and that's typically something that you can find at any grocery store.
Broth– Since the broth is the main base of the soup, it's important that you have a good one. I'm not a fan of most low sodium vegetable broth's that I have tried. I really like using THIS veggie broth base and find it to be very flavorful!
Veggies– as mentioned above, I used a big $2 bag of frozen vegetables for this recipe to keep it simple and quick. But you can see my notes above if you'd like to to fresh veggies. I used a classic mix of veggies but really anything works in this soup! Almost always have extra onion lying around but you can actually buy pre-chopped onion in the freezer section which makes this recipe ALL THAT MUCH easier.
Tomatoes– to enhance the flavors and just overall add more to this soup, we're also adding in a can of diced tomatoes and some tomato sauce as well.
Spices– I love using fresh herbs when I'm making a recipe like this but feel FREE to sub them for dried herbs if you're wanting to save the money/ time of buying and prepping fresh. One of my local grocery stores always me to buy exactly how much I need of a fresh herb which I LOVE because too many containers of fresh herbs have wasted away in my fridge!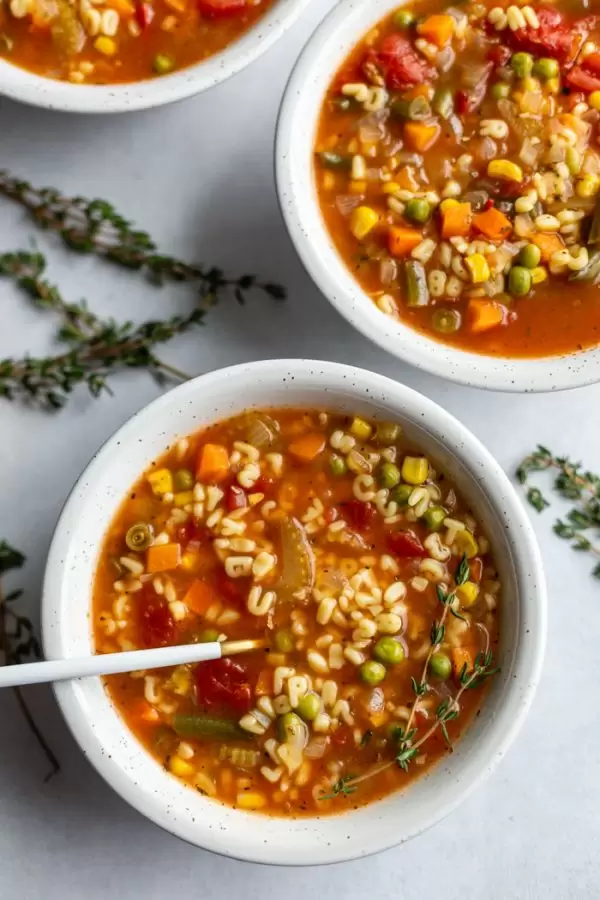 While this makes for ridiculusly delicious and simple leftovers, it's important to know that the longer it sits in the fridge, the noodles will REALLY soak up the liquid. It'll still taste good but I often end up adding a little more broth to the soup as I'm heating it up. This is not at all necessary but when I eat soup, the broth is one of my favorite parts. But if you're fine with a chunkier soup, no need to add additional broth.
On the flip side of that, when I serve this to my toddler, I typically give her very little of the broth or else MOST of it ends up on her shirt instead of in her mouth :D We're still working on the whole eating with a spoon thing.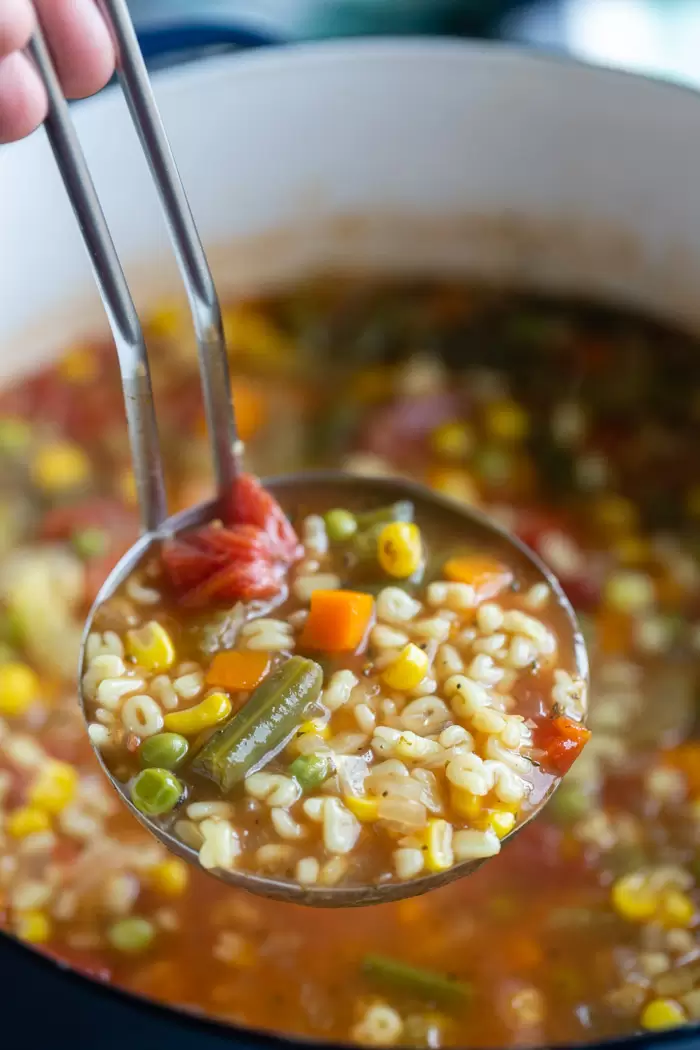 That's all I have for today! As usual, PLEASE tag my on Instagram @foodwithfeeling if you end up making this recipe! I really hope that you and your kiddos love this one as much as we do.
MORE delicious VEGAN SOUP RECIPES to try:
Print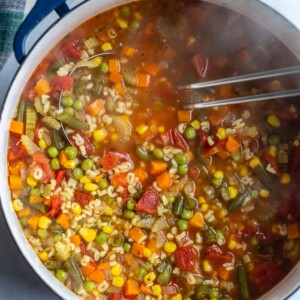 Alphabet Soup
---
Author:

Total Time:

40 minutes

Yield:

8

servings

1

x
Description
This Vegetable Alphabet Soup is QUICK and EASY to throw together with the option of using fresh OR frozen vegetables. It's great from cold weather dinners and something kids will love!
---
1 1/2 tablespoons

of olive oil

3

cloves of garlic, minced (more or less as desired)

1

small yellow onion, diced (about

1 cup

)

2 teaspoons

of Italian seasoning

3/4 teaspoon

of fine sea salt

1 teaspoon

of fresh thyme, chopped (can sub for dried)

8 cups

of vegetable broth

1

pound of frozen mixed vegetables
optional: 2 sticks of celery, diced*

1

bay leaf

15 ounce

can of diced tomatoes in their juices

8 ounce

can of tomato sauce

1 cup

of dry alphabet pasta**
---
Instructions
In a large pot, heat the olive oil over medium heat. Once hot, add in the garlic, onion, italian seasoning, sea salt, and thyme. Cook until the onion begins to soften, about 5 minutes.
Turn the heat to high and add in the broth, frozen vegetables, celery, bay leaf, diced tomatoes in their juices, and tomato sauce. Bring to a boil.
Once boiling, lower heat to a gentle simmer and add in the pasta. Cook until the pasta is tender (check the box of the pasta you're using for reference), about 20 minutes. Check pasta for doneness (cook to your liking) and when the pasta is done, remove the bay leaf.
Sere immediately and ENJOY! I like to serve mine with fresh herbs and little bit of cheese (non diary works great as well or you can obviously leave the cheese off all-together).
Notes
the celery is not at all necessary, but I just really love it in my soup and most frozen veggie mixes don't include celery so I like to add it.
see notes above in the blog post for suggestions if you can't find alphabet pasta
Prep Time:

10 minutes

Cook Time:

30 minutes

Category:

Soup

Method:

stovetop

Cuisine:

american
Nutrition
Serving Size:
Calories:

211

Sugar:

10.5 g

Sodium:

1204.4 mg

Fat:

4.3 g

Carbohydrates:

38.6 g

Protein:

6.3 g

Cholesterol:

0 mg
Keywords: vegan soup, kids dinner, kid friendly recipe, alphabet soup
This post may contain affiliate links. Please read my disclosure policy.