What is Tempeh + How to Cook It
This post may contain affiliate links. Please read my disclosure policy.
Wondering what tempeh is and how to cook it? I've got you COVERED with this comprehensive guide! We're covering everything from what tempeh is made of, how to prep tempeh, and looking at my favorite tempeh recipes.
And if you're looking for some simple and delicious tempeh recipes, I have a full round-up of my favorites that you can see HERE!
If you've followed me for a while then it's NO SECRET that I have a serious love for tempeh. Very. Serious.
I was on a strong tofu kick for the longest time but honestly, if I was forced to choose between the 2, I think that tempeh would win. I love the chunkier texture of tempeh and how well it holds onto flavor. GAH so good!
But before I get carried away in my serious tempeh love affair, let's start at the beginning, shall we?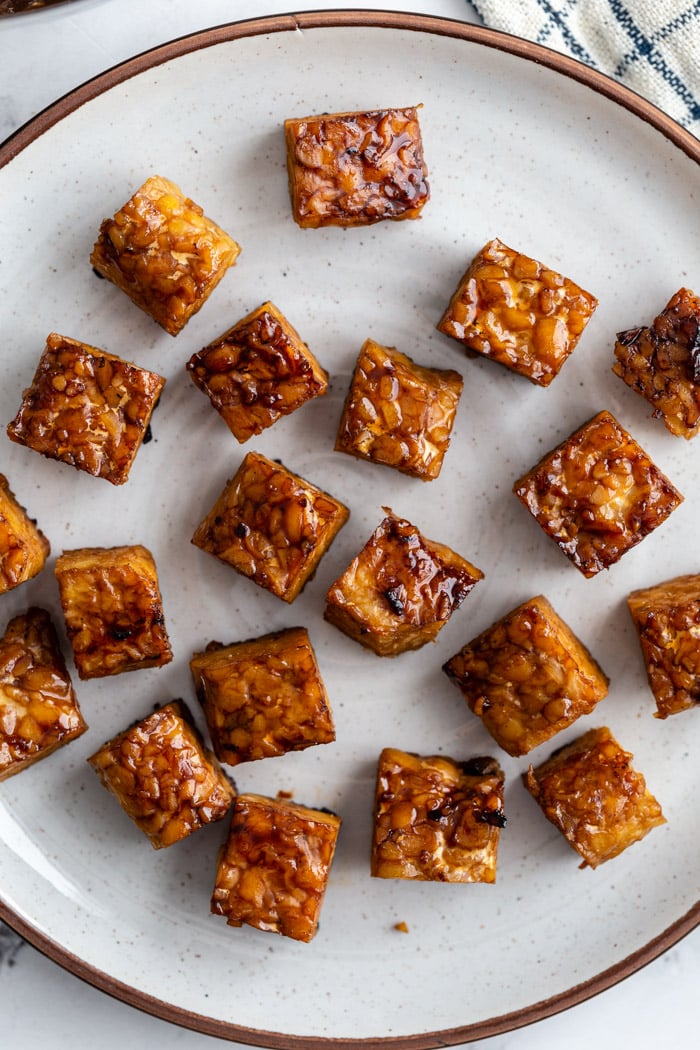 What is Tempeh?
One of the most common questions that I get about tempeh is "what is tempeh made of"??: Tempeh is a plant based protein source that is made from fermented soybeans. It kind of looks like someone smashed together a bunch of beans and then baked it into a cake. It has a firm texture that can easily be sliced or even crumbled.
On it's own and uncooked, tempeh has a very mild taste and is almost flavorless. However, it does a great job soaking up marinades and flavors and if cooked well, tastes AMAZING!
Tempeh vs. Tofu
When I first started eating less meat and exploring vegetarian protein options, I actually thought that tempeh and tofu were the same thing. And while they're both soy based protein sources, they're really quite different.
While tofu is made from coagulated soy milk, tempeh is made from whole fermented soybeans that are then pressed tightly into a compacted bar. Most store-bought tempeh is made up of 3 main ingredients: soybeans, water, and brown rice.
There are other, soy free, versions of tempeh made out of other things such as black beans. These can be found most often at health food stores and are typically locally made.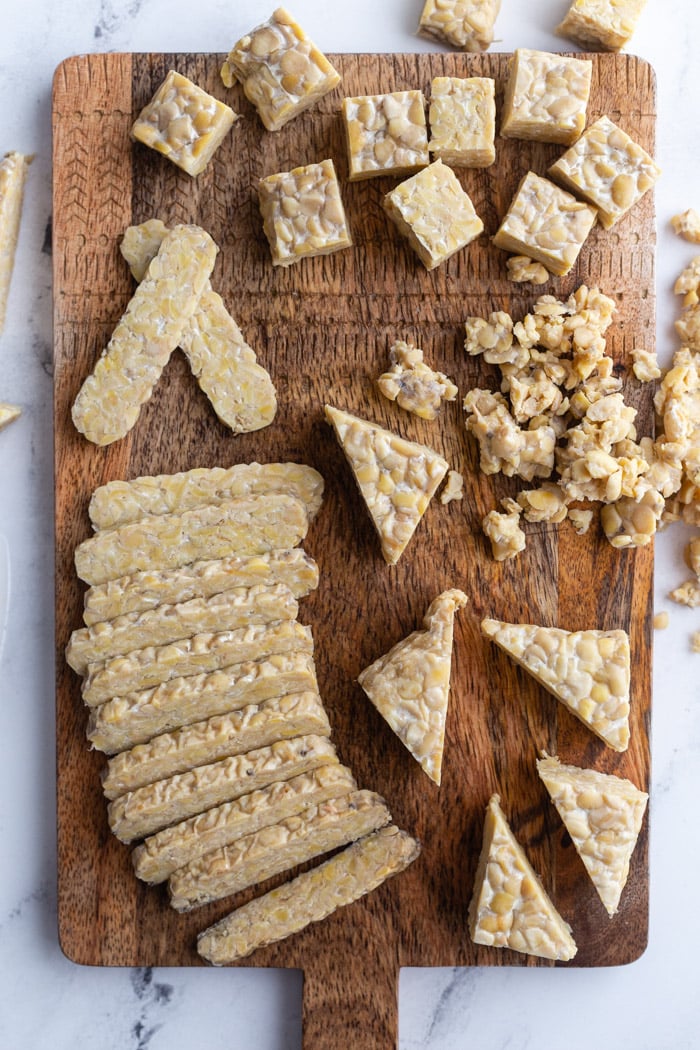 What does Tempeh Taste Like?
Tempeh has a chunky and meaty texture (which is largely why I love it) and really absorbs flavors well. It has a slightly earthy tasty and kind of reveals the soy bean flavor. Overall it has a very mild taste with no saltiness (which again- makes it great for taking on the taste of whatever you serve it with). Some people say that tempeh has a bit of a mushroom-y flavor but I don't quite get that.
How would you describe the taste?
Tempeh Nutrition:
Let's go over the simple numbers. In one serving of tempeh (which is roughly half of package of tempeh) there is:
18g of protein
12g of carbs
4.5g of total fat
Tempeh is also a great source of calcium, iron, and potassium.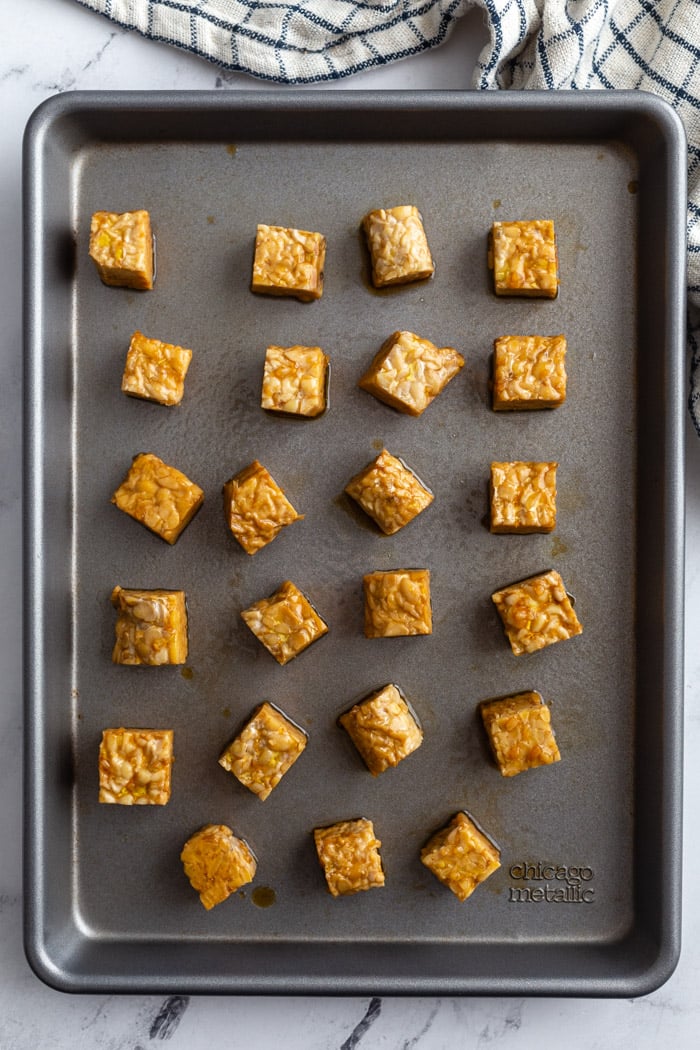 Is Tempeh Gluten-Free?
Since it's just made up of soybeans and brown rice, tempeh is a naturally gluten free product. Be sure to check the package as there's always a chance it was processed in a plant where gluten is present.
Where to Buy Tempeh:
In the United States, tempeh can be found in most grocery stores. It's usually in the health food section and comes refrigerated.
If all else fails, you can pretty much always find it at Whole Foods or other similar health food stores.
My all time favorite tempeh though is from Trader Joe's!! It's a whole grain tempeh and is the cheapest of any other brand. If you have a TJ in your area, I highly suggest picking up some of their tempeh and trying it out!
How to Cook Tempeh:
There are many different ways that tempeh can be cooked and below you can see how to do several of them.
The most popular way is to pan fry it but the recipes that I have listed below offer a few different ways of cooking it including frying, baking, and even cooking it in the air fryer.
I've also included my basic (but delicious!) Baked Tempeh Recipe. This is perfect for nights when you want a simple dinner that you can throw together quickly AND it's great for meal prep.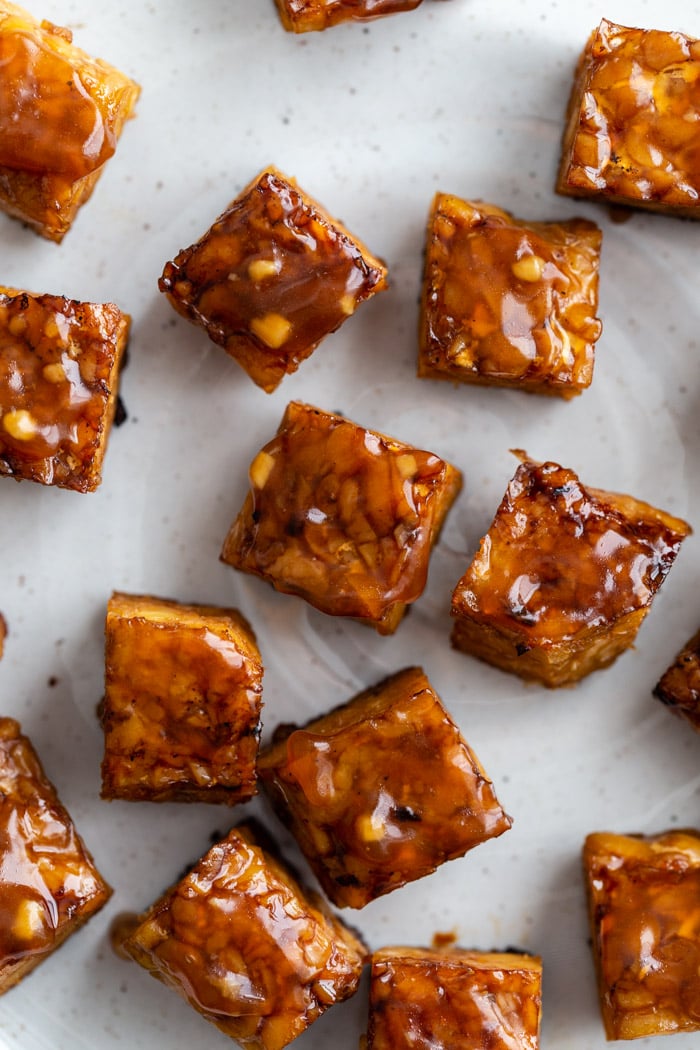 Cooking Tempeh is very simple and requires little prep-work.
First you'll want to cut the tempeh. There's really no right or wrong way to do this and the only difference that it will make is in the cook time.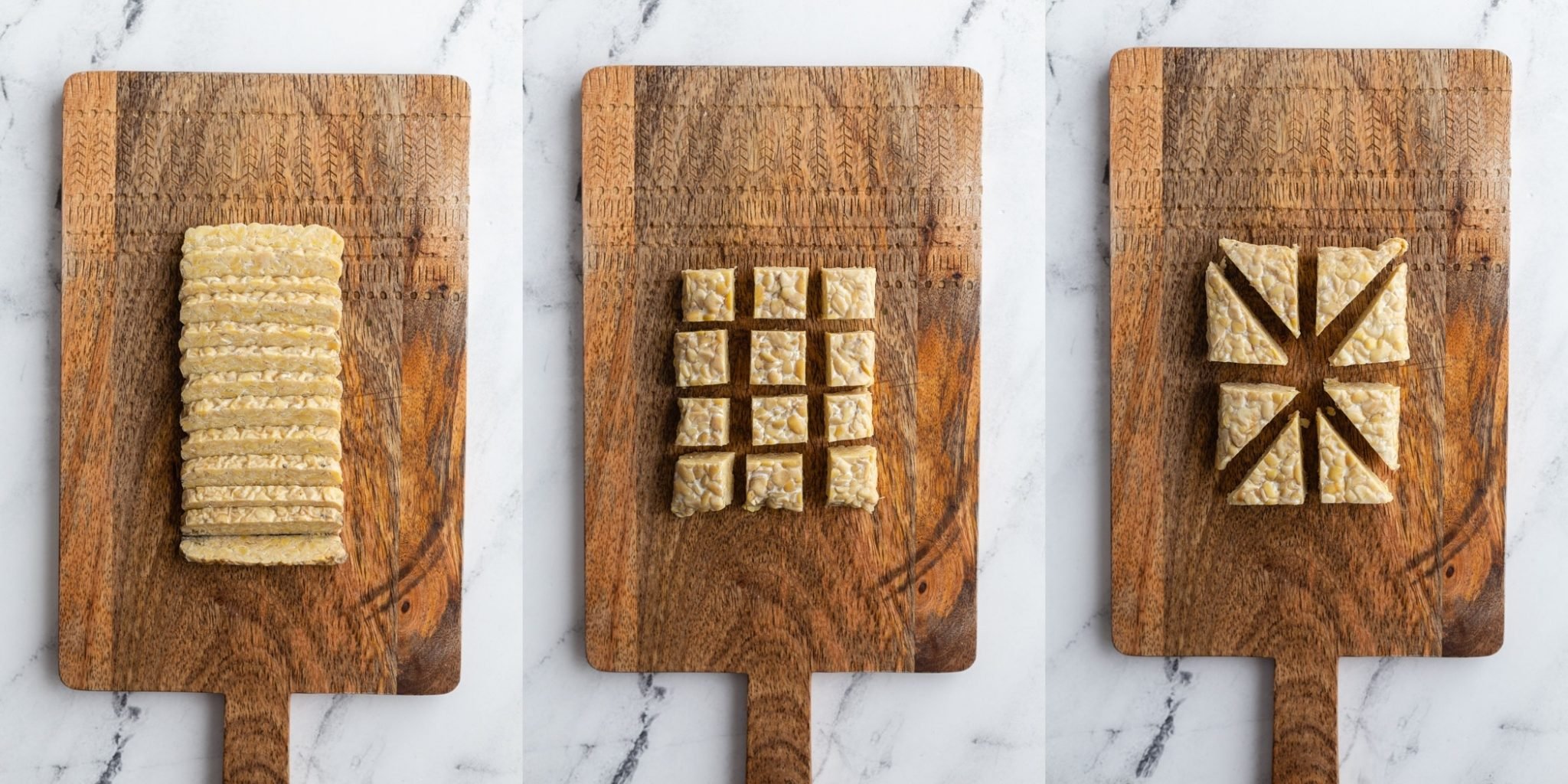 When I'm making tempeh bacon, tempeh fajitas, or cooking it to serve on a sandwich, I like to thinly slice it.
However, when I'm making it to serve over rice, in a stir fry or something like that, simple cubes or triangles work perfectly.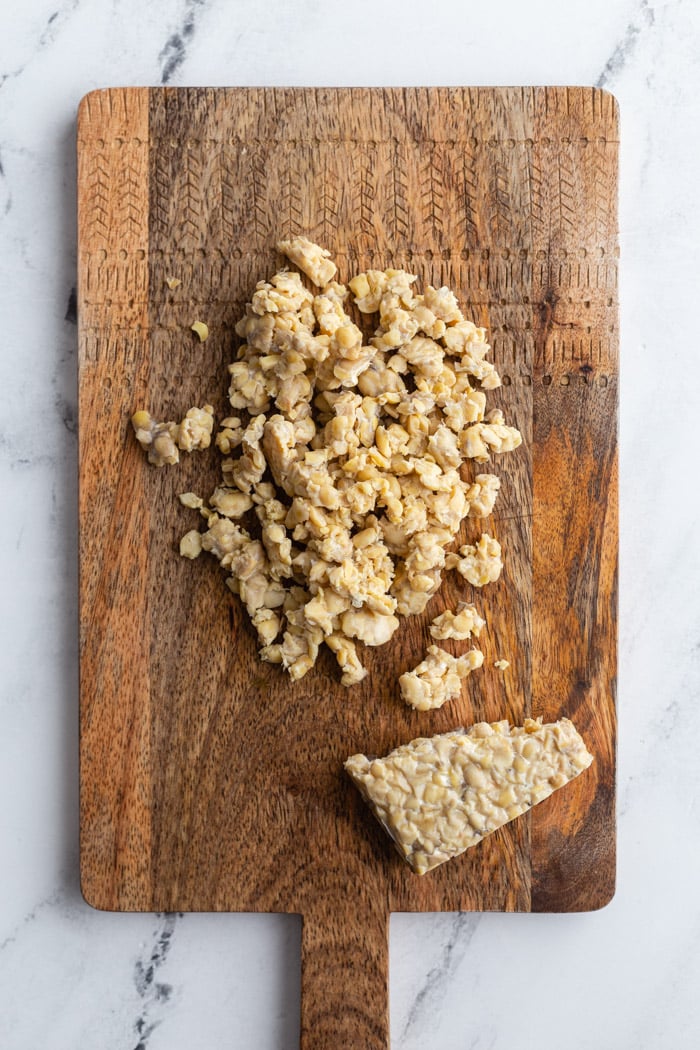 You can also grate or crumble tempeh. I LOVE using crumbled tempeh in place of traditional ground meat recipes such as I did in this Tempeh Chili or as a meat substitute in these Tempeh Tacos. There are so many fun ways that you can use crumbled tempeh!
To crumble tempeh, you simple break it apart in your hands until you reach your desired consistency. I typically aim for chunks that are similar to what you would get from ground meat (see photo above). You can also use a knife to chop it up into pieces but I prefer to just use my hands.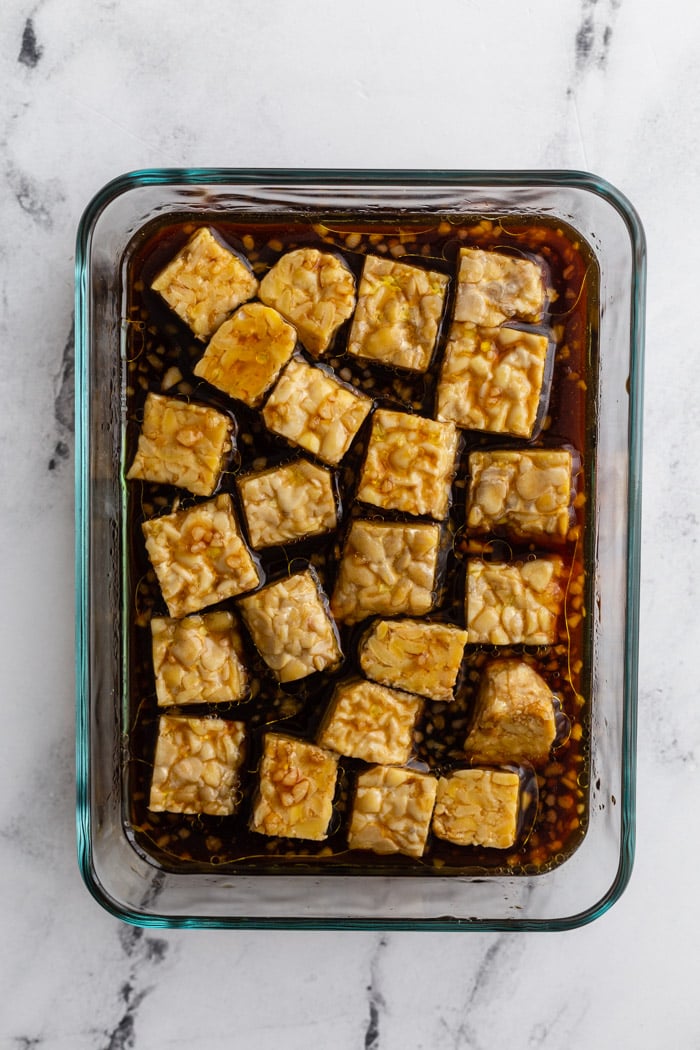 Tempeh Marinade:
It's not always necessary to marinate tempeh. If I'm cooking it on it's own with little or no sauce then I prefer to marinate it first. However, if I'm mixing it into a sauce, soup, or something that already has a lot of flavor, I don't always bother.
Below you can see my basic recipe for marinated tempeh. It includes: soy sauce, apple cider vinegar, garlic, olive oil, maple syrup, and liquid smoke. The liquid smoke is totally optional but I LOVE the extra flavor punch that it adds to the tempeh!
I also have a FULL BLOG POST HERE showing you how to make SIX different flavored tempeh marinades! They're all so good.
OKAY, let's Cook Tempeh:
For all of these, I recommend marinating your tempeh first using the marinade recipe down below in the recipe card.
To pan fry tempeh: add a little oil to a skillet and set over medium heat. Once hot, add in the tempeh and cook until browned on all sides. About 10-12 minutes total.
To bake tempeh: Place the tempeh on a lined or greased baking sheet and bake for 15-20 minutes, flipping halfway through. The bake time will depend largely on the size that you cut the tempeh.
To air-fry tempeh: Pre-heat your air-fryer to 400 degrees F. Add in the tempeh and cook for 12-15 minutes, tossing every 5 minutes.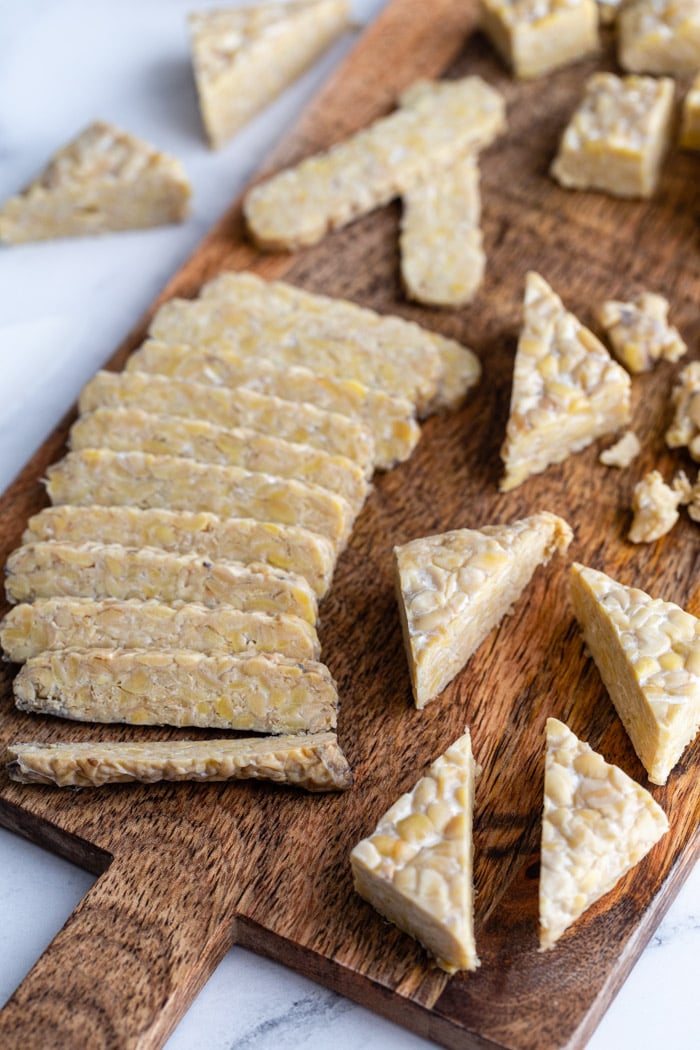 Tempeh Recipes:
Print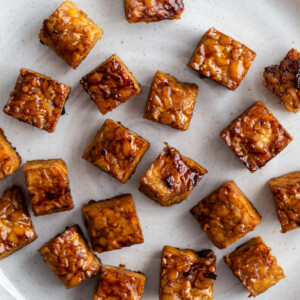 Easy Baked Tempeh
---
Author:

Total Time:

55 minutes

Yield:

2

servings

1

x

Diet:

Vegan
Description
My basic recipe for the most DELICIOUS Easy Baked Tempeh!
---
1

package of tempeh, roughly

8

oz

3 tablespoons

of soy sauce

1/4 cup

of apple cider vinegar

2

cloves of garlic, finely minced or

1 teaspoon

of garlic powder

1 teaspoon

of liquid smoke, optional but highly recommended

1 tablespoon

of olive oil

2 tablespoons

of maple syrup
For the optional sauce: 1/4 cup of water whisked together with 1 1/2 tablespoons of corn starch
---
Instructions
Prepare the tempeh by cutting it into cubes, triangles, or thin slices. See photo above for reference.*
Make the marinade by whisking together the soy sauce, apple cider vinegar, garlic, liquid smoke, olive oil, and maple syrup in a shallow bowl. Toss in the tempeh and let marinate for 30 minutes or even a few hours.
When ready to cook, pre-heat the oven to 400 degrees F and line a large baking tray with parchment paper.
Line the tempeh pieces on one side of the baking sheet and pour about 1/2 teaspoon of the marinade on each piece of the tempeh. As desired, you can reserve the marinade and use it to make a sauce at the end which is what I did. Directions below.
Bake tempeh for 15 minutes*, flipping halfway through.
Optional sauce: whisk together 1 1/2 tablespoons of cornstarch with 1/4 cup of water. Mix the remaining marinade and the cornstarch slurry in a small saucepan over medium heat. Stirring constantly, cook until thickened, about 5 minutes. It'll go from liquid to a thick sauce all of a sudden so make sure to watch it!
Top the tempeh with the sauce and ENJOY!
Notes
*if you cut your tempeh into thinner slices, it may not need to bake as long
*this bake time is for the cubes or triangles. If you thinly slice your tempeh, it will likely need a few minutes less time than the recipe calls for so watch it the last 5 minutes.
Prep Time:

40 minutes

Cook Time:

15 minutes

Category:

dinner

Method:

baking

Cuisine:

american
Nutrition
Serving Size:
Calories:

355

Sugar:

14 g

Sodium:

679.7 mg

Fat:

13.1 g

Carbohydrates:

37.2 g

Protein:

23.4 g

Cholesterol:

0 mg
Keywords: vegan tempeh recipe, baked tempeh, easy tempeh recipe
This post may contain affiliate links. Please read my disclosure policy.