Traffic & Income Report: July 2016
This post may contain affiliate links. Please read my disclosure policy.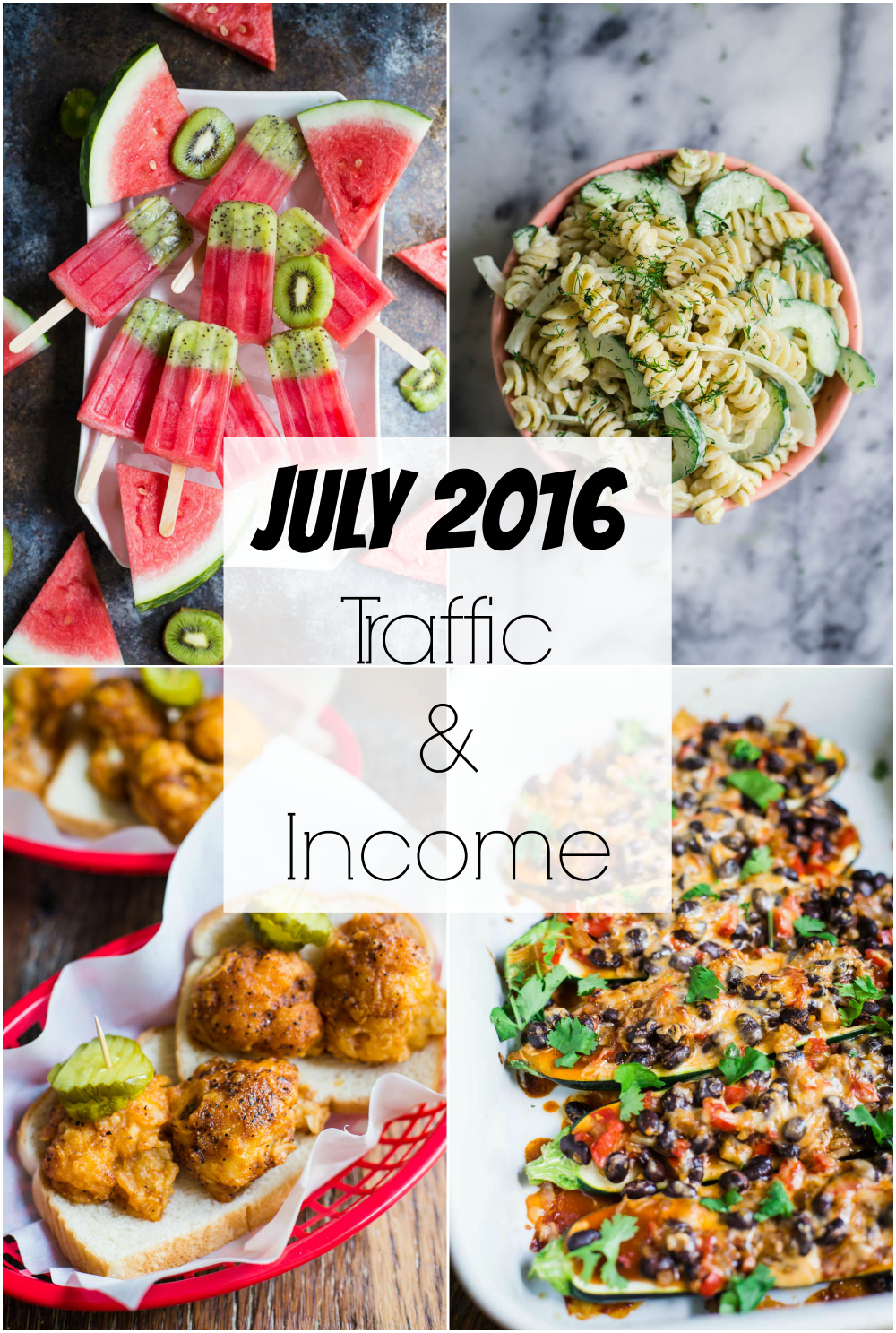 Another month, another income report! I think I say this every single month but I'm still super proud of myself for sticking with these ALL year. Consistency: it's the true key to blogging (write that down)!
I read a lot of income reports (in fact, I'll link some of my favorites at the end of this post) and the main thing that's similar between all of them is the experiments that they do monthly, the tips and tricks they share, and the "what's working for us" type knowledge. I'm not sure that I'm doing that as well as I could in my income reports and I want to step up my game!
So, moving forward, I'm going to try and give you more helpful information in each report. At least, I'm going to do my best :)
If you're new to these reports, let me give you a very brief background: I started these reports in January of this year and plan to post a report each month to outline my income, expenses, and traffic numbers for each month. I'm also using it as a way to focus on a new thing each month and then report back my findings. These reports have already helped me immensely AND it's helped me connect with a lot of other bloggers which I absolutely LOVE.
Alright- on to the actual report!
The Traffic
Overview

And yet again, my traffic has risen by a teensy amount. Slow and steady wins the race and I'm cool with the slow rise. I mean, don't get me wrong, I won't be upset if my traffic suddenly sky rocketed. However, I'm just happy to see my hard work paying off and my traffic and readership continue to grow.
My goal since the beginning of the year has been to reach 100k by the end of summer. The end of summer is technically on September 21(ish) but I've been considering the end of summer as September 1 because, I don't know really….it's a nice clean and easy date. As of today (August 24) I'm SO ridiculously close to achieving that goal (about 7k away)!
New vs. Returning Visitors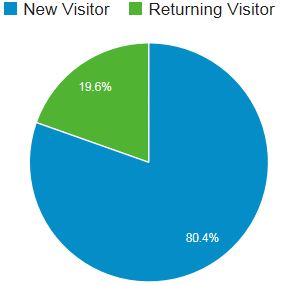 Nothing much to report here. The percentage of returning visitors is almost exactly the same.
Top Ten Traffic Sources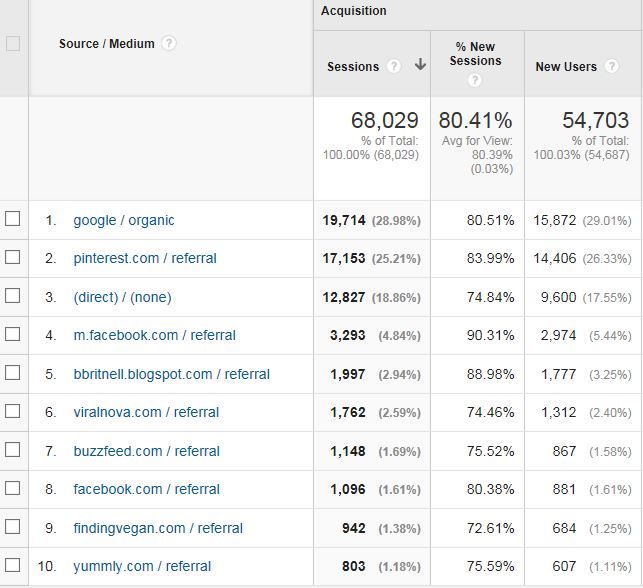 My top 3 traffic sources are holding steady which I am SO happy about. 1) Google: as I've mentioned time and time again, I've been very conscious of my SEO practices this year and have been doing my best to enter good titles, keywords, alt tags, etc. 2) Pinterest: as discussed in an earlier income report, I've really upped my Pinterest game this year. I've started using a Pinterest scheduler to schedule out pins each week. I've also been creating lots of longs pins which are now my best performing pins. You can read more about my Pinterest strategy HERE. It's worth noting that on February 18, I had 2796 Pinterest followers and today I have 5530. 3) Direct/ none: I've never really understood this number and found THIS article pretty enlightening.
The Income*
Some of the links below are affiliate links. All of the products and services listed are ones that I use on a regular basis and highly recommend. If you have any questions about any of these, shoot me an email.
*I'm not including any of the money that I make via my food photography business.
Total: $749.08
Expenses
WP Engine Hosting: $89
Food: $198.34
I currently only expense food that I actually photograph for the blog and not food that's just part of recipe testing.
Props: $0
Adobe Lightroom/ Photoshop + Premiere: $10.91 + $19.99
Mailchimp Premium: $20
The Blog Village: $25
Total: $363.24
What I Focused on in July: VIDEO!
I hope this comes as no surprise to you but my BIG focus for the past couple months has been video. 1000%!
I've been very focused on the business side of things this year and honestly, the creative side of my brain was really lacking. Video has completely revived the artistic aspect of this whole crazy adventure that is blogging. I'm ABSOLUTELY loving it and have spent pretty much every free moment shooting video, editing video, and learning more about how to make my videos better. <<<absolutely obsessed and happy about it!
So, how is video performing for my blog?
This is the question that I think a lot of bloggers have. Is video worth it!!? There's no denying that video is a LOT of work, especially when you're just learning how to do it all. No one wants to put in those extra hours if it's not really worth it. By this point, you've probably heard 100 times that video is becoming more and more important for food bloggers. It's almost something that you just can't ignore anymore.
I wanted to get some numbers or some kind of real data to show the importance of video. I don't have that for you today. However, I did find this simple article pretty interesting. A few reasons that they say video is important:
1) Improved SEO. This article states that "adding a video to your website can increase the chance of a front page Google result by 53 times." Sounds good to me!
2) Higher Engagement. "…audiences are about 10 times more likely to engage, embed, share, and comment on video content than blogs or related social posts." Engagement is something that I really lack on my blog. From personal experience, I can easily say that it's true; my videos on facebook get exponentially more shares, likes, and comments than anything else.
3) Greater Optimization Opportunities. I'm still looking into this one but I do know that many of the ad networks used by food bloggers (I'm specifically thinking of Mediavine and AdThrive) offer optimization for videos with a CPM that's upwards of $12. I have yet to experiment much with this but will report back once I do. I've heard other bloggers say that it has performed well for them and really boosted their ad revenue.
4) Higher Retention Rates. Bjork from Food Blogger Pro talked about this concept in a recent podcast about SEO. He explained how Google rankings work and how making someone stick around on your blog longer tells Google "the person that clicked on this page stuck around for significantly longer than on the last link they clicked on which must mean that it was what they were looking for when they googled xyz." Having a video on your page, even if the person only watches 20-30 seconds of it, can greatly increase the amount of time that they are on your site. Bjork refers to video as "sticky" content meaning that it helps people stick around longer which tells Google that your site was a good match for the person searching for whatever they were searching for.
5) Stronger Emotional Connections. I have no data or personal proof for my blog on this one. However, I know from my own experiences as a consumer of online content that I LOVE video on other blogs especially when that video is either 1) extremely well done or 2) personal. I really like seeing a bit of the behind the scenes and it definitely makes me feel some kind of an emotional connection to the blog/ blogger/ content.
Technicalities of making a food/ recipe video
Since I have already spent the past 3 years learning the ins and out of food photography and how my camera works, I feel like jumping into video wasn't too far of a leap (thank goodness!!). My saving grace was The Blog Village. Trevor, who runs the Blog Village, produces some truly amazing recipe videos (check them out here on Show Me the Yummy). He has answered COUNTLESS questions from me about video editing, equipment, lighting, monetization, etc etc etc. He really knows his stuff and is so generous in sharing is knowledge with others. He created some spectacular how-to videos that are on The Blog Village and I couldn't have learned Premiere Pro without them. If you're serious about video, I suggest checking The Blog Village out.
If you're interested in seeing my setup and how I do everything, I actually created a vlog style video this past weekend which shows much of my process and how I shoot my recipe videos. BONUS: there are lots of cute clips of my cats, chickens, and dogs snuck in there :D
Next month I plan to write a FULL report of how I shoot my videos, the equipment that I use, and some special tips and tricks that I have learned over the past few months to make your videos successful. Let me know if you have any special questions regarding video that I can answer!
Focus for the next 30 days
VIDEO. Yes, more video! :D
I'm working on getting more chatty videos out including a few videos where I buy, test, and rank various products. The one that I'm working on right now is "Trying different plant based protein powders" and after that I'll be doing one where I try different kinds of vegan cheese. I have several goals for these videos. 1) Virality. I'm trying to pick topics that I think will be genuinely helpful to people. Personally, I'm honestly on the hunt to find the best protein powder and the best vegan cheeses because there isn't a lot of useful info out there when it comes to overall taste, nutrition, etc. So, I'm hoping that these videos will be videos that people find from searching "the best vegan protein powder" or something like that. 2) Personal. I'm hoping that videos of me sitting in front of a camera, chatting, and maybe being a little goofy, will help my readers get to know me better and feel a little more invested in me and my blog/ brand.
I hope to continue improving my videos and continue to release ~2 videos per week (aiming for one recipe video and one chatty/ vlog video).
Some of my favorite income reports
Smart Passive Income
Thanks to YOU
Thanks to you for visiting my blog, I have been able to sponsor a young girl in Haiti again this month. My plan is to continue donating 10% of everything that I make from my blog. I'm grateful for this opportunity to give back, even if just a little for now.
This post may contain affiliate links. Please read my disclosure policy.