Traffic & Income Report: June 2016
This post may contain affiliate links. Please read my disclosure policy.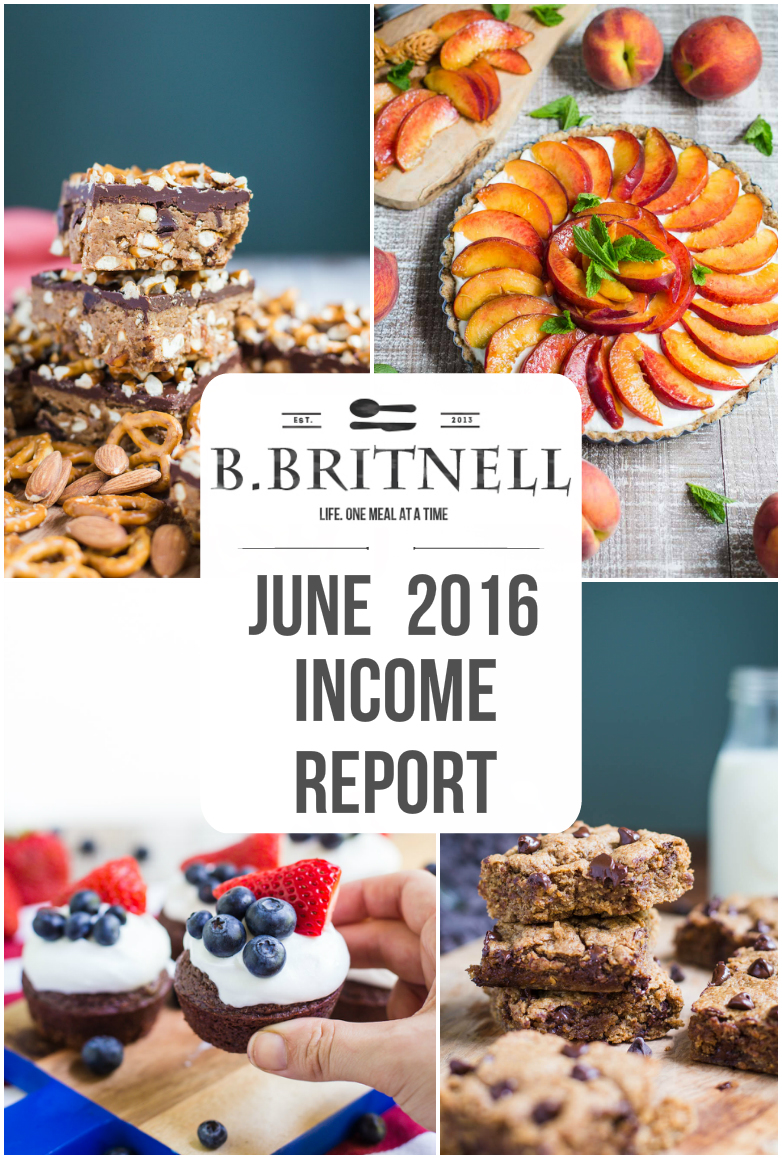 Oh hi! Here I am with the newest income report for B. Britnell. June was simultaneously a slow month AND another record breaking traffic month (yay!). After doing these reports for 6 months now, I've discovered that I seem to have a bit of a trend when it comes to the work that I put into my blog. I've found that one month I'll hit my blog really hard and spend practically every free moment working on blog projects and then the next month I'll kind of take it easy and really just do the basics of my blog such as creating recipes and posting them here.
I've wondered if I should try and find a happy middle place but I kind of like my system now. I'm working super hard during the times that I'm most passionate about it all and then taking a break when I feel like resting a bit more. At the end of the day, I want to always keep this blog a passion and something that I LOVE working on. I'm not really going anywhere with this except to say: work hard when you're pumped and excited and motivated but also know that it's okay to take a step back and rest a little when you're just not feeling it.
If you're new to these reports, let me give you a very brief background: I started these reports in January of this year and plan to post a report each month to outline my income, expenses, and traffic numbers for each month. I'm also using it as a way to focus on a new thing each month and then report back my findings. These reports have already helped me immensely AND it's helped me connect with a lot of other bloggers which I absolutely LOVE.
Alright- on to the actual report!
The Traffic
Overview

Another record high traffic month! YAY! I'm getting a little bit closer to achieving my goal this year of reaching 100k pageviews in one month and that makes me feel very happy.
New vs. Returning Visitors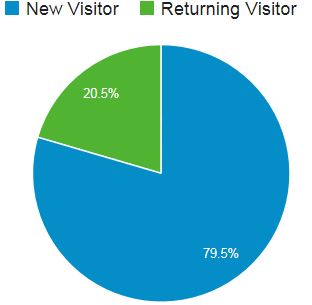 Nothing big to report here. My monthly returning visitors is holding strong around the 20% mark which I'm happy about :) As always, thanks for continually coming back to my little blog!
Top Ten Traffic Sources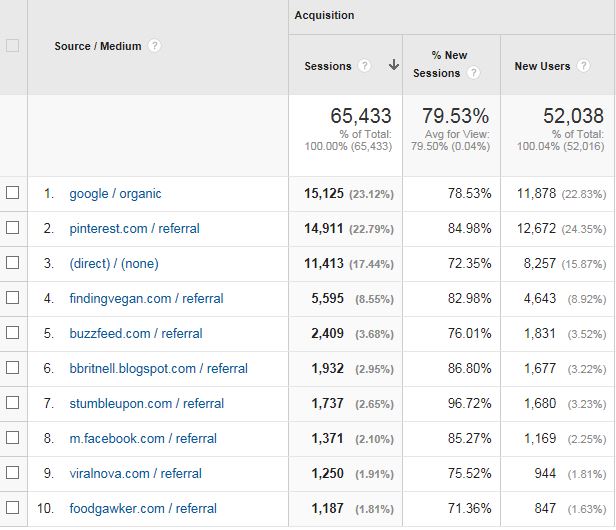 As goes for pretty much this whole report, my top ten traffic sources are pretty similar to last month which is a great thing. I'm SO happy to see organic google traffic as my #1 source and also happy to see pinterest as #2 since I've been working hard on my Pinterest account.
The Income*
Some of the links below are affiliate links. All of the products and services listed are ones that I use on a regular basis and highly recommend. If you have any questions about any of these, shoot me an email.
*I'm not including any of the money that I make via my food photography business.
Total: $686.09
Expenses
WP Engine Hosting: $86
Food: $203.59
I currently only expense food that I actually photograph for the blog and not food that's just part of recipe testing.
Props: $47.09
Adobe Lightroom/ Photoshop: $10.91
Mailchimp Premium: $20
The Blog Village: $25
Total: $392.59
What I Focused on in June
I kept things simple in June (and July honestly). My main focus, I would say, was producing a few good quality recipe videos and doing my best to improve each one a little bit. I'm SUPER how with how each of them turned out and I'm super excited to be diving more into video. I wasn't sure at first but I really think it's something that is going to pay off in the long run and I'm glad that I'm getting into video while it's still a new-ish thing in the foodie world.
Speaking of video. (!!!!) My latest video that I posted to Facebook got around 3k views when I first posted it. I was super proud of this and felt like it was a big success. Then, about 10 days after I posted it, it suddenly started taking off and over the course of just a few days, it has reached over 140,000 views! SO COOL, right!?? I'm pretty pumped about that. With that I have also gained about 700 new facebook followers and a good handful of new email subscribers. I'm super pumped about it and have been working hard on getting my next video up in hopes of continuing the momentum.
Thanks SO much to everyone that shared that video. It honestly means more to me than you know.
oh ps- THIS is the video that I'm talking about.
Focus for the next 30 days
Last month I said that I was going to spend July focusing on Affiliate Marketing and I didn't do that….like, at all. SO, I'm going to roll that goal over into next month. I have a few brands in particular that I LOVE and I'm genuinely excited about promoting. I even have a lot of the leg work done…I just need to focus on it a bit more and get some posts up. Coming soon!!
Thanks to YOU
Thanks to you for visiting my blog, I have been able to sponsor a young girl in Haiti again this month (and plan to do so for quite a few months to come). My plan is to continue donating 10% of everything that I make from my blog. I'm grateful for this opportunity to give back, even if just a little for now.
This post may contain affiliate links. Please read my disclosure policy.