Ultimate Guide to Chickpeas
This post may contain affiliate links. Please read my disclosure policy.
Looking for the ultimate guide on how to cook chickpeas!? I've got you covered! In this post, we're going over all of your burning questions about chickpeas and walking through how to cook them from the stovetop to the instant pot!
Hopefully you know by now HOW MUCH I LOVE chickpeas! I've used this in a TON of recipes and they are seriously one of my all time favorite foods to eat.
Up until the past few years, I always bought canned chickpeas because they're just so so easy. And while I still really like them canned, I also love how simple and incredibly cost effective it is to buy raw chickpeas and cook them yourself at home.
I'm going to walk you through lots of different ways to cook them, how to soak them, and even show you some of my favorite ways to use them. Let's dive RIGHT in, shall we?
What are Chickpeas:
Chickpeas are legumes! In their raw form, they almost feel like beige round rocks and are very hard uncooked. You cannot eat them raw as they contain toxins (removed during the cooking process) and are simply too hard to chew or digest properly. While typically beige, they do come in other colors including red and green.
Since chickpeas are so high in protein and fiber, they are used very commonly in vegetarian cooking as a kind of meat substitute such as in this Chickpeas Salad, this Chickpea Noodle Soup, and this Chickpea Pot Pie.
Garbanzo beans vs Chickpeas:
Since I use chickpeas in my recipes on a regular basis, I OFTEN get asked, are garbanzo beans chickpeas? And the answer is YES: chickpeas and garbanzo beans are the same thing but just a different name.
While the average person seems to most commonly refer to them as CHICKPEAS, most stores/ brans label them as GARBANZO BEANS. I suggest that when you are looking for them in a store, be on the lookout for both words since they truly are used so interchangeably.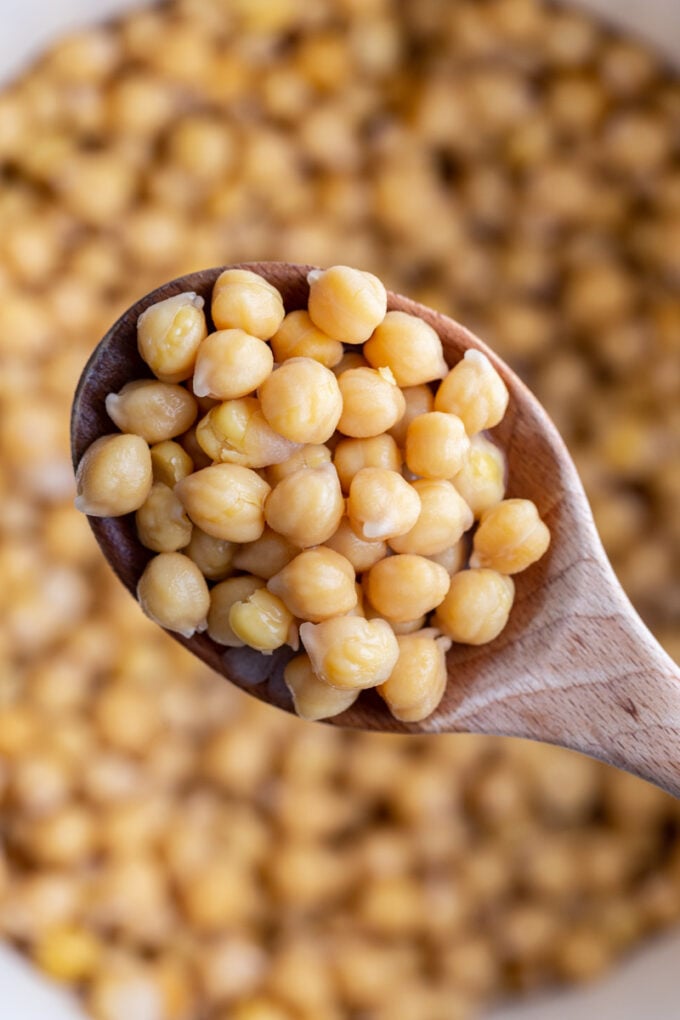 Chickpeas Nutrition:
Chickpeas are nutritionally rich and high in protein and fiber. Here's a quick breakdown of the basics and why these legumes are so great:
| Per 100g of raw chickpeas | |
| --- | --- |
| Calories | 365 |
| Protein | 19g |
| Fiber | 17g |
| Total Fat | 6g |
| Iron | 34% |
| Magnesium | 28% |
| Vitamin B-6 | 25% |
| Potassium | 25% |
| Total Carbs | 61g |
| | |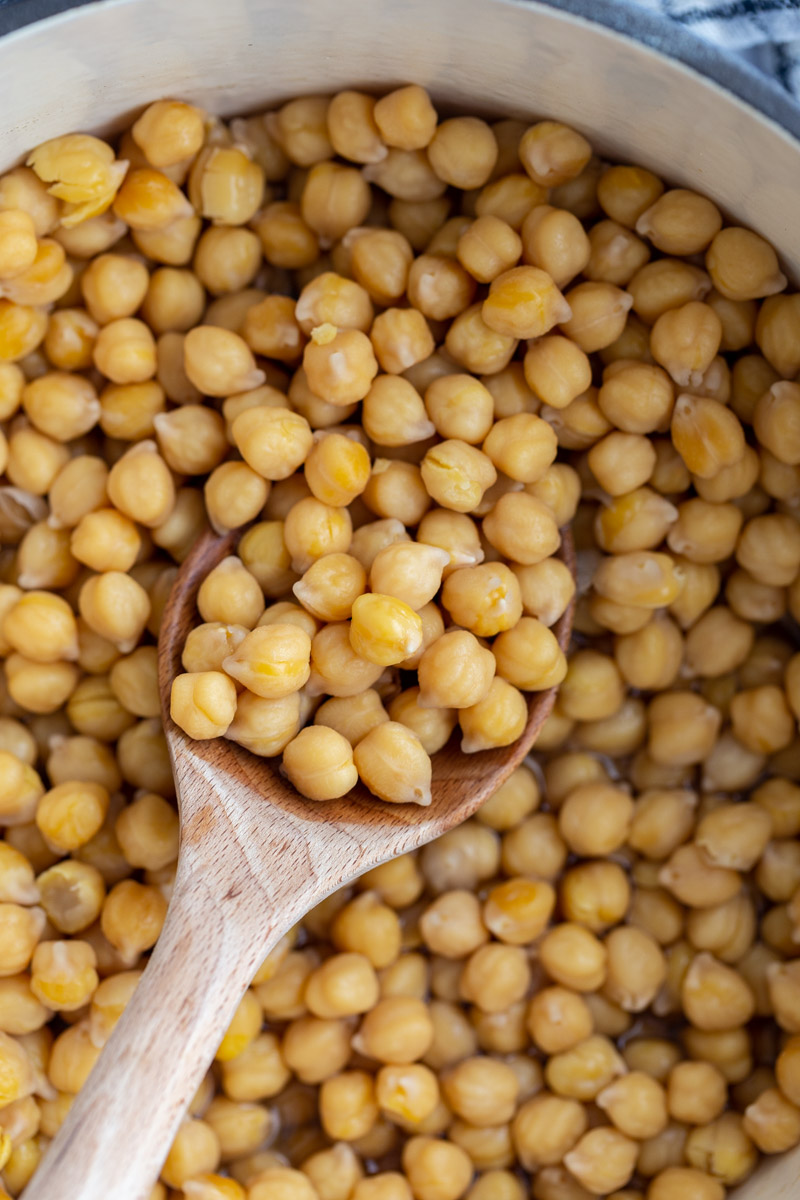 How to cook Chickpeas:
Cooking chickpeas is very similar and follows a similar process as other beans. I have a detailed recipe card for you down below as well as a video but let's go over the basics!
FIRST you need to soak your beans. I've experimented several different ways but no matter what, you simply CANNOT skip this step! But you do have 2 options: 1) long soak the beans overnight or 2) quick soak the beans by boiling them for 3 minutes and then soaking them for just 1.5 hours. Both work well but you have to pick one.
Next up, you cook them. My recipe card below goes over how to cook chickpeas on the stovetop. But I have several different methods for you!
Stovetop Chickpeas:
As I mentioned, I have a detailed recipe card below all about cooking chickpeas on the stovetop but here's the gist of it:
After soaking them, simply add the chickpeas in a large pot with water or broth as well as any desired seasonings. Simmer for ~1.5 hours or until the chickpeas are soft and at your desired tenderness.
Instant Pot Chickpeas:
This is actually my FAVORITE way to cook raw chickpeas!
I have a detailed blog post all about cooking chickpeas in an instant pot that you can read HERE.
To do this, add the soaked chickpeas into your pressure cooker with water or broth along with any other seasonings. Cook on manual HIGH pressure for 13 minutes and natural release the pressure for 5 minutes. Since the instant pot will take a while to pressurize, this ends up taking about 35 minutes total.
Slow Cooker Chickpeas:
This is not my favorite method of cooking chickpeas honestly, but it can be done. I've found that it results in mushier chickpeas (which could be ideal depending on how you are planning to use them).
For this method, you actually CAN skip the soaking step and simply add the chickpeas into a slow cooker with 8 cups of water. Cook on high for 3.5-4.5 hours or on low for 6.5-8 hours.
Air Fryer Chickpeas:
This is kind of a bonus! You CANNOT actually cook chickpeas from raw in the air fryer (that I have successfully tried). However, you can cook COOKED chickpeas in an air fryer to get them ultra crispy and delicious!
To do this, follow THESE detailed directions by mixing cooked chickpeas with some oil and seasoning. Place them in the air fryer and cook for 15 minutes, stirring half way through.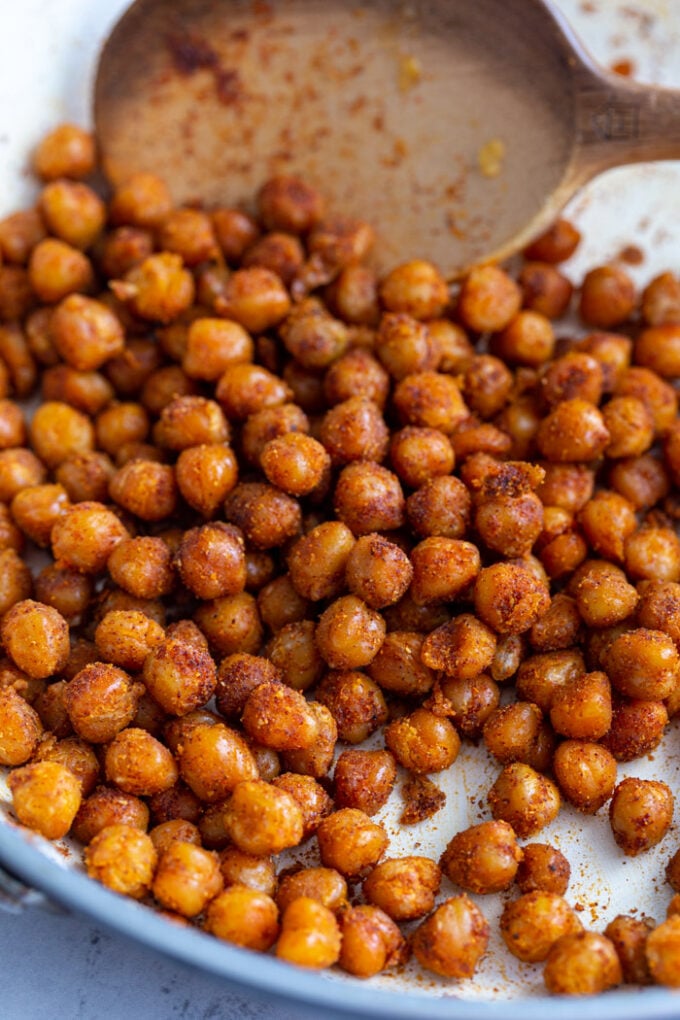 Oven Roasted Chickpeas:
Similar to the air fryer chickpeas, you cannot cook chickpeas from raw in teh oven, however, you can get them DELICIOUSLY crispy this way!
To do this, simply follow these easy directions!
Can you freeze chickpeas?
Why YES, you can! To freeze the cooked chickpeas, simply spread them out on a silicon or parchment lined baking sheet (this avoids them sticking). Place in the freeze and freeze for 1/5 hours. Place the flash frozen chickpeas into a resealable container and store in the freezer for a few months.
Here are some FAQ about chickpeas/ garbanzo beans:
Are chickpeas gluten free?
Yes! Chickpeas are a naturally gluten free food!
Chickpeas protein?
Per 100gs, chickpeas have 19g of protein which is 38% daily value.
Chickpea Calories?
For 1 cup of cooked chickpeas, there are about 275 calories.
Carbs in chickpeas?
Per 100g, chickpeas have 61g of total carbs which is 20% daily value.
Calories in a can of chickpeas?
An average can of chickpeas has a total of 420 calories. Many are labeled as 3.5 servings per can at 120 calories per serving (1/2 cup of cooked beans).
Can dogs eat chickpeas?
If you have pets like I do, you may be wondering "can dogs have chickpeas??". After a little research, I decided that YES, chickpeas are safe for my dogs to eat. Reference this article as you deciding if you feel comfortable feeding them to your dogs though. Overall, chickpeas are totally safe for dogs to eat and can provide lots of great nutrients!
Are chickpeas healthy?
After working in the food space for the past 8 years, I've learned that EVERYONE has a totally different definition of the word healthy. Chickpeas are vegan, vegetarian, gluten free, high in protein and fiber and fully plant based! In my book, they're extremely healthy consumed in moderation (and delicious too!).
Are chickpeas keto?
While chickpeas can technically be eaten on a low carb diet, they are not recommended since they are so high in carbs. Many people will indulge in a little hummus since it's overall carb count is lower, though.
What do chickpeas taste like?
Chickpeas have a relatively mild taste which makes them very versatile in different kinds of dishes. The texture is somewhat similar to other legumes but with a slightly grittier and meatier texture.
Do I need to remove the chickpea skin?
A lot of recipes will have you remove the skin but I never both with it. It just doesn't bother me at all and I rarely notice that they are there. There are 2 exceptions to this: 1) if you're making hummus, the skins can make this a *tiny* bit less creamy but even then, I never remove them 2) I DO remove them when I'm roasting the chickpeas because the skins will burn in the oven.
Print
How to cook Chickpeas
---
Author:

Total Time:

3 hours

Yield:

6

servings

1

x

Diet:

Vegan
Description
Your ultimate guide to cooking chickpeas! It's surprisingly simple and I'm showing you how to long and quick soak your beans.
---
1

pound of chickpeas (garbanzo beans)

6 cups

of water
salt and pepper to taste
optional spices and herbs
---
Instructions
Soaking the beans:
It is vital that you first soak your garbanzo beans before cooking them. I've tried both of these methods several times and they both work great. I usually soak overnight but the quick soak method works well when needed.
SOAK OVERNIGHT: to soak your beans overnight, first rinse the beans and then sort them to get rid of any discolored beans. Place the beans in a large bowl and cover with about 8 cups of water so that they're covered by over an inch of water. Cover the bowl and let sit overnight. Once ready to use, drain the water and rinse the beans again.
QUICK SOAK: to quick soak your beans, first rinse the beans and then sort them to get rid of any discolored beans. Place the beans in a large pot and cover with water (about 6-8 cups). Bring to a rapid boil and cook at a boil for 3 minutes. Remove the pot from the heat, cover, and let sit for 1.5 hours. Once ready to use, drain the water and rinse the beans again.
Cook the garbanzo beans:
Place the beans in a large pot and cover with 6 cups of water (adding any flavoring options as well). Bring to a simmer and cover the pot loosely so that a little steam can escape.
Let cook at a low simmer, stirring occasionally, for 45-60 minutes or until the beans are tender and at your desired texture.
Salt and pepper to taste and ENJOY!
Notes
See here for more ways to cook chickpeas:
Air Fryer Chickpeas
Roasted Chickpeas
Prep Time:

2 hours

Cook Time:

1 hour

Category:

beans

Method:

stovetop

Cuisine:

american
Nutrition
Serving Size:
Calories:

284

Sugar:

8 g

Sodium:

18 mg

Fat:

4.5 g

Carbohydrates:

47.2 g

Protein:

15.4 g

Cholesterol:

0 mg
Keywords: how to cook chickpeas, how to cook garbanzo beans, chickpea recipe
This post may contain affiliate links. Please read my disclosure policy.