Vegan Christmas Cookies
This post may contain affiliate links. Please read my disclosure policy.
Time to kick off your holiday baking with homemade Vegan Christmas Cookies! If you're like me and love to bake tons of treats for gift giving and enjoying through the holiday season, you've come to the right place. I've rounded up all of my favorite Christmas cookie recipes. You'll find everything from classic cutout sugar cookies to cinnamon roll cookies and even candy cane cookies. It's time to fill those Christmas cookie tins to the brim!
I can't believe Christmas is next week! It always seems to sneak up on me, even though I'm planning for it months in advance. There are a lot of great things about the holiday season, but if I'm honest, Christmas Cookies might be my FAVORITE part. It's so much fun to bake and decorate cookies this time of year… and it's even more fun to indulge in the holiday cookies once they're done!
These vegan Christmas cookies are all perfect for Santa, cookie exchanges, neighbor gifts, or just an excuse to get your "bake on" all season long! No matter the reason, cookies are always a good idea, amirite? Enjoy, friends, and happy holidays! ❤️
Vegan Christmas Cookies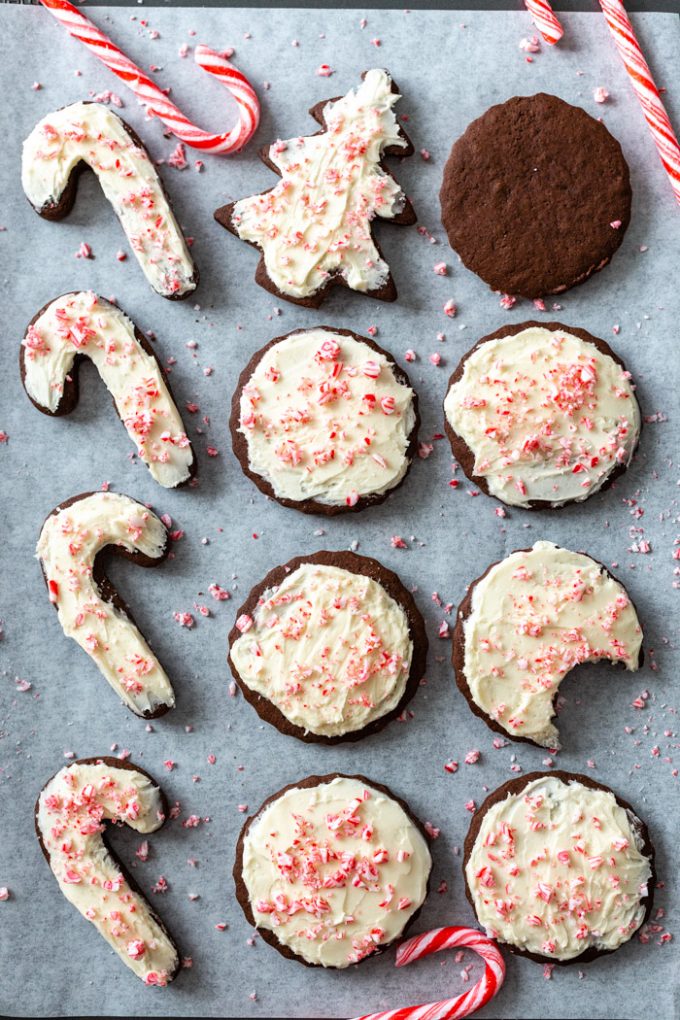 Chocolate Peppermint Cookies. These Chocolate Peppermint Cookies are easy to make and deliciously festive! They're vegan AND gluten free and perfect for all of your holiday baking desires.
Cinnamon Roll Cookies. These Cinnamon Roll Sugar Cookies are SO DELICIOUS and surprisingly simple to make! They're also dairy and egg free, which makes them fully vegan (but still so good!). Can't wait for you to make these.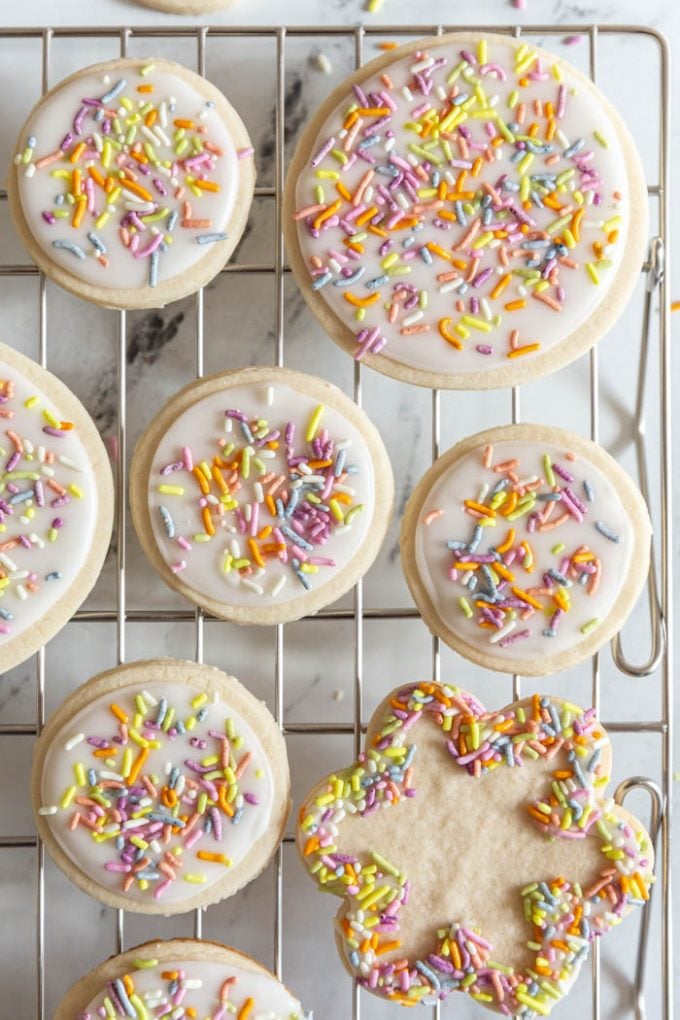 Vegan Sugar Cookies. These vegan sugar cookies are the most perfect vegan roll out cookies that are frosted with a simple icing and decorated with your favorite sprinkles. These cookies taste amazing and hold their form so well, making them great for holiday cutout shapes! BONUS: they're super easy to make! A fun and classic cookie that's perfect for the holidays or any occasion!
Gingerbread Cookies. These adorable vegan gingerbread cookies are made with roll out gingerbread cookie dough that can be cut into any shape you like, from a gingerbread man to a Christmas tree. Decorate them with an easy vanilla icing and festive sprinkles for a fun and classic holiday treat. So scrumptious, you'd never know they're dairy and egg free!
Chocolate Chip Cookie Bars. Fun and festive holiday cookie bars that are easy to make and so delicious!
Candy Cane Cookies. These Candy Cane Cookies are such a fun and festive twist (pun intended) on the classic sugar cookie! They're simple to make, FULLY VEGAN and look so cute for gift-giving and/or cookie exchanges!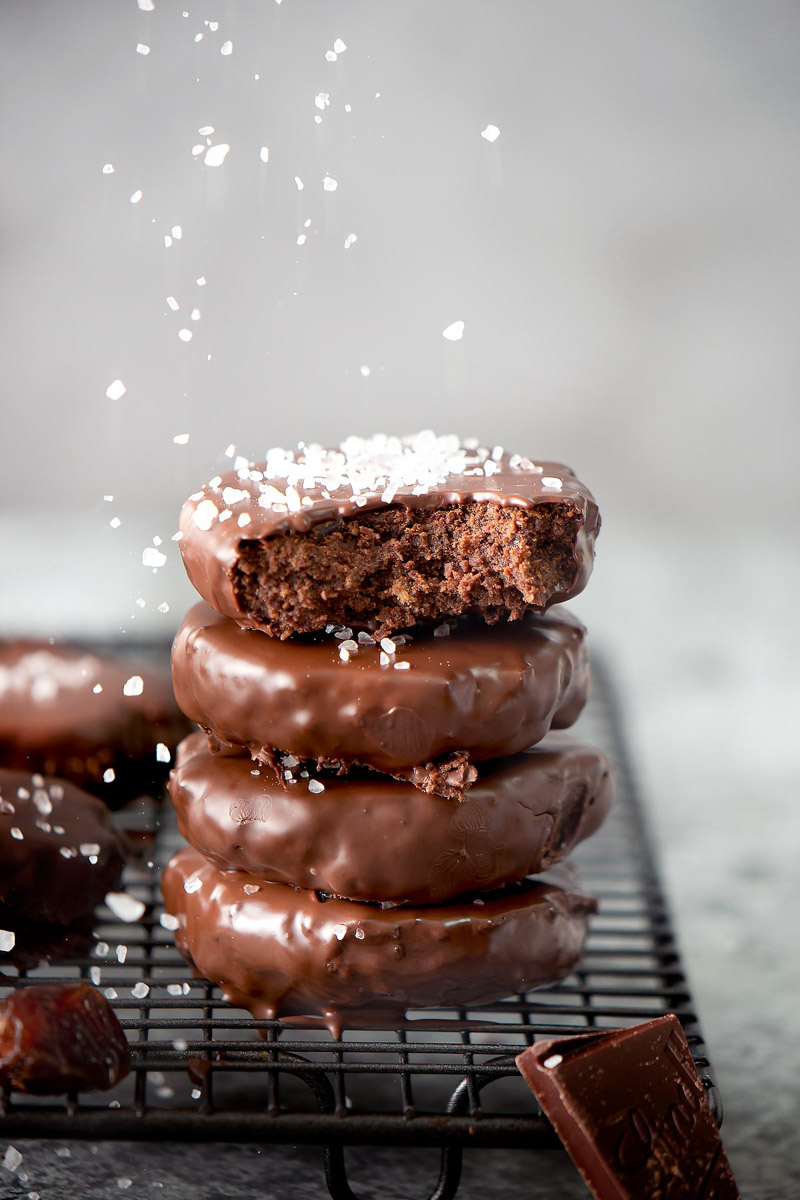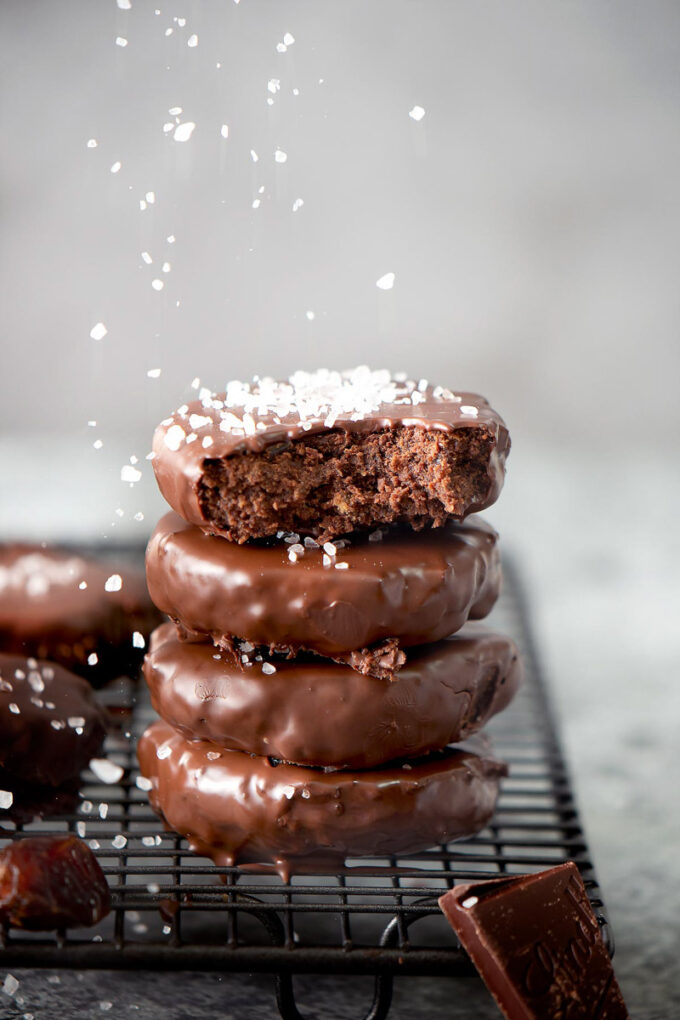 No Bake Brownie Cookies. These easy no bake brownies are one of my all time favorite vegan dessert recipes! Add festive sprinkles to make them the perfect treat for holiday snacking!
Vegan Chocolate Chip Cookies. No joke – these are the absolute best vegan chocolate chips cookies that I have EVER had! They're simple, but just so good and no one will guess they're vegan.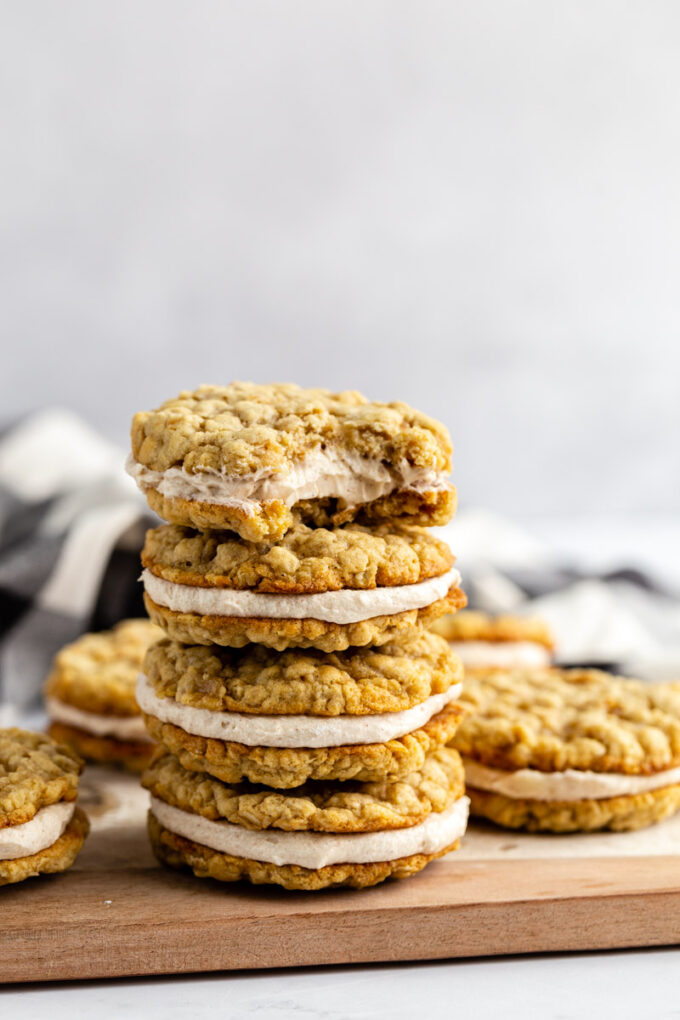 Oatmeal Cream Pies. You're going to LOVE this vegan version of Oatmeal Cream Pies! They're fun and simple to make and somehow even better than the store-bought version! Can't wait for you to try these.
Vegan No Bake Cookies. No baking required and only simple ingredients needed to make these irresistible, crave-worthy Vegan No Bake Cookies. This is a quick and easy recipe that results in chocolate, peanut butter cookies with a soft oatmeal texture that are full of nostalgic flavor! The perfect treat for kids and adults!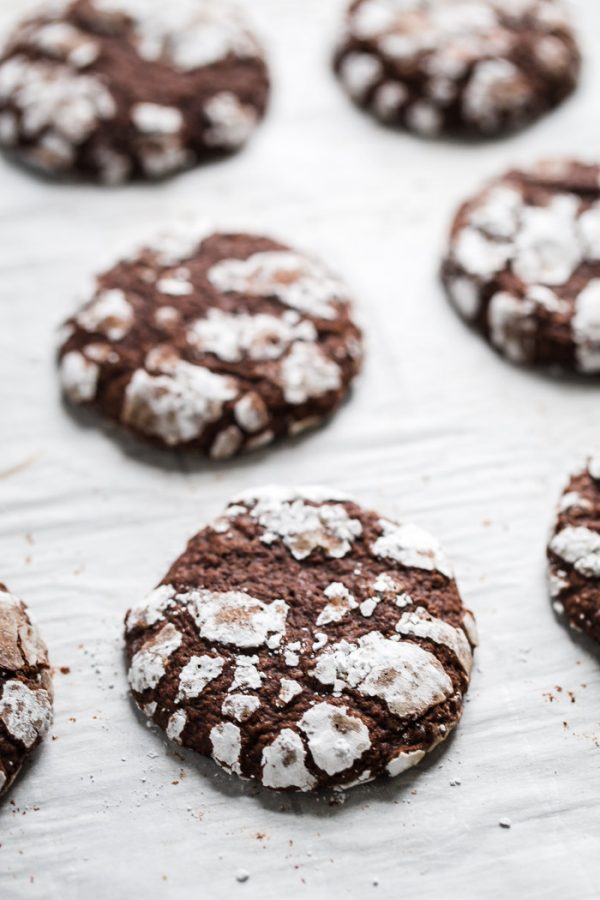 Chocolate Crinkle Cookies. Classic Christmas cookies we make every year! Super simple and ridiculously tasty!
Jam Thumbprint Cookies. These jam thumbprint cookies are perfect for the holidays and come together with just FIVE ingredients and in ONE bowl. Since there is no butter or eggs in this recipe, it's FULLY vegan and one that you'll want to keep in your back pocket.
Vegan Skillet Cookie. The most delicious skillet cookie that you will ever try! It's super simple to make (all simple ingredients that you probably have on hand right now). And while not totally necessary, I HIGHLY recommend that you serve this with a good scoop of vanilla ice cream.
More Fun Vegan Holiday Dessert Recipes: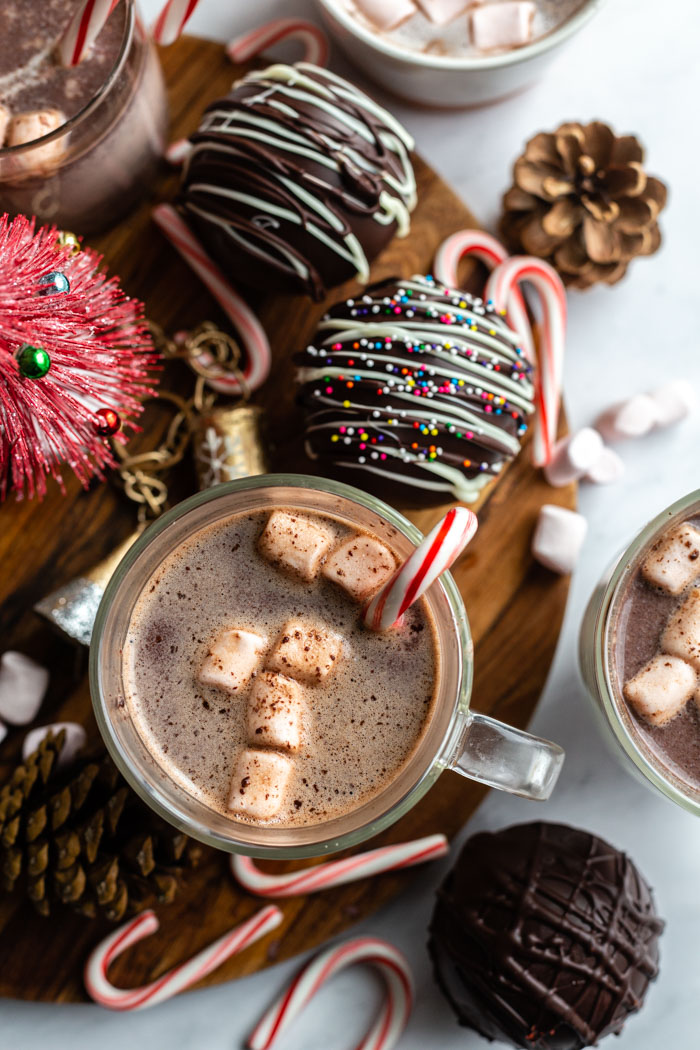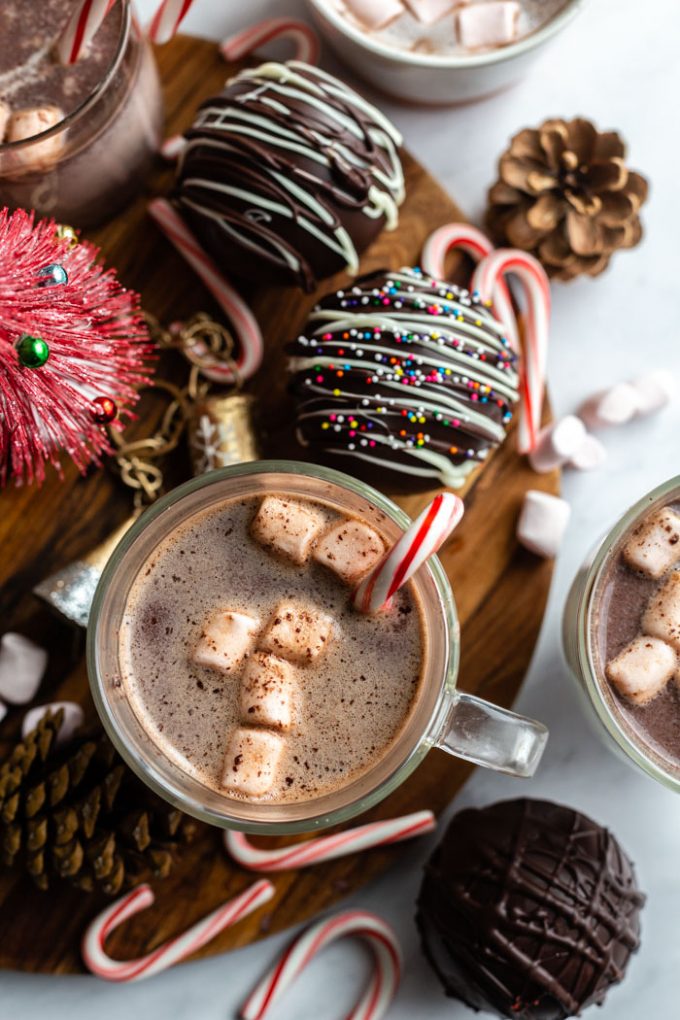 Hot Chocolate Bombs. Hot chocolate bombs are chocolate spheres filled with hot chocolate mix and lots of marshmallows! When added to hot milk, the chocolate spheres melt, releasing the cocoa mix and marshmallows, creating a delicious cup of hot chocolate. So much fun and makes a great homemade holiday gift!
Chocolate Peppermint Donuts. A delicious holiday version of my baked vegan donuts (one of the MOST popular recipes on my site). These would make the perfect treat for Christmas morning brunch!
Vegan Gingerbread Cupcakes. You're going to love these sweet and decadent Gingerbread Cupcakes that are perfect for holiday baking! The recipe is super simple to make and these cupcakes bake up SO deliciously fluffy.
This post may contain affiliate links. Please read my disclosure policy.