The BEST Vegan Dessert Recipes
This post may contain affiliate links. Please read my disclosure policy.
Looking for a sweet tooth fix that's fully plant based? I've got your covered with over 50 VEGAN DESSERT RECIPES that are so good, you'll never even miss the dairy and eggs! There's truly something here for everyone.
I broke these easy vegan desserts into categories to make it a little easier for you to sort through the (possibly too long) list. You can click on any of he below photos to get to the recipe OR you can see the list of recipes at the bottom that also link directly to the individual posts. Make sure to pin your favorites for later!
I'll do my best to keep this listed updated with my newest vegan dessert options but you can always check out my DESSERT category HERE for more options!
Vegan Cookies
Vegan Sugar Cookies– these vegan sugar cookies are shockingly easy and great for cutting out all different shapes for different occasions! They can also be rolled into a log and used as simple slice and bake cookies.
the BEST Chocolate Chip Cookies– I'm not joking: these are the absolute best vegan chocolate chips cookies that I have EVER made at home. They're simple but just so good.
Vegan Gingerbread Cookies– I just LOVE a good gingerbread cookie. These are great for baking around the holidays and they don't spread at all (so they're perfect for cut out cookies!).
Vegan No Bake Cookies– let's be honest, sometimes you just don't feel like turning the oven on (or, maybe that's just me). These vegan no bake cookies are perfect for those occasions and you'll love HOW simple they are to throw together.
Edible Cookie Dough– another reason to leave that oven OFF: this vegan cookie dough recipe. It's safe to eat, deliciously sweet, and perfect for lazy desserts.
Chocolate Crinkle Cookies– we make these are the holidays usually but they're great year round! The crinkles are so fun and the cookies turn out absolutely delicious.
Chocolate Chip Oatmeal Cookies– HANDS DOWN one of my all time favorite cookie recipes. Even people that don't like oatmeal cookies will still love these- just seriously so GOOD!
Oatmeal Cream Pies– these cookies are *slightly* more labor intensive but still pretty easy and OMG so decadent! These are really fun when you want to impress because they're overall simple but feel so fancy.
Cinnamon Roll Sugar Cookies– this is another cookie recipe that we make around the holidays a lot. There's just something about cold weather that leaves me craving cinnamon rolls. And these cookies hit the spot every time!
Peanut Butter & Jelly Thumbprint Cookies– if you're a PB&J fan then you NEED to try these vegan thumbprint cookies. They're SO easy to make and the jam on top just adds the perfect touch of sweetness.
Vegan Skillet Cookie– this recipe is based heavily on my original vegan chocolate chip cookie recipe but is even EASIER as the dough all gets pressed into one big pan/ skillet. The outside is perfectly cooked and the inside turns out soft, gooey and DELICIOUS.
Vegan Peanut Butter Cookies– another cookie option for the peanut butter lovers in your life. These are pretty classic but somehow just never get old.
Vegan Cakes & Cupcakes
Vegan Chocolate Cake– this is LEGIT the most decadent vegan cake that you will ever make at home! It's simple to make and the frosting is so creamy and chocolatey. YUM!
Chocolate Cherry Coffee Cake– cherry season is one of my all time favorites and I love making this cherry coffee cake to use up my extra berries. Such a great treat to make for a crowd.
Vegan King Cake– everyone loves to look for that hidden baby and this vegan version of a traditional king cake is so fun to make (and eat!).
Chocolate Mug Cake– this mug cake is perfect for lazy nights when you're really craving something sweet but just don't have the energy to bake a whole cake (or turn the oven on for that matter).
Chocolate Cupcakes– these vegan cupcakes were adapted from my original (and wildly popular) chocolate cake recipe. They're great for birthdays, parties, or even just to satisfy that sweet tooth!
Easy Strawberry Shortcake– this dessert is berry season at it's FINEST! The shortcake is simple to make and so ridiculously delicious topped with those sweetened strawberries.
Vegan Buttercream Frosting– this vegan frosting recipe works well on cakes, cupcakes, and even cookies! It's super simple to make and no one would even know that it's fully vegan.
Vegan Pies and Tarts
Cherry Crumble Pie– this classic cherry pie is simple to make and FULLY vegan with the help of my favorite vegan butter! This keeps well and is a great dessert to make ahead.
Vegan Key Lime Pie– once the crust is made, this vegan pie requires NO BAKING and I absolutely love it for that. This is a great warm weather pie to make in the summer.
Vegan Apple Pie– I really love making this vegan apple pie around the holidays but truthfully, it's amazing YEAR round! Apple season is strong where I live so lots of apple pies get baked in our house and I love it.
Coconut Oil Pie Crust– this is my go to vegan pie crust recipe. If you're looking for something a little more classic though, I do have a (vegan) butter pie crust as well!
Vegan Pumpkin Pie– this is my ALL TIME favorite vegan pie recipe and perfect for Thanksgiving and holiday celebrations. It's creamy and delicious while still being fully egg and dairy free!
No Bake Peanut Butter Pie– another amazing no bake pie! We have a lot of peanut butter lovers in our family and this peanut butter pie is always a big hit.
No Bake Peach Pie– peach season is very short here but it's one of my favorite excuses to make this peach pie. Super simple to make and a healthy vegan dessert option.
Old Fashioned Peach Cobbler– I always loved peach cobbler growing up and was excited to create a vegan version of it. This recipe does not disappoint and it's simple to make.
Vegan Bread Recipes
Vegan Banana Bread– I've made this vegan banana bread so many times and I'm perpetually amazed by HOW delicious and moist it is (especially for being fully-egg free!). This is a must try dessert!
Vegan Pumpkin Bread– the vegan loaf at Starbucks is one of my ALL TIME favorite treats to get when I'm out. I ate far too much of it in college. This vegan version is equally as delicious!
Vegan Zucchini Bread– one of my favorite ways to use up spare zucchini is in this vegan zucchini bread. It comes together in one big bowl and I really love it for that.
Grapefruit Loaf– this is similar to a classic lemon loaf but fully vegan AND uses grapefruit juice instead of lemon. Super simple but feels deliciously fancy.
Vegan Donuts & Muffins
Strawberry Glazed Donuts– these donuts come together in one bowl and are baked for a healthier option! The strawberry glaze is simple but adds a ton of flavor.
Carrot Cake Muffins– I love making these muffins in the spring. the carrot flavor is subtle but so delicious and the nuts are totally optional depending on your preferences.
Baked Vegan Donuts– This vegan donut recipes is what I make when I'm craving classic donuts. They're baked instead of fried but still satisfy that donut craving!
Oat Flour Muffins– I'm constantly amazed at how delicious these gluten free muffins are! They're made with ground up oats and have lots of yummy mix in options.
Pumpkin Donuts– pumpkin season hits strong around here and I find myself wanting to make pumpkin everything- including these baked pumpkin donuts! SO GOOD!
Chocolate Chip Vegan Muffins– this is one of THE MOST popular recipes on my entire blog- and for very good reason! These vegan muffins are super simple and so ridiculously soft on the inside.
Chocolate Baked Donuts– save this one for when that chocolate craving hits HARD. These chocolate donuts are packed with flavor and dipped in a delicious chocolate glaze (with sprinkles of course).
Other Vegan Desserts
Raspberry Crumble Bars– I have several versions of these crumble bars on my blog but these simple raspberry bars are my all time favorite! Highly suggest giving these a try.
Cinnamon Dessert Pizza– like a regular pizza, but SWEET! This remind me of cinnamon rolls but is vastly easier to make and great for pizza night!
Perfect Vegan Ice Cream– this classic ice cream recipe has a base of coconut milk to keep it dairy free but it's still thick and creamy! There are lots of mix in options to customize your ice cream.
Pumpkin Peanut Butter Cups– I love a good reeses BUT these homemade pumpkin cups are packed with even more flavor and made with just a few simple ingredients that you probably have on hand right now.
Chocolate Peanut Butter Nice Cream– this healthy ice cream is made with blended up bananas which produces a thick and creamy ice cream like consistency that's just so delicious and still super sweet.
The BEST Vegan Brownies– brownies are one of my all time favorite late night treats to bake and these vegan brownies are truly decadent. This is one of those times when NO ONE will ever even know that the dessert is vegan.
Dark Chocolate Pumpkin Truffles– I know that dark chocolate is not for everyone BUT these truffles are truly just so delicious! I like making these as gifts especially during the holidays.
Vegan Fruit Desserts:
Print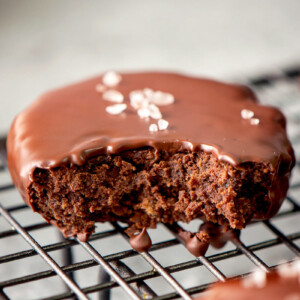 Vegan Desserts: No Bake Brownies
---
Author:

Total Time:

40 minutes

Yield:

10

cookies

1

x

Diet:

Vegan
Description
These easy no bake brownies are one of my all time favorite vegan dessert recipes!
---
1/2 cup

of peanut butter or almond butter

2 tablespoons

of tahini

1 cup

(

8 ounces

) of pitted medjool dates

1⁄4 teaspoon

of salt

4 ounces

of dark chocolate, melted
Flaky salt for topping (optional)
---
Instructions
Line a baking sheet or cutting board with parchment paper. Set aside.
Add the dates, tahini and peanut butter to a food processor and pulse until well combined and no large chunks of dates remain. Add the cocoa powder and salt and pulse again to combine.
Scoop out the heaping mounds of the cookie dough onto your baking tray/chopping board so that you get about 10 cookies. Flatten with your hand slightly to form a round cookie shape. Place in the freezer for 30 minutes to slightly harden.
Dip each cookie into the melted chocolate and sprinkle with flaky salt. Then place on a wire rack or chopping board lined with parchment paper and refrigerate until the chocolate is set. Enjoy!
Notes
*Store in an air-tight container at room temperature or
in the fridge for up to 4-5 days.
Prep Time:

35 minutes

Cook Time:

5 minutes

Category:

dessert

Method:

mixing

Cuisine:

american
Nutrition
Serving Size:
Calories:

214

Sugar:

18.3 g

Sodium:

115.5 mg

Fat:

12.6 g

Carbohydrates:

23.9 g

Protein:

4.4 g

Cholesterol:

0.7 mg
Keywords: no bake vegan cookies, no bake brownies, vegan dessert
This post may contain affiliate links. Please read my disclosure policy.